Boot animation for the Motorola DROID Bionic is leaked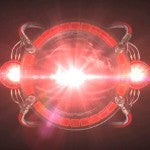 Still possibly the third LTE enabled handset for Verizon, the Motorola DROID Bionic is a DROID by birthright after all. That means that no matter which model eventually gets to be called the DROID Bionic (and the smart money is still betting on the Motorola Targa), it will have to have a red-eye boot animation. After all, this has been a tradition of the DROID line dating all the way back to the original Motorola DROID in 2009.
The 7 second video below is part of the boot animation for the Motorola DROID Bionic. And while it is only a quick look, the animation has grown in complexity over the years. The boot screen will look great on the 4.3 inch qHD display on the device, which will be Verizon's first dual-core handset and is still expected to launch this summer after Motorola's "enhancement to make this an even better consumer experience".
source:
Pocketnow