BlackBerry to cut down on phone production, still planning on a device to appease iPhone users
30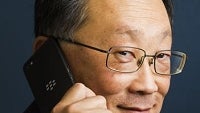 Mr. John Chen, CEO of BlackBerry, sat down with FOX Business reporters to talk about the past and future of the phone-building company. BlackBerry was pretty prominent in the past, but allowed itself to
slip and fall
from the top soon after Apple rocked the industry with the release of the iPhone. Ever since, BlackBerry handsets have remained favorite handsets for governments and some professionals, but have fallen off the mainstream public's radar.
In the interview, Mr. Chen admits that the company has decided to shift focus from making handsets to further developing the security of its services – BlackBerry still holds the niche for secure devices and, perhaps, this is the one it intends to thrive in, at least for now. John Chen said that the company has been spending about 100 million per year (presumably since he's been CEO) in security services, and has purchased companies that specialize in secure voice communications, information compartmentalization (work / personal), and most recently – AdHoc – a company that specializes in secure messanging software (and has contracts with the US Department of Defense and Homeland Security).
On the smartphone side of things, Mr. Chen said that the company intends to cut down on the amount of handsets it churns out annually – from the 4(ish) models per year down to 1 or 2. This will result in job cuts, though, Mr. Chen stressed that it's not a reduction of job spots within the company, but a shifting of resources. Additionally, the CEO confirmed that the company is planning to offer *something* for the users that carry an iPhone for personal and BlackBerry for professional use – probably some sort of a mixed device, but Chen preferred not to disclose anything as of yet.
source:
FOX Business
via
Ubergizmo