BlackBerry Storm2 Dummies make appearance at Best Buy
This article contains unofficial information.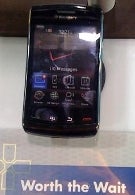 The sign underneath the dummy model of the BlackBerry Storm 2 says "Worth the Wait", and sure, it might very well be. But before anything happens, RIM and Verizon need to grab the handset by the, uh...hand and introduce it to a waiting public. Right now, as you can see from a photo obtained by Crackberry, Best Buy stores have been receiving the dummy model of the phone which means that a launch can not be that far away. The person who snapped the photo said that the salesman at the big box retailer had no info on the 9550's release date, but those guys are usually the last to know.
RIM BlackBerry Storm2 9550 Preliminary Specifications
|
Preview
source:
Crackberry