BlackBerry Niagara to be at Verizon in May?
4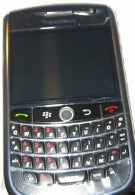 Jim Cramer's TheStreet.com is taking time off from reporting about the market to repeat what some analysts have heard, namely that the BlackBerry Niagara 9630 will hit Verizon stores in May. When we last
reported
on this device, we noted that there was a chance to see it hit the stores sooner than expected. What the equity analysts have picked up seems to jive perfectly with what we have heard. The Niagara 9630, like the BlackBerry Storm, is a 3G world phone offering connectivity to both CDMA/EV-DO and GSM networks. A big question is, which OS build will power the Niagara? We've heard this device could be running OS 5.0 upon release, although the current pre-release version is using 4.
7.1
.10 which means plenty of work needs to be done on the software if a May release is to happen. If April showers bring May flowers, will May flowers bring the BlackBerry Niagara 9630 to Verizon?
BlackBerry Niagara 9630 preliminary Specifications
source:
TheStreet
via
BGR