Fresh information on the BlackBerry Niagara
6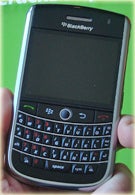 The global
BlackBerry 9630
(aka Niagara) seems to really enjoy the stage. After numerous image and information leaks, the CDMA/GSM hybrid phone has now been examined in detail by CrackBerry. The good news is that there might be a slight chance for us to see the official version of the unit sooner than expected, since its hardware has been described as "pretty much good to go". However, a pile of parts (even if they are of highest quality) is never enough to make a perfect device. Unfortunately, the pre-release device has been running the 4.
7.1
.10 software, which is said to be unusable in its current state. The form-factor of the famous handset gives the good-old
BlackBerry Bold
/
Curve
look. Moreover, the phone is narrower than the Bold, which seems to make it feel even handier in one's hand. The focus here, of course, falls on the keyboard, which is said to be the "optimal solution". Sounds really great, but in addition, the BlackBerry 9630 will be also equipped with a
3.2
-megapixel camera. At last, good times are to come for the CDMA BlackBerry users.
BlackBerry 9630 Preliminary Specifications
source:
CrackBerry