BlackBerry KEY2 pop-up showroom to be hosted on June 8-9
36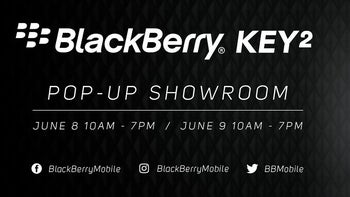 BlackBerry has already confirmed the next smartphone to carry its brand name, the
KEY2 will be unveiled on June 7
. Although the Canadian company hasn't revealed anything regarding the phone's specs, the
KEY2 was spotted a few times online
, so we have an idea of what to expect from TCL Communication, the company manufacturing the smartphone.
Today, BlackBerry made another interesting announcement concerning its upcoming KEY2 smartphone. Apparently, the Canadian company plans to open a
BlackBerry KEY2
pop-up showroom in NYC, which will run June 8-9.
So, one day after the phone is officially introduced, consumers who want to be among the first in the world to experience the KEY2 will be able to check it out at this pop-up showroom that will be open for two days.
We have no idea if
BlackBerry KEY2
pop-up showrooms will be opened in other cities across the world, but the announcement suggests NYC will be the only place where the smartphone will be showcased.