"Big" Deal from Google Play: Download the Tom Hanks movie free for a limited time
17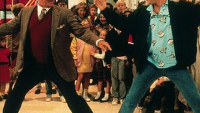 Back when Tom Hanks was considered a rising comedic actor for his work on television's Bosom Buddies (along with Peter Scolari who is now playing Yogi Berra on Broadway), he had a starring role in "Big." This was a movie about a kid who wanted to be a grown-up but never considered the obligations involved. One of the most famous scenes from the movie is the one where Hanks and co-star Robert Loggia play Chopsticks and Heart and Soul on a foot operated electronic keyboard at an FAO Schwartz toy store.
For a limited time, Google is allowing Android users to download the movie for free. Just head over to the Google Play Store to do so. It's a delightful movie that will warm your heart and is definitely worth the storage space it will take up on your device.
No one could ever imagine back in 1988 that Tom Hanks would turn out to the be the "Great American Actor" that he matured into. And who would have thought that Google would be giving you a classic feature length film on the house? Better hurry though, because at some point the carriages turn back into pumpkins and you will have to purchase the movie again, instead of getting it for free.
Meanwhile, you can check out the trailer for "Big" by clicking on the video below.
source:
Big
via
RedmondPie