Best smartphones you can buy on T-Mobile (2016)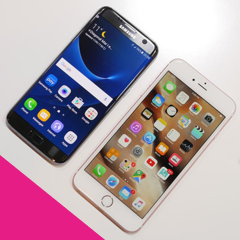 Led by zealous CEO John Legere, T-Mobile shook up the US wireless industry in 2013 with its Uncarrier initiative, ditching contracts and phone subsidies. Since then, the rest of the major US carriers have adopted similar strategies, but T-Mobile is undoubtedly the pioneer of the no contract era, and this helped it a lot: last year, T-Mo managed to surpass Sprint as the third largest US carrier (in terms of subscribers).
Things are definitely going well for T-Mobile, and its smartphone lineup is diverse enough to attract all types of users. But what are the finest handsets that you can currently buy from T-Mobile? Well, to answer this question, we prepared a list of the best T-Mobile smartphones of 2016, and we invite you to check it out below.
The devices that you'll see below were chosen based on our own reviews, as well as on reviews from T-Mobile customers (as shown on the magenta carrier's website). By the way, besides presenting these handsets, we're including links to buy them, as well as links to our reviews, so you can check out each and every phone in detail.
Note: This article was updated on November 6.
Best compact smartphone on T-Mobile
Most of today's smartphones have screens of at least 5 inches, but there are still plenty of users who'd rather have a significantly smaller handset as their daily driver. Of course, it's hard to find a compact smartphone that's also powerful, but that's exactly why Apple last month released the
iPhone SE
. Design-wise, the iPhone SE is nothing more than an iPhone 5s, including the same 4-inch Retina Display with 640 x 1136 pixels and 326 ppi. However, internally, the SE is a different device, thanks to Apple's A9 processor (the very same that's at the heart of the
iPhone 6s
series), 2 GB of RAM, a 12 MP rear camera with 4K video recording, and NFC (which allows the use of Apple Pay). The battery of the iPhone SE is also slightly larger (1624 mAh vs. 1570 mAh).
All in all, the iPhone SE is the most powerful 4-inch smartphone ever made. Just like all other major US carriers, T-Mobile is offering both the 16 GB and 64 GB variants of the iPhone SE in space gray, silver, gold, and rose gold. The 16 GB model costs $16.67 per month for 24 months, or $399.99 outright, while the 64 GB one can be yours at $18.75 per month for 24 months, or $449.99 outright.
Apple iPhone SE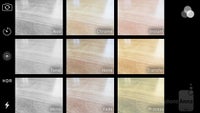 Best mid-size (normal) smartphones on T-Mobile
Last year's Galaxy S6 is a great handset, but lacks some of the features that users liked on the S5, including microSD card support, and water-resistance. Well, Samsung addressed these shortcomings earlier this year with the
Galaxy S7
. While it sports a similar
5.1
-inch Quad HD screen with 576 ppi, compared to the S6, the Galaxy S7 has a refined design (the glass back is slightly curved for a better grip), also including a larger, longer lasting battery - this makes it a bit thicker than the S6 (7.9 mm vs. 6.8 mm), but we don't think that's a problem. The S7 further brings a more powerful processor (Snapdragon 820), more RAM (4 GB), and a brand new rear camera: 12 MP with Dual
Pixel
technology for fast focus. The Galaxy S7 can be bought from T-Mobile in black or gold (32 GB version only) for $28.75 per month (for 24 months), or $689.99 outright.
Samsung Galaxy S7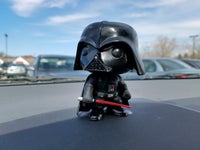 While it's nearly identical to the iPhone 6s and
iPhone 6
when it comes to design, the
iPhone 7
brings some major changes, including dust- and water-resistance, Apple's A10 Fusion chipset, up to 256 GB of storage space, and the removal of the 3.5mm headset jack. The absence of a 3.5mm jack may have upset some customers, we know. Even so, the iPhone 7 is certainly the best 4.7-inch handset Apple has made to date.
T-Mobile is offering the iPhone 7 in 32 GB, 128 GB, and 256 GB variants. All three cost $27.09 per month for 24 moths, but you have to pay $99.99 upfront for the 128 GB model, and $199.99 upfront for the 256 GB one. You can also buy the iPhone 7 at full retail price: $649.99 (32 GB), $749.99 (128 GB), or $849.99 (256 GB).
Best large smartphones on T-Mobile
The
iPhone 7 Plus
obviously offers everything that the regular iPhone 7 does, while being significantly larger (thanks to a 5.5-inch screen) and having a longer-lasting battery, plus a better rear camera: a dual unit with 2x optical zoom. Like the iPhone 7, the iPhone
7 Plus
comes in 32 GB, 128 GB, and 256 GB variants. Each costs $120 more than its iPhone 7 counterpart, which means an iPhone 7 Plus 256 GB goes up to $969.99 when bought outright.
Need a powerful and large Android-based smartphone? The Samsung
Galaxy S7 edge
is your best choice at T-Mobile. Similar to the Galaxy S7, the S7
edge
is dust- and water-resistant, and delivers excellent performance thanks to a Qualcomm Snapdragon 820 processor and 4 GB of RAM. The main difference between the S7 and S7 edge concerns their screens: the latter has a 5.5-inch dual-curve Super AMOLED Quad HD display (534 ppi) which give it a distinct look. We're not quite convinced about the helpfulness of the software features that the edge screen enables (like the ability to add shortcuts to apps and favorite contacts). Nevertheless, this is eye candy, and plenty of customers would gladly pay more for that reason alone. We say
more
because the Galaxy S7 edge is rather expensive: $30 per month for 24 months plus $69.99 upfront, or $789.99 outright. Right now, T-Mobile is offering the S7 edge (32 GB model only) in silver, or gold.
Samsung Galaxy S7 edge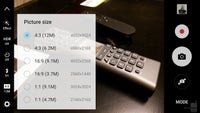 Best cheap smartphone on T-Mobile

If you don't want (or can't afford) to spend too much money on a new smartphone, you can still get a good device from T-Mobile. We're talking about the HTC Desire 530, which costs just $139.99 outright, or $5.84 per month for 24 months. Thanks to a colorful "micro splash" finish, the Desire 530 has a unique, youthful look. It's also got some decent features for its price, including a 5-inch 720p display, LTE, 1.5 GB of RAM, and 16 GB of expandable storage space.