The best T-Mobile deals - updated August 2022
We may earn a commission if you make a purchase from the links on this page.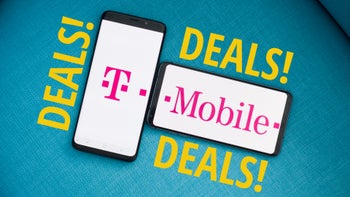 It's quite satisfying to get the phone you're after through a good deal with a lower price. Finding the better deals, however, is not always as easy as it sounds. That's where we come in – in this article we'll continuously list the best T-Mobile deals available at the moment, hopefully helping you with your next smartphone, tablet or smartwatch purchase in the process.
Right now, in August 2022, T-Mobile has generous deals on the latest iPhone 13 phones, as well as on the Galaxy S22 series.
Tip:
If you need to make sure that you understand a certain deal and what qualifies you for it, you can reach a T-Mobile representative directly from the T-Mobile website. Just click the "Contact & support" button.
Best T-Mobile deals at a glance:
T-Mobile best iPhone 13 deals

Currently T-Mobile is offering a deal on the four models of the iPhone 13 series, that could get you up to $800 off its price, if you buy the phone with a new plan and trade-in. To learn the full conditions, follow the link below and click "See 3 deals" on T-Mobile's website.
Additionally, the carrier is also offering a BOGO.
T-Mobile best Galaxy S22 deals

Samsung's new, big and powerful Galaxy S22 Ultra, which is essentially a 2022 Galaxy Note, can be yours for less via this T-Mobile deal. The conditions are trade-in and opening a new Magenta MAX line. The other two phones from the series are also discounted right now. All in all, there are 4 offers for each phone from the S22 line currently live at the carrier:

Best Galaxy Z Fold 3 and Z Flip 3 deals at T-Mobile
If you're looking for a foldable phone, either the Z Fold 3 or the Z Flip 3, T-Mobile has got you covered.

Best iPhone SE (2022) deals at T-Mobile

Right now you can get Apple's newest budget iPhone SE (2022) and get it for up to nearly its full price off.
Did you find the perfect T-Mobile deal? Looking for more?
Hopefully one of those phone deals was useful for you in your search for tech deals at T-Mobile. If you'd like to explore more offers by different vendors, also check out our dedicated deals hub page that includes more devices and brands to pick from:
You may also find helpful: