Best T-Mobile deals right now
2
We may earn a commission if you make a purchase from the links on this page.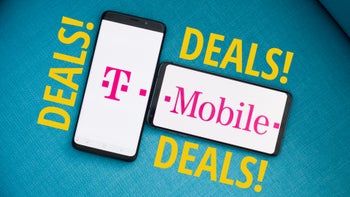 It can be quite satisfying to get the phone you're after through a good deal. Finding the better deals, however, is not always as easy as it sounds. That's where we come in – in this article we'll share with you the best T-Mobile deals available right now, hopefully helping you with your next smartphone, tablet or smartwatch purchase in the process.
Psst!
If you need to make sure you understand a certain deal and what qualifies you for it, you can reach a T-Mobile representative between the hours of 4am and 9pm (PT) directly from the T-Mobile website. Simply click on the live chat button on the bottom right of any T-Mobile page.
You may also find helpful:
Up to $830 off the iPhone 12 Pro Max
You can get Apple's greatest $1099.99 iPhone 12 model for up to $830 off on T-Mobile right now. The conditions are that you activate a new line of service on a Magenta Max plan and transfer an eligible number.
In addition, you have to trade in an eligible older phone, preferably one from the
iPhone 11
series, iPhone XS series,
iPhone XR
, iPhone X or iPhone 8 series, although T-Mobile has also listed some Android phones it will also accept.
Get the Apple iPhone 12 mini 5G for $200 less
You can get the most compact modern
Apple
smartphone for a one-time payment of $529.99 ($200 less than its original price) with a new line or account on Sprint/T-Mobile via Best Buy. If you'd like to learn more about this compact phone before buying it, check out our
iPhone 12 mini review
.
Get the Apple iPhone 12 for less or free
T-Mobile offers the iPhone 12 with up to its full price off. For this deal you need to activate a new line of service on an eligible plan and trade-in an eligible iPhone. This works best if you're upgrading from the iPhone 11 / Pro / Max or iPhone X / XR / XS / XS Max, as trading one of those phones in can get you up to $830 off the iPhone 12.
If you trade in an older iPhone like the iPhone 8 or 8 Plus, you can get up to $600 off with this deal, or up to $450 off if trading in the iPhone 7 / 7 Plus / 6S or 6S Plus.
Get the Samsung Galaxy S21+ 5G for $800 off
You can get the 5G Samsung
Galaxy S21+
or S21 Ultra at up to $800 less with eligible trade-in or if you buy two. There are plenty of eligible smartphones to trade-in for this deal and so long as you have one in good condition, it can drop between up to $200 and $800 off a new Galaxy S21+ or Ultra.
Buy one Galaxy S20 FE 5G and get up to $800 off
This deal once again requires a Magenta MAX rate plan and trade in. For further details on how to get this deal, click the "Buy one, get one FREE." link on the T-Mobile website, linked below.
Buy an Apple Watch and save up to $250 off a second one
If you're interested in getting the new
Apple Watch
Series 6 for both yourself and and someone close to you, take advantage of this offer, instead of paying full-price for both smartwatches. Getting an Apple Watch Series 6 or the more budget-friendly Apple Watch SE allows for $200 off a second one on T-Mobile.