Samsung Galaxy S23 Ultra Review: no one big new feature, but so many smaller improvements!
99+
We may earn a commission if you make a purchase from the links on this page.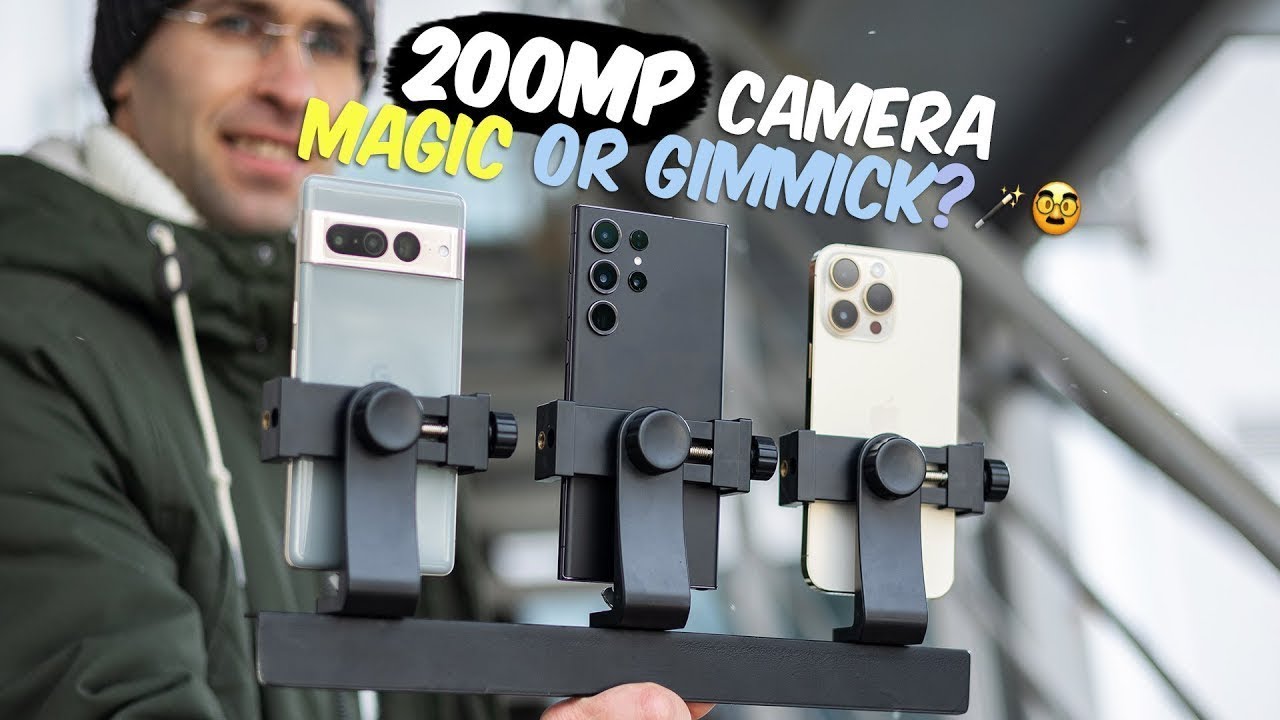 Galaxy S23 Ultra Intro
This is the
Galaxy S23 Ultra
, the phone that is expected to become the best-selling Android flagship of the year.
Last year, Samsung combined its two most successful lines, the Galaxy S series known for its powerful cameras with the Galaxy Note and the S Pen, and as a result, we got the Galaxy S22 Ultra. This was the ultimate flagship phone that basically had every feature you could imagine. By doing this, Samsung freed up the autumn launch window for its foldables, which the company thinks are the future.
Samsung

Galaxy S23 Ultra

pros and cons

It's no surprise then that the new
Galaxy S23 Ultra
is not exactly revolutionary. For what it's worth, it looks almost exactly like its predecessor with those signature sharp corners, and you still have the familiar S Pen and that impressive 10X optical zoom camera.
But while it is similar to the previous model, the new S23 Ultra brings improves a few of the fundamentals for a great flagship smartphone. The big upgrade this year has got to be the new 200-megapixel main camera which promises print-worthy detail in your photos and much better night shots.
It is also a strategic shift for Samsung. The company used to equip overseas versions of this phone with its in-house Exynos chip, a practice that many condemned as those chips were just not as good as the Snapdragon processors used in the U.S. models, but starting with the S23 Ultra, all versions regardless of where they are sold are equipped with the same powerful Snapdragon chip. So are these improvements a good enough reason to upgrade? Let's find out.
What you should know about the S23 Ultra:
All S23 Ultra models have Snapdragon 8 Gen 2 (no more Exynos)
New 200MP main camera, improvements to the other cameras
256GB base storage (double than before)
Big improvement in loudspeaker quality
8K30 video with no crop
Gorilla Glass Victus 2
Same battery size, but longer battery life
Same charging speeds
Prices in US unchanged, but international prices much higher
Galaxy S23 Ultra specs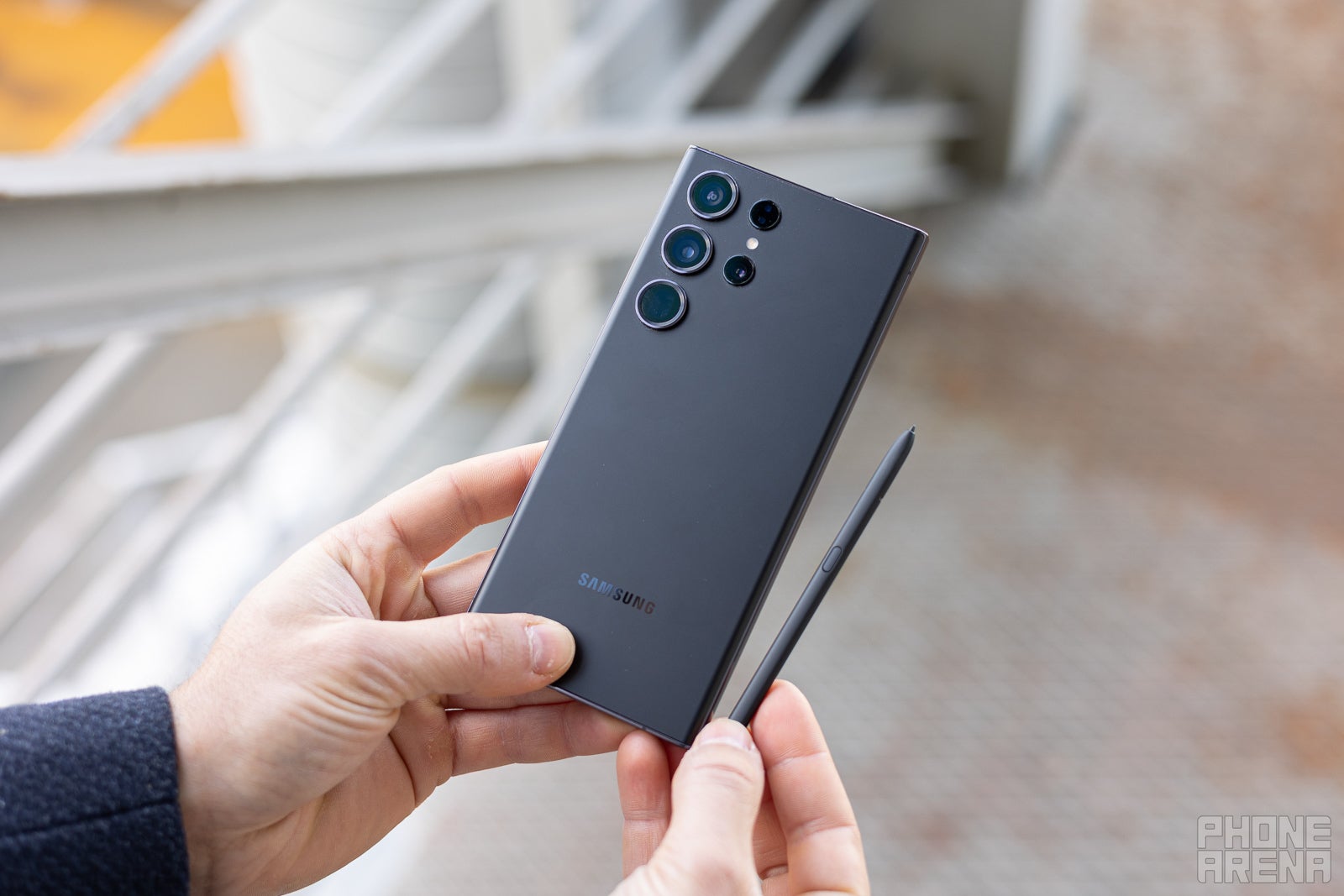 (Image Credit - PhoneArena) The S Pen remains a stand-out feature for the S23 Ultra
Let's kick this off with an overview of the
Galaxy S23 Ultra specs
highlights and see how it compares against its predecessor:


Galaxy S23 Ultra
Galaxy S22 Ultra
Dimensions

163.4 x 78.1 x 8.9 mm
163.3 x 77.9 x 8.9 mm
Weight
233g (8.22 oz)
229g (8.08 oz)
Display
6.8-inch, 1440 x 3088 pixels
Dynamic AMOLED 120Hz
6.8-inch, 1440 x 3088 pixels
Dynamic AMOLED 120Hz

Processor

Snapdragon 8 Gen 2

Snapdragon 8 Gen 1 in the US
Exynos 2200 in UK, Europe, RoW
RAM and storage
8GB +

256GB storage


12GB + 512GB
12GB + 1TB
*LPDDR5X RAM on all models
8GB + 128GB
12GB + 256GB
12GB + 512GB
*LPDDR5 RAM on all models
Cameras
200MP main camera, 23mm f/1.7
12MP ultra-wide, 13mm f/2.2
10MP 3X zoom, 69mm f/2.4
10MP 10X periscope zoom, 230mm f/4.9

12MP front camera
108MP main camera
12MP ultra-wide
3X zoom (10MP)
10X periscope zoom (10MP)

40MP front camera
Battery
5,000 mAh
5,000 mAh
Charging speed
45W wired, 10W wireless
supports reverse wireless charge
45W wired, 15W wireless
supports reverse wireless charge
Price
from $1,200
from $1,200
Galaxy S23 Ultra

models: Snapdragon vs Exynos
Samsung has made it quite simple to choose the right
Galaxy S23
model for you. If you want the S Pen, then you should go with the Ultra model, and if you don't use an S Pen, then the
Galaxy S23 Plus
model is both cheaper and considerably lighter-weight. You won't get a 10X optical zoom camera on the S23 Plus, but it still has the 3X zoom camera, and it's also got the same processor, same charging speeds and only a marginally smaller battery.
And for those who prefer a smaller phone, the
Galaxy S23
is the obvious choice.
As we've already mentioned, all
Galaxy S23 Ultra
models regardless of the market will have the same Snapdragon 8 Gen 2 chip, which is great news for consumers. The Exynos chip used before was not as power efficient and it even affected image quality, so that will no longer be a problem on the new model.
Galaxy S23 Ultra

Design, Colors and S Pen
So similar, you can hardly tell it apart from its predecessor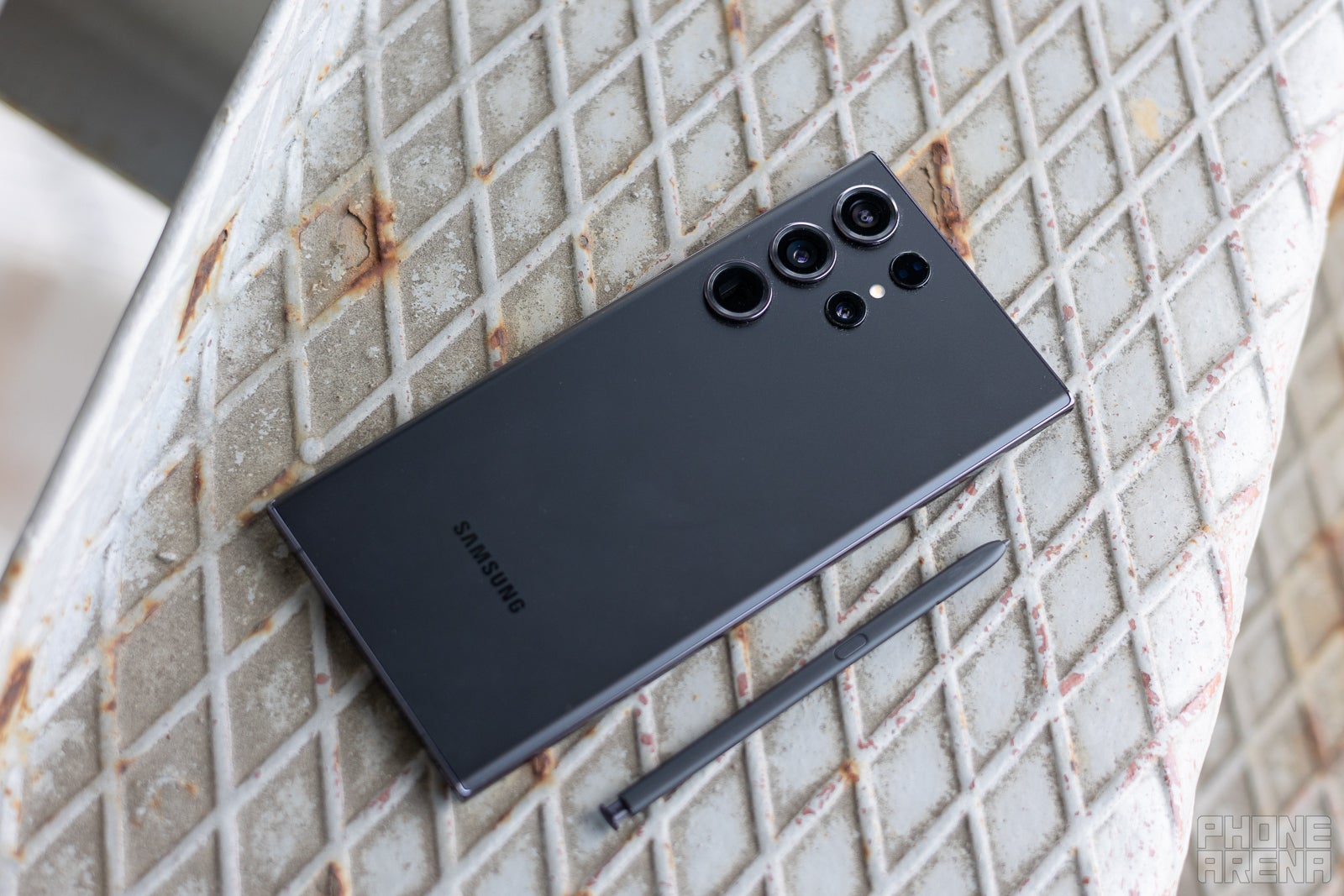 (Image Credit - PhoneArena) The flatter edges of the phone make it much easier to hold in the hand
The
Galaxy S23 Ultra
retains the sharp corners of its predecessor, but it now has flatter sides like an iPhone, so it kind of brings the best of both worlds. It still uses a slightly curved screen, and Samsung has made some other minor touch-ups: the power and volume buttons are now a bit larger and a bit lower for easier reach, and the cameras on the back are marginally bigger.
It's still a glass and metal sandwich, but it uses Corning's new Gorilla Glass Victus 2 on the back which should fare better in case of a drop, and the mid-frame is still aluminum. Samsung hasn't changed the IP68 water and dust protection rating, but that's already as good as it gets.
Phantom Black
Cotton Flower
Mystic Lilac
Botanic Green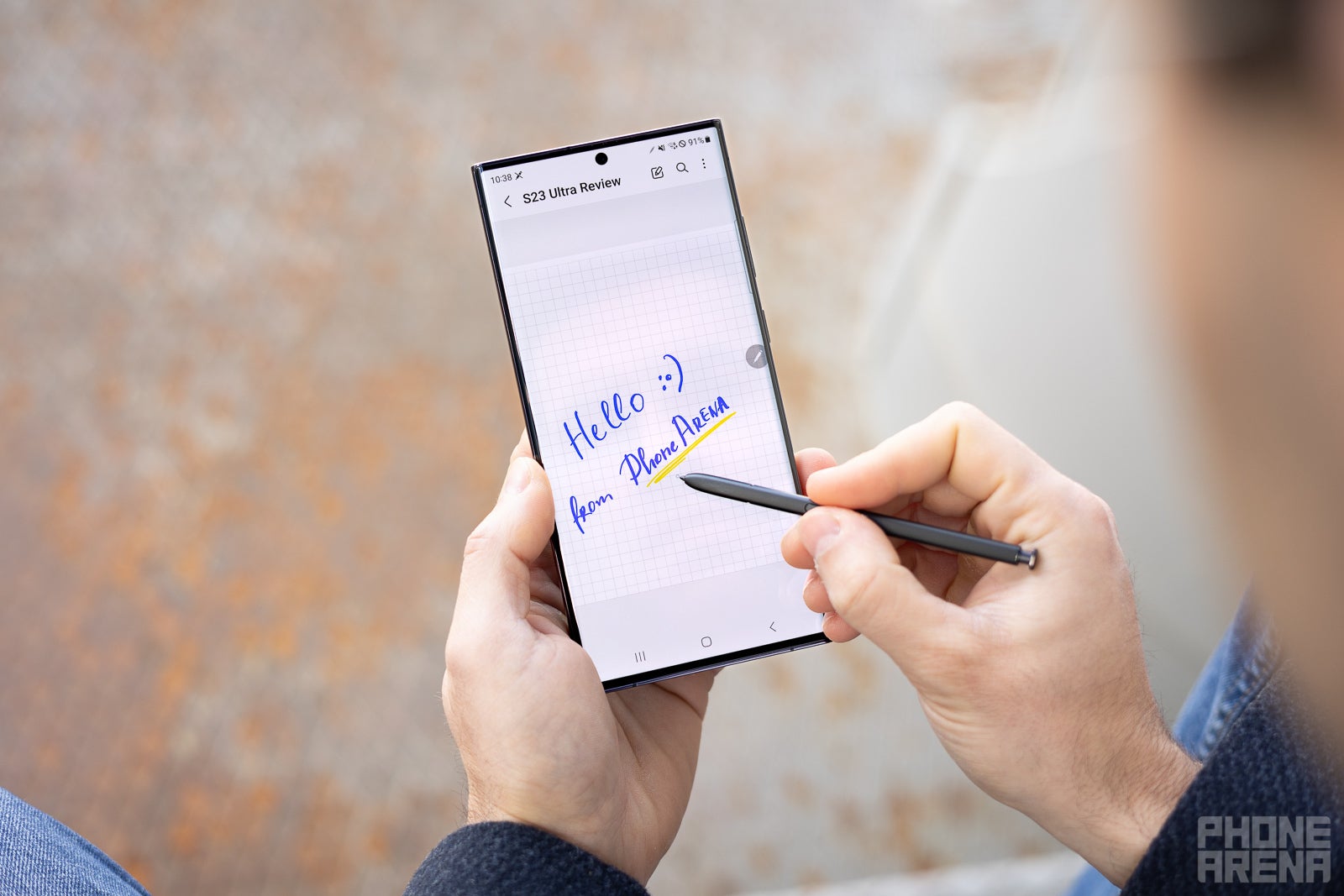 (Image Credit - PhoneArena) There have been no noticeable changes to the S Pen
Samsung is offering a few exclusive colorways on its website too.
Last but definitely not least, the S23 Ultra still comes with an S Pen. It looks and feels just like before and we haven't noticed any new features on that front.
Galaxy S23 Ultra

Display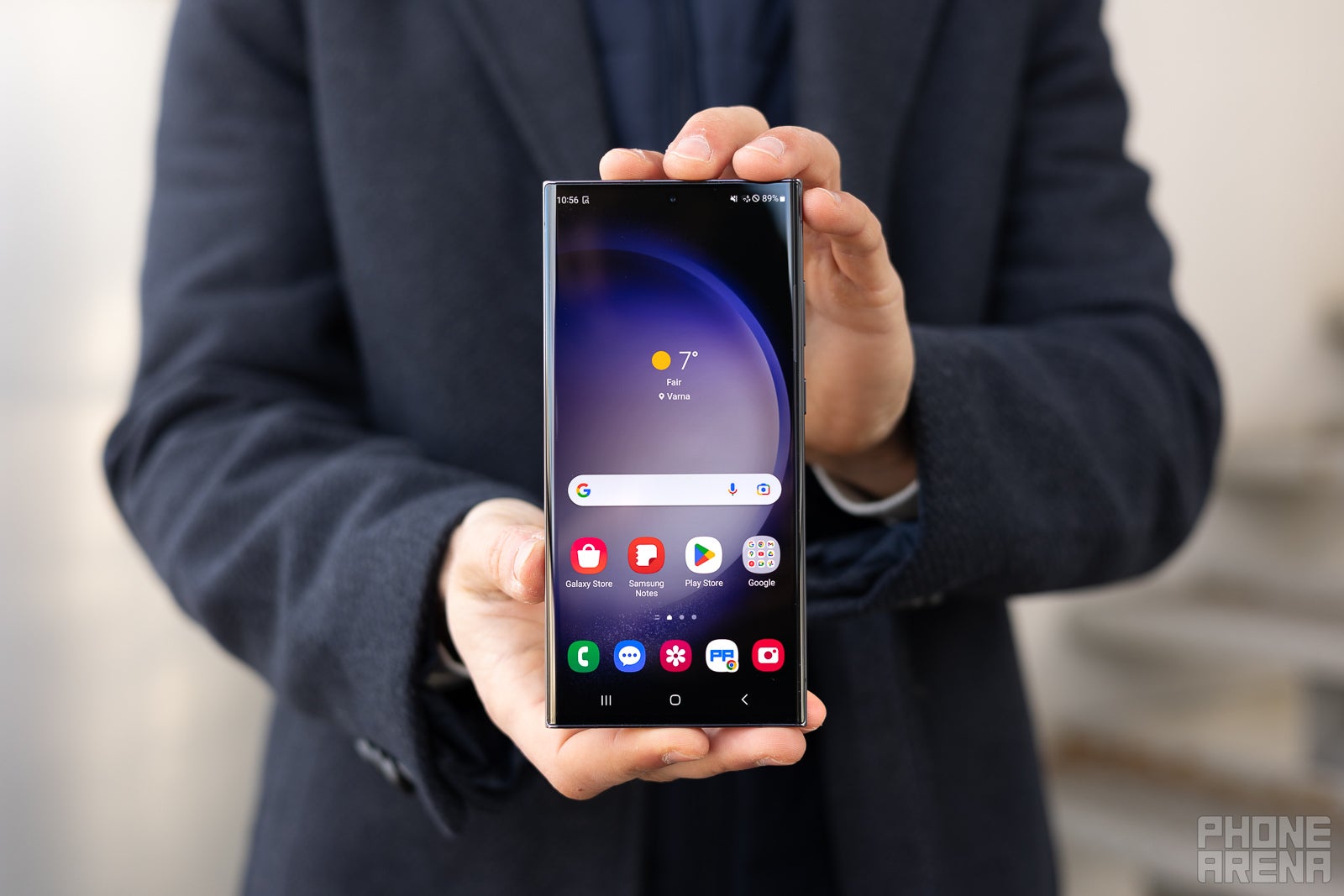 (Image Credit - PhoneArena) The screen has the same large, 6.8 inch size, but can now get much dimmer, perfect for night time use
Samsung is the market leader in display technology, so it's no surprise that the screen on the S23 Ultra looks exquisite, but again, so did the one on the S22 Ultra.
The essentials haven't changed from last year: you still have 1,750 nits peak brightness, the same 1440p resolution and the same LTPO technology for variable refresh rate that goes from 1Hz to 120Hz. What's new is that the screen can get very dim, which is perfect for night time use.
For all else, it's the same massive 6.8-inch screen with a wider than usual aspect ratio.
Display Measurements:
In terms of biometrics, the S23 Ultra again sticks with the familiar Qualcomm-made ultrasonic fingerprint scanner, which has proven to be fast and quite reliable. The phone also supports image-based face recognition with the front camera. The image recognition, however, is incredibly annoying at night. The phone automatically switches to very high brightness to recognize your face, which can be downright blinding at night, so we were forced to turn that feature off.
Galaxy S23 Ultra

Camera
New 200MP main camera is the big highlight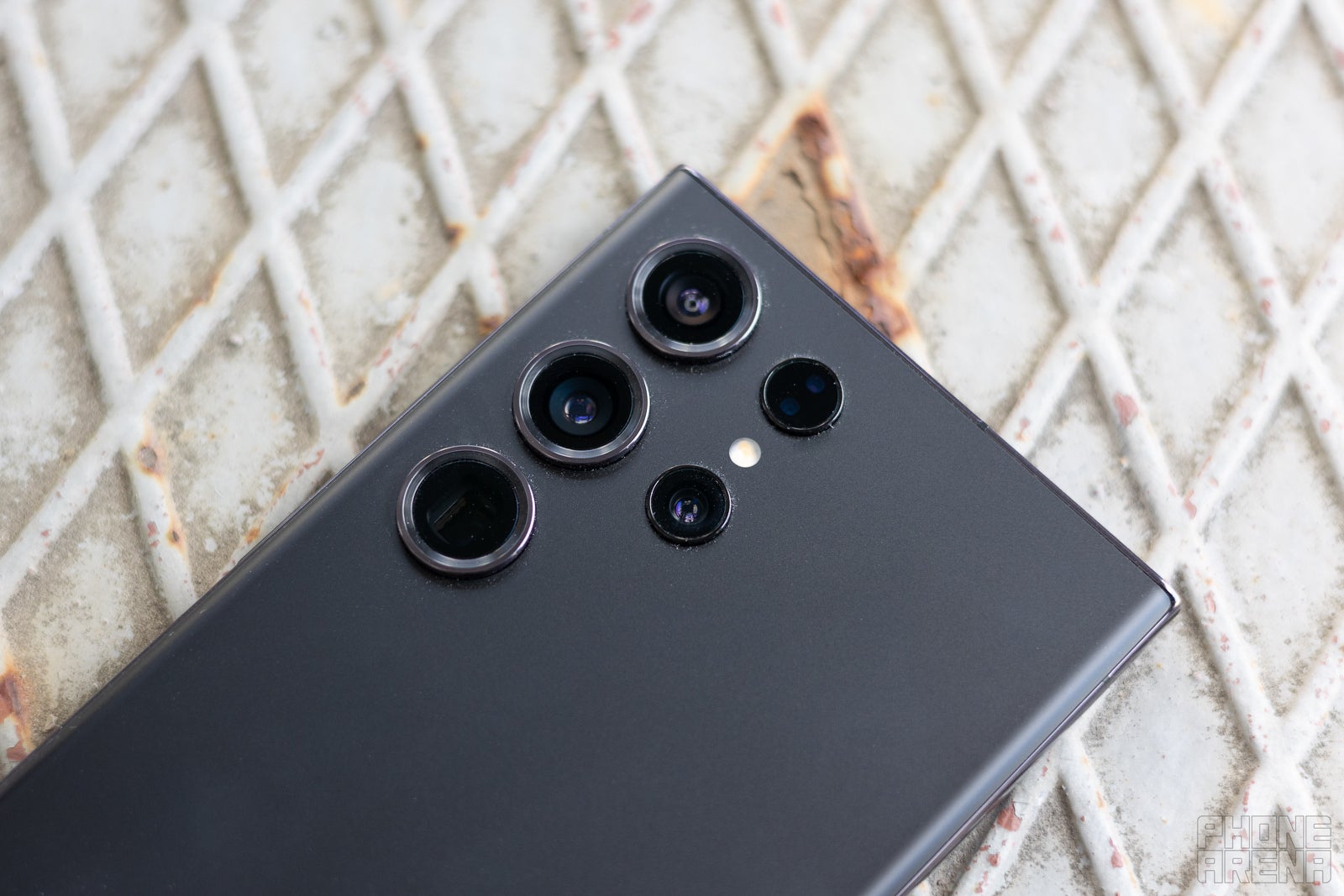 (Image Credit - PhoneArena) The camera rings are now larger and they are still an absolute dust trap
There is one notable difference in the S23 Ultra quad camera and a few smaller improvements, but overall it's not a vastly different camera system.
After three years of using a 108MP sensor for the main camera, Samsung is making the jump to an impressive new 200MP sensor. 200 megapixels sounds crazy! And it is, but the reason you should be impressed is not because of the detail alone. In fact, most people might never actually use the full resolution and by default Samsung uses pixel binning and by combining 16 pixels into one super-pixel, you still get 12MP photos by default. But thanks to that pixel binning trick, Samsung is able to clear out noise and deliver outstanding night shots.
Enthusiasts also finally get the ExpertRAW mode baked right in the camera app. ExpertRAW on the S23 Ultra is more powerful than the regular "Pro" mode because it not only gives you manual camera controls, but also allows you to shoot RAW files with multi-frame exposures. New this year is a 50-megapixel RAW file option, which won't take up as much space as a 200-megapixel file, but which still provides a lot more detail than the default 12MP shot.
Here is a quick overview of the S23 Ultra camera specs:
200MP main camera, 23mm f/1.7 with improved OIS
12MP ultra-wide, 13mm f/2.2
10MP 3X zoom, f/2.4
10MP 10X zoom, f/4.9
12MP front camera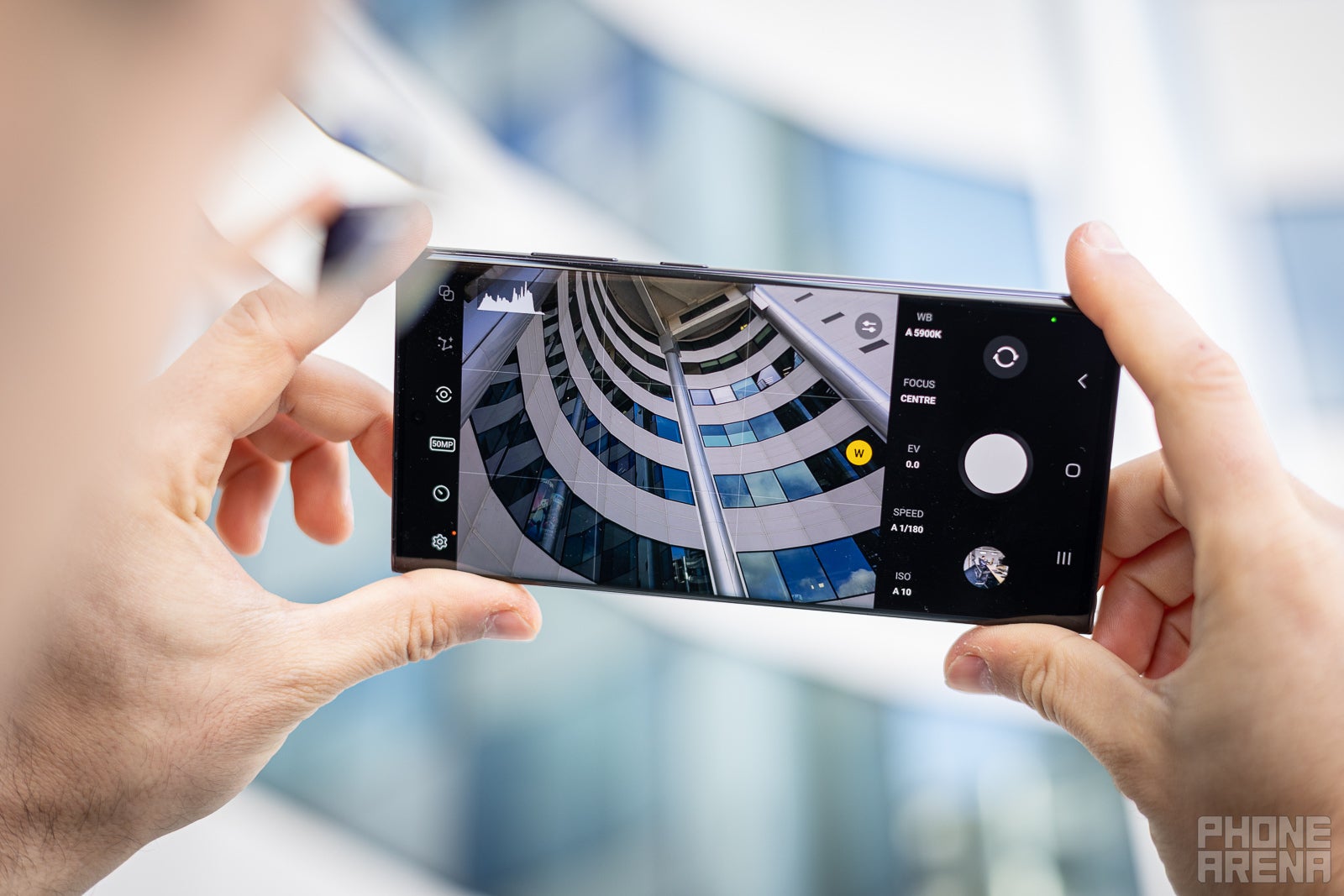 (Image Credit - PhoneArena) The ExpertRAW mode supports 50MP resolution now
Мain Camera - Daytime Photos
First, we test the main camera under ideal conditions: during the day, with plentiful light. Images on the S23 Ultra have more definition and cleaner detail compared to the last generation model. Samsung has clearly improved the processing and photos look less washed out and just overall more impressive.
In the second image with the bar stand, notice the sharper look of the S23 Ultra, this increase in sharpness is something typical for all the photos captured with the phone.
Main Camera - Low Light
The real advantage of the new 200MP sensor come in low light, so that is why we captured quite a few shots at night too. And indeed, images in typical indoor or lower light conditions are noticeably improved. The picture above looks over-processed on the S22 Ultra and a bit fake, while the newer model captures a much more natural look and has more detail. It is also cleaner with far less noise.
Main Camera - Night Photos


Here are a few shots captured with the main camera during the night. In these conditions, the S23 Ultra captures 12-megapixel photos, just like its predecessor.
It depends on the scene you capture, and sometimes the improvements can be very noticeable, or at other times more subtle.
Ultra-wide
In good light, the S23 Ultra has more pleasing colors, it shoots warmer colors with less contrast for a milder, less dramatic look than its predecessor. In the second shot, the S22 Ultra looks overprocessed, notice the strangely dark color of the wall, while the S23 Ultra captures a much more realistic and pleasing photo.
The ultra-wide camera on the
Galaxy S23 Ultra
compared to the same shooter on the previous generation phone in difficult, night-time conditions with very little light.
Portrait Mode


Samsung was particularly proud of the new night mode portraits on the S23 Ultra, so here is how they look at the 3X mode. This is a notable imrpovement in quality and probably the best night time portrait shots we have ever seen out of a smartphone. Previously, we would be afraid to use portrait mode at night because the results were never good enough, but the Galaxy finally gives us that freedom.



And here are night-time portrait shots using the 1X main camera. Using this camera the quality is even better as it has the larger sensor, but the perspective is a bit too wide.
Selfies
Despite the drop from a 40-megapixel selfie camera to a 12-megapixel shooter, we don't see a massive drop in quality. The image processing has actually improved in many cases.
Galaxy S23 Ultra

Performance & Benchmarks
Snapdragon 8 Gen 2 in all markets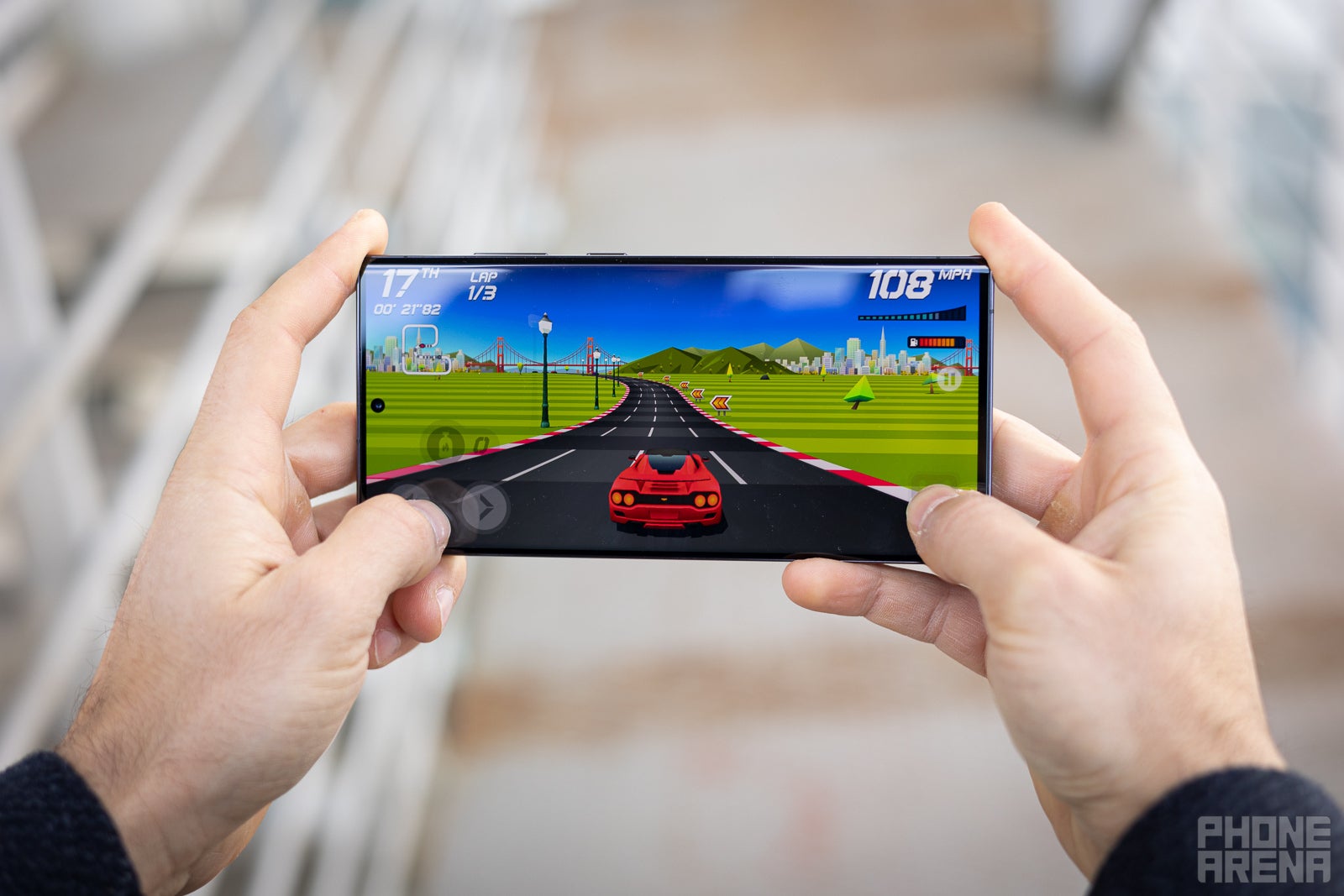 (Image Credit - PhoneArena) All S23 Ultra models are powered by the Snapdragon 8 Gen 2 chip, there are no longer Exynos versions
As we've already mentioned, all S23 models have the Snapdragon 8 Gen 2 chip. To be precise, it's actually a slightly modified version of the Snapdragon 8 Gen 2 chip, tuned to a higher clock speed, especially for Samsung. And this chip is an absolute beast!
Performance Benchmarks
As you can see in the benchmark scores above, the processor delivers a massive improvement in speeds.

We measured a 40% faster single-core CPU performance and an incredible 50% in multi-core! We rarely get such massive improvements, so this really shows how special this chip is.

Built on the latest and most efficient 4 nanometer technology, it is a huge improvement particularly for gamers. The GPU in this new chip actually is on par or even better than the one in iPhones, which used to lead the market for a few years.
While the chip itself supports fancy new tech like Wi-Fi 7 and 4K120 video, not all of them make it to the Galaxy, and these two ones actually do NOT. The S23 Ultra still supports only Wi-Fi 6E and 4K60 video recording, so there is that.
What is impressive is Samsung's decision to double the storage for the base model of the S23 Ultra, while keeping the same price (at least in the U.S.). These are the models offered:
8GB RAM + 256GB storage
12GB RAM + 512GB storage
12GB RAM + 1TB storage
Having a 1TB option is a great thing for power users, but the impact of a 256GB base model is far greater for the everyday user, so we are really excited about that.
Before the S23 Ultra release, speculations suggested it may have satellite connectivity, just like the
iPhone 14
series, but unfortunately that is NOT the case.
Galaxy S23 Ultra Android version
The S23 Ultra features the latest Samsung One UI 5.1 on top of
Android 13
, and it's a familiar Samsung-style interface with no major changes.
One UI 5.1 feels more refined than before and finally, a lot of the microjitter that the system is known for is no longer there. Kudos to Samsung for this!
When you open the system settings, you might notice that it reports as if the operating system takes up 60GB of space. You should know that this is not really the case and that number is misleading. Because of the discrepancy in the way computers count storage (1GB of storage is actually around 1.073GB in binary), there is an inherent "loss" in storage. What we refer to as 512GB storage model, for example, has around 494GB of actual space. However, instead of counting that discrepancy out, Samsung includes it in the
"system"
size number, inflating the system size number. So the actual Android system size is much smaller, do keep that in mind.
The best thing about the S23 series software, however, is Samsung's commitment to long support. The S23 series will get four years of major updates and five years of security updates, more than even Google offers for its Pixel phones.
Galaxy S23 Ultra

Battery
No change in battery size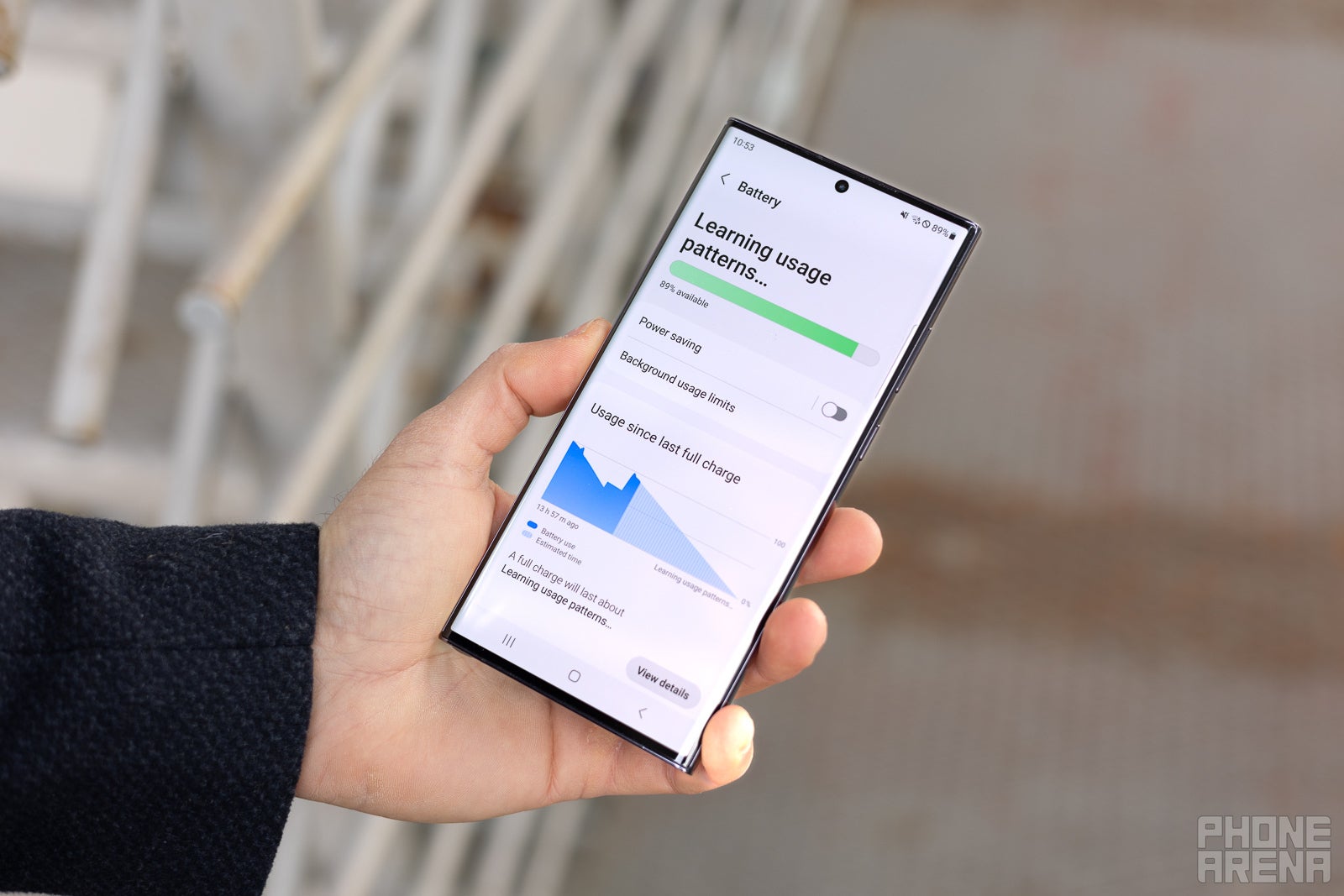 (Image Credit - PhoneArena) The S23 Ultra surprised us with much longer battery life despite the same physical size of the battery
The S23 Ultra has a 5,000 mAh battery, same size as last year, but battery life has improved even with this same battery.
Official Samsung numbers claim the new S23 Ultra gets up to 27 hours of video playback, which is 30% longer than the S22 Ultra, and when measuring audio playback time, Samsung estimates the S23 Ultra to last 99 hours, 22% longer than the last year's model. For those coming from an Exynos model, it will be an even bigger improvement.
PhoneArena Battery Test Results:
Our independent tests confirm that the S23 Ultra lasts considerably longer than its predecessor.
On our lightest web browsing test where we run an automated script going over webpages and simulating scrolling behavior, the S23 Ultra scored a massive improvement over the previous model and is almost on par with the
iPhone 14 Pro Max
. On our second battery test which involves streaming the same video playlist on YouTube across different phones, the new Galaxy improves over its predecessor but is slightly behind the
Pixel 7 Pro
and most notable the
iPhone 14 Pro Max
.
Finally, in our most intense 3D gaming test where we use a demanding modern game, the Galaxy is only bested by the iPhone. These are very encouraging results and we are happy to see Samsung bring these kinds of improvements even with the same battery size. It really shows how big of a difference the processor and software play in the equation.
Galaxy S23 Ultra Charging Speeds
One area left without improvement, however, is charging.
The S23 Ultra supports 45W charging with a cable, same as before. Also, just like in previous years, you don't get a charger in the box, only a cable. These speeds are fine, but considering how other companies support double the speeds, they are a bit of a let-down. The S23 Ultra will still take more than an hour to charge fully, while those other rivals can now achieve that in less than half an hour, or even quicker.
Also, remember that for those 45-watt speeds you need to pair Samsung's 45W charger with a special 5A USB-C cable (thicker than the average USB-C cable).
S23 Ultra
(starting from 1% charge)
45W charging
(wired)
25W charging
(wired)
10W+ charging
(wireless)
in 15 minutes
41%
27%
14%
in 30 mins
68%
51%
24%
in 45 mins
89%
71%
35%
in 1 hour
98%
91%
45%
Full charge
(1-100%, in hours)
1 hour 6 minutes
1 hour 19 mins
2 hours 37 mins
The S23 Ultra also supports wireless charging at up to 10W speeds, and it will be able to reverse wireless charge other devices when you place them on its back (you could top up wireless headphones, a smartphone or another phone for example). The keen-eyed readers will know that previous
Samsung phone
s supported faster, 15W wireless charging speeds, and it's interesting that Samsung chose to slow down the wireless charging rate.
Galaxy S23 Ultra

Audio Quality and Haptics
(Image Credit - PhoneArena) Haptics haven't changed but the audio quality is much better now
The S23 Ultra comes with a big improvement in loudspeaker quality compared to last year's model. Sound comes through much more impactful as the previous model doesn't get nearly as loud. But it's not just about the volume, the sound from the S22 Ultra lacks in clarity and there is almost no depth to it, drums sound downright muffled, while the S23 Ultra is a lot cleaner, voices come through nice and clear with far less compression, and even at max volume there is not much distortion. And most importantly you can actually hear those lows for a much richer sound profile.
Compared to the
Pixel 7 Pro
, the
Galaxy S23 Ultra
again wins as sound quality is just a bit more impressive, but the Pixel is not nearly as bad as last year's S22 Ultra, so the difference is not as huge. Voices on the new S23 Ultra come out just a bit cleaner and you have a bit more bass than the Pixel. Again, the overall sound profile is richer and you do notice.
Finally, comparing sound quality to the
iPhone 14 Pro Max
, the
Galaxy S23 Ultra
doesn't have as wide a presence and when listening to Miley Cyrus' Flowers, you can hear the more open stage sound profile of the iPhone while the Galaxy sounds a bit more compressed. The iPhone wins with a deeper bass, we are still talking within smartphone format limitations of course, but the iPhone is pushing those, while the Galaxy feels just a tiny step behind.
And for those that are still wondering whether a 3.5mm headphone jack will make a comeback in the S23 Ultra, the answer is a "no".
As for haptics, we did not see any meaningful difference from the previous model, and that's a bit of a shame. Apple has been the gold standard for haptics with its Taptic Engine for a few years, and other Android rivals like the OnePlus 11 deliver a similar if not better experience than Apple. Compared to them, the vibration feedback on the Galaxy feels vague and not nearly as refined.
Galaxy S23 Ultra

Competitors
In the US and most Western countries, the
Galaxy S23 Ultra
faces competition from two big players.
The arch-rival is of course Apple's
iPhone 14 Pro Max
. The iPhone comes with industry-leading battery life which the Galaxy does not quite match (but it's closer than before), plus it has iOS and the whole wide Apple ecosystem. However, it lacks the zoom capabilities, the openness and multi-tasking of Android, and the S Pen.
Another worthy option is the
Google Pixel 7 Pro
, a phone with a clean Android build, faster updates than the Galaxy, and clever Google AI features built in, but one that does not match the Ultra in terms of performance, zoom quality, video quality, and S Pen.
There are quite a few other flagship phones that compete with the Galaxy, but the one worth mentioning the most is probably the
OnePlus 11
, which stands out with a lighter and more manageable physical size, the same Snapdragon 8 Gen 2 firepower, much faster charging and an improved Hasselblad branded camera.
Galaxy S23 Ultra

Summary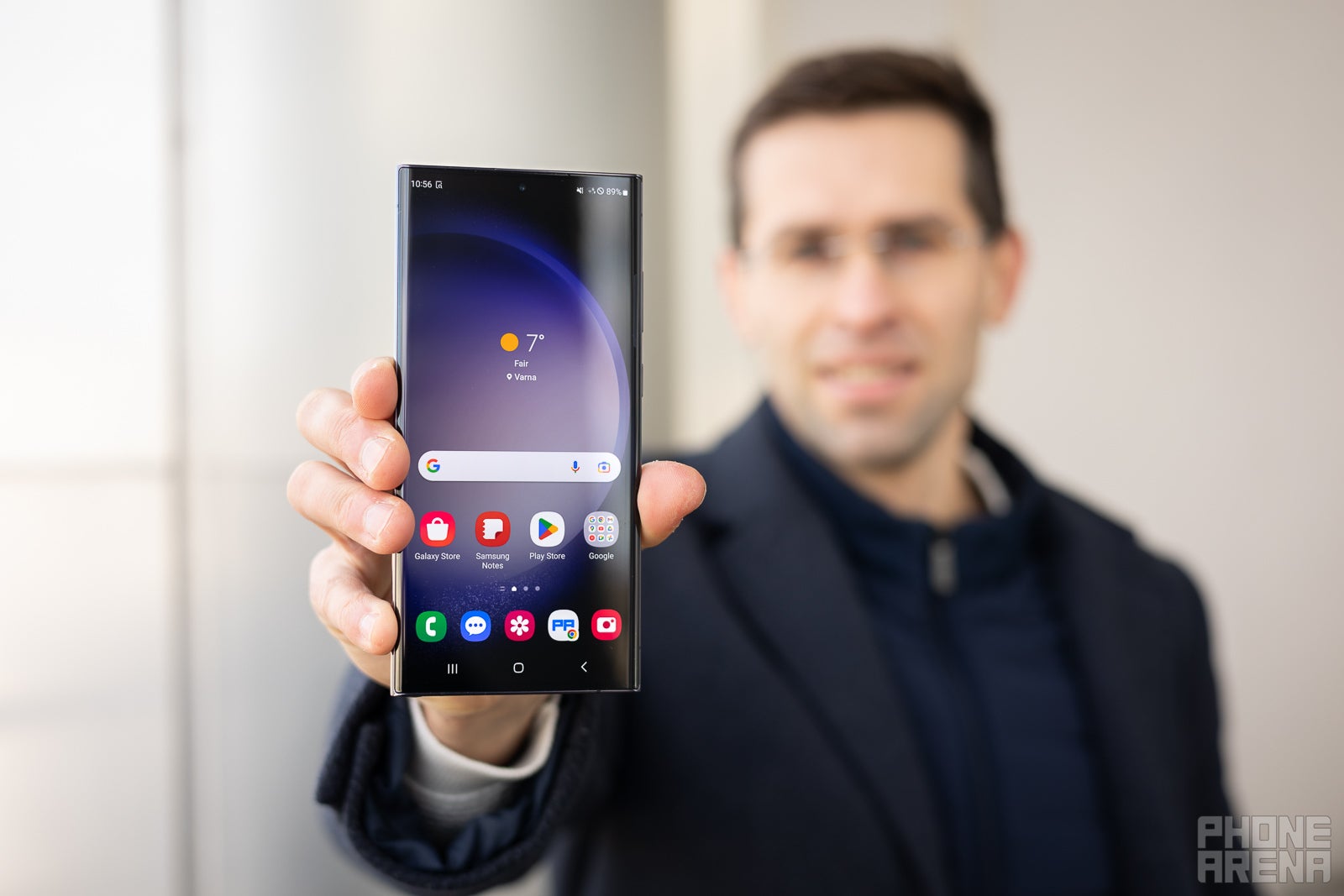 (Image Credit - PhoneArena) The S23 Ultra might not have one big new feature, but it has SO many little improvements!
At the end of the day, the
Galaxy S23 Ultra
is a step in the right direction for Samsung. It's not a giant leap, but it improves in all the key areas with an impressive new chip (that finally come to all customers), improved audio quality, double the storage, better design and a more capable camera. These are things everyone will appreciate.
All the rest of the minor tweaks are welcome additions, even if far less impactful: 8K video is still not something many users would actually use, the improvements in video stabilization are again nice, but not a game-changer.
Does the new S23 Ultra feel like an "S" version? While we cannot outright recommend S22 Ultra owners to upgrade, those who rock an older phone and are looking for a flagship, will love the S23 Ultra. To us, this feels like more than an "S" version. And let's not forget that it keeps the power and versatility of a Note with the S Pen and there is really nothing quite like it on the market.
Recommended Stories