Bandai Namco brings One Piece Pirate Rush and Sword Art Online: Integral Factor to smartphones
0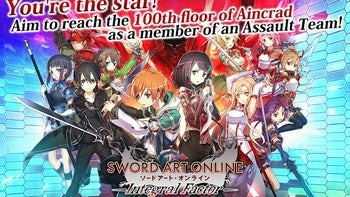 It looks like Bandai Namco is on a launch spree. After the surprising announcement of
Dragon Ball Legends
last month, the Japanese publisher and game developer released two new games on mobile, both available for free: One Piece Pirate Rush and Sword Art Online: Integral Factor.
One Piece Pirate Rush is a purely
PvP title
, as teams of up to four players face each other in real-time battle action. The gist is that every One Piece character in the game has unique abilities, which adds a layer of strategy whenever you have to choose your team members.
The game features five character types (fighter, warrior, supporter, shooter, and swordsman), so players can choose the ones that fit their play style. To celebrate the launch of the game, every player who downloads the game will be given 100 Rainbow Diamonds (in-game currency) and a rare character (Shanks).
Fans of the Sword Art Online universe will find that Integral Factor, the new installment in the series, brings exclusive stories and new characters and monsters. Still, iconic heroes like Kirito and Asuna will be part of the game as well.
Unlike previous games, Integral Factors puts players in their own shoes, as they appear as members of an Assault Team trying to work their way to the 100th floor of Aincrad.
Once again, to celebrate the game's release, developers offer those who download Sword Art Online: Integral Factor until May 9 no less than 2,500 Arcana Gems, two in-game stamps, original avatars, and the Asuna Skill Record (4 stars).