New Star Wars: Force Arena PvP game announced for Android and iOS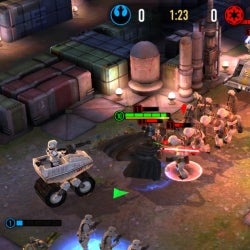 Netmarble Games and Lucasfilm announced the in-development Star Wars: Force Arena. It's a real-time PvP game optimized for mobile devices that features over 65 iconic characters, vehicles, and units. The game lets players choose between the Rebellion or the Empire, taking command of a squad of units to fight against each other in real-time.
Players are able to build squads by recruiting characters with different skill and attack abilities using character cards that are acquired after each battle and upgraded, strengthening their squad. The character decs feature famous heroes, such as Han Solo and Chewbacca, that serve to boost effectiveness in combat. The game also has various modes of play to choose from, such as single player, training, and real-time 1v1 or 2v2 multiplayer.
During the game's pre-registration, which has already began, all players that sign up will be rewarded crystals that can be used as in-game currency to purchase items and strengthen characters within the game. Depending on the number of players that pre-register, more crystals will be given to players for a duration of two weeks after the official global launch. 250 crystals will be rewarded if more than 10,000 players sign up, 700 crystals for more than 100,000 and 1,400 crystals will be given to all players if more than a million sign up for pre-registration. Players can sign up at the game's official website (
link
).
Star Wars: Force Arena will be available on both the App Store and Google Play. Unfortunately, the release date hasn't been announced.