Asphalt 8: Airborne arrives on Windows Phone and Windows
29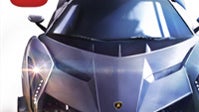 Asphalt 8: Airborne
, one of our favorite games of the year, has finally arrived to both Windows Phone and the Windows stores. Asphalt 8 is an arcade racing game that's all about the adrenaline with ramps scattered across tracks that you can jump on. Forget about realism here, it's about the fast-paced action and the game excels at that.
Asphalt 8 on Windows Phone costs $0.99 and on the Windows store it's $1.99. Even though that's a bit steeper than the now
zero-dollar cost the game carries on iPhone, iPad and Android
, it would still be money well spent.
Asphalt brings you the choice of 47 performance cars that most people can only dream owning in real life like the Lamborghini Veneno and Bugatti Veyron. The action happens in 9 exotic locations including Venice, Guiana and the Nevada desert.
To download the game, just hit the links right below.