Asphalt 8: Airborne Review
27
Asphalt 8: Airborne is finally out! After first launching on the iPhone in its fourth iteration years ago, the game has evolved tremendously and the latest Asphalt arrives simultaneously on both Android and iOS, the world's two most popular platforms. With steady improvements for years on, Asphalt 8 culminates to be one of the best arcade racing games on mobile. Here's why.
---
Gameplay feels like an action movie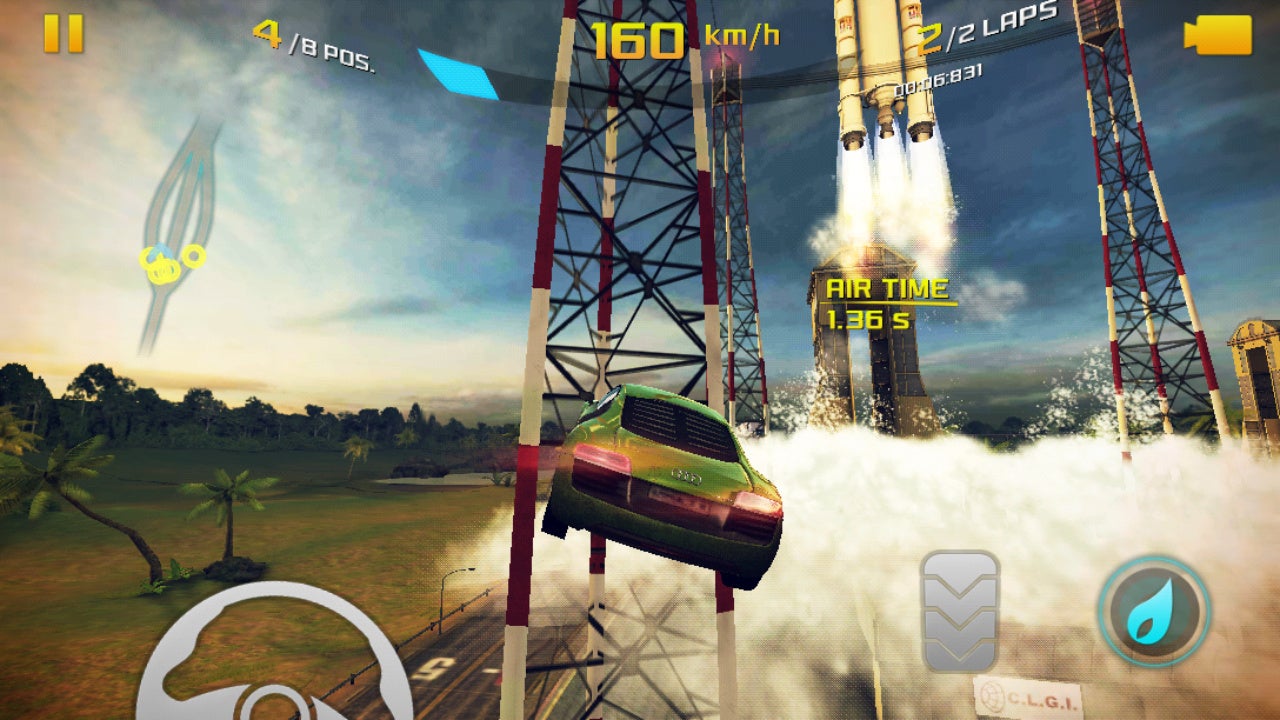 Gameplay like an action movie
Before you get to play the game, you have to download a whopping 1.5GB of data. The wait is well worth it. Once you launch it, you'll instantly feel like you're in an action movie. The adrenaline kicks off from the start and you quickly realize this game is all about speed and aggressiveness, fast and furious, and we really mean both. It's all about the action from the very start: drift, jump off platforms, hit other cars, you'll quickly forget your thoughts of safe driving - all to get you more precious nitro, pushing the pedal down to the floor again and again after every other drift.
There is not a hint of realism - for that you'd have to go to games like Real Racing 3, but there is not a hint of tranquility either - the game keeps you on the edge all the time.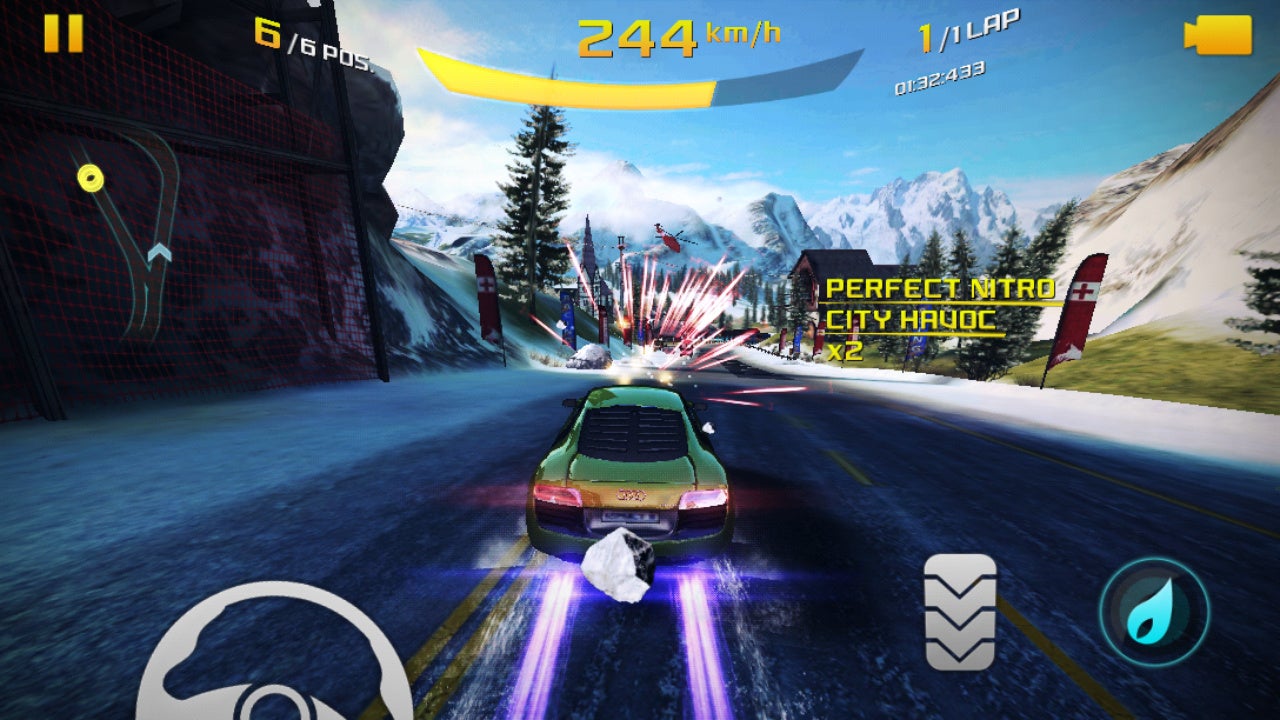 More about speed than realism
The amazing graphics and wide selection of the newest cars are just the background. But boy is it a good looking background. With a brand new physics engine and sharper graphics, the game truly looks like a console masterpiece, not a mobile game. The cars are amazing - you start off with enough money to buy just one, but as you progress the game would require you to buy new cars to enter certain events and progress. You have got all the mainstream cars plus some exotics - we loved that we could buy a Tesla Model S, and more expensive cars like Mercedes, Lamborghini, Marussia, Koenigsegg and even some concept cars were all welcome additions.
The action packed gameplay is addictive and we mean it. The adrenaline you get from the speed and the dynamics of the game will keep you wanting to play "just one more track." The game is not easy! You'd be able to win the first few events without much effort, but you'd find yourself putting a lot of extra effort to get the maximum amount of stars for each track later on. And that money is piling up way too slow given how expensive top car models are.
Asphalt 8: Airborne has a ton of replay value and countless hours of gameplay. There might be eight tracks (all of them are gorgeous), but you have a whopping 8 seasons with 15 tracks each. That's a total of 120 challenges! You'd have to replay a lot of the challenges to either finish first, or do some tricks for an extra star.
---
Asynchronous multiplayer means you can race your friends anytime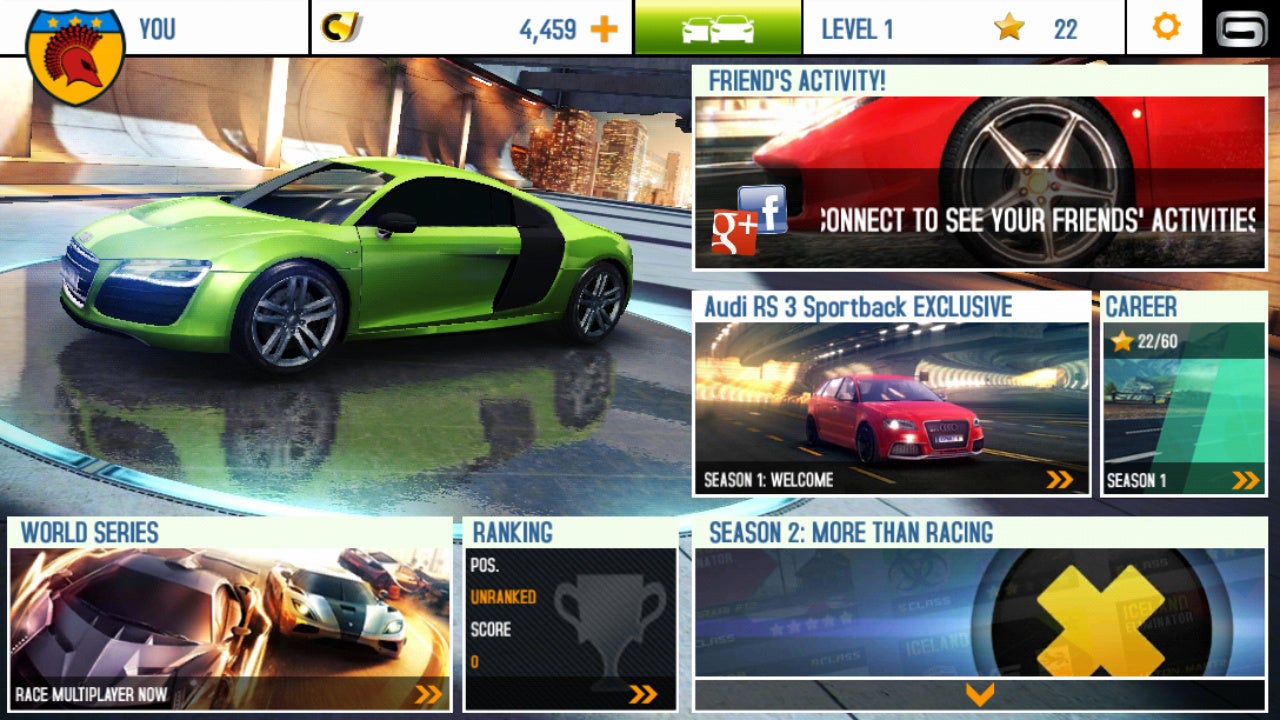 Then there is multiplayer. Asynchronous multiplayer means you can race your friends even when they are not online. That happens via a ghost car, a recorded interpretation of your friend's racing history. Multiplayer is even more fun and you find yourself hitting that nitro harder and going more aggressive against your opponents when you realize they are actual humans. You can pick one of three types of events and your favorite track, and if the majority of votes agree with yours you play that exact type of challenge.
Priced at the affordable $0.99, virtually everyone can afford to buy the game and this one dollar price has allowed the developer to keep in-app purchases less intrusive and not in your face. Remember Real Racing 3 where you had to wait for hours (literally!) for car repairs? There's none of that intrusive in-app purchase promotion here.
---
Conclusion
Asphalt 8: Airborne is the best arcade racing game we've ever played on mobile. Playing it feels like not simply watching, but being in an action movie. It's dynamic, aggressive, fun, but leave your expectations for realism out. With gorgeous graphics, great matching soundtrack and tons of replay value, we definitely recommend you try it yourself. See you on the tracks.
Pros:

Extremely engaging, dynamic action-filled gameplay
Gorgeous graphics, matching aggressive soundtrack
Tons of replay value, great cars
Cons:
-