Apple's shares finish in the red for the first time since 2008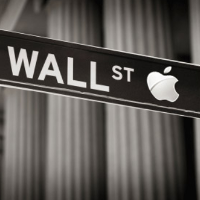 Apple's shares have long been a must own for hedge funds and mutual funds. With Thursday's closing bell, the curtain came down on the U.S. stock market for 2015. For the year, Apple stock holders experienced something that they haven't since 2008, a down year. To put this in perspective, the last time Apple's stock suffered a down year, the company was pushing the
Apple iPhone 3G
, and the
BlackBerry Storm 9530
was supposed to be the iPhone's big challenger.
Apple closed out 2015 at $105.26, down 4.64% from the start of the year. That is a loss of $57 billion in market capitalization for the tech titan. The peak for the year was made in April as the
Apple Watch
release gave a temporary jolt to the stock, propelling it to $134.54. Thursday's close was down 21.76% from that high.
Despite the decline for 2015, this will be known as the year in which Apple was added to the Dow Jones Industrial Average. The Dow is the most famous of Wall Street's indices, and is comprised of 30 stocks that are supposed to represent a cross-section of American manufacturing.
Recently, some analysts have urged investors to be cautious about Apple, picking up on a slow down in the supply chain which could indicate that Apple is building fewer iPhones than expected due to weak demand. Contract manufacturer Foxconn has allegedly reduced overtime for workers,
citing lower than expected holiday sales of the iPhone
. Last year during its fiscal first quarter,
Apple sold a record 74.5 million iPhone units
. Some analysts see Apple beating that figure this year by a small amount.
The decline in 2015 is just a small blip in the long term trend. Including stock splits, the day that the OG
Apple iPhone
was launched Apple's stock was trading at $16.23. It is now 650% higher.
Apple iPhone 3G
source:
AppleInsider