Apple sets a new record with sales of 10 million new iPhones during the launch weekend
99+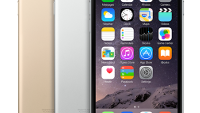 Apple announced on Monday, that it sold a record number of
Apple iPhone 6
and
Apple iPhone 6 Plus
units over the first weekend of availability for the devices. The phones were available beginning Friday in the U.S., Australia, Canada, France, Germany, Hong Kong, Japan, Puerto Rico, Singapore and the U.K. Conspicuous by its absence was China. Regulators there have not finished testing the new models. The 10 million units sold over the weekend is a record, topping the
9 million Apple iPhone 5s and Apple iPhone 5c models sold during last year's opening weekend
.
Apple says that 26 more markets will start offering the two new models on September 26th. Those regions include Austria, Belgium, Denmark, Finland, Ireland, Isle of Man, Italy, Liechtenstein, Luxembourg, Netherlands, New Zealand, Norway, Portugal, Qatar, Russia, Saudi Arabia, Spain, Sweden, Switzerland, Taiwan, Turkey and the United Arab Emirates. By the end of the year, 115 markets will be offering the phone.
The Apple iPhone 6 features a 4.7 inch screen, up from the 4 inch screen carried by its predecessor. The Apple iPhone 6 Plus offers a 5.5 inch display. Both models are powered by the Apple A8 chip, featuring second-generation 64-bit processing. The phones come pre-loaded with iOS 8, which Apple calls its largest release since the App Store.
"Sales for iPhone 6 and iPhone 6 Plus exceeded our expectations for the launch weekend, and we couldn't be happier. We would like to thank all of our customers for making this our best launch ever, shattering all previous sell-through records by a large margin. While our team managed the manufacturing ramp better than ever before, we could have sold many more iPhones with greater supply and we are working hard to fill orders as quickly as possible."-Tim Cook, CEO, Apple
The new handsets are offered in gold, silver and space gray. The iPhone 6 is available for $199 with a two-year contract (16GB), $299 (64GB) and $399 (128GB). The iPhone 6 Plus is priced at $299 with a two-year contract (16GB), $399 (64GB) and $499 (128GB).
source: Apple