Apple said to be interested in Sony 3D sensors for a rear TrueDepth camera for 2019 iPhones
40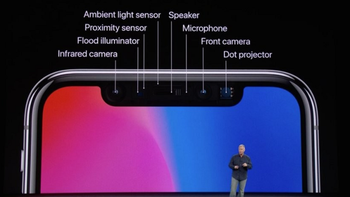 A rumor dating back to last November had
Apple using a less expensive technology to equip the 2019 iPhone models with a rear-facing TrueDepth Camera
. Instead of the current method used on the front-facing TrueDepth Camera that uses 30,000 laser dots to map a face for Face ID, the speculation called for Apple to use "time-of-flight" technology instead. This measures the time it takes for a laser to bounce off a subject to create a 3D representation. It is cheaper to make and easier to mass produce than the current structured light system used by Apple.
Over a year later, there seems to be some truth to that rumor.
According to Bloomberg
, Apple has expressed some interest in 3D camera sensors that Sony started producing this past summer. These chips use the time-of-flight technology to help map images in 3D. The general manager of Sony's sensor business, Satoshi Yoshihara, says that several smartphone companies are interested in the chips, which is why the company has expanded production of the sensors. These sensors are expected to be employed on the rear-facing and front-facing 3D cameras on various smartphones next year.
"Cameras revolutionized phones, and based on what I've seen, I have the same expectation for 3D. The pace will vary by field, but we're definitely going to see adoption of 3D. I'm certain of it."-Satoshi Yoshihara, general manager, Sony
As far as the iPhone is concerned, top analyst Ming-Chi Kuo of TF International doesn't expect Apple to use the time-of-flight system any time soon. Kuo notes that the current dual camera system found on the back of premium iPhone models since the
iPhone 7 Plus
"can simulate and offer enough distance/depth information necessary for photo-taking; it is therefore unnecessary for the 2H19 new iPhone models to be equipped with a rear-side ToF (time-of-flight)."