Apple iPhone 7 and iPhone 7 Plus are now available for purchase in stores and online
39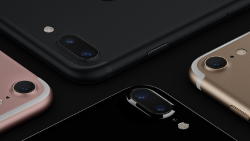 For many consumers, today is the day that they have been waiting for. It is September 16th, which means that the
Apple iPhone 7
and
Apple iPhone 7 Plus
are now available to be purchased in brick and mortar stores and online. Both models are now shipping, which means that the friendly skies are full of new iPhone handsets, packaged in a box and ready to be delivered to front doors in many regions of the world.
Both models are
powered by a sizzling fast new A10 chipset
, and no longer offer a 3.5mm earphone jack; the EarPods that come out of the box with the phone have a Lightning connector. Both models also feature stereo speakers (twice as loud as the ones on the
Apple iPhone 6s
), larger capacity batteries that bring as much as two additional hours of battery life, and a new home button that uses 3D Touch to receive an input.
We also should note that both models have an IP67 certification rating for dust and water resistance, and the duo are now available with 32GB, 128GB or 256GB of flash memory on board. There are new colors like Black, and the extremely popular Jet Black (which comes with a matte finish). The rear camera on the iPhone 7 has been graced with OIS, and the iPhone 7 Plus has a 12MP dual camera setup allowing the user to employ 2X optical zoom and 10X digital zoom. The amount of RAM on the phablet has been given a 50% bump to 3GB.
If you're planning on going shopping this weekend, keep in mind that many configurations of the phone have been sold out. Despite earlier talk that the 2016 iPhone models were going to be a snoozefest, it appears that there is enough of a difference to get those holding older iPhone units to get off of the sidelines and update to one of the new models.