Apple iPhone 5s was the top selling smartphone in the U.S. last month
99+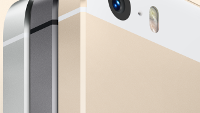 For those who figured that the mid-range
Apple iPhone 5c
would cannibalize sales of the
Apple iPhone 5s
, guess again. The new full-featured version of the iPhone managed to lead all four major U.S. carriers in smartphone sales for the month of September even though the phone didn't launch until September 20th. Over the opening weekend,
Apple said it sold 9 million units of the two new iPhone iterations
. With an estimated 3 to 1 ratio in favor of the higher priced model, simple algebra tells us that if that sales ratio is correct, Apple sold 6.75 million iPhone 5s handsets during the first three days. That would mean the new top-shelf iPhone blew past the 5 million units of the
Apple iPhone 5
that were sold over last year's opening weekend
.
The report about the Apple iPhone 5s topping the sales charts last month at all four major stateside carriers comes from Canaccord Genuity. And while the latter did not provide sales numbers, it did say that the
Samsung Galaxy S4
was number two at times during the month, and occasionally dropped to third thanks to what Canaccord Genuity is calling "
strong sales
" of the Apple iPhone 5c. That would contradict some reports that had the candy coated iPhone missing out on the demand seen for its more debonair brother.
Not all handsets did well last month. The
BlackBerry Z10
and
BlackBerry Q10
had "
very soft
" sales in September, while the
HTC One
had a "
very weak
" month.
Canaccord now expects Apple to sell 52 million units globally in the fourth quarter with Samsung close behind.
source:
CNET