Apple sells 5 million iPhone 5 units during opening weekend, doesn't meet analyst expectations
99+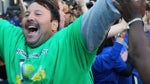 Apple has once again had a terrific launch weekend, as it managed to sell over 5 million iPhone 5 units in the first days of the device's presence on the market. While this is a spectacular results (beating the iPhone 4S's launch sales of 4 million), it's substantially less than what some analysts, Gene Munster included, have expected.
Based on the amount of pre-orders for the device, which was 2 times the pre-orders for the iPhone 4S last year,
the analysts were misled
to believe that Apple will also be able to sell 2x more iPhones during the launch weekend, but this didn't happen. Still, we presume this isn't a bad piece of news for Apple, as it still managed to beat its own record. The 5 million sales of the iPhone 5, though, might be a sign of a slowdown for Apple, as the increase of "just" 25% in sales over the previous iPhone pales in comparison to how the iPhone 4S sold more than twice the units of the iPhone 4 in its launch weekend. Here's what the company's CEO, Tim Cook, had to say on the matter:
Demand for iPhone 5 has been incredible and we are working hard to get an iPhone 5 into the hands of every customer who wants one as quickly as possible. While we have sold out of our initial supply, stores continue to receive iPhone 5 shipments regularly and customers can continue to order online and receive an estimated delivery date. We appreciate everyone's patience and are working hard to build enough iPhone 5s for everyone. - Tim Cook, Apple CEO
What about you, do you have an iPhone 5 in your hands already?
via:
MobileSyrup