Apple iPad bought at Walmart turns out to be nothing but notepads
50
15 year-old Courtney Akers in Texas was excited as she could be. Her Mom had just returned home from Walmart carrying Courtney's birthday present, a brand new third generation
Apple iPad
. Yeah, Courtney just couldn't wait to feast her eyes on that Retina display that has been the focus of Apple's marketing of the device. So when she opened the box, to her horror, instead of an iPad was a
stack of yellow notepads
.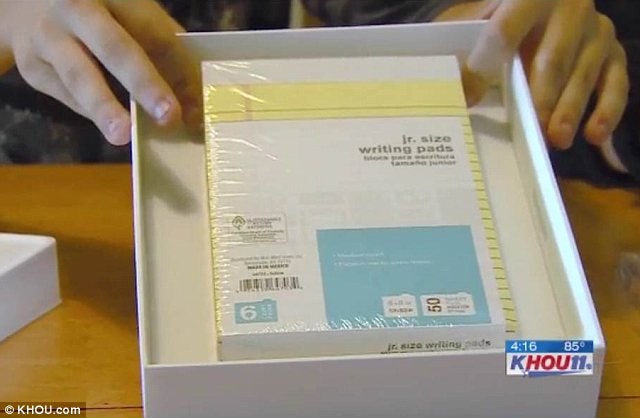 Instead of an Apple iPad, the box contained notepads
You might recall a similar story in August of 2011 when a 22 year old woman in South Carolina
purchased what she thought was an Apple iPad
from two men for $180. Inside the box was a bizarre looking chunk of wood painted black with the Apple logo glued to it. That transaction, though, took place on the street while Courtney's Mom purchased the birthday gift at a reputable store.
When Courtney's Mom raced back to Walmart, the manager refused to do anything for her. After more than two hours of discussion, he would not let her get a refund or an exchange and instead, accused the family of concocting an elaborate hoax. The company, though, later went over the manager's head after being contacted by a local television station. The retailer tracked the box and found that the Akers had been ripped off. The retailer will replace the notepads
with a real Apple iPad
. But how could this happen? Walmart's theory is that someone bought an Apple iPad, took out the tablet, replaced it with the notepads, and resealed it to look like it had never been opened.
It might be a good idea to find out exactly what is in that Apple iPad box you just bought from any retailer before you take it home.
"We have reviewed our surveillance video to see if we can find out who is responsible for this and we are sharing that information with local law enforcement in hopes that whoever is behind this is held responsible for their selfish acts"-Walmart
source:
KHOU
,
DailyMail
via
Gizmodo