Apple betting big on the glass iPhone 8? Samsung said to ship 40 million AMOLED panels for it
63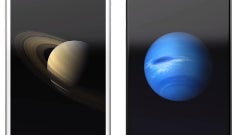 Apple may be planning a
grand return to the phone industry disruption
game next year, if various
analysts
and assorted rumormongers are any indication, with an all-glass iPhone that
could have a curved display aspect
for reasons known only to Apple for now. Well, curved screen would mean only one thing - Apple will be using flexible AMOLED screens for that model - and the speculation is rife that
Samsung is poised to supply it
with up to 100 million 5.5" sheets for the task at hand.
Of course, not everything will be delivered at once, as it is allegedly a three year contract running until 2019. Today's water in the Apple-AMOLED rumor mill is added by a research piece that claims Samsung will initially ship 40 million units for the 2017 iPhone 8 Plus model, or whatever it is named. In 2018, the batch will eventually grow to 80 million, and 120 million the year after.
Needless to say, by now there is barely a large mobile OLED display maker that hasn't been rumored to be in talks with Apple on such panels -
Samsung
,
Sharp
,
JDI
,
AUO
and
LG
have all been speculated already - so we can safely assume that Samsung won't be an exclusive supplier for long, if at all, yet the sheer thought for an iPhone with AMOLED screen has us salivating for more details.