Sharp is gearing up for AMOLED panel production because Apple might ditch LCD screens
72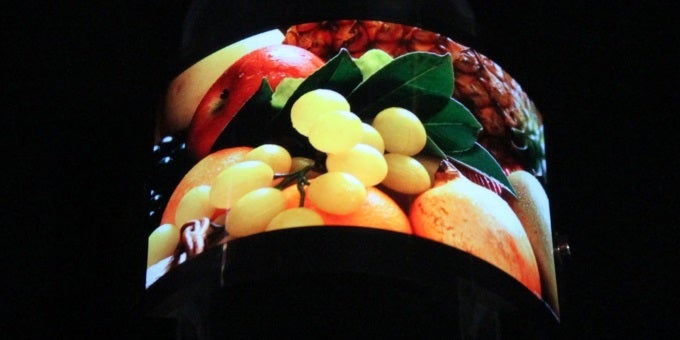 An AMOLED panel flexing for the camera.
It's been kind of a news pattern lately. Hot display panel maker that happens to do business with Apple
invests in AMOLED screen production lines
. Industry analysts jump the gun and proclaim it's all done for supplying Apple with AMOLED screens for next or next-next year's iPhones. Bang! Internet explodes! Honestly, we're not sure the two are necessarily correlated, but hey, if knowledgeable analysts insist it's so, then we'll have to roll with it!
So here it goes – in the zenith of Apple device assembler Foxconn's reported
$3.5 billion acquisition
of Japanese technological powerhouse Sharp, the later has begun installing new production lines dedicated exclusively to AMOLED smartphone panel making. Why. Because – wait for it – Apple is reportedly lining up suppliers to equip its future iPhones with AMOLED screens. Now who would have thought?
For the record, Taiwanese trade digest DigiTimes reported that Sharp has set up three production lines that supposedly boast a collective production capacity of 9.85 million 5.5-inch AMOLED panels per month. More specifically, the lines will produce 13 000, 11 500 and 34 500 glass substrates respectively.
Apple's purported switch to AMOLED led the display industry into a new gold rush.
Over the years, AMOLED screens have evolved to provide generally better visibility under direct sunlight than the LCD IPS screens Apple traditionally uses, in addition to punchier colors, deeper blacks, and significantly reduced power consumption due to the absence of backlight. The Apple Watch is currently the only Apple device that uses OLED panels, but that's said to be changing in 2018, as the iPhone maker is looking to switch to AMOLED screens.
Not only does the technology allow for very good image quality nowadays, but AMOLED panels have also become cheaper to produce than LCD ones. IHS Technology claims that production costs of AMOLED and LCD panels in the first quarter of 2016 have gone down to $14.3 and $14.6, respectively, based on the cost for a 5-inch Full-HD Smartphone. Thus, an onslaught of AMOLED screens across low and mid-range phones seems like a legitimate possibility in the coming months. The decreased cost also makes for a good time for
those money-conscious Cupertinians
to grab themselves an AMOLED bargain for the 2018 iPhone's volume production!