Apple iPhone 8 Review
99+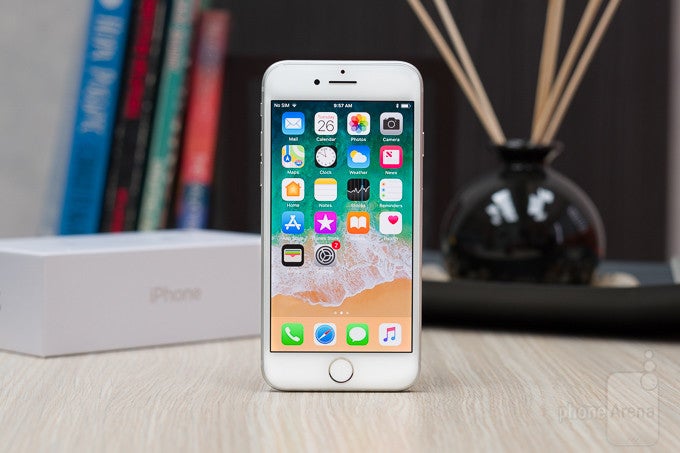 Introduction
For the better part of the last decade, smartphone lovers everywhere have been doing the iPhone shuffle. It's a simple maneuver, played out on a dance floor that stretches through the years. Big step, little step, big step, little step. One year brings us an iPhone that tends to feature a bold new design, then the next year upgrades that with an "S" model that refines the hardware and introduces key new features.
This year, the smartphone industry is positively oozing with change. Old flagship lines find themselves replaced by new visions, and even some of the longest-standing traditions are being sent back to the drawing board, like we see with the introduction of new super-wide-aspect-ratio screens.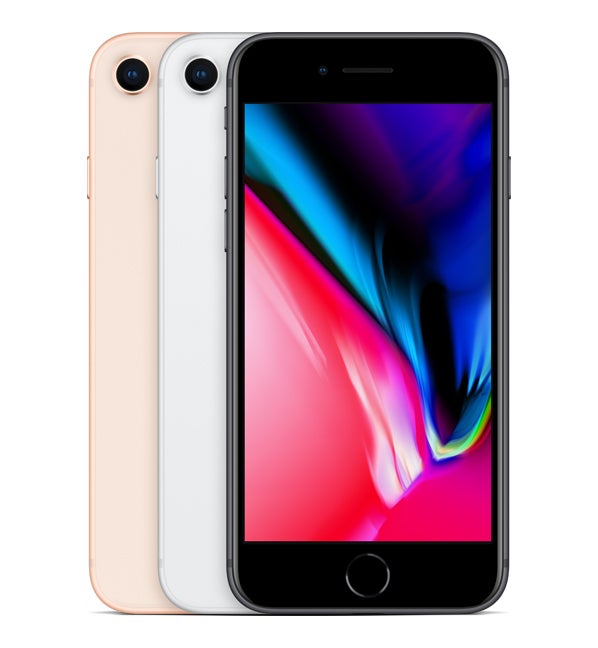 Even Apple, the company that's found near limitless success by confidently ignoring passing trends and instead crafting phones to the beat of its own drum isn't immune to this shift, and that's causing some major shakeups for this year's latest batch of iPhones.
Not only are we skipping an S year, but we're witnessing the launch of some of the most powerful, daring, and potentially controversial iPhones ever, not just with the introduction of the mold-breaking
iPhone X
, but also with the changes arriving for the new
iPhone 8
and
iPhone 8 Plus
.
We're going to be giving all these Apple smartphones their due, and today we get things started on the ground level as we tear into the iPhone 8.
In the box:
iPhone 8
Lightning EarPods
Analog headphone adapter
Charger
USB to Lightning cable
SIM tool
Welcome card
Advisory card
Stickers!!!
Design
Apple brings back the iPhone's glass back while changing precious little else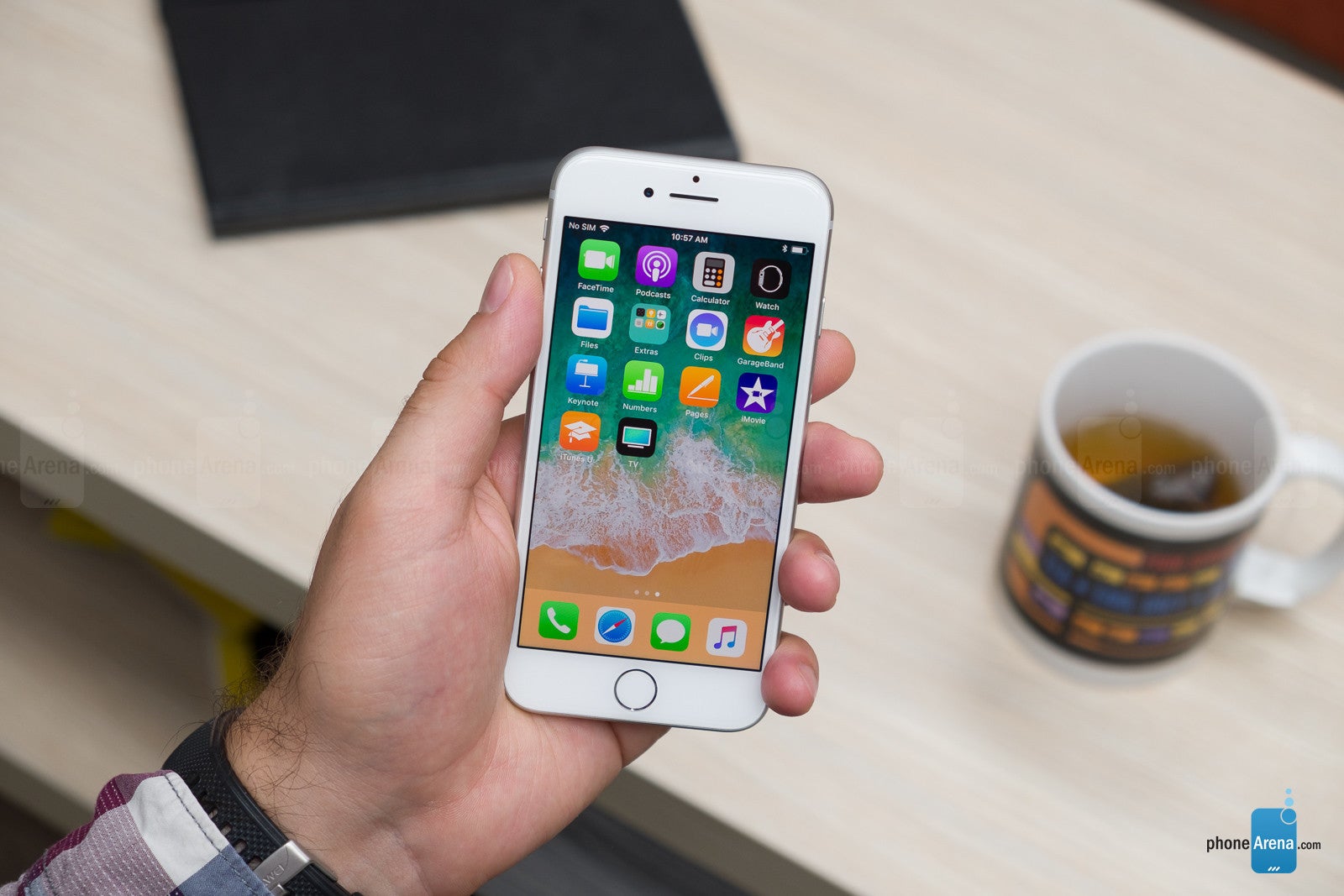 Apple skipping its S-year iPhone and going right to the next full number might be enough to have you thinking that there's a bold new look waiting for the handset this year, but oddly enough (as is perhaps only befitting one of the most unusual iPhone lineups to hit us so far) this time that's not quite the case.
Just look at some photos, and you might start thinking that the iPhone 8 is very much a rehash of last year's admittedly well-received iPhone 7. At least, in terms of looks and layout, this new iPhone doesn't stray very far from the pattern established last year. What changes we see in shape and size are extremely minor, and the iPhone 8's external dimensions, though admittedly larger than last year, are only bigger to the tune of one-fifth of a millimeter. Slightly more significant growth occurs when we look at the iPhone 8's mass, which grows seven percent from last year. Still, even that change isn't enough to negatively impact the iPhone 8, and without an iPhone 7 in your other hand for comparison, you're going to be hard-pressed to notice the difference.
But measurements only tell half the story, and with the iPhone 8 we see Apple adopt a new glass back for its smartphones. While that may help empower the phone to take advantage of wireless charging, it could be a move that has a few shoppers thinking twice, as it also feels more damage-prone than the old design.
Apple's not a company that likes to overwhelm its users with too many options, but over time we've seen that level of control start to slip a little, eventually leading us to a situation where the iPhone 7 was available in your choice of five colors. With the iPhone 8, Apple's reining things back in, and culling that selection down to just space gray (ie, black), silver, and gold.
Waterproofing is back, just like we got on the iPhone 7, and we're glad to see that even with the new materials this time around, protecting the hardware against accidental water damage is still a priority.
Display
Apple saves its best new display tech for the iPhone X, but the iPhone 8 still learns a new trick or two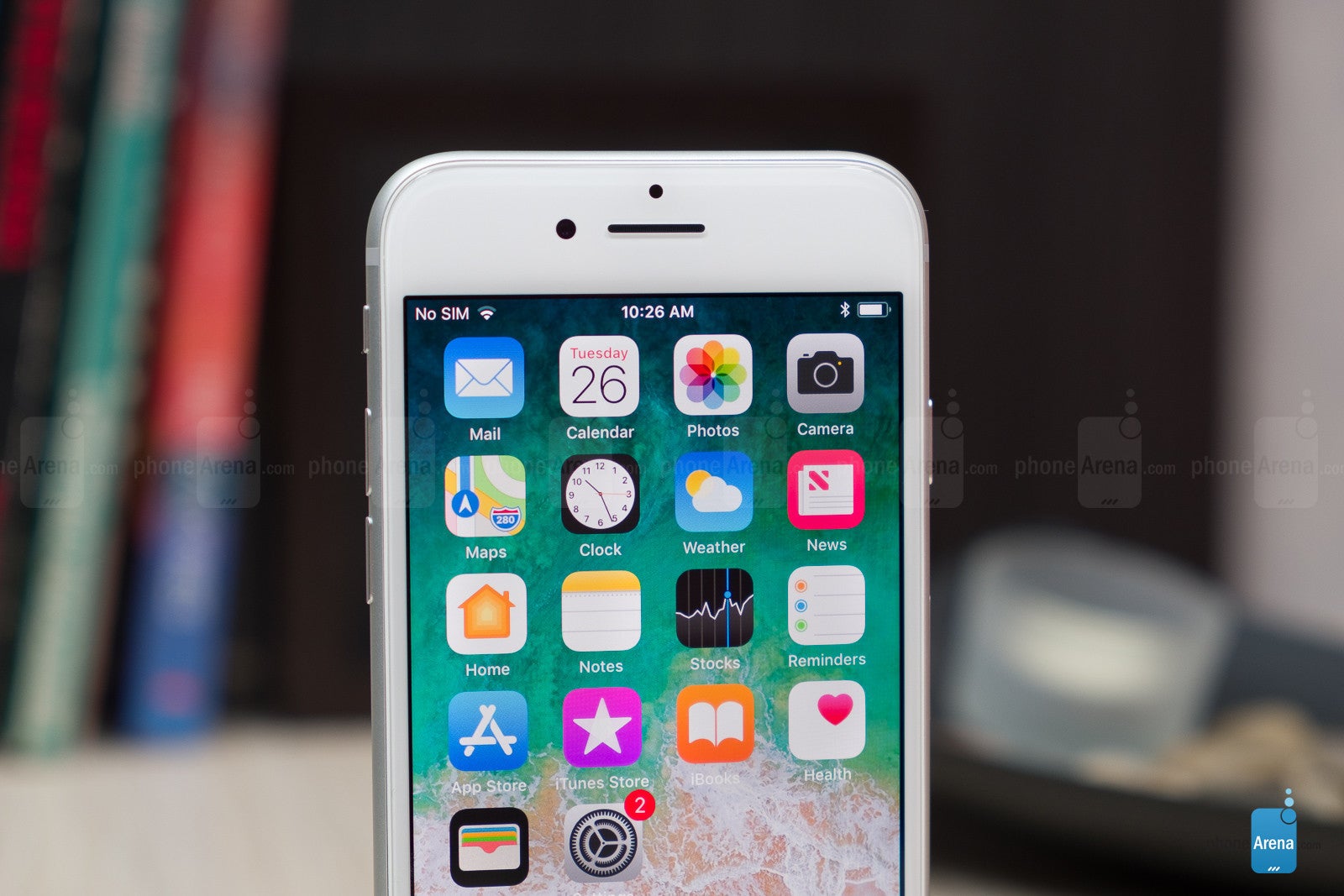 Of all Apple's new handsets, it's the iPhone X that really gets to benefit from a bold new display, but that's not to say that the iPhone 8 is getting left out of the excitement, either. Though the 4.7-inch panel shares the same size and resolution as the last few generations of iPhone, we continue to see the manufacturer push forward with incremental upgrades to its screen tech.
This year, that means True Tone – the same system we saw Apple deploy with the iPad Pro last year – coming to the iPhone. As Apple helpfully demos while you set up the iPhone 8, True Tone uses the phone's sensors to match screen color temperature with ambient lighting conditions. While that won't have any major impact on how you use your phone, it's exactly the kind of little "quality of life" improvement that Apple loves to highlight.
One important consideration to keep in mind if you're perusing the iPhone 8 spec sheet is Apple's mention that the phone supports playback of HDR-enhanced video content. While that's true, of Apple's new iPhones only the iPhone X has a screen that's capable of actually reproducing that high-dynamic range video. So while HDR footage will play on the iPhone 8 – and will look great, just like standard video on this beautiful screen – it just can't offer the same experience as it would on the iPhone X.
Like we've come to expect from iPhone displays, the screen on the iPhone 8 is bright and versatile, and even its manual brightness control can generate output that's easily viewable outdoors. Color reproduction is very good, and only the slightest hint of colors leaning towards the cyan side detracts from its accuracy.
On one hand, we love that Apple's still giving users a sub five-inch premium smartphone option – and to say that there are precious few such options around would be a serious understatement. But one thing that we've been criticizing a good number of 2017 smartphones for has been sticking with familiar screen shapes and sizes while the highest-end phones graduate into super-widescreen territory with barely-there bezels. And while Apple is taking that route with the iPhone X, part of us wishes the company was ready to go all-in on the idea. Or at the very least, give us a small-iPhone-sized version of it, since, as it is, the 5.8-inch iPhone X has more in common with the iPhone 8 Plus than this model.
Maybe we'll change our tune once spending some more time with the X, but right now we can't help but look at the iPhone 8 and wonder what this might turn into if Apple were willing to take a leap of faith with its new screen tech.
Display measurements and quality
Interface and Functionality
Apple's latest UI refresh delivers a good mix of powerful new features and updated apps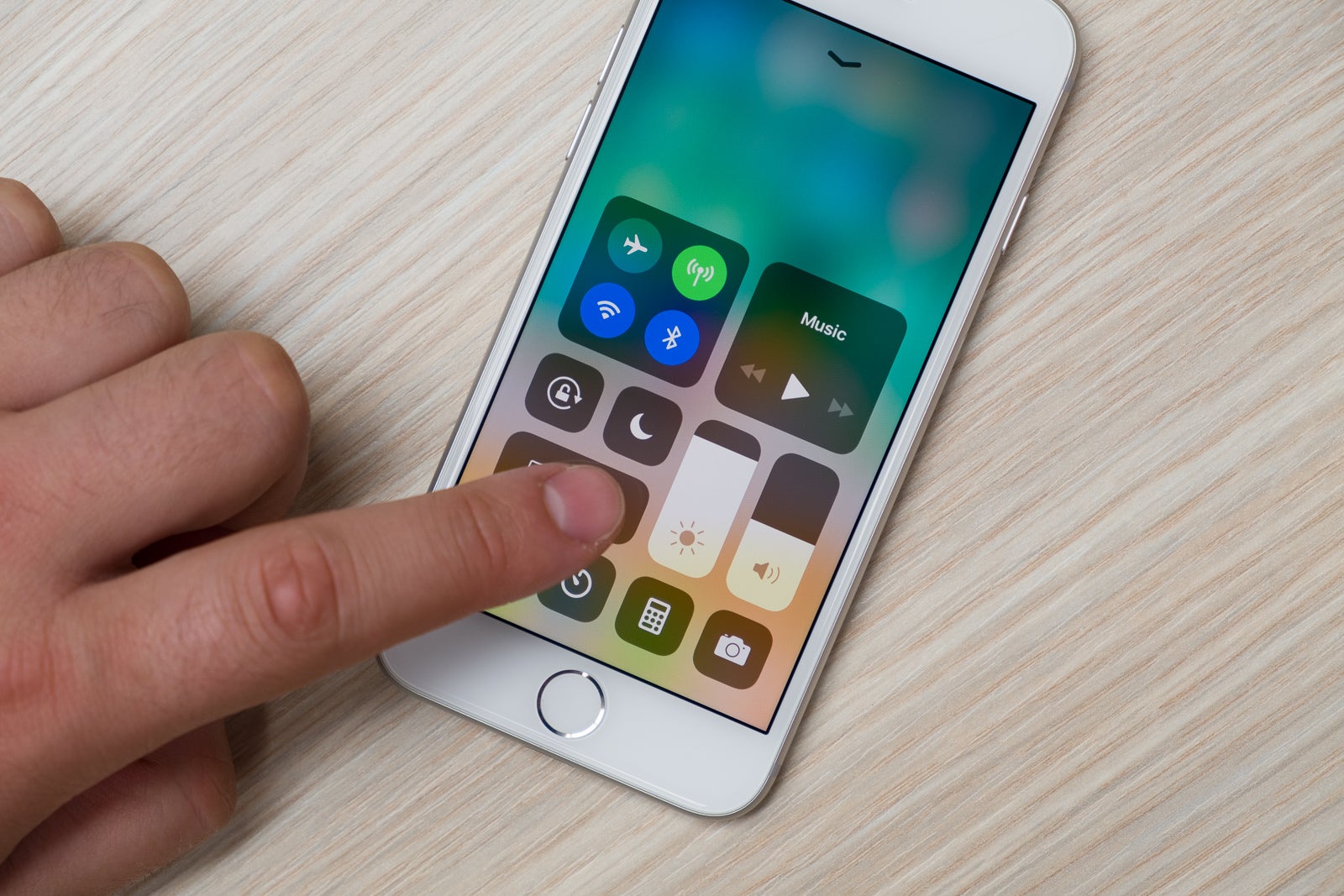 Just before the retail debut of the iPhone 8, Apple's iOS 11 updates started landing, and this new handset is understandably running 11 right out of the box. Compared to past iOS updates, we're not seeing a ton of major changes, but instead a lot of little ones that still add up to a nice new edition.
One of the biggest winners here is the new Control Center redesign, not only cramming in more functionality, but also giving users the ability to customize what toggles they see here. But for all the buttons that are there, it's a bit maddening which aren't. Take brightness controls, for example: there's a fantastic brightness slider (that's way more responsive than anything you'll find on Android), with toggles for Night Shift and True Tone. But utterly missing is any way to control the phone's auto-brightness setting.
Of course, this is just scratching the surface, and from extended Siri availability, to a new App Store, to Files and improved Maps, there's no shortage of enhancements worth paying attention to here.
Processor and Memory
The new A11 Bionic chip utterly blows past the competition, even outdoing the latest iPad Pros
Apple doesn't mess around when it comes to the processors at the heart of its mobile devices, and its reputation continues to hold up with the introduction of the A11 Bionic chip. The processor's performance easily outdoes the A10 in last year's iPhone, and also flies right past the entire pack of Snapdragon-based Android devices. Really, the only serious competition it's got right now is the A10X at the heart of the latest iPad Pro models, and while those perform quite admirably, the smaller, lower-res screen on the iPhone 8 lets graphics processing soar, resulting in some stunning frame rates.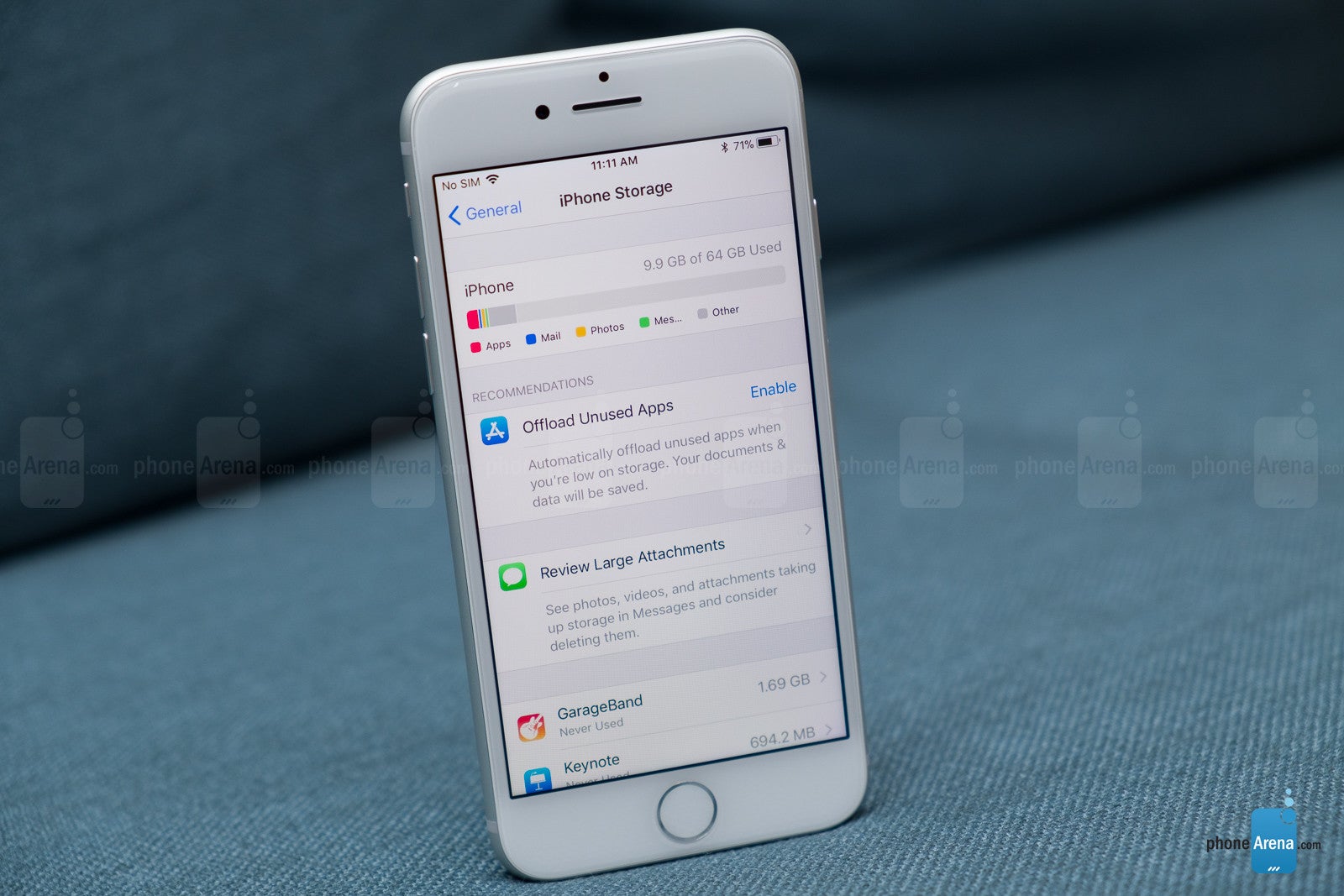 While Apple continues to offer its users some well done cloud storage options, local device capacity is still king, and in recent years we've seen manufacturers everywhere transitioning to higher and higher starting levels. Over on Android, 64GB is the new minimum on some of the highest profile flagships, and with the iPhone 8 Apple gets on board the same boat.
Even if that's overkill for your needs, that lofty starting point is still quite empowering, freeing many users from ever worrying about storage space. The iPhone 8 is also available as a 256GB model – for a $150 premium.
Connectivity
New support for wireless standards augments an already impressive connectivity library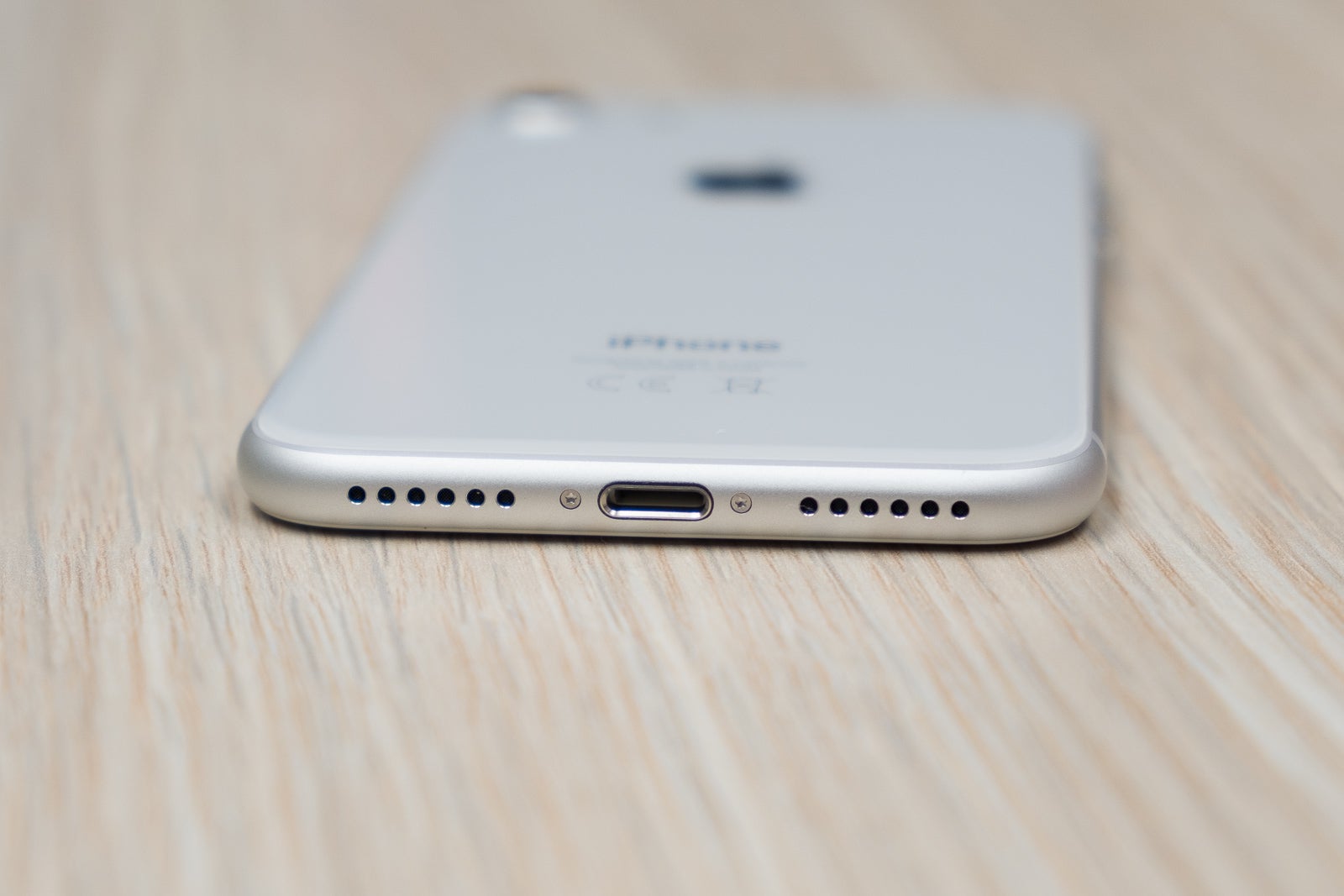 The iPhone 8's connectivity options are much in line with what we got from the iPhone 7. That said, there very much are improvements here, and probably the most interesting one is the evolution from Bluetooth 4.2 to Bluetooth 5.0. While you're not likely to run into any situations where you absolutely need 5.0 support to work with new hardware, it does promise improvements that could extend speed and range limits, helping especially with internet-of-things hardware.
Another small enhancement comes in the form of support for additional satellite positioning tech, rendering the iPhone 8 able to receive signals from both European Union and Japanese systems.
Camera
Without totally revamping its hardware, Apple still manages to deliver an impressively powerful camera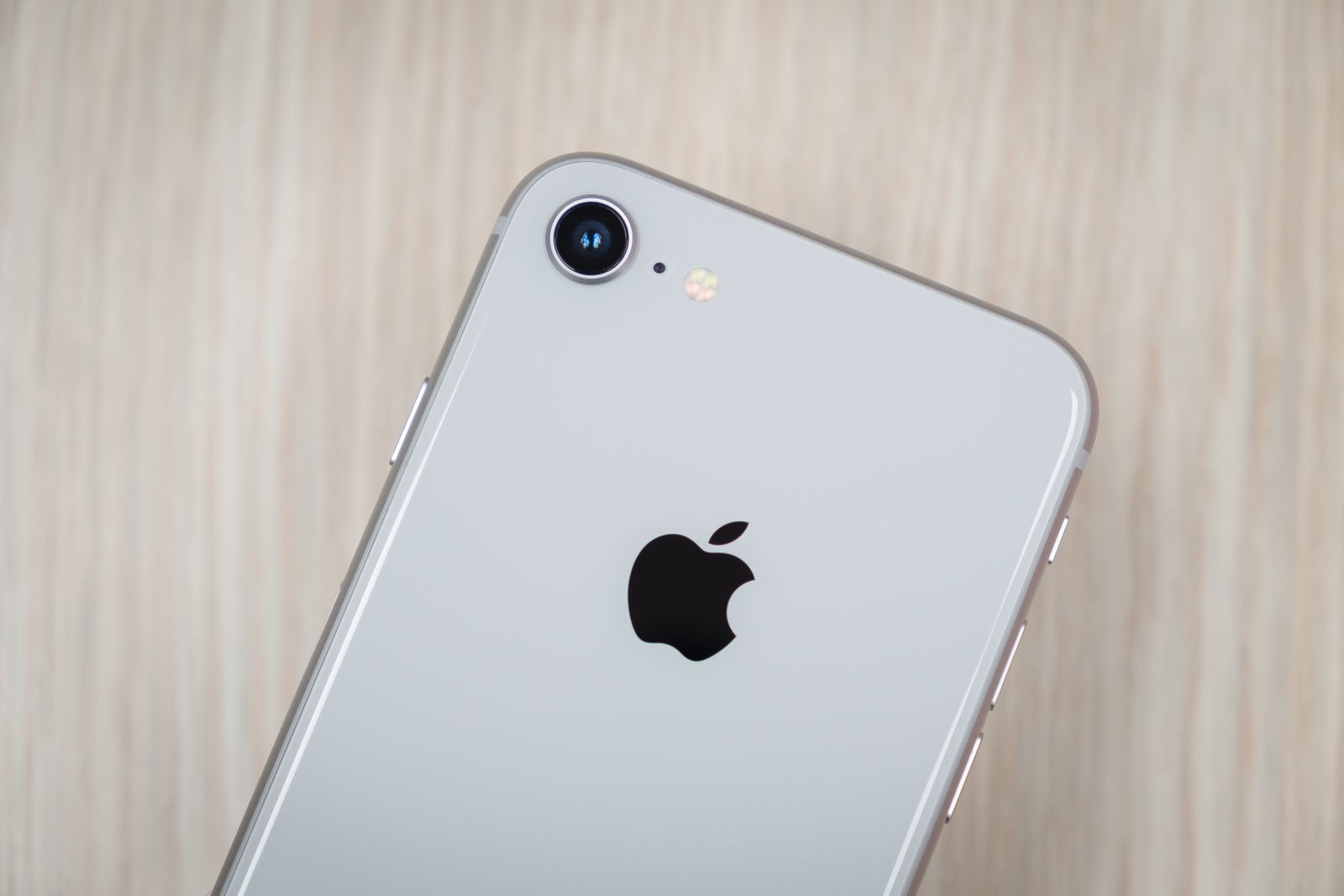 Pick up a spec-sheet for the iPhone 8's camera and you might find yourself doing a double-take; "isn't this the same camera we had on the iPhone 7?" And that's a fair reaction, given that a lot of the hardware details, from the 12MP resolution, to an f/1.8 aperture, have carried over from last year.
But Apple's rarely a company to disappoint when it comes to the cameras on its phones, and while the iPhone 8 isn't a revolutionary step forward in terms of imaging hardware, it does deliver some real improvements. Resolution may stay at 12MP, but the camera sensor itself is larger this year, resulting in bigger, more light-sensitive pixels. They also exhibit improved isolation from each other, for enhanced image fidelity, and new camera data-processing systems are intended to give boosts to things like HDR performance and auto-focus speed.
Beyond that, we also see video options extend to some new high-end frame-rate/resolution combos, and all this camera hardware scores optimizations for use with Apple's augmented-reality ARKit framework.
So what kind of results does the iPhone 8's camera actually get? Let's take a look.
Image quality
Well, shock of shocks: the camera on the iPhone 8 takes some really, really nice-looking photos. Whether you're shooting in broad daylight or under the stars, the versatile camera makes taking great-looking shots as easy as tapping the shutter. Colors tend to look true to life, and focusing on a close-up macro subject is as easy as taking a landscape shot.
While noise will pop up in very low-light conditions, and obviously past a certain point you're not going to be able to see much at all without the camera's flash, the iPhone 8's sensor does an admirable job of pulling in as much light as it can find – and putting it to good use.
Maybe the only weak spots of the phone's camera performance came when it was drawing in just too much light – and specifically, from off-camera light sources, bleeding into the shot. You can avoid that just by framing your pics a little differently, and we can't say it detracts too much from the overall imaging experience.
The 7MP front-facer is understandably not quite as versatile as the main camera, and its performance across shooting conditions reflected that. It's still quite decent, and works in a pinch, but the low-light performance especially can't hold a candle to the rear camera.
Video recording
The iPhone 8's strong camera showing continues into its video performance, which this year scores upgrades in the form of higher frame-rate/resolution options. Those are nice to have, but be aware that you'll have to record your video with high-efficiency (lower-compatibility) settings engaged to take advantage of all available modes.
No matter how you're shooting, though, videos look stellar, and the camera easily handles varying lighting conditions. You won't have to worry about shifting subjects as the camera seamlessly reacquires focus and adjusts exposure as needs demand. And while audio quality during videos isn't out-of-the-park fantastic, it is more than serviceable, and you should have no problems hearing your subject or your own narration even while filming in noisy outdoor environments.
Multimedia
While Apple's loudness claims are debatable, this stellar sound quality isn't
We doubt a lot of iPhone fans pick up the smartphone just because these models have some better-than-average speakers, but that high-quality sound reproduction is a definite plus. Compared to the iPhone 7, Apple says that this new hardware is capable of output that's up to 25 percent louder.
Well, that "up to" language may be the key there, and in our controlled speaker test we didn't measure a huge change since last year – we actually saw volume levels that were slightly lower, though the difference is small enough to be negligible. That said, our qualitative assessment is that the speakers on the iPhone 8 sound really great, and even if you don't see the full scope of Apple's supposed improvements in every single listening circumstance, this is still one of the best phones around on which to listen to music.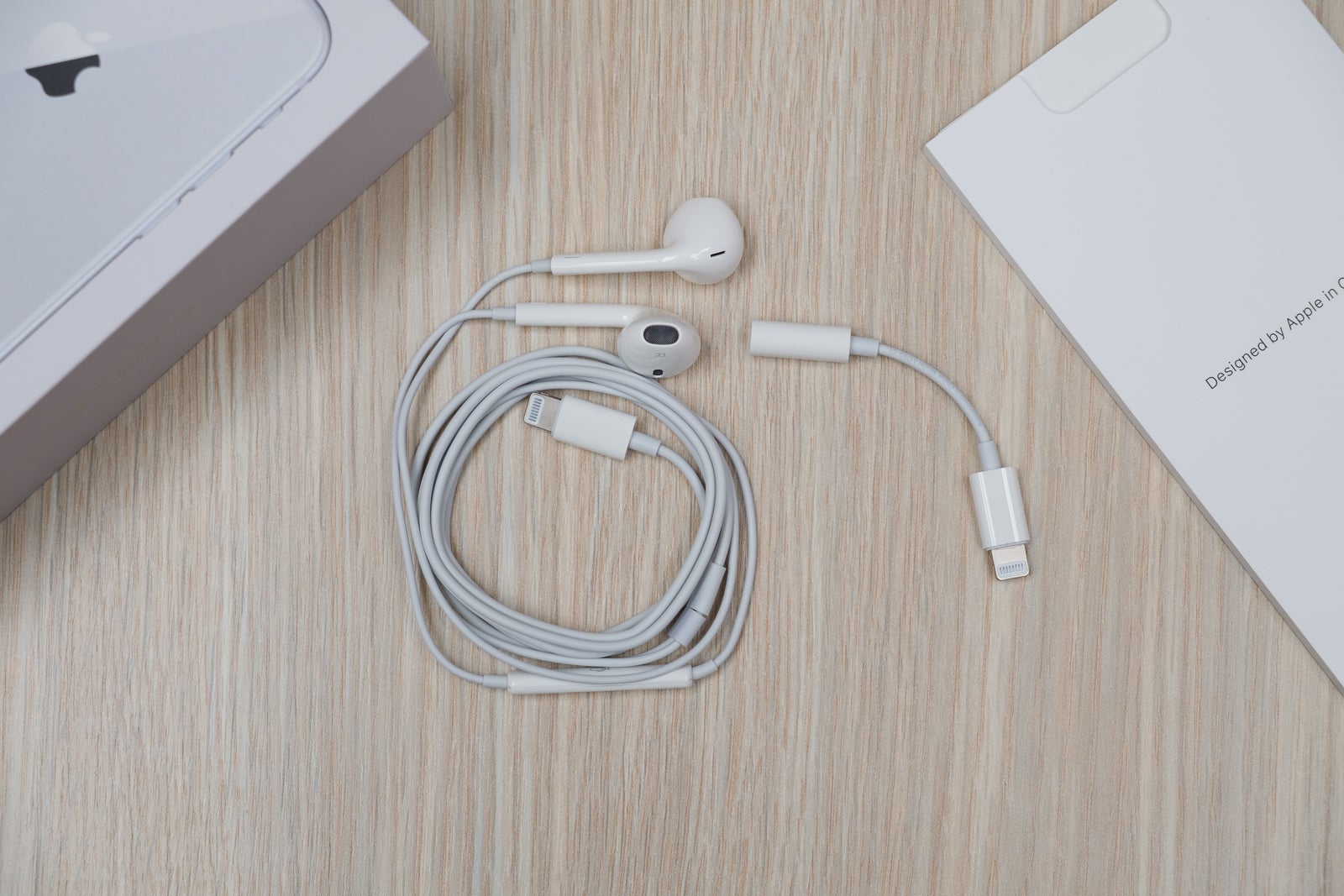 That's the case with the speakers at least, where Apple's combination of a bottom-edge main speaker and front-facing earpiece speaker add up to a winning stereo pair. The situation with headphones is as frustrating now as it was last year, with Apple showing no signs of backing down from its decision to scrap the classic analog headphone jack. The iPhone 8 lands with another pair of Lightning-equipped EarPods, and while they still sound really good, we hate feeling so locked-in to using them.
To be fair, Apple continues to ship its phones with an analog adapter you can pop in the Lightning port to continue using your old headphones, but carrying that around feels like you're dealing with a ticking clock, counting down until you lose the tiny dongle. We know – Apple's almost certainly never going to back down from its controversial stance – so just make sure you're aware of what you're getting into.
Call Quality
In an unexpected upset, Apple really drops the ball with click-ridden voice-calls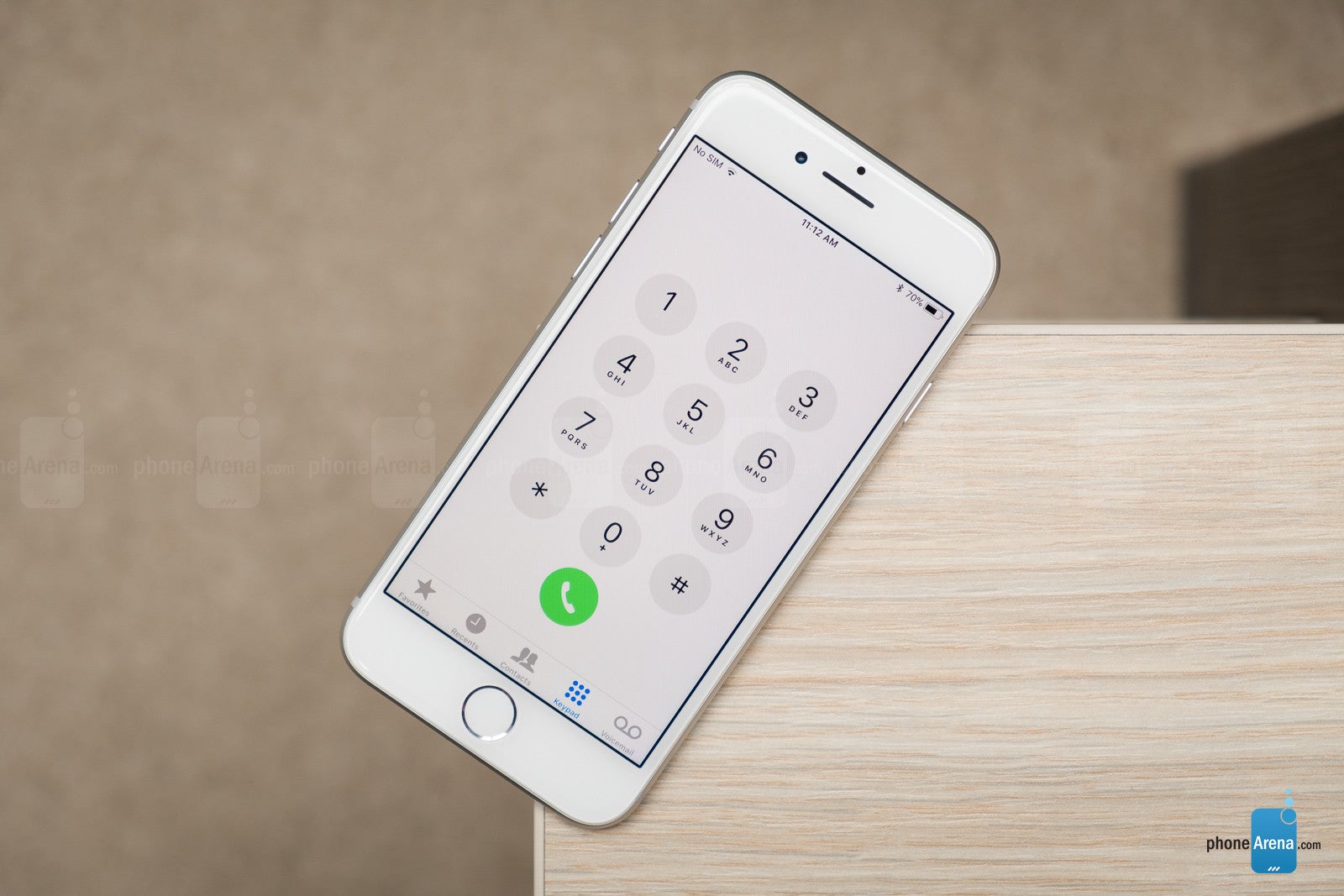 It feels like for the vast majority of phones we review, we can breeze right through the call-quality tests; so long as nothing goes horribly wrong, there's usually not a ton to say. So we're a little surprised to find ourselves thinking so hard about the iPhone 8, after running into some unexpected issues with its voice-call performance.
While engaging with callers, we often observed an intermittent clicking sound coming from the phone's earpiece. This artifact doesn't seem to be emanating from the distant end of the call, and only popped up when testing the iPhone 8 (and 8 Plus, which we'll be addressing separately).
UPDATE
(October 4, 2017)
: Apple has released the iOS 11.0.2 update that fixes the clicking sounds some users experienced during voice calls.
Battery Life
Long-overdue support for some major battery features are welcome additions to the iPhone family
With this new handset being roughly the same shape and size as last year's model, we weren't expecting any huge changes when it comes to battery capacity – and indeed, Apple tells shoppers that the iPhone 8 should give them similar battery life as compared to the iPhone 7.
In our custom tests, though, we found the iPhone 8 actually can stretch things a little further than the iPhone 7, and we clocked the new handset giving us a little under an extra hour of screen-on time. Perhaps some of that boost is due to the presence of the new 10nm A11 chip, but whatever the cause, we're happy to have it.
That's the out-of-the-box power story for the iPhone 8, but the really interesting stuff starts happening when we pair the phone with some optional accessories.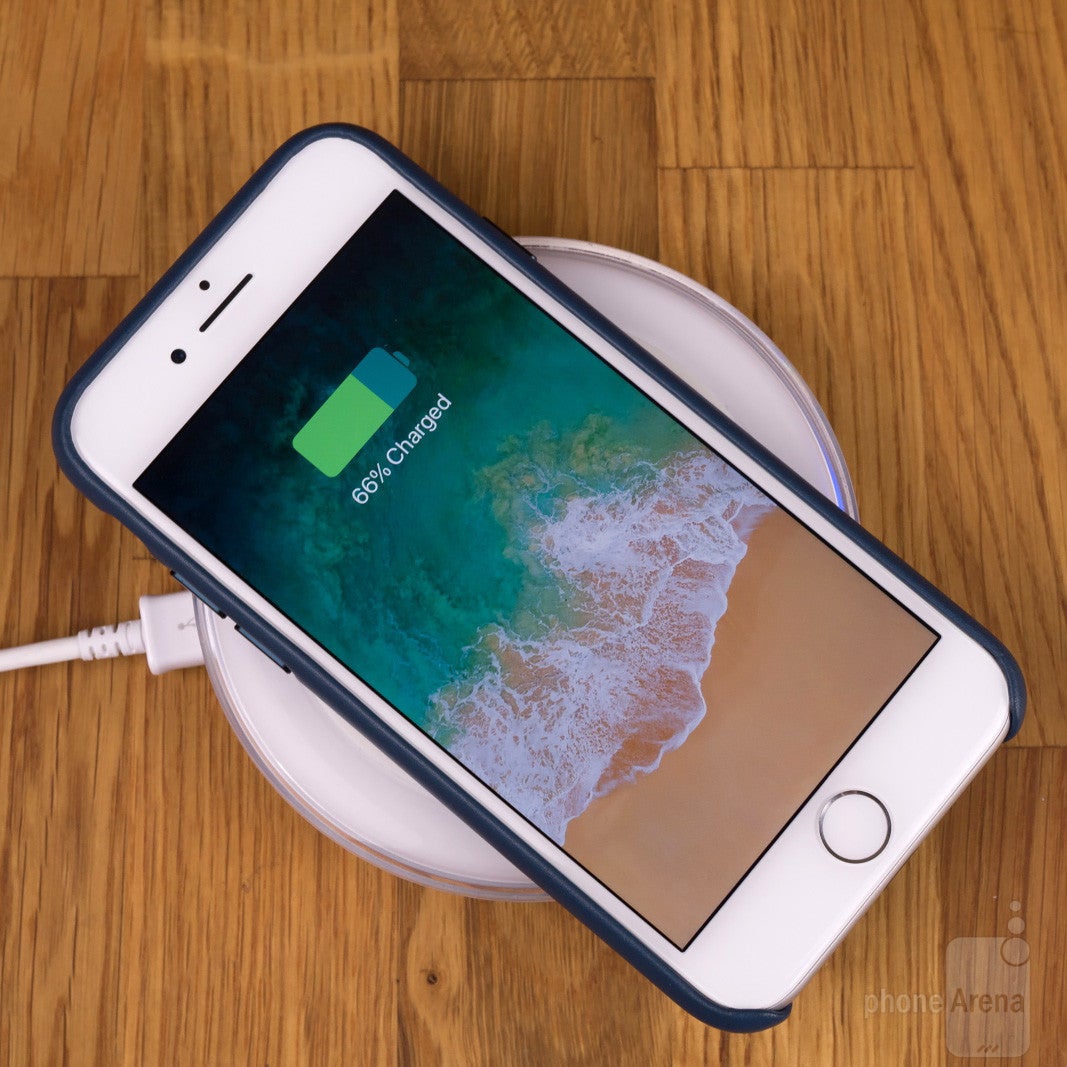 For the first time this year, the iPhone supports fast charging, albeit not with the power adapter included with the handset. Instead, if you pair the phone with a high-output USB Type-C power adapter, as you might have from your Apple laptop, and connect it to the iPhone 8 over a Lightning cable, you can recharge your phone at an accelerated rate. We haven't put this combination to the test yet ourselves, but it's definitely something we'll be looking into.
The other big news is the arrival of wireless charging, with support for systems based on the Qi standard. Luckily, that's pretty ubiquitous in wireless charging circles, and while you can pick up a new charging pad just for your iPhone 8, there's a good chance that the phone will work just fine with existing hardware you may have lying around.
We tried this capability out with a Samsung wireless charger, and the iPhone 8 performed flawlessly. Of special note was just how quickly the phone was able to recognize the charger and begin refueling; sometimes Android phones can take a beat after being set down on a pad before they signal that recharging has begun, while the iPhone 8 seemed to instantly get things started. And if you were concerned, we also tried using wireless charging with a case on the phone, and didn't run into any problems whatsoever.
All this considered, from a power standpoint the iPhone 8 is easily the most impressive smartphone Apple's yet to deliver, and these new features go a long way towards catching Apple up with the power tech the rest of the smartphone world has already been enjoying.
Conclusion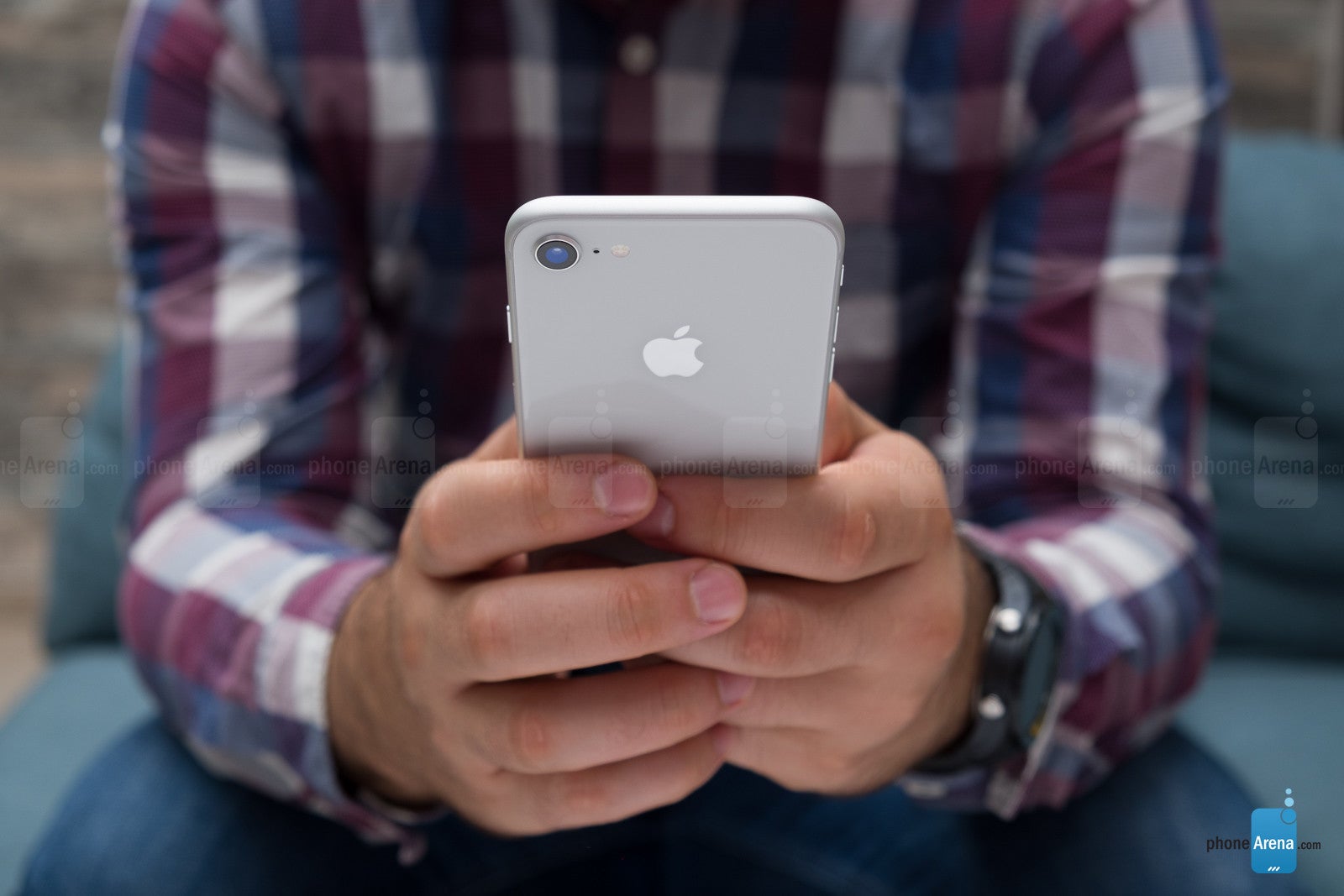 In a lot respects, the iPhone 8 should feel like a slam dunk: it takes the already winning formula of the
iPhone 7
, delivers a handful of solid upgrades, and even implements some all-new features. And if we're looking at the phone on its own, it's hard to argue that it's not pretty successful. Performance reaches as-of-yet untouched new heights, a stellar camera picks up some minor tweaks while not breaking anything in the process, and the arrival of wireless charging could well emerge as this phone's big sleeper-hit feature.
Not everything about this phone is such a cut-and-dry win, though. The return of a glass back panel may look alright, but we've dropped enough phones to be wary anytime a manufacturer adds more breakage-prone glass to their lineup. And while it may just be case of some bad luck with bum hardware, or a software glitch that's soon to be fixed, we're still a little annoyed about that clicking sound while making voice calls.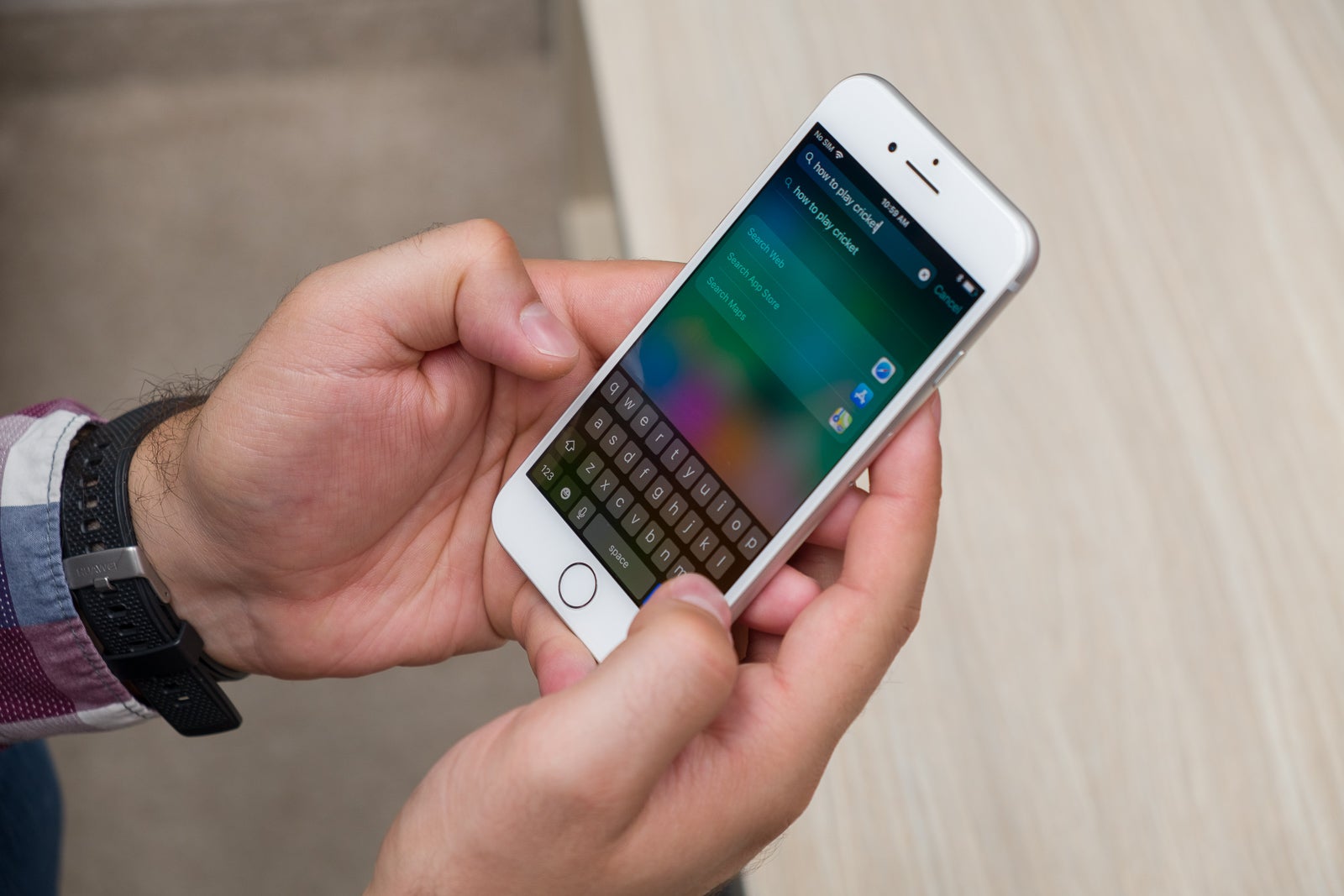 But we really can't talk about the iPhone 8 without looking at Apple's complete 2017 lineup. Sure, there's a new iPhone Plus as well, and just like last year, that invites shoppers to choose between a compact phone, or one with a big screen and extra zoom-lens camera.
That's already complicated iPhone shopping, and now we've got a new specter looming over the
iPhone 8
's release in the shape of the
iPhone X
. This new model isn't just a new size option, or one that delivers an extra feature or two: assuming shoppers respond favorably, this looks like the new direction of iPhones going forward, involving unfamiliar new ways to interact with your handset.
Maybe without really meaning to, Apple turned the tried-and-true base-level iPhone into what's looking increasingly like a model besieged by compromise. Will it inevitably come to be seen as the iPhone for iPhone fans who are afraid of change? For those who are clinging a little too hard to the past, rather than taking Apple's hand and stepping forward into the future?
The iPhone 8 is a fantastic, compact, powerful smartphone. But it may also be a phone that's playing catch-up more than it's really innovating, and that could well come back to haunt it.
In the end, assuming you're properly educated on all of Apple's 2017 iPhone options, you shouldn't feel bad about going with the iPhone 8. But maybe don't be afraid to try something new, even if that means stepping outside your comfort zone a little.