Apple announces its first witness in Samsung patent trial which starts Monday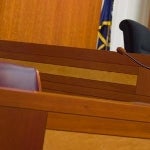 Tomorrow starts the trial of the century between Samsung and Apple. Apple made a filing in court on Sunday which lists its first few witnesses. The first person to be called will be
Samsung Telecommunications America strategy chief Justin Denison.
That will be followed by the testimony of an early member of the Apple iPhone team, Chris Stringer.
Apple's senior VP of worldwide marketing, Phil Schiller
. After that will come the testimony of three Samsung employees that will be entered into the record from depositions. The next name on the list is industrial designer Peter Bressler who is an adjunct professor from the University of Pennsylvania. On Friday of this week, Apple will call its
iOS team head Scott Forstall
to the stand.
As the plaintiff, Apple presents its case first (either that, or it won the coin flip). The Cupertino based firm seeks $2.525 billion from Samsung for infringing on its patents,
saying that the Korean manufacturer unjustly enriched itself by this amount.
Samsung filed a counterclaim seeking to be paid for its technology
allegedly used by Apple without a license
. The trial starts Monday with jury selection. Once a jury acceptable to both sides is seated,
opening arguments will begin
.
source:
AllThingsD