Android Pie on the Galaxy S9 to have a native dark theme, here's what it looks like
20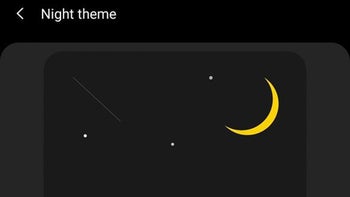 The Galaxy S9 is bound to receive Android 9.0 Pie very soon, and software builds for the device have already appeared online, allowing adventurous developers to sideload the build and test it out on their own devices.
We've already been treated to a full preview of the upcoming software goodie, but more and more tidbits of info pertaining to the upcoming build pop up all the time, with the latest one being a closer look at the newly-fangled Night Theme, a brand new feature introduced in one of the latest Android Pie betas.
Before we detail Night Mode, a little pre-history is in tow. For years, Samsung has defaulted to a clean white interface of most of its stock apps, as well as core interface elements like the notifications shade/quick toggles pane and the main settings menu; hordes of vocal users have continuously expressed their desire for a native dark theme to make an appearance and make better use of those first-class AMOLED displays on deck. While such a thing could be achieved with the help of custom themes, a native dark theme remained a chimera for Samsung users.
Well, no longer, as Android Pie will seemingly bring a nifty Night Mode toggle in the settings app, which would allow users to switch between the regular bright and the new dark theme with a single tap, without having to resort to finding the perfect interface theme from the theme repository.
The theme seems to be affecting almost all stock Samsung apps and interface elements, including but not limited to the main Settings hub, the notification shade, and others.
We should probably expect Samsung to release Android Pie for the Galaxy S9, S9+, and Note 9 soon, probably in a month or two. Traditionally, Samsung users usually had to wait well until late December or even late January in some extreme cases, but hopefully Project Treble will speed things a bit.