Analysts estimate record 25 to 36 million Apple iPhone units sold in its fiscal Q1
1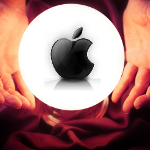 Fortune
magazine compiled a list of estimates of December quarter
Apple iPhone sales
from 30 analysts. The estimates ranged between 25.16 million units sold to 35.75 million. Of the 22 analysts who toil on Wall Street, the high guess came from BTIG's Walter Piecyk who sees Apple reporting that it
sold 35 million copies
of its iconic touchscreen phone in the holiday quarter. Wall Street's low guess was from Gabelli's Hendi Susanto with a estimate of 25.2 million units of the iPhone sold in its fiscal Q1 of 2012. On average, independent analysts (33.4 million sold) had a higher estimate than the pros (29.74 million). The latter would be an 83% gain year-over-year while the former would represent 106% growth.
Posts at Eventide
while the prediction from Susanto is on the bottom. Apple will be announcing the results of its latest quarter on January 24th and the report from Verizon last week
that it had doubled its iPhone sales
to 4.2 million on a sequential basis appears to be good news for Apple. That report led UBS analyst Maynard Um to say that there
could be an upside surprise
when
Apple reports the official figures on the 24th
. Um, however, is sticking by his estimate of 30 million units sold. The top ranking analyst from the last quarterly report, William Power from Baird, predicted that Apple will report 31.17 million iPhone sales in the period.
During the previous quarter's earnings conference call, Apple CEO Tim Cook said that the company would
break the record
for most iPhones sold in a quarter. The results will be bolstered by the fact that Apple is counting 14 weeks for the period instead of 13 like last year so that it could match up its fiscal quarter with the actual calendar quarter.
In the fiscal fourth quarter of 2011,
sales dropped sequentially
as many waited on the sidelines for the upcoming new iPhone model which happened to be the Apple iPhone 4S. Apple sold 17 million copies of the iPhone in the September quarter, down from the
current record of 20.34 million sold
in the June 2011 quarter.
By the way, for those curious,
Fortune
notes that the amateur analysts usually outperform the Wall Street pros. Apple's fiscal year ends in September which is why the period from October through December is the company's Q1 for 2012.
source:
Fortune
via
AppleInsider