Verizon sells more than 4.2 million iPhones during Q4 2011 - double the amount of Q3
28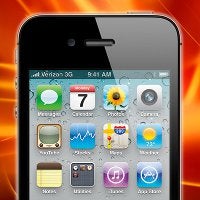 Some of you might recall it, but do you remember Verizon's commercial spot over the holiday season that featured the iPhone 4S? Specifically, the one where people are floating in the sea, while using their respective iPhones from Sprint, AT&T, and Verizon to get rescued. In the end of that commercial, we find that the Sprint and AT&T iPhone owners were unable to get in contact with someone, but instead, the person with the Verizon iPhone managed to get a call through – without problems!
Surely, we all know how Big Red loves to talk about its stellar network – albeit, its
4G LTE network hasn't been quite as reliable
. Regardless of that, people are apparently siding with
Verizon's iPhone
seeing that they sold more than
4.2 million
iPhones in Q4 2011 alone. Indeed, that's an impressive number, especially when it's actually
double
the figure over what was sold in Q3 2011. The impressive mark was made known by Verizon's chief financial officer, Fran Shammo, during a talk at a Citigroup conference in San Francisco today.
Naturally, Verizon has a lot to be happy about, but they'll have to wait and find out how its rival is doing – well, that's because AT&T is expected to have a record quarter as well when it comes to iPhone sales. In fact, it's estimated that AT&T has sold more than 5.5 million iPhones during its holiday quarter, but we'll have to wait until the actual figures are released.
Even though carriers are expected to outgun one another, the ultimate winner in all of this is going to be Apple – obviously. For a while there, they really limited the iPhone's reach seeing it was exclusively sold through AT&T for the longest of time. Now that three of the big players are selling Apple's beloved devices, there's no arguing that Apple is better equipped in fending off the competition.
via
BGR