Amazon Kindle Fire outselling Apple iPad at BestBuy.com, leads all Android tablets in Q4 sales
35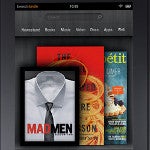 A new report from iSuppli shows that the new device on the block, the
Amazon Kindle Fire
, will be the best selling Android powered tablet for the fourth quarter. Just launched on November 15th, iSuppli expects 3.9 million copies of the low priced tablet to find a home by year's end, good enough for a 13.8% share of the tablet market. That would make the $199 product the top selling Android tablet in the three month quarter.
That pales in comparison with the
Apple iPad
, which is expected to have a 65.8% share of the tablet market by the end of the current quarter. But with the long head start that the iPad has over Amazon's product, it is like comparing oranges with, uh, apples. Samsung comes next in the tablet wars with an expected 4.8% share of the tablet market. That is a pretty big drop off from Amazon's slice of the pie. Some of the drop off can be due to the ban in Australia and Germany of the Korean manufacturer's flagship
Samsung GALAXY Tab 10.1
. This might change as a recent ruling in Australia
reverses the ban
in that country, while
Samsung has revised the look of the tablet for the German Market
. Barnes and Noble comes in fourth with a predicted 4.7% Q4 share in the tablet arena, followed by the
1.3
% that HTC is supposed to earn.
Amazon's online store has millions of customers around the world which helps promotion of the Kindle Fire. In addition, the tablet has some pretty tight Amazon integration with users buying
content, apps and cloud based storage directly from the online retailer
. The Amazon Kindle Fire might use Google's open source OS, but for the most part, Google apps are MIA here.
Besides Amazon, another winner with the success of the Kindle Fire is Texas Instruments whose OMAP 4 dual core processor lives under the hoods of the Kindle Fire and the
Barnes and Noble Nook Tablet
. This makes TI the second largest supplier of mobile processors to the tablet market, although the 8.9 inch version of the Kindle Fire is rumored to have a NVIDIA Tegra processor aboard.
Some might poo-poo the momentum that the Amazon Kindle Fire has by pointing out that being sold on Amazon by Amazon gives the tablet a huge promotional
edge
. And yes, we hear you there. But riddle us this Batman, why then does the Amazon Kindle Fire show up as the top selling tablet at BestBuy.com, outselling the 16GB Apple iPad 2? Regardless of the answer, the Amazon tablet is expected to help the
entire tablet segment increase sales
by 7.7% this year.
source:
iSuppli
,
TechCrunch
via
AndroidandMe