Alleged real life pictures of the bezelless Nubia Z11 leaked
7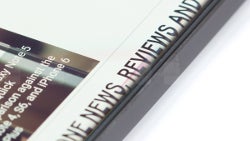 We've been waiting for a proper successor to the
Nubia Z9
for a while now – a striking smartphone with premium design and with no side bezels around its display. Said successor is the
rumored Nubia Z11
, which
may actually hit US markets
this year according to some reports. Now, we actually get to see it in a set of leaked real life photos. Well — allegedly, that is.
Apparently, unlike its predecessor, which sported a huge glass slab on its back, the Nubia Z11's behind is entirely metal. It will also house a fingerprint-scanning dimple on its back, and, of course, the much-needed antenna strips. The camera and LED flash are in the exact same spots as before.
On the front, we have the typically striking screen – laid from edge to edge and curved at the ends, the glass panel refracts the light coming from the display in such a way that it creates the "bezel-less" illusion. Below it we have the Nubia-signature circular capacitive button.
We also get a comparison with an
iPhone 6s
, in which we can see that the new Nubia will be much thinner this time around —
we did have an issue with the Z9's thickness
and weight last year, so here's hoping that we will see a much more elegant handset this time around.