After first day of pre-orders, 95,000 units of the Amazon Kindle Fire are reserved
2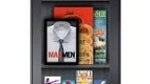 The low priced
Amazon Kindle Fire has apparently "sparked" some interest
in those looking to buy a low-priced tablet. After the first day of being up for pre-orders, 95,000 units of the 7 inch tablet have been reserved. Priced at $199.99, the
Amazon Kindle Fire is priced $300 lower than the cheapest model of the Apple iPad 2
and is expected to be launched on November 15th, as we reported. Amazon is allegedly taking a $10 loss on each tablet sold, based on a breakdown of the components of the tablet. However, after selling content, apps and clooud-based services to Kindle Fire owners,
Amazon is expected to walk away with a $10 profit for each tablet it sells
.
According to an estimate produced by Forrester Research,
Amazon should sell 3 million Kindle Fire tablets
by the end of the year
. Despite the difference in screen size, the 10 inch Apple iPad 2 is expected to be affected by the lower price of Amazon's device. The original Apple iPad had 300,000 units reserved after its first day being available for pre-orders, and Apple has sold approximately 29 million tablets since the first one was bought in April 2010. Other 7 inch tablets, like the
BlackBerry PlayBook
and the
HTC Flyer
have recently been cut in price by some retailers, most likely to match the price of Amazon's offering.
With the November 15th launch date, the Amazon Kindle Fire should be available for the holidays. Brian Dunn, CEO of Best Buy, said he expects the Amazon Kindle Fire to be one of the
hottest gifts for the holiday season
which officially begins the day after Thanksgiving.
source:
FoxNews
via
Phandroid

The Amazon Kindle Fire can now be pre-ordered