Best Buy to slash HTC Flyer's price to $300 on Oct 6th
3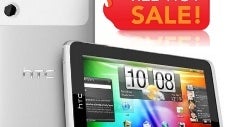 Best Buy is
slashing the price on the 7-inch HTC Flyer to just $299.99
next Thursday, October 6th, a knowledgeable insider shared with us. The ad materials have already been prepared so while it still hasn't been made official, the deal seems a lock.
We can't say whether this was indeed influenced by Amazon in any way, but given another rumor about the retailer
cutting the BlackBerry PlayBook also to $300
, it's very probably. In either case, we are witnessing the very quick price transformation of the tablet segment, at least when it comes to 7-inch tablets. Now, with just a $100 difference, the purchase of a full-fledged tablet with access to the Android Market and the standard suite of Google apps over the Kindle Fire seems much more reasonable. Any buyers?
Thanks, anonymous!
Recommended Stories