Best Buy puts the BlackBerry PlayBook on sale, slashes $200 off
2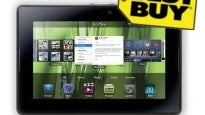 What makes Best Buy's offer tempting is that you get the discount instantly without the need to wait for mail-in rebates or to deal with in-store gift cards. On top of that, there doesn't seem to be an end date for the sale, meaning that the
BlackBerry PlayBook
price drop might be permanent.
The
announcement of the Amazon Kindle Fire
might be among the reasons for Best Buy to put the PlayBook on sale. With a price tag of $200, Amazon's tablet will likely sell like hot cakes, which will hurt the PlayBook's already poor sales even further. Besides, the
Kindle Fire
will come with a 7-inch 1024 by 600 display and a dual-core processor, pretty much like what the PlayBook has to offer, meaning that some might consider it a worthy alternative to RIM's tablet.
Still, if grabbing a discounted BlackBerry PlayBook seems like a wise investment to you, feel free to hit the source link below and check the offer out.