AT&T says its LG G3 and LG G Watch will be available in retail locations on July 11
15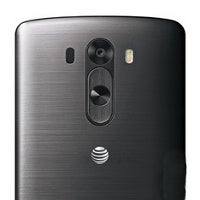 AT&T just revealed that its version of LG's Quad-HD flagship, the wildly-anticipated
G3
, will be available for preorder starting tomorrow, July 8. The carrier also revealed that the device will hit the shelves on its brick and mortar retail locations this Friday, on July 11. The G3 will be available for zero down and no annual contract with AT&T's Next and Next 12 plans, which require users to pay $24.17 and $29 per month, respectively. Should you opt for a two-year contract, the G3 will set you back $199. If you preorder or purchase the G3 or the
G Flex
with a two-year contract, you are also eligible for a 50% discount on certain accessories, such as the Tone Ultra Bluetooth Stereo Headset or the pretty handy G3 Quick Circle Folio Case.
Additionally, LG's Android Wear-powered smartwatch, the
G Watch
, will be available for order starting tomorrow. The wearable is also
available straight from Google Play
. The wearable retails at $229 and will be available in AT&T's stores across the country on July 11, just like the G3. You can also benefit from a 50% discount on the G Watch if you pre-order or buy the LG G3 or the G Flex.
"We've been working diligently to be the first U.S. carrier to offer the brand new LG G Watch and among the first to offer the LG G3 smartphone on the nation's most reliable 4G LTE network,"
revealed Jeff Bradley, the senior vice president of AT&T's Devices department.
"AT&T offers one of the largest and best selections of LG devices and these products take our device portfolio to the next level. The LG G3 is a cutting-edge device and our first in a next-gen Quad HD display."
Earlier today, we showed you
leaked renders
of the differences between the carrier-branded versions of the LG G3. AT&T's variation of the device will come with rather subtle carrier markings – the AT&T logo slightly under the rear set of keys and a "G3" model branding right next to the back speaker. As a whole, AT&T's branding is quite unobtrusive, unlike Verizon's take on the matter.
Are you getting AT&T's G3? Tell us in the comments section below!
source:
AT&T
DALLAS, July 7, 2014 – Starting July 8, you can order the LG G Watch for $229 and pre-order the LG G3 smartphone with 4G LTE from AT&T2 for zero down and no annual contract. You can purchase both the LG G3 and LG G Watch in AT&T retail locations starting July 11.

For a limited time, save 50 percent on select LG premium accessories including the G Watch, popular Tone Ultra Bluetooth Stereo Headset or G3 Quick Circle Folio Case with wireless charging capability when you pre-order or purchase the LG G3 or LG G Flex with AT&T Next or a two-year commitment.4 (Visit att.com or an AT&T retail store for more details. One discounted accessory purchase per smartphone activation.)

Check out these videos for a closer look at the LG G3 or LG G Watch. For details about the LG G3 design story, check out this video.

"We've been working diligently to be the first U.S. carrier to offer the brand new LG G Watch and among the first to offer the LG G3 smartphone on the nation's most reliable 4G LTE network," said Jeff Bradley, senior vice president – Devices, AT&T. "AT&T offers one of the largest and best selections of LG devices and these products take our device portfolio to the next level. The LG G3 is a cutting-edge device and our first in a next-gen Quad HD display."

The LG G3 with 4G LTE features advancements such as:

5.5-inch Quad HD Display.
13MP Optical Image Stabilization Plus Camera with Laser Auto Focus.
Smart Notice predictive technology provides personalized suggestions for added convenience and greater productivity.

Along with the LG G3, customers can purchase the LG G Watch, AT&T's first wearable powered by Android Wear that enables you to connect to your world through the power of Google Now. Android Wear gives you the information you need, when you need it and offers helpful suggestions before you even ask – such as weather forecasts in the morning and flight time and gate information before leaving for the airport. With Google Now™, you can ask questions, send text messages and set reminders without touching your smartphone. Additionally, the LG G Watch is compatible with smartphones running Android OS version 4.3 and higher.

Additional LG G Watch features include:

1.65-inch always-on display that allows you to check the time and see new information at a glance.
400mAh battery will keep your watch going throughout the day.
Can be personalized with any standard 22mm watch strap.
Certified water and dust resistant.5

"Because the LG G Watch works with so many of our Android smartphones, it should be a wearable device that appeals to a wide array of consumers," said Bradley. "Its ability to anticipate your schedule and traveling needs will help you plan your schedule more efficiently while on-the-go."
- See more at: http://about.att.com/story/att_lg_g_3_and_lg_g_watch_available_on_july_8.html#sthash.6DpgE5hD.dpuf