AT&T CEO Stephenson: We're not looking to buy assets belonging to América Móvil
1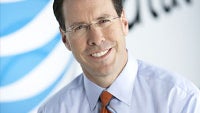 After
announcing bids to buy 12.2 million Mexican cellular customers
in the country, AT&T says it is not planning on adding assets belonging to Mexican carrier América Móvil. The second largest carrier in the U.S. is
paying $2.5 billion for Iusacell
and
$1.875 billion (less net debt) for the assets of bankrupt NII holdings
. The latter includes Nextel Mexico.
AT&T's goal is to offer one extensive North American wireless market from the U.S. south to Mexico. Once the two acquisitions close, AT&T's signal will cover 160 million POPs in Mexico.
A new antitrust law passed in Mexico during the summer, means that América Móvil will have to shed some assets to get its share under 50% of the wireless market. Currently, it owns a 70% slice of the wireless pie in the country. AT&T would seem a likely candidate to purchase what América Móvil is selling. But that is not the case.
AT&T CEO Randall Stephenson says that the carrier already has plenty of balls in the air, including the two acquisitions in Mexico and its
huge $48.5 billion transaction that will bring DirecTV into AT&T's fold
. That deal is expected to close in the first half of this year. Stephenson called the Iusacell and NII situations "
unique
." The executive also said that "
We've bitten off more than we can chew right now and you'll see us focused on what we've consummated to date
."
"The América Móvil thing is just too uncertain ... I will say it again, we've got all we can handle right now in Mexico. And we're going to be focused on getting Nextel International closed, integrating that network, integrating those customer channels, integrating the distribution channels and getting ourselves scaled in Mexico, so anything else is just kind of speculation and then probably isn't worth conversation at this point."-Randall Stephenson, CEO, AT&T
source:
FierceWireless