A pink smartphone could make a great Valentine's day gift; here are your best options
10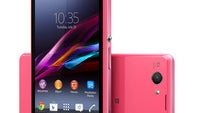 Guys, brace yourselves for Valentine's day is right around the corner. Like it or not, you have about two weeks time to come up with a romantic way of demonstrating your feelings towards your significant other.
Out of ideas? Well, she will surely love it if you show up at her door with a bouquet of flowers, a box of pralines, a bottle of wine, and a fluffy stuffed toy. Also, she wouldn't mind if you treat her to a lovely lunch or dinner at a fancy restaurant.
If you're feeling like going a step further, however, then you might want to consider getting her a gift that is a bit more substantial – something that she'll actually use on a daily basis. You know, something like a new smartphone. If you think that's a gift she'll love, then here's a handful of devices we'd recommend. Gentlemen, we give you the pink smartphones you can impress your lady with this Valentine's day!