5 thin cases for the LG G6: slim bezels deserve skinny protectors!
8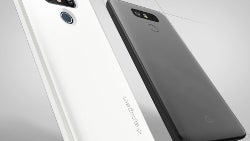 So, the
LG G6
is about to hit stores at some point in the near future, and many out there are already itching to throw their money at it. Understandable — it looks awesome, with its shiny glass back and super thin bezels at the front, and sounds promising with the promises LG made about the time it took to fine-tune the device's performance. As of right now, we don't have an exact price on it, just speculation, but hey, it's not gonna be an arm and a leg... hopefully.
So, yes, the LG G6 is probably going to be a bit more expensive than the average price of $650 that we're used to forking for when getting a new flagship. And, let's be honest, anyone who throws that kind of cash on a smartphone would like to keep it scratch- and crack-free for at least the honeymoon period. Slap a case on it? Sure, but one of the G6's main selling points is the fact that it has a large screen in a small body... so, what now!
Well, slap a slim case on it, of course! We did the search, we dug through the products that are out there right now – here are five of the slimmest and not-awful cases for the LG G6 available out there.