32GB iPad 2 parts cost around $327, the screen eats more than a third of that
2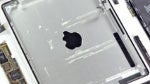 After the iPad 2 was
torn down
for our viewing pleasure, now the components cost has been revealed by iSuuply. In total, the 32GB iPad 2 is estimated to cost around
$327
, plus ten bucks more for assembly. That's actually only a tad more than the original iPad.
The 9.7" LCD display is the most expensive part at
$127
, since it is thinner and better than the $95 screen on the first iPad.
Next come the 32GB memory chip at $35, and Apple's new dual-core A5 processor costs only
$14
, since Cupertino owns the intellectual property over its design, and uses the manufacturer only as a foundry.
The battery costs $25, and, as is usual for Apple, the company has pushed the battery maker to create a tailored solution for the specific design chosen. It is very thin, with three cells instead of the two in its predecessor, and has state-of-the-art power management, which has always been a strong point in Apple's gadgets designs.
The cost of the rear camera? Very good question - $4.30.
source:
Evertiq