This year's Google Play Award winners include a bunch of Android apps and games you should try out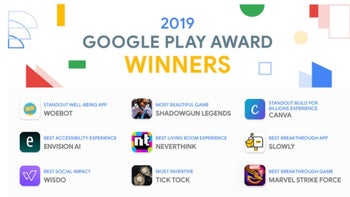 It has become a fun little tradition for Google over the past few years to precede the I/O developer conference with
an awards ceremony
honoring the most innovative creators of some of the best Android apps available in the search giant's Play Store.
Instead of holding another largely meaningless popularity contest, Google is today recognizing the merits of a few lesser-known Android apps and games, like
Envision AI
, which has yet to break the 100,000 install barrier. The free productivity app won its crown in the accessibility category, enabling "device interaction in an innovative way that serves people with disabilities or special needs."
By the way, one of the things that's great about Google's Play Award victors list is that it includes a whopping eight titles you can download for free. The only paid champion is Tick Tock: A Tale for Two, a puzzle game you've probably never heard of before. But now that you know about it, you might want to give it a try, having earned the trophy for "most inventive" 2019 Google Play app.
Other free Android apps and games you should definitely take for a spin include the likes of
Shadowgun Legends
and
Marvel Strike Force
, which you've probably heard of already. Named the "most beautiful" and "best breakthrough" game of the year respectively, these are joined by
Woebot
,
Wisdo
,
Neverthink
,
Canva
, and
Slowly
on Google's roster of 2019 Play Store champions.