10 free live wallpapers you should try
19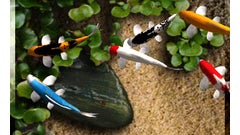 Live wallpapers have been making iPhone users envious while beautifying Android home screens since 2009. However, finding one that suits your taste is easier said than done. Sure, the Google Play store is full of live wallpapers, but the good ones usually carry a price tag, and paying for an app that only adds a dose of eye candy to your Android smartphone or tablet is something that not all users are fond of. That is why we decided to do some digging and find the
best free live wallpapers you can get from the Play store
. Moreover, the live wallpapers we have selected don't come loaded with adware, as some other free offerings do.
"But wait, don't live wallpapers suck more battery than the normal ones?"
Sure they do, but the difference is negligible, especially with newer handsets and tablets. As we stated in our recent article exposing
5 myths about smartphone battery life
, having a live wallpaper running accounts for about 2% of the device's battery usage, so no need to worry about running out of juice any quicker.
That said, don't hesitate to check out every single one of the live wallpapers we've put together in today's pick. As usual, in case we've missed a live wallpaper that should have been on the list, just let us know by dropping a comment.
Recommended Stories