Oppo Find N review: the compact foldable phone promise fulfilled
19
We may earn a commission if you make a purchase from the links on this page.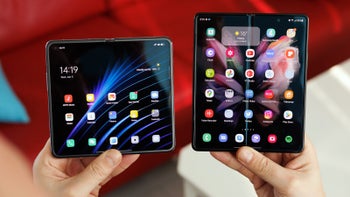 Looking at Oppo's first foldable phone, the
Find N
, Samsung will have trouble keeping the bendy handset fort all for itself. Not only is the Oppo Find N sizing up to the
Z Fold 3 specs
as well as display and hinge quality, but it also launched in a form factor that is as cute to look at and carry around as it is more practical than what Samsung decided to do with the Fold line.
Oppo Find N vs Z Fold 3 price
Moreover, at the equivalent of $1200, the starting Find N price is cheaper than the Z Fold 3 despite a number of superior specs and design achievements. Unless you import, of course, then the charge will be higher.
Oppo Find N vs Samsung Z Fold 3 size and specs differences
Dimensions unfolded: 132.6 x 140.2 x 8.0 mm vs 158.2 x 128.1 x 6.4 mm
Dimensions folded: 132.6 x 73 x 15.9 mm vs 158.2 x 67.1 x 14.4-16 mm
Main displays: 7.1", 1792 x 1920, 1000 nits vs 7.6". 1768 x 2208, 1200 nits 120Hz internal screens with ultrathin glass covers
External displays: 5.49", 60Hz, 988 x 1972, 18:9 ratio vs 6.2", 120Hz, 832 x 2268, 25:9 ratio
Main Cameras: 50 MP, f/1.8, 24mm, 1/1.56", 1.0µm vs 12 MP, f/1.8, 26mm, 1/1.76", 1.8µm sensors
Telephoto cameras: 13 MP, f/2.4, 52mm, 1/3.4", 1.0µm vs 12 MP, f/2.4, 52mm, 1/3.6", 1.0µm 2x optical zoom cameras
Ultrawide cameras: 16 MP, f/2.2, 14mm, 1/3.09", 1.0µm vs 12 MP, f/2.2, 12mm, 1.12µm cameras
Front camera cover screen: 32 MP, f/2.4, 1/2.74", 0.8µm vs 10 MP, f/2.2, 26mm, 1/3", 1.22µm selfie camera
Front camera main display: 10 MP, f/2.2, 26mm, 1/3", 1.22µm vs 4 MP, f/1.8, 2.0µm, UDC camera
Batteries and charging: 4500mAh, 33W vs 4400mAh, 25W
Oppo Find N design and display quality
First off, the Oppo Find N is a compact phone. Its 5.49" FHD 988 x 1972 pixels exterior display is shorter and wider than the elongated panels of the Samsung or Huawei foldables, therefore much easier to hold in the hand and carry around, to the point that you almost forget that it is a rather thick phone like all bendy ones.
In fact, Oppo fulfills the foldable phone promise to have a small display for everyday tasks and a larger one when you need it much better than Samsung by simply deciding to go with a smaller overall size. If you need a bigger screen, you'll unfurl the phone's main one anyway, so what's the point of having to lug around a giant in your pocket or purse.
About the only problem we met with the phone's cutesy footprint is that our index fingers often managed to smudge the ultrawide lens situated at the bottom of the camera island when we perused the phone with one hand, as it is so small, and camera kits are getting rather big and sprawling for space at the rear of today's phones.
No crease
Speaking of unfurling the main 7.1" WUSXGA 1792 × 1920 pixels Oppo Find N display, you are immediately greeted by a near absence of the crease we are accustomed to see on other foldables. Oppo's engineers worked hard to fuse the flexible panel with the hinge in such a way that the middle part stretches very well when the phone is opened, evening out the crease more than on any other foldable phone we've tested so far.
The Z Fold 3 crease looks like the Valley of Tears next to the Find N in comparison. Oppo calls it the Serene display, due to its quick refresh rate and dynamic HDR adjustments, and it has also concocted a name for the Flexion Hinge to shine a light on its durable mechanism the company says is unique in the industry.
Oppo is the first foldable phone maker besides Samsung that employs an ultrathin glass (UTG) cover for its foldable phone's display, and the company says it is just 0.03mm thick, enabling it to bend more than 200,000 times without any problems in pre-production tests. Moreover, the Flexion Hinge and Serene Display combo is the first to have a TUV certification by the demanding German authority for the bending endurance, too. Here's how Oppo explains the invisible crease engineering:
The Flexion Hinge on the OPPO Find N brings together 136 components with extreme precision of up to 0.01 mm, ensuring the hinge works as smoothly as the joints in the human body. Our unique water-drop hinge design widens the angle of the fold in the display, resulting in a minimal crease that's up to 80% less noticeable compared with other devices. This design also practically eliminates the gap between displays when folded, offering a more integrated look and better protection from scratches on the inner display.
One of the best mobile displays we've tested so far
Not only is the Find N's main display with an almost invisible crease, but it boasts a next-gen LTPO panel technology that allows it to run in the 1Hz-120Hz refresh rate range unlike the one on the Z Fold 3, saving on unnecessary battery draw. As has become a trademark of Oppo, the display is also one of the most advanced in terms of image quality we've ever witnessed. Thanks to the partnership with
Pixelworks
,
Oppo and its sibling company OnePlus managed to create the best mobile displays
so far in terms of HDR imagery, color gamut coverage, and dynamic refresh abilities, and the Find N is no exception.
Display measurements and quality
The S Pen digitizer and the front screen are about the only specs areas where the Find N gives way to Samsung's foldable, as its external panel is bright and vivid but refreshes at a 60Hz speed, whereas the Z Fold 3 is equipped with a 120Hz external display. The shorter diagonal of Oppo's second screen, however, hints that it is meant for quick glances and message replies on the go, rather than for long hours of browsing, reading, or gaming. For that, there's the large and bright internal display just a quick pry open away.
Oppo Find N performance and interface
Powered by the Snapdragon 888 processor, the Find N is equipped with 8GB/12GB RAM and has 256/512GB storage models to keep you humming without a hitch. As you can see in our tests below, it does pretty well in synthetic benchmarks as can be expected from a modern phone with a 5nm chipset, but synthetics are only part of the story
The marriage of hardware and software that Oppo has managed to achieve with its ColorOS Android overlay is one of the most successful out there, and every animation or app loading period takes a fraction of a second and looks good in the process.
Oppo's Color OS and the Find N tailored for foldables interface
The ColorOS Android overlay of Oppo has been developing leaps and bounds in the last few years, and is now one of the most full-featured, smooth and good-looking phone interfaces out there. The Find N ships with Android 11 on board, meaning that you will be missing on some
ColorOS 12
goods like floating windows but an update shouldn't be far behind.
Moreover, Oppo introduces its take on a daily life with a foldable phone in the Find N's interface, and we aren't talking about the several keyboard modes, from split to floating, that make it easier to type on the large internal screen. You can easily split the main display into sections where to throw different apps of your choosing which populate the Sidebar that is a thumb flick away.
The multitasking windows are resizable, too, so it's up to you to decide which one will take how much space on the screen. Chat and use the calculator or edit photos, the large canvas to do it all without squinting is one of the biggest advantages of foldables, and the Find N delivers.
Oppo Find N camera samples quality
The first foldable phone from Oppo beats the Z Fold 3 when it comes to camera specs, starting with the 50MP vs 12MP main shooter, but doesn't beat the other bendy 2021 flagship, Huawei's Mate X2. We took the best three foldables money can buy for a spin around town and pitted their cameras against each other.
We left the Find N's camera in the AI and auto HDR mode which produced rather warm and oversaturated colors which many people like on their photos, but coupled with the artificial bump in contrast resulted in rather unnatural looking images compared to what our eyes saw in front of the lens.
The Z Fold 3 produced images with still warm and saturated, but more toned down colors, while the Mate X2 fared the worst with cold and lifeless hues due to the peculiarities of its yellow sensor pixels.
The Oppo Find N managed to capture a higher amount of detail, though that fact gets somewhat lost in the oversatured imagery, and has a slightly cleaner 2x zoom mode compared to the telephoto camera on the Z Fold 3. The undisputed camera magnification king among foldable phones, however, remains the Mate X2, as not only it has a periscope camera with real 5x optical zoom for faraway objects, but also a 3x telephoto camera that beats the 2x units on the Find N or Z Fold 3.
Unique time-lapse video recording abilities
When it comes to video, the phone is capable of up to 4K 60fps recording, and you can also do time-lapse footage by simply setting the foldable in a laptop mode, with its non-camera half used as a stabilizer instead of a separate tripod.
There are free time-lapse modes to choose from, too – light trails, night sky, and sun & clouds - which can be preset for the computational photography algorithm to optimize depending on the scene at hand.
Oppo Find N battery life and charging time
The Find N and its 4500 mAh battery fared about on par with the Z Fold 3 in our browsing test benchmark, both scoring around the 8 hour mark, give or take. That's a pretty average result in our book, but then again the screens are larger than on any phone with a more orthodox form factor, and consume more energy. Reading, browsing, or doing chores on those vast displays, however, is worth the daily versus day and a half charging tradeoff compared to phones like, say, the S21 Ultra.
Speaking of charging, the Oppo Find N is able to fill its 4500 mAh battery completely in under an hour, whereas it takes 80 minutes for the Z Fold 3 to top up a smaller unit. Moreover, the fast Find N charger comes in the box, unlike the recent trends for various companies to count on what you might have laying around or languishing in a drawer.
Oppo Find N review conclusion
Overall, Oppo's first foldable phone, the Find N, makes an excellent first impression with its spot-on size or "golden folding ratio" as the company calls it that makes it almost as easy to lug around as a Z Flip, and yet offering much more.
The superior camera hardware didn't translate to much better pictures than those from the direct Z Fold 3 or Mate X2 competitors, at least in daylight, but the photos come out nice nonetheless, as does the 4K video recording and time-lapse mode. Battery life and charging times of the Find N are very good, too, unless you browse or game on the main screen for hours.
Above all the Find N virtues that we found in the course of this review, however, towers the main display with the best image quality and the most subtle crease on a foldable phone so far, where the new tailored for multitasking ColorOS interface shines bright, productive, and entertaining.