Samsung Galaxy Watch Active 2 Review
33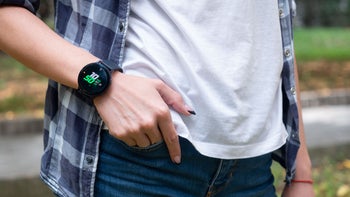 Just half a year after the release of the original, Samsung is back at it with the more refined Galaxy Watch Active 2 that now comes in two sizes and features a few improvements.
The Watch Active 2 now feels more solid and not as toy-like as the original, it costs less than an Apple Watch and it works with both Android phones and iPhones.
And while it lacks the signature Samsung rotating bezel, it can do tricks like monitor your sleep and is very comfortable to wear. Is this the smartwatch that you should buy? Read on to find out about our experience.
Size and Fit
Comfortable to wear, looks stylish and two sizes
While it has "Active" in its name, the watch does not look sporty per se: it just looks… clean, with an aluminum body and two physical buttons on the side, and not much else. It's versatile enough so that you can take it to the gym and the office, and look good at both places.
You have two sizes, a 40mm one and a 44mm one. The bigger one is not gigantic as, say, the regular Gear S3.
We were disappointed to find out that in the box with the watch you only get one size strap, so for example if you get the 44mm version you will get a strap that might not fit smaller wrist sizes perfectly well (I have a small wrist and used at the last pin). Luckily, this is a standard 20mm strap with quick release pins, so you can easily exchange it for another one. We got the version of the watch with the rubber sporty strap that felt soft and incredibly comfortable in daily use, but if you want to score more style points and rock this watch with more formal clothes you can swap to a leather or a metal strap.
No rotating bezel
The digital replacement is good and it allows the watch to be smaller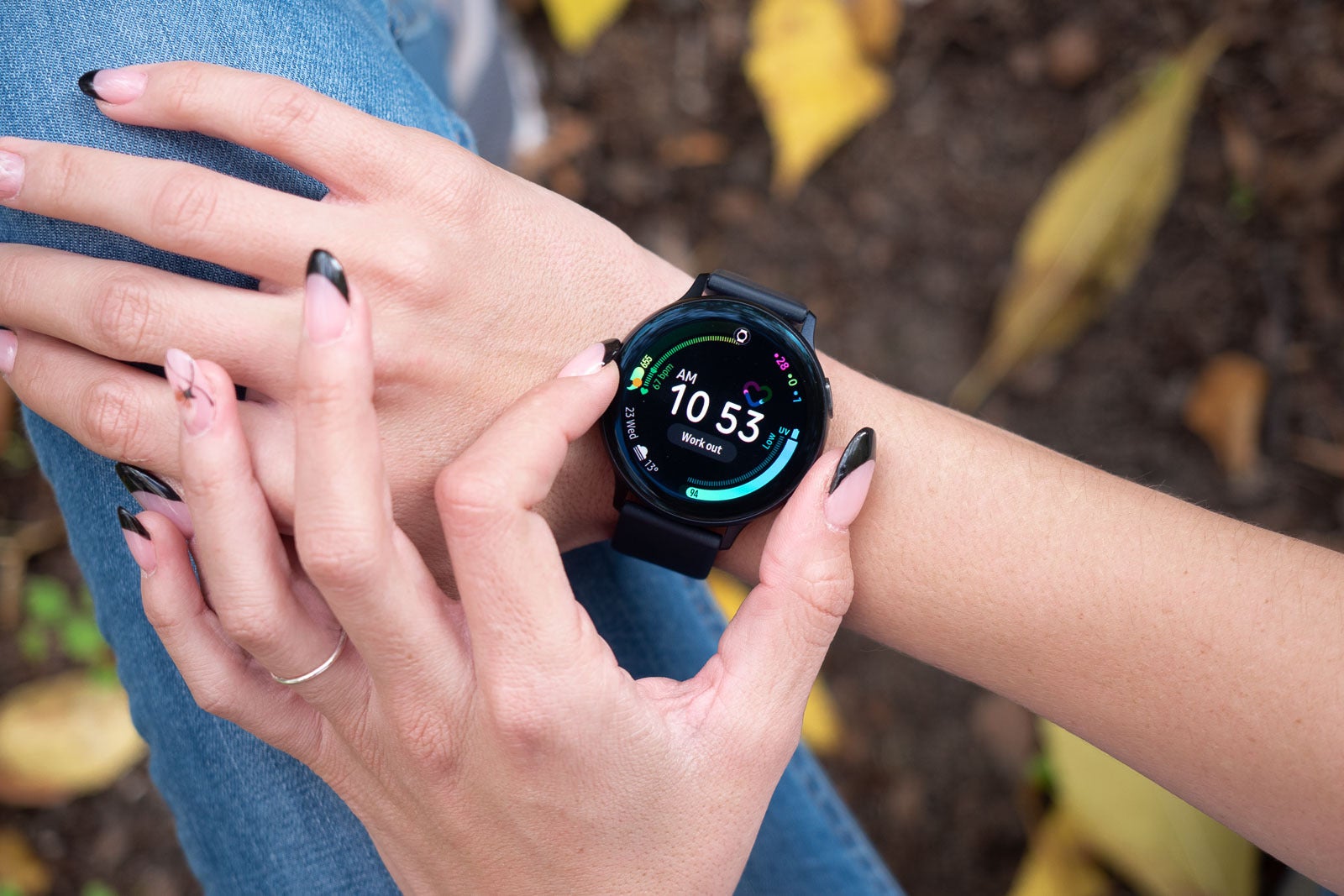 If you have used a Samsung smartwatch in the past, the first thing that you will notice on this new Watch Active 2 is that it doesn't have the signature rotating bezel. For years, this ingenious feature was synonymous with Samsung wearables, and we do indeed miss it. But, the bezel is dead, long live the more compact size of the watch. And the Active 2 is indeed a far less imposing timepiece, one that fits more comfortably and is lighter at the same time.
With the bezel missing, you now navigate around with just taps and swipes. Samsung also includes a "digital bezel" feature. That one is not turned on by default, but once you do enable it, you can basically slide your finger over the edges of the watch to scroll through menus just like you would do with a physical bezel. Once you get the hang of it, you get used to it and it works most of the time, but still, it's not quite as reliable and intuitive as a real, physical bezel.
Watchfaces
The watch comes with 15 pre-installed watchfaces and on some of them you can add complications just like on the Apple Watch.
Here is a quick overview of the different styles available: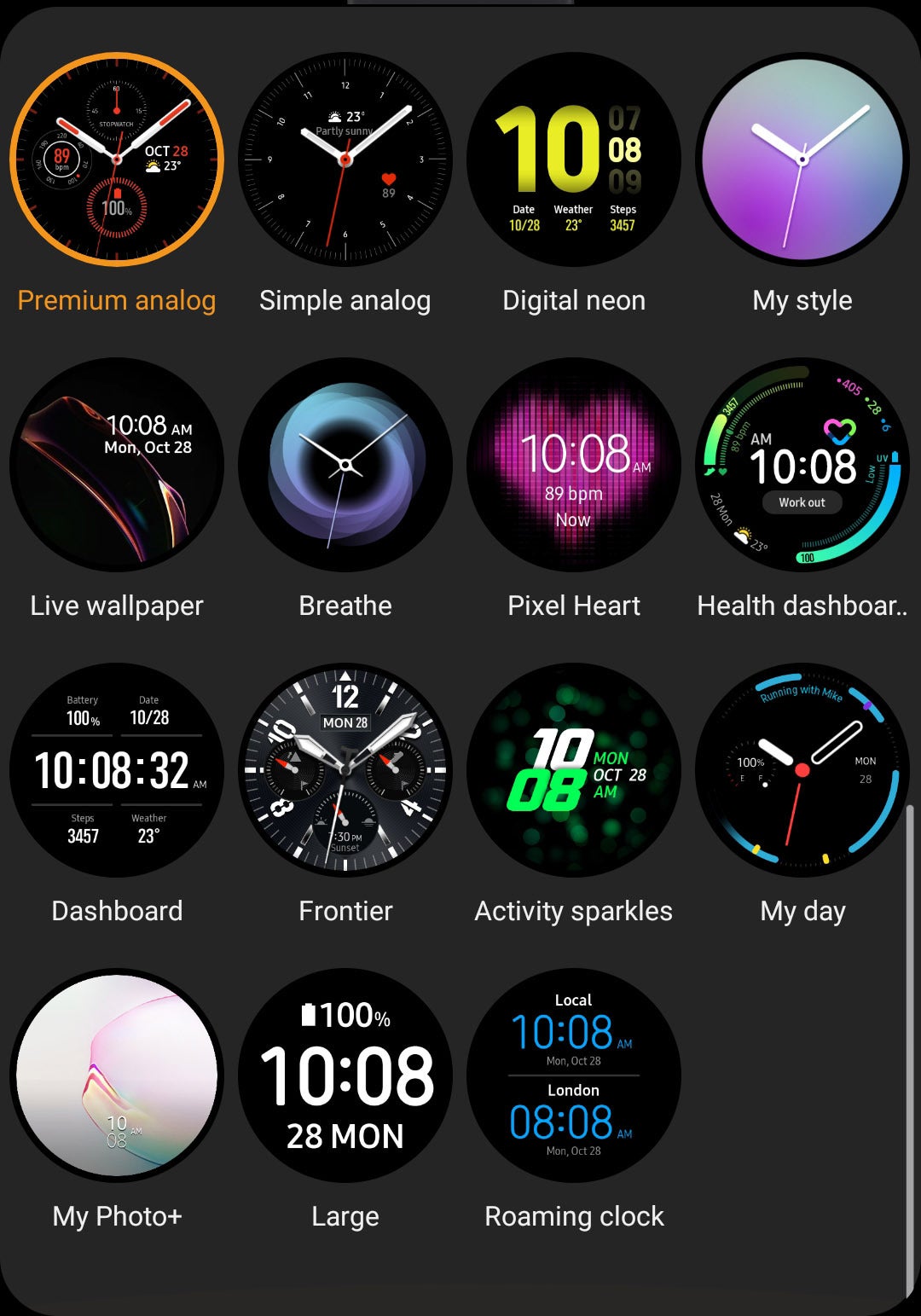 Active 2 comes with 15 pre-loaded watchfaces
You can also get more watchfaces via the Galaxy Wearable app, and there were actually some pretty interesting styles there, both free options made by Samsung and premium ones that would cost a dollar or two and give your Galaxy Watch a Casio styling or transform it to some other style.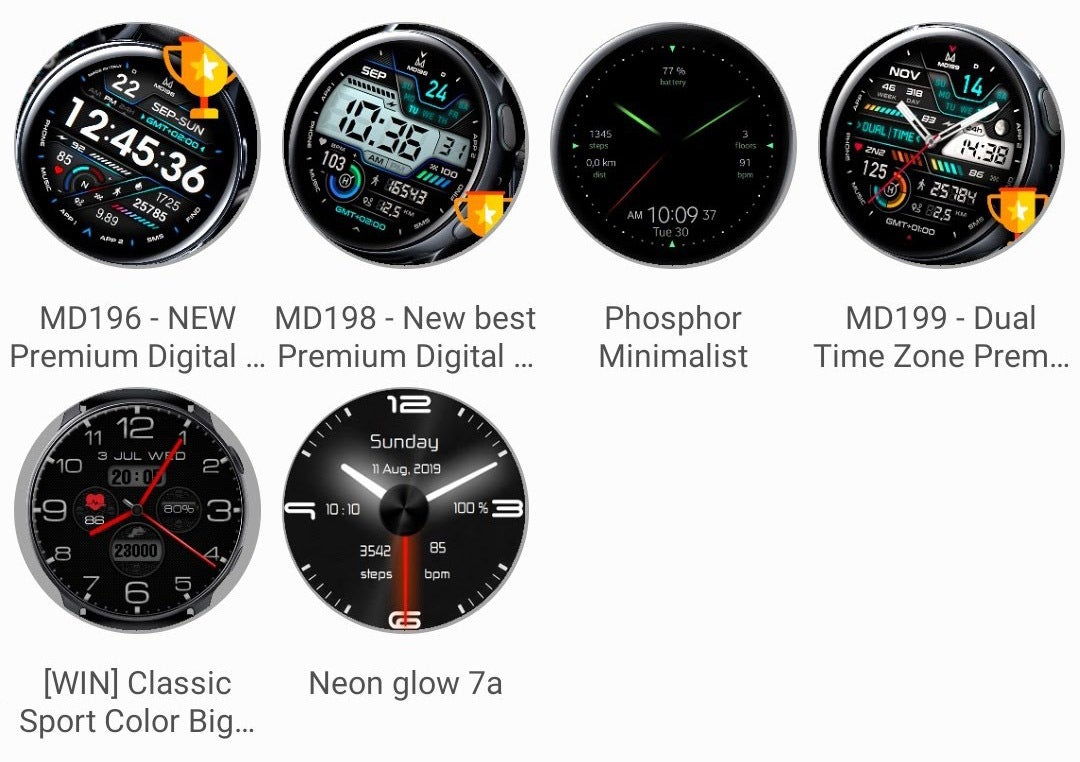 Third-party watchfaces are available in the Galaxy Wear app
We, however, found the 15 stock ones do a great job and cover our needs. My personal favorite is the Premium Analog watchface that is brilliantly color coded and makes it easy to spot things like weather, battery level and so on with a quick glance.
Fitness and Activity Tracking
Automatic workout detection is a nice feature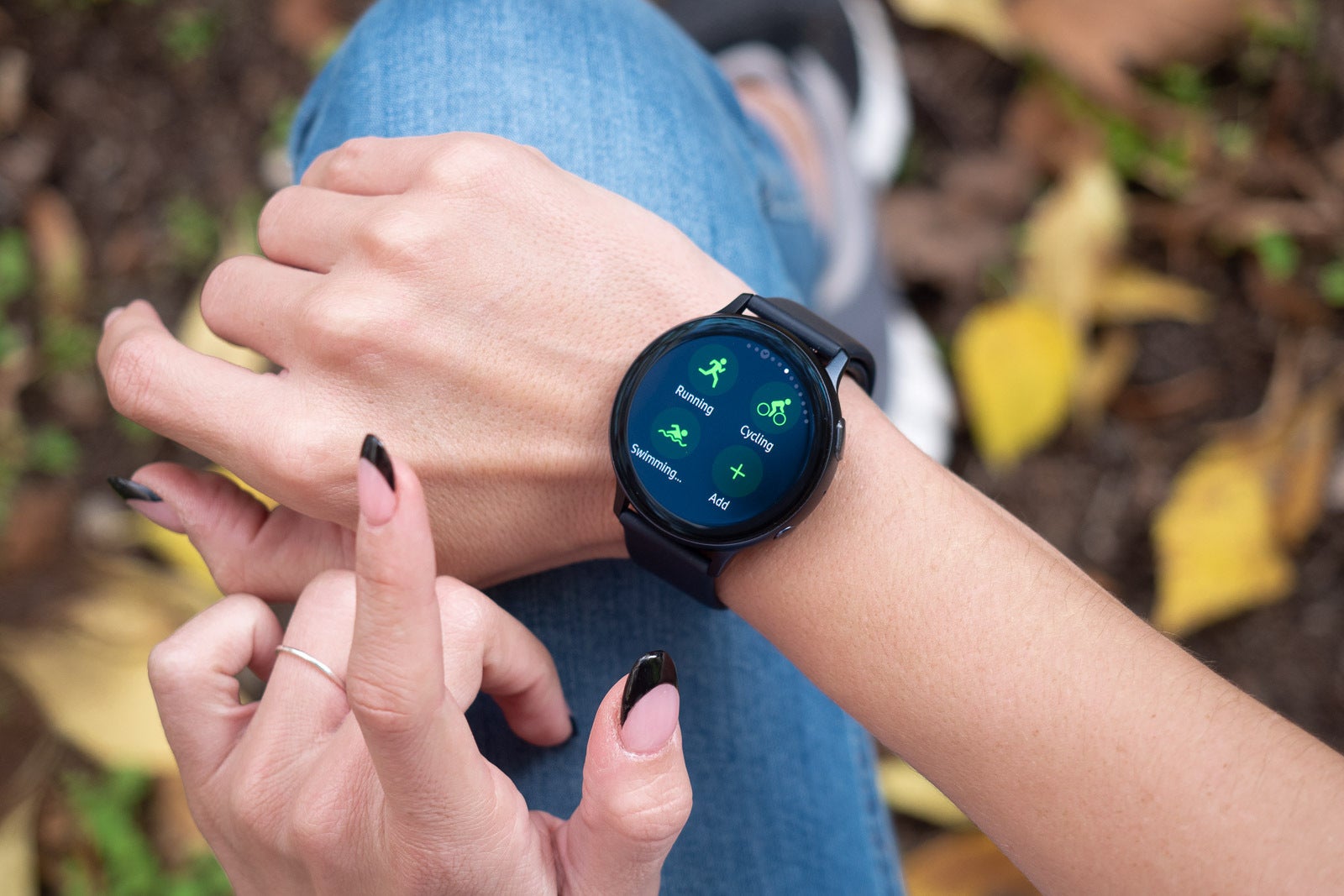 Since I have been using the Apple Watch Series 5 up until recently, the thing that impressed me the most about the Samsung watch is how good automatic workout detection worked. While on the Apple Watch it would often fail to record a workout, the Samsung watch just knew when I was doing workouts and when I would finish with an impressive accuracy.
Once you enter a workout, the always-on screen will keep on showing you your regular watchface, but once you lift your wrist, you will see the activity watchface with the time you have spent working out so far, your heart rate, calories burned and other relevant information.
You have quite the variety in workouts that you can manually start: arm curls, arm extensions, back extensions, bench press, burpees, circuit training, crunches, deadlifts, ellipticals, exercise bikes, these and other exercises performed at the gym are available. And then you also have activities like hiking, pilates, stretching, swimming, walking, and yoga.
We found the heart monitor to work quite well and give proper readings. GPS tracking, however, is not quite as accurate as the GPS unit on your smartphone, and you might care about this if you are serious about tracking your runs in apps like Strava.
Sleep tracking and Samsung Health
Automatic sleep tracking gives you breakdown of deep sleep, REM sleep and light sleep
One thing the Samsung watch does is also automatically track your sleep if you wear it at night. I am not fond of the idea of wearing something on my wrist at night, but I tried it and the watch actually felt very comfortable to wear. Sleep tracking was accurate too and you get a detailed breakdown of different stages of sleep, as well as the amount of deep sleep you got, and how many times you woke up. The sleep tracking only drains about 5% battery overnight, so this is quite good.
You get a detailed breakdown of your sleep and workouts in the Samsung Health app. You can see a few screenshots of how the data is presented and you can also sync the watch with other third-party apps.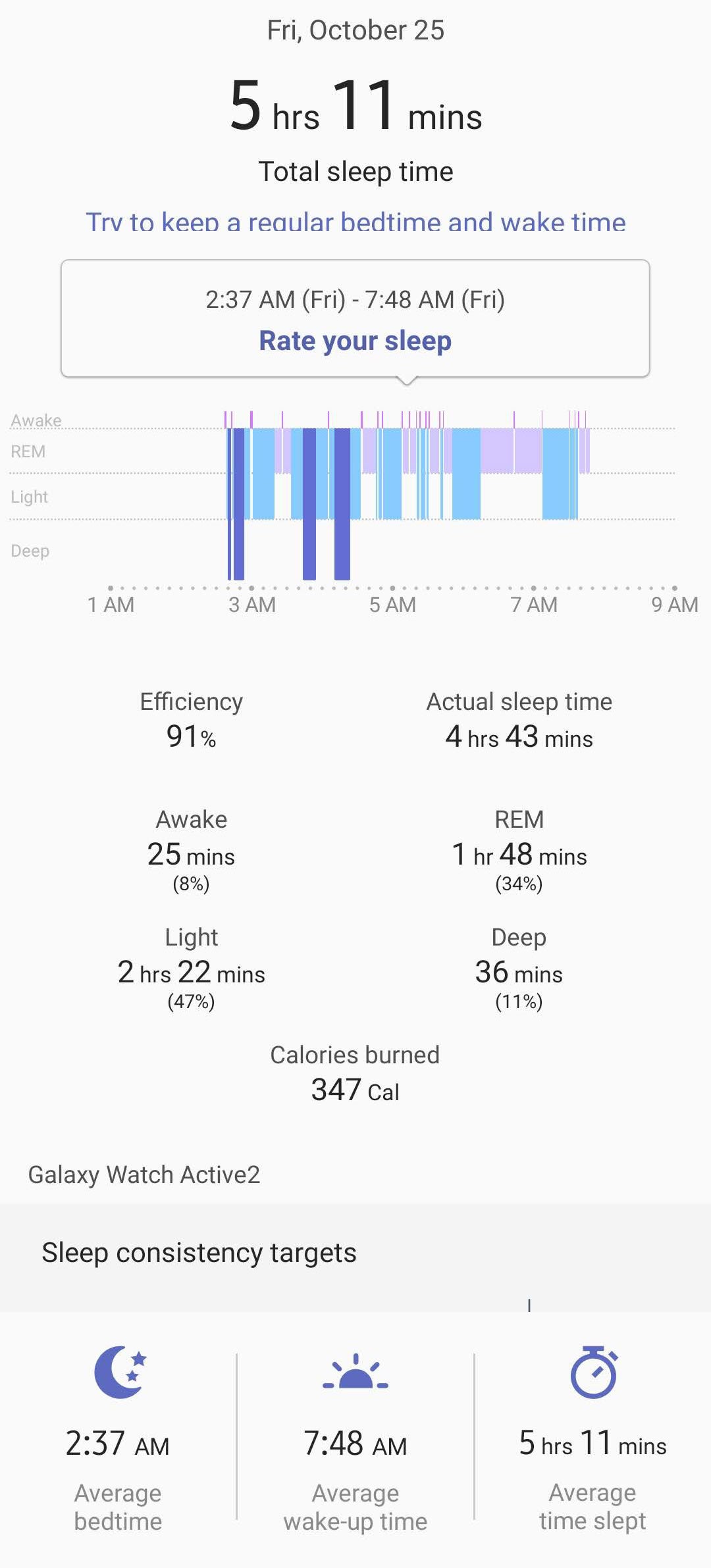 Battery Life
Almost two full days with the screen always on
With regular use during the day, we got a battery drain of about 3% to 4% per hour, if you enable the always-on screen mode. And it's a nice convenience that we think most people would indeed appreciate having on. Workouts, especially with GPS, will drain the battery quicker, of course.
On the Galaxy Watch Active 2 you also have a 'Goodnight mode' that you can manually enable right before bedtime and it's a huge help if you don't charge your phone overnight: it cuts out notifications and other disturbances, only showing the time, but it allows the watch to use just about 4% to 5% overnight. Don't forget that sleep tracking is also available in that mode.
Overall, with the screen always on, we were getting about a day and a half out of the 44mm watch we were testing, but not quite two days. In other words, if you pick up the watch fully charged in the morning at 8am and go back home in the evening, around 8pm, you will usually have slightly less than 50% on the battery meter. This is only very slightly better than the Apple Watch Series 5, which typically ends such a day with around 40% on the battery meter.
With such battery life on the Active 2, you can track your sleep quite confidently and then give the watch a few 15-minute charges during the day.
Price and competitors
Strong competition, but the Watch Active 2 has its advantages
At $300 for the larger 44mm model and just $20 less for the smaller, 40mm version, the Galaxy Watch Active costs nearly $100 less than the current Apple Watch Series 5.
And while they do differ in form, the two companies are clearly the closest competitors on the market, sporting a similar set of features, similar battery life, and a comparable experience.
The
Apple Watch
might cost more, but it also offers a few important advantages: it feels much faster than the Samsung watch, which stutters a bit at times and does not feel as refined in terms of interface; it has way more in terms of customization and watch faces; it has a much better haptics with the taptic engine that is refined to near perfection; it has a much more convenient system for quickly swapping straps; and a few others. On the downside, the Apple Watch only works with iPhones, automatic workout detection is almost useless; and straps for it cost a small fortune.
As for other alternatives, you have the slightly cheaper, $200
Fitbit Versa 2
, which gives you better battery life (6+ days officially, but realistically around 2 days if you use with always-on screen), but that one is far slower and less refined than the Galaxy.
And if you are serious about sports, you might look in the direction of
Garmin's family of watches
, which again trump the Galaxy in battery life and have a screen that is easily readable outdoors, but again are clumsy to operate and show monochrome colors.
Conclusion
We enjoyed using it!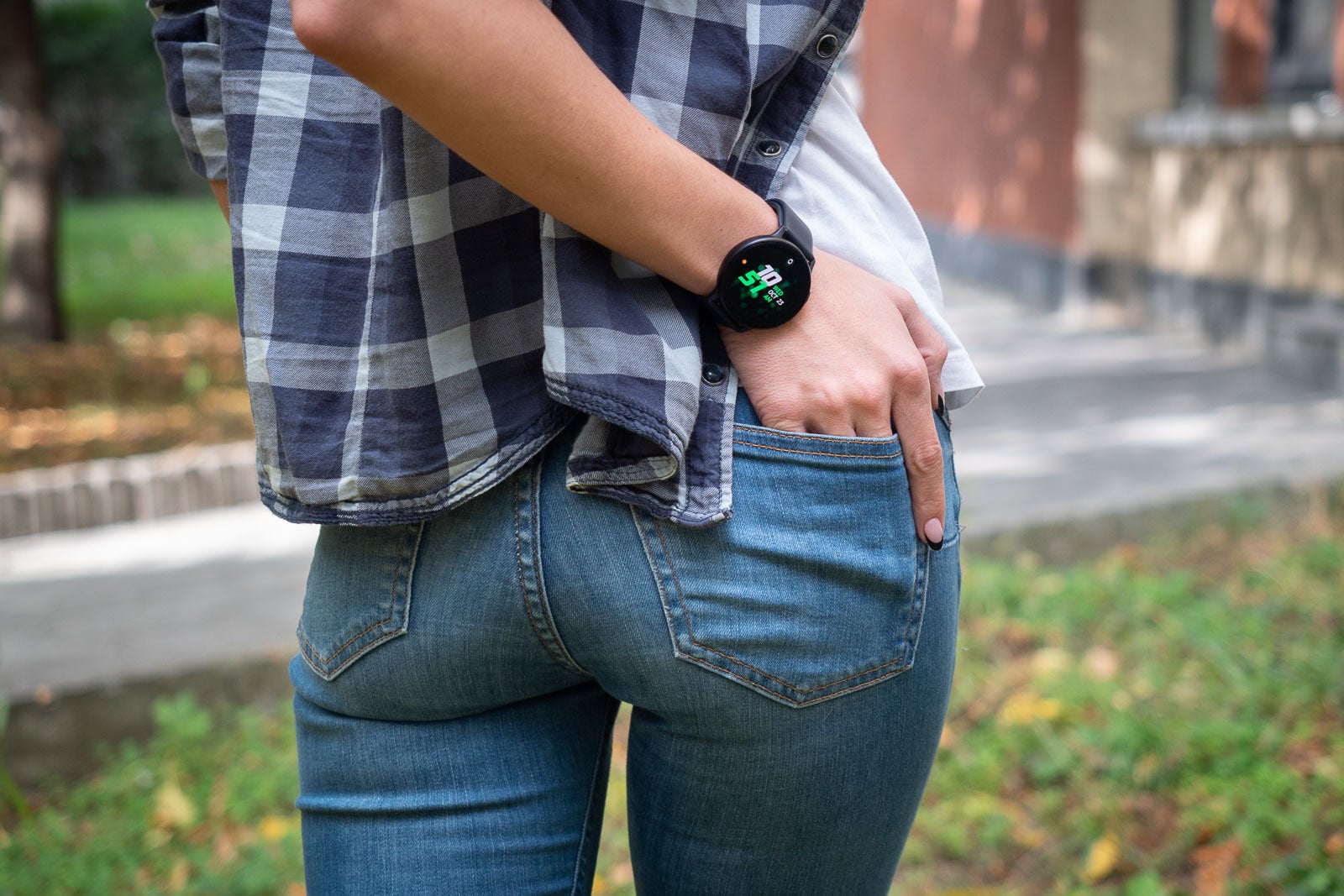 At the end of the day, we should say that we enjoyed using the Samsung Galaxy Watch Active 2 a lot. It sits very comfortably on the wrist, we love the always-on screen option, and if you use it with a leather strap it looks quite good on the wrist.
At the same time, it is certainly a far cry from the meticulous craftsmanship and style that comes with some classic watches, and we already mentioned how it doesn't feel quite as refined as the Apple Watch S5.
But if you don't want to be tied to the Apple ecosystem yet want a true smartwatch that is comfortable to wear, has reliable performance and a beautiful screen, this is about as good as they get in 2019.
Recommended Stories