Fitbit Versa 2 review: 6 things I loved about it and 3 that got on my nerves
4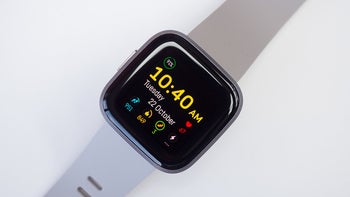 The second version of Fitbit's smartwatch, the Versa 2, has been on my wrist for more than two weeks now. The $200 price tag makes it an affordable alternative to the Apple Watch or Samsung's Galaxy Watch which has contributed to its popularity. The question is, are you getting half the smartwatch for half the price? Let's see what's good and what's bad about it and find out.
The pros:
Battery life
The typically short battery life of smartwatches is one of the biggest deterrents for potential users. With Versa 2, that's not really an issue. It's not like it will last weeks at a time, but you can comfortably use it for about two days between charges and that's with the always-on display turned on. If you turn it off, you can gain about two more days, depending on how often you use it in workout mode which drains it a bit faster than regular use.
It charges pretty quickly, so you won't miss out on tracking your activities, just put it on the charger while watching a movie and you'll be good to go by the time it's over. Even if you receive a low battery notification in the morning, it will easily get you through the workday.
The design and feel
The design of the Versa 2 is nothing unique or groundbreaking but it's clean and polished and it looks good enough to be worn in an office environment. Most importantly, however, the watch is light and comfortable to wear. Even after wearing it the whole day I have no trouble wearing it in bed as well. And you'd want to wear the Versa 2 while sleeping if you want to get the most of it. Which takes me to my next point.
A good variety of tracked activities
Activity tracking is a major part of every smartwatch and with this one, you get the whole package. Calories, steps, flights of stairs, you name it! Now I'm not the most active person and just because my watch is telling me I should walk more doesn't mean I will, but I do like stats and kind of cool to have an idea what you've been up to. The automatic activity detection works fairly well although the type of activity might not be accurate but you can change that from the app. When you start an exercise manually the display will change to show you data about the workout even in always-on mode which is very handy.
Probably my favorite feature is the sleep tracking. Of course, how accurate the REM, light and deep sleep measurements are is impossible to tell without wearing it in a sleep lab. Still, the graphs and other sleep-related stats the watch provides seem to match my nocturnal experiences and they are visualized nicely.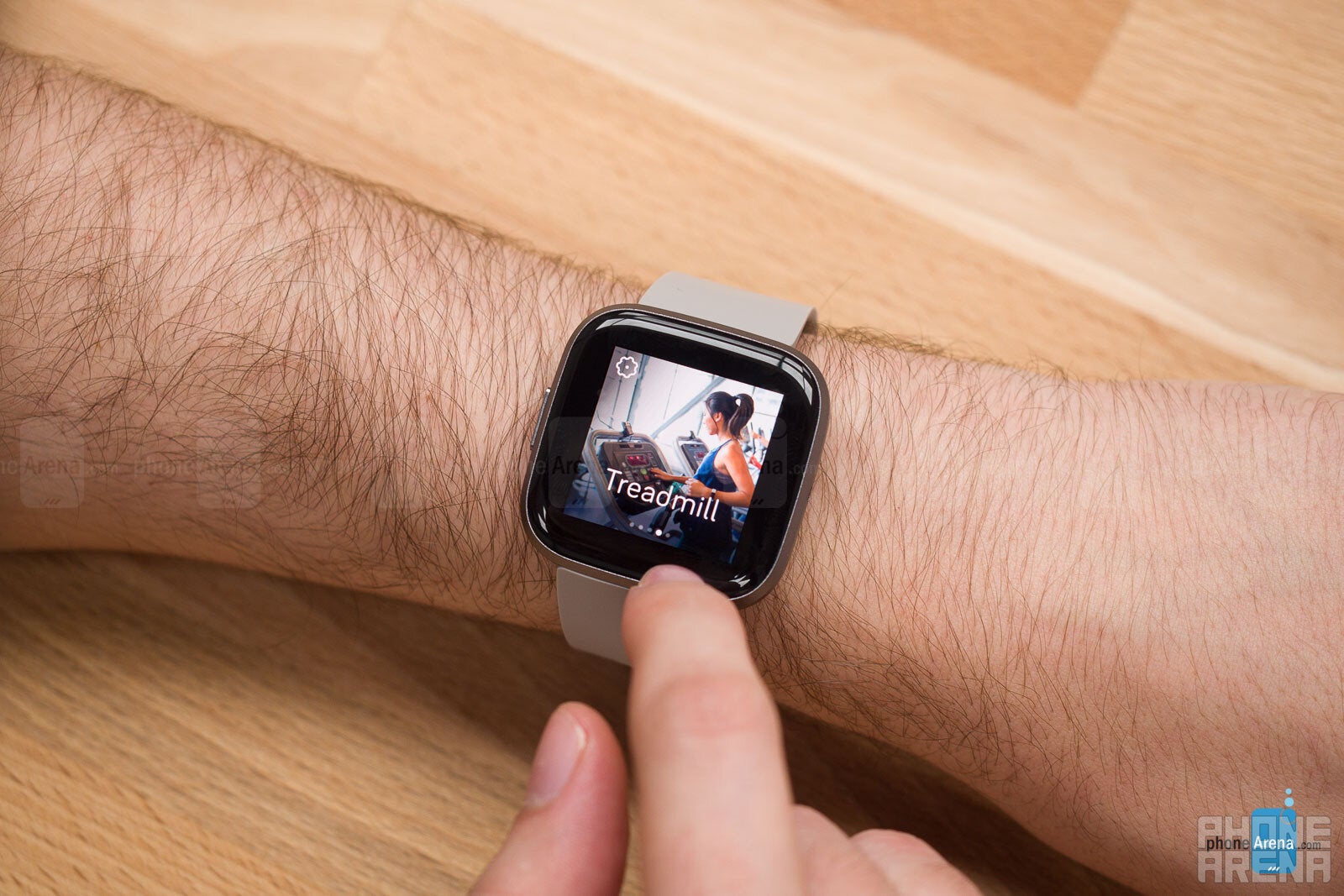 The notifications
What I like about the notifications on the Versa 2 is that they come with their own style depending on the app that's sending them. So you'll have a green border for WhatsApp notifications and a blue one for Facebook Messenger, for example. Also, even if you miss them while they're shown on the display, you can check them later from the watch, something not all such devices do. You can also send quick replies like "yes", "no", "I'm busy right now" and you can even add custom ones yourself. On top of that, you can send a reply by talking to your Versa and it will transcribe your words and send that as a message which solves the problem of having no keyboard on the smartwatch.
The onboard music
Just like its predecessor, the Versa 2 allows you to upload songs to its internal storage and listen to them through Bluetooth headphones. The process of getting the songs on the device is a bit cumbersome and requires you to install Fitbit's software on your computer but there's plenty of space (for about 300 songs) to only go through it once in a while. Having music on the watch means you can leave your smartphone behind when working out or just being able to listen to music without any mobile data restrictions.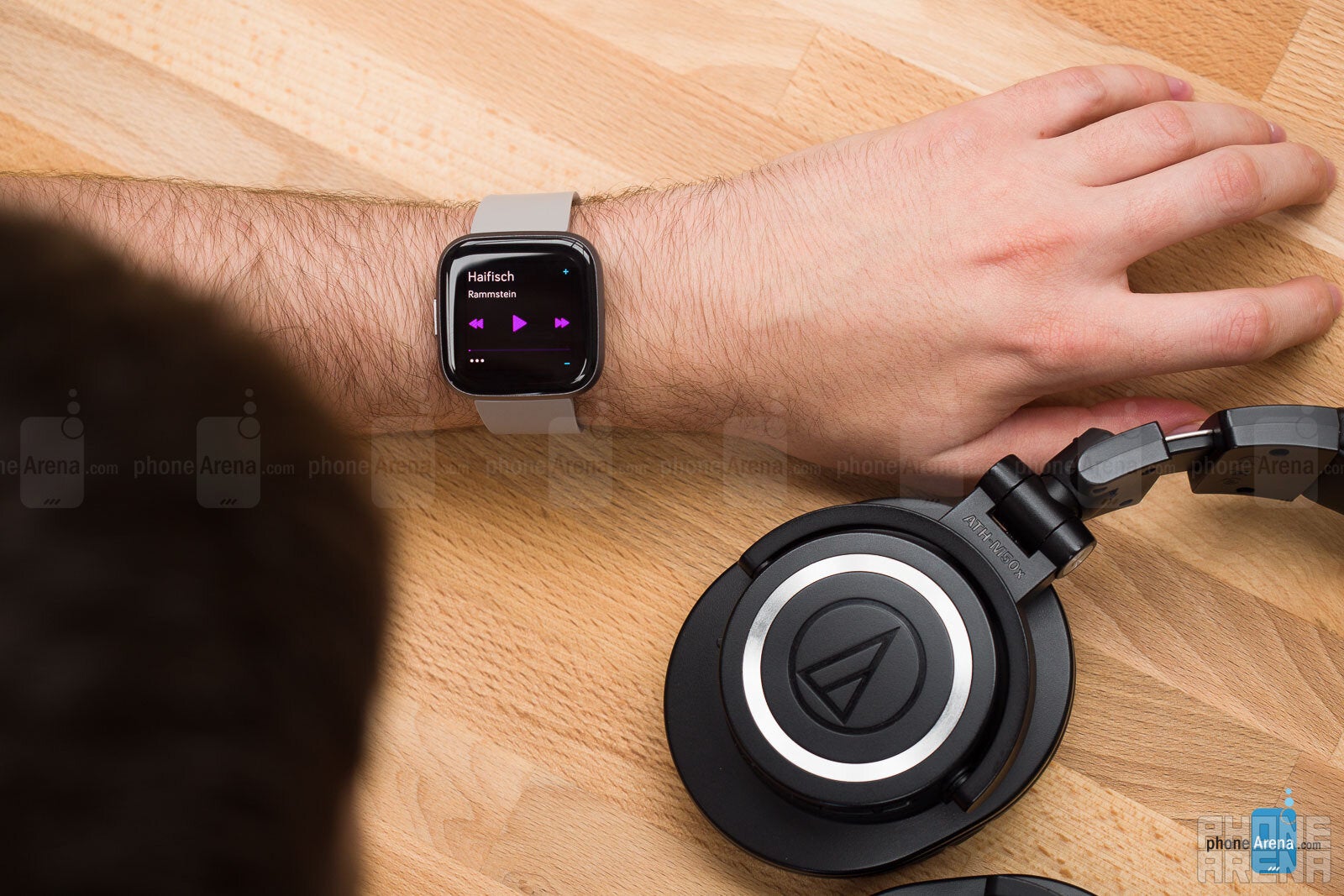 The app
The Fitbit app has a really clean design that makes it very intuitive to use. Sometimes I open it just to look at the different graphs it has made to visualize my stats, even though I'm not really that interested in the data itself. It's very customizable so you can tailor it to show you exactly what's important to you at a glance. Additionally, through it, you can easily connect to thousands of other Fitbit users and share your achievements or just get motivated about working out. The app contributes greatly to the overall experience you'll have with the Versa 2 and that's not always the case with fitness trackers.
The cons:
The display
First things first: the display itself is not bad, it's OLED, has a good resolution and gets bright enough. However, there are a few things around it that I didn't like. One of them is literally around it: the bezels. They're quite thick and although the menus are designed in a way that doesn't make it apparent where exactly they end and the display begins, it's still pretty obvious that they're massive. This is probably the only thing that constantly reminds you that this smartwatch is not really a high-end one.
But that's not really as annoying as my next gripe which is how Fitbit decided to implement the always-on display. There are only two types of always-on display watch faces, a digital one and an analog one and both are in grayscale colors. Their customization is also very limited, you can have a couple of stats displayed with small icons and that's it.
What's worse is that if you use always-on, the grayscale watch face is all you'll see unless you purposely activate the display. This means that wrist motion detection is disabled so the watch doesn't switch to your preferred colorful watch face when you look at it. And activating it manually means either pressing the button or tapping on the display. However, tapping works sort of randomly, sometimes two taps are enough to wake up the display, other times you need to tap four or five times, which is really annoying.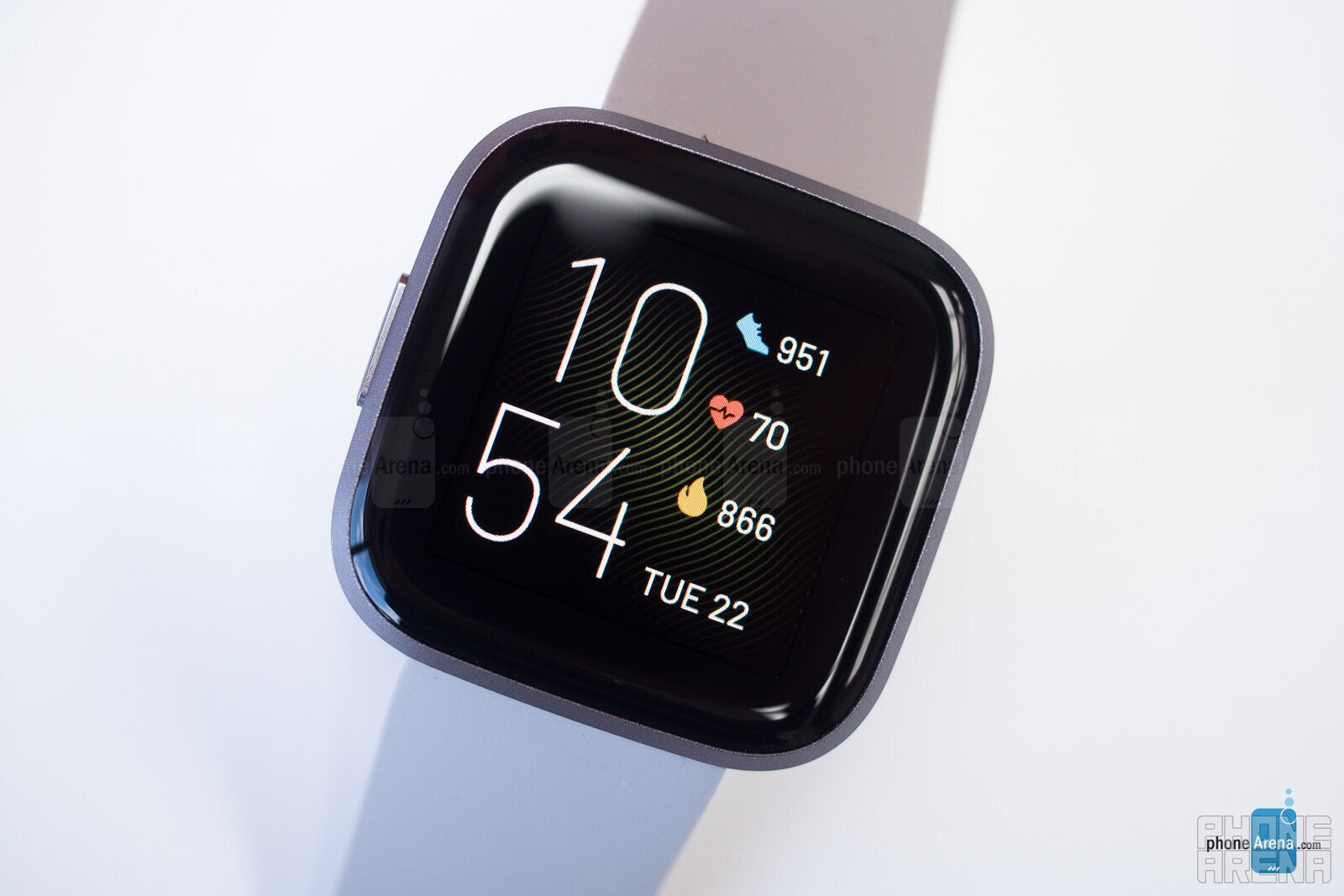 Basically, you have to decide if you want to look at a boring white display all the time or a nice colorful one sometimes. And if you think the latter is the better choice, well, I have some bad news for you…
The wrist motion detection
Detecting exactly when you want to look at your watch is arguably one of the hardest things for smartwatches to do right and for the Versa 2, it's a real challenge. Unless you're doing a textbook "I'm looking at my watch" movement with your hand every time you want to check the time, there's a high chance that the display won't turn on. Having to flick my wrist back and forth all the time basically forced me to settle for the boring always-on display option.
The third-party apps and watch faces
As every self-respecting smartwatch, the Versa 2 supports third-party apps that you can install through Fitbit's mobile app. However, since the Fitbit ecosystem is a lot smaller than Apple's or Samsung's, for example, the variety of available apps is not great. There are probably some that you might find useful, such as the Uber app or the United Airlines one which gives you information about your flight. A good chunk of the third-party apps seemed kind of hastily made and some were outright sketchy while others didn't even work. The Flappy bird game works though and I can confirm it is as annoying as ever.
With the watch faces the situation is similar. There are paid ones and free ones but I wouldn't say it's worth paying for a watch face considering what I've said above about the display. With the free ones, it's a hit or miss. Often some of the complications shown on the screenshots won't work once you install it, even if you've given all the permissions needed. Still, you'll probably manage to find one that suits your style and works as intended. If not, the ones coming from Fitbit are decent enough.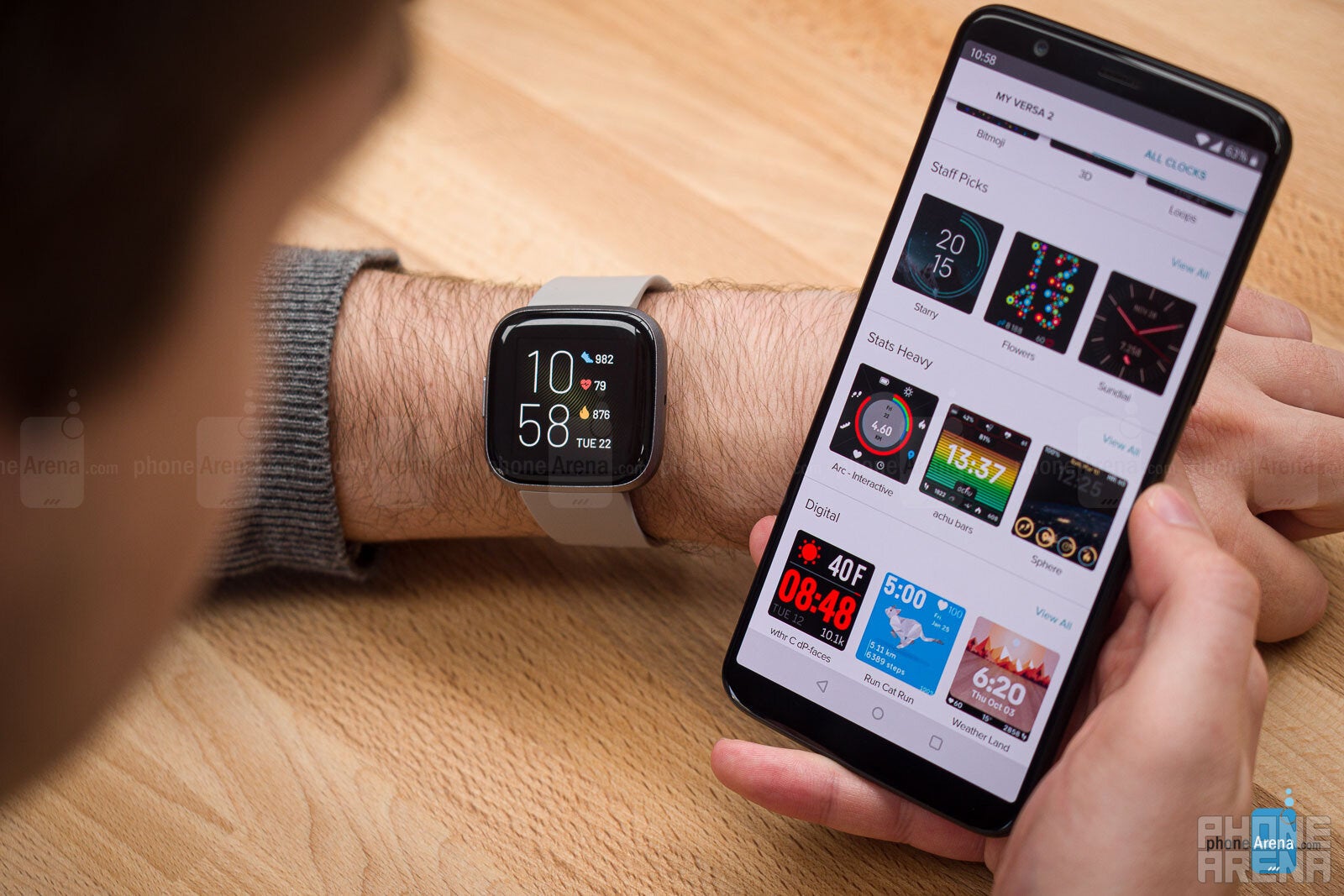 Conclusion
Once you have everything set up the way you want to, the Versa 2 is mostly a pleasant experience to wear and use. It does everything you'd expect from it without much hassle and stays out of your way when it has to. As it becomes apparent from the points listed above, the pros outweigh the cons by a large margin. You probably won't impress anyone with it, unless they've literally never seen a smartwatch before, but for its price that's not really an issue. If you're on a budget and looking for a smartwatch that covers all the bases, you won't be disappointed by the Fitbit Versa 2.
Recommended Stories