Samsung Galaxy S22 Ultra vs Google Pixel 6 Pro
4
We may earn a commission if you make a purchase from the links on this page.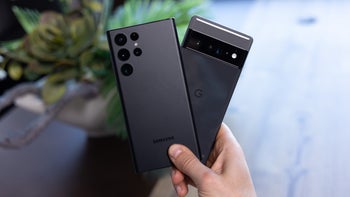 What's the
best Android phone
right now? Tough question to answer in early 2023, but you can always rely on Samsung and Google to have more than one horse in this highly-premium race.
The Galaxy S22 Ultra was the top Samsung flagship in 2022, and roughly half an year later, the
Google Pixel 6
Pro was announced as a soft reboot of the Pixel lineup.
The Galaxy S22 Ultra cost a premium a Galaxy Note-like device such as the Galaxy S22 Ultra certainly has to overcome some rather steep competition. One of the contenders comes straight from the maker of Android - the
Google

Pixel 6
Pro. With a custom chipset on board and a camera that's by no means inferior to any other high-end flagship out there, the
Pixel 6
Pro was certainly a phone that Android fans should have shortlisted.
Even in mid-2023, when the
Pixel 7 Pro
and the
Galaxy S23 Ultra
were already a thing, the older Galaxy S22 Ultra and the
Pixel 6
Pro especially are still quite adequate devices that can punch above their weight and deliver very good value. You might miss on some small new features, but in any case, the duo is still very, very capable.
The
Galaxy S23 Ultra
and the
Pixel 7 Pro
are both official, so the Galaxy S22 Ultra and the
Pixel 6
Pro are no longer the
best phones
in their respective lineups. Read our full comparison between the new
Galaxy S23 Ultra vs Pixel 7 Pro here
.
Design and display quality
Posh, elegant, and certainly continuing the design language that's associated with the Galaxy Note lineup, the S22 Ultra is a phone that screams
"business"
! The phone comes with camera lenses that stick out directly out of the phone's rear panel in a P-shape. Certainly a call-back to simpler times when cameras were a lot less imposing from a visual standpoint and lacking that imposing camera island.
Additionally, the Galaxy S22 Ultra features flat edges on the top and bottom, reminiscent of the visual language found on the Galaxy Note 10 and Note 20 series. And what do you know, it will also come with an S Pen, so it will have yet another point of similarity with the aforementioned Note phones.
And then, there's the S Pen, the stylus that's oh-so beloved by the Galaxy Note community. With an improved handwriting recognition and a greatly reduced latency, it still has the same amount of features that make it so useful.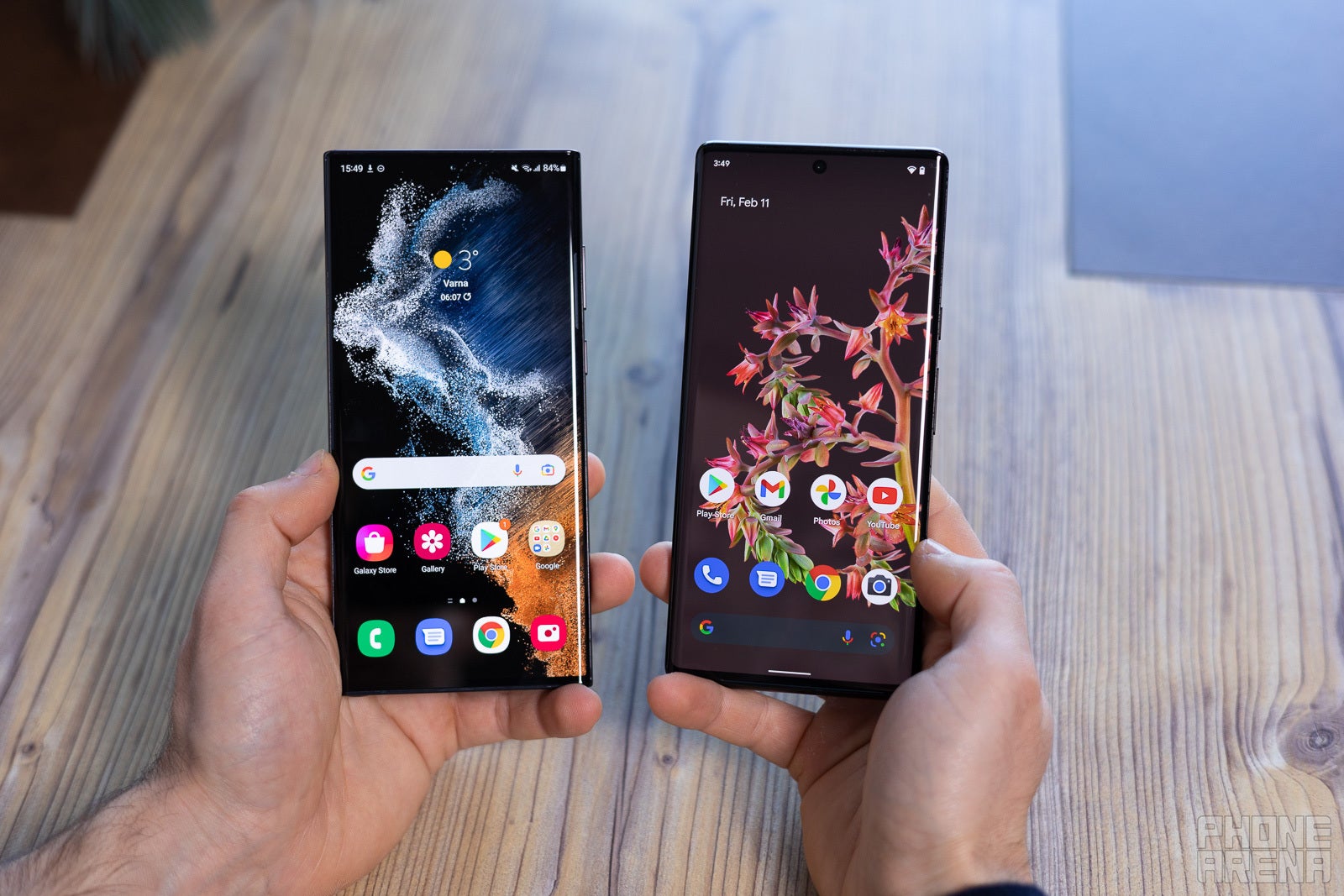 When it comes to the
Pixel 6
Pro, it has something going on for itself as well. A large camera strip spanning edge to edge houses all the rear camera paraphernalia, while the glossy glass back is a welcome design change in contrast with the matte/plastic backs of previous Pixel phones. Aside from looking shiny, the
Google

Pixel 6
Pro also simply sticks to your skin, asserting a steady grip, though using the phone with a case is definitely recommended.
One design that both phones have in common is the curved rear plate, which certainly improves the handling. The flat industrial design is certainly appealing in its own right, but it digs into your palm and hurts single-hand usage; there's nothing better than curves when it comes to comfort. I definitely prefer the design decision that both Google and Samsung have made on their latest
best phones
.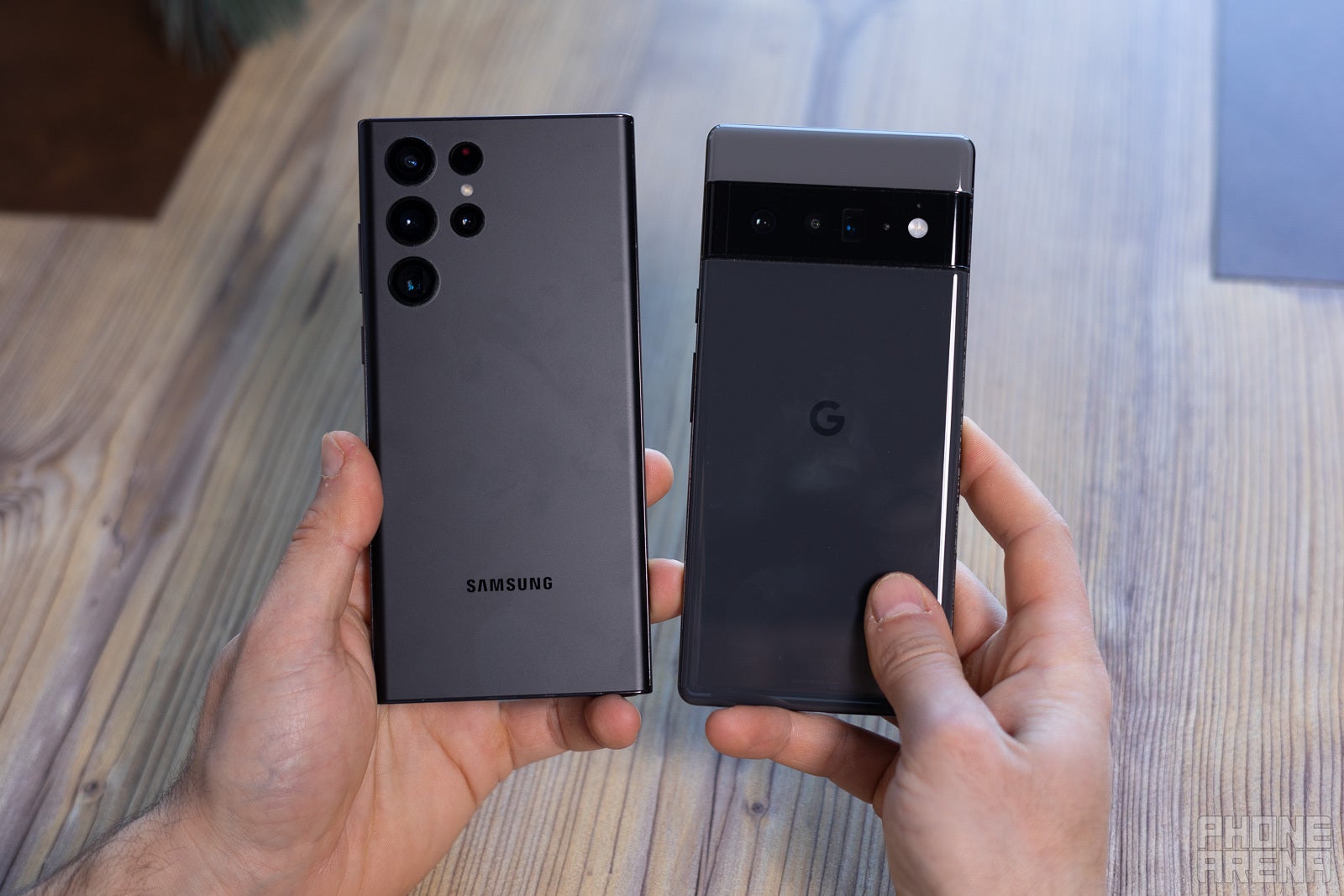 When it comes to the display qualities of both flagships, you can't go wrong with either. Bright and vivid, the OLED displays of the
Pixel 6
Pro and the Galaxy S22 Ultra measure in at 6.7 and 6.8 inches, respectively, but the curved display of the
Pixel 6
Pro leaves the impression of a much smaller display. This time around, we prefer the way Samsung has implemented its display, as a flatter screen definitely aids the overall utility of the phone (and maximizes the usable real estate by the S Pen).
In terms of quality, both phones offer a slew of different display modes that vary between natural and obscenely vivid, so it's up to you to choose the overall warmth of the display. In any case, enjoying content is excellent on both devices, though the scales are slightly tipped in the favor of the
Pixel 6
Pro, which achieved better results in our dedicated benchmarks.
Display Measurements:
Samsung Galaxy S22 Ultra:

108MP main, 12MP ultra-wide, 10MP 3X telephoto, 10MP 10X periscope
Google

Pixel 6

Pro: 50MP main, 12MP ultra-wide, 48MP telephoto
The Galaxy S22 Ultra comes with a 108MP main camera, with an F1.8 aperture and a large 1/1.33" sensor. Technically, this is the third time in a row Samsung uses the same sensor that debuted with the Galaxy S20 Ultra, but with a multitude of software and hardware improvements.

There's also a 12MP ultra-wide camera and two telephoto cameras (10X and 3X zoom), likely 10MP sensors with the same 1/3.52-inch size. The 10X periscope telephoto lens would likely come with an f/4.9 aperture, while the 3X telephoto camera is tipped to land an f/2.4 aperture. Last but not least, a seemingly unchanged 12MP ultra-wide-angle Sony shooter with 1/2.55-inch size and f/2.2 aperture will be taking care of your landscape shots.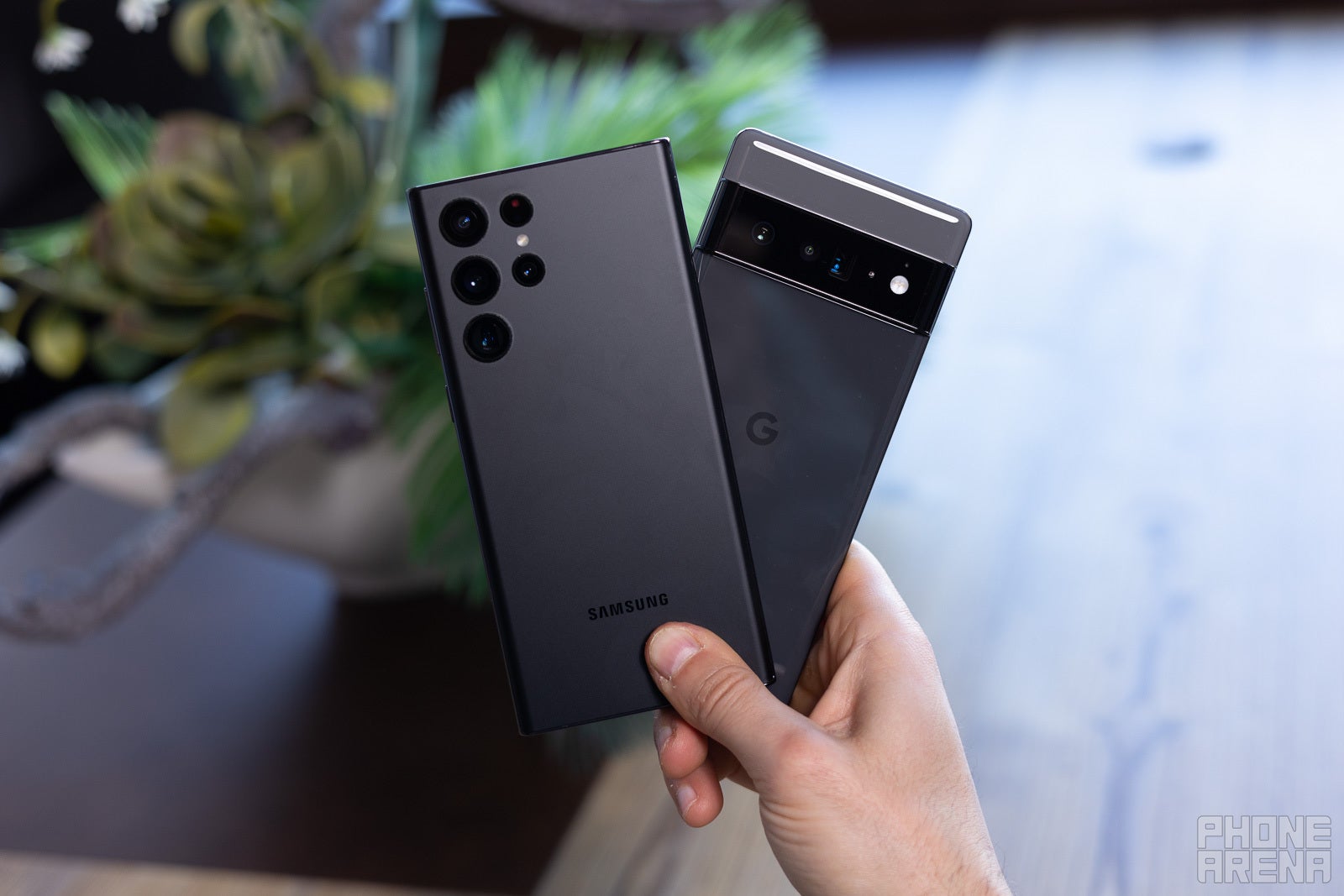 Meanwhile, the
Pixel 6
Pro does a very good job itself despite the somewhat less impressive camera specs sheet. It "only" comes with a 50MP main camera, 12MP ultra-wide, and a 48MP 4X telephoto, but can definitely hold its own against the Galaxy S21 Ultra and
iPhone 13 Pro Max
. But hardware is just half of the picture — software and processing algorithms also play a big role.
Image quality
From the samples above, it's clear that both are excellent devices when it comes to image quality. In broad daylight, the differences are marginal and purely subjective in their essence. Most samples reveal that the Galaxy S22 Ultra over-exposes photos a bit more than the
Pixel 6
Pro, which goes for a more under-exposed and dramatic look. Detail is more than excellent in all photos we've taken, though it should be noted that the Samsung champ delivers a tad more punch in terms of sharpness, which isn't that desirable. The
Pixel 6
Pro achieves a more natural detail appearance.
Low-light image quality
In low-light, the Galaxy S22 Ultra does a better job at exposing scenes with high dynamic range. Whereas the Pixel could burn some highlights in well-lit areas, the Samsung Galaxy S22 Ultra achieves a more uniform image with less discrepancies in the dynamic range.
Portraits and selfies
The Galaxy S22 Ultra does much better object separation than the
Pixel 6
Pro, which is evident in almost all portrait shots. Samsung boasted that its portrait mode could now discern individual strands of hair, and while that might not be entirely true, it seems to be doing an excellent job. Don't be so quick to dismiss the
Pixel 6
Pro, though. While it has some issues with object separation here or there, it still shoots lovely portraits, which have that moody and gritty feel to them.
Video quality
In terms of video recording, both phones do a good job of capturing detailed 4K@60fps videos, though lagging a bit behind iPhones, which are usually a better buy if you're taking tons of videos with your phone and demand excellence more often than not.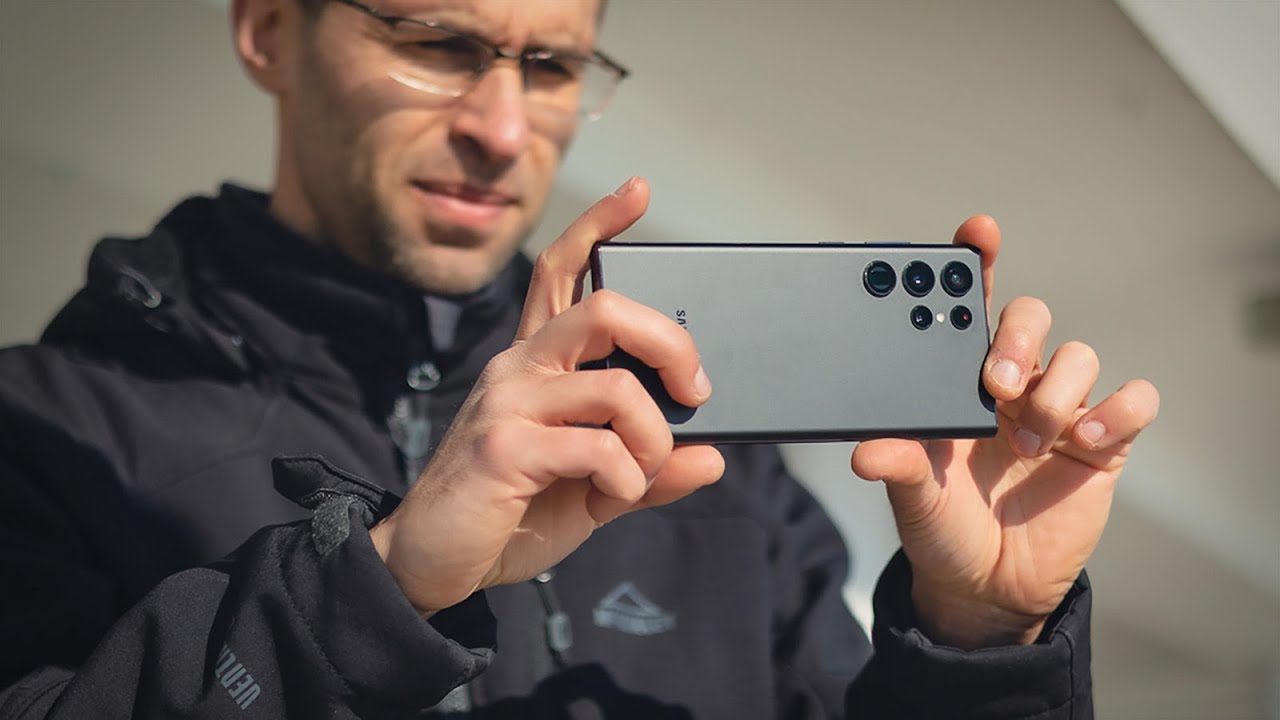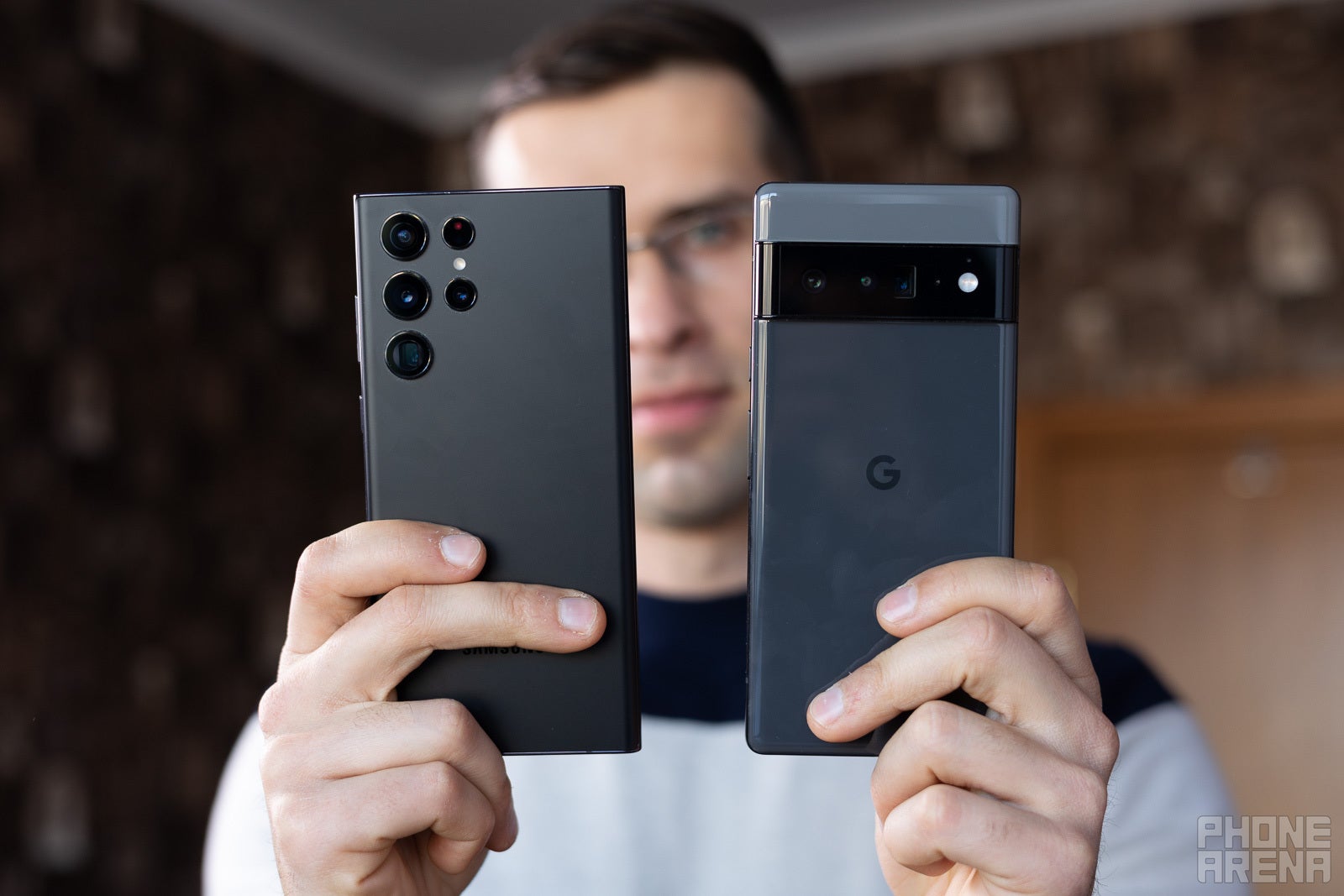 While we had heard hopeful rumors that all Galaxy S22 devices across the globe would be powered by the Snapdragon 8 Gen 1, Samsung pulled off its usual shenanigans and outfitted a vast portion of Galaxy S22 devices with its own Exynos 2200 chipset. This new Exynos chip drops the custom Mongoose cores for regular ARM ones, and is paired with an AMD graphics unit, while the Qualcomm Snapdragon 8 Gen 1 comes with its regular sidekick, an Adreno GPU.
Meanwhile, the
Pixel 6
Pro is outfitted with Google's first custom chipset, the Google Tensor. Named after Google's Tensor Processing Unit, it's an octa-core endeavor built by Samsung on a 5nm manufacturing process.
Now, the Tensor isn't a record-breaking silicon powerhouse, in fact it's slower than most of its direct competitors in various synthetic benchmark tests, but that's not the point of the custom chip. The deal with the Tensor is that it brings efficient machine-learning on board the
Pixel 6
Pro and unlocks a ton of nifty user-friendly features, like live translation and transcribing, and others.
Well, what does all of this mean for the real-life performance of the two phones? Well, the battle between the Exynos and the Tensor is seemingly decided in the Exynos' favor as it beats Google's first custom chipset in all synthetic benchmarks we've ran on both phones.

However, you might not be able to tell that in your regular everyday usage as both devices feel quite snappy and responsive, and rest assured the Pixel wouldn't fall behind in those tasks you're most likely to partake in your day-to-day life.
In terms of regular everyday usage, with moderate app use, lots of picture-taking and some social media, the
Pixel 6
Pro proves to be quite the snappy performer, with a seemingly endless reserve of processing power available on demand. There's some throttling involved when heavy gaming is thrown into the mix, and the phone struggles to sustain its processing pace for longer periods of time.
Yet, both devices' chipsets are seemingly lagging behind both the Qualcomm Snapdragon 8 Gen 1 and the Apple A15 Bionic, and this would certainly hinder their future-proofness in comparison with any phones powered by the aforementioned devices.
There's also 12GB of RAM in the base version of the
Pixel 6
Pro, while the entry-level Galaxy S22 Ultra gets by with merely 8GB of RAM, which would tip the scales in the Pixel's favor for the heavy multitaskers out there.
With 128GB of storage as standard in both phones, there doesn't seem to be a clear winner in this regard, but considering that neither has a microSD card slot, you will certainly pushed towards the Samsung lineup if you wish to have tons of storage available. Indeed, the most decked-out Galaxy S22 Ultra comes with 1TB of storage on deck but it will certainly command a premium.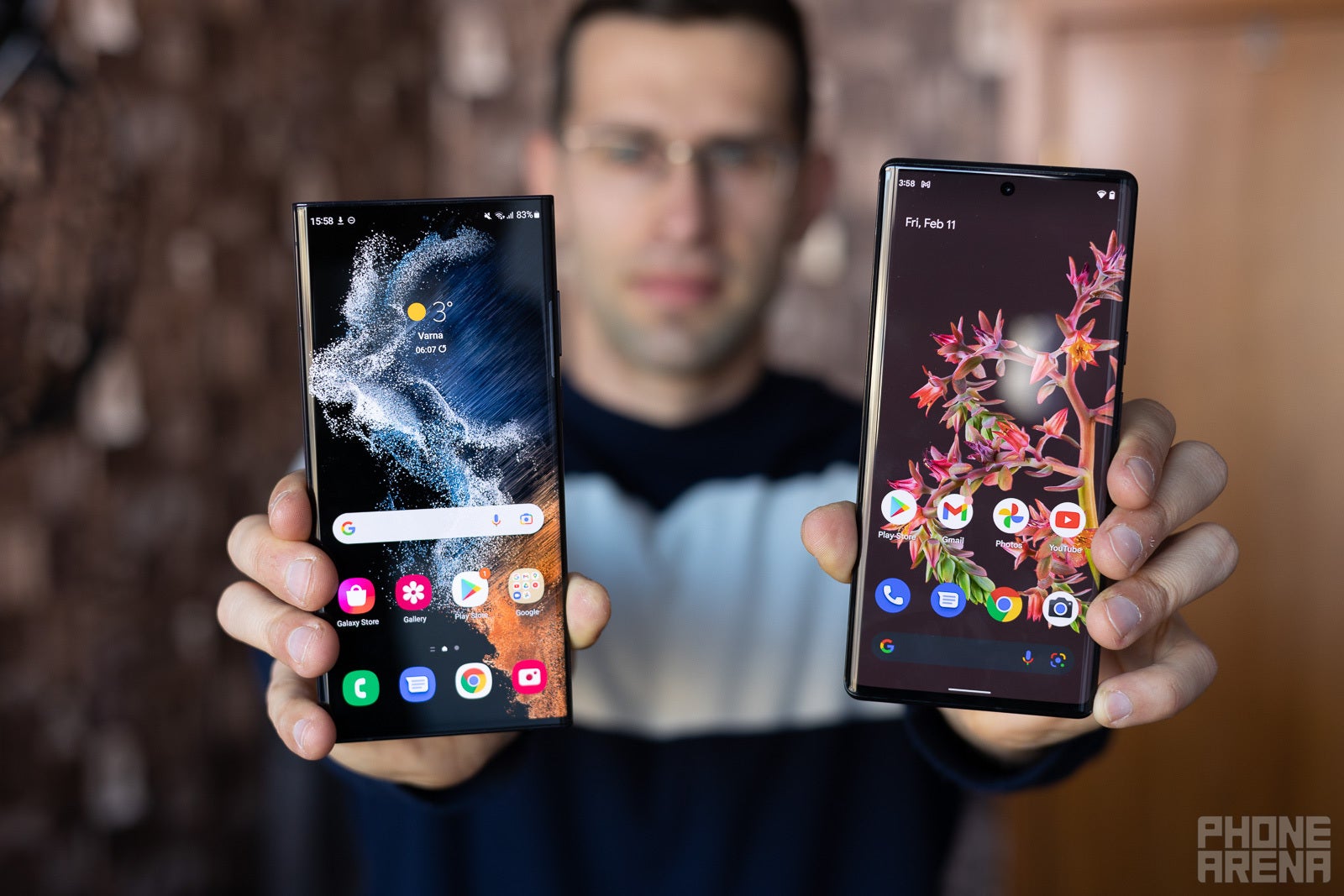 The Galaxy S22 Ultra comes forth , it's likely coming along with a massive 5,000mAh battery on board. The
Pixel 6 Pro
comes with a 5,000mAh battery as well. Our tests show that it performs mostly similar to the Galaxy S22 Ultra, as seen in the benchmarks below, with the biggest difference evident in terms of gaming.
Google's
top phone
is also more conservative with the charging. Its 30W fast charging top up the phone to 50% in 30 minutes, which is not super-quick, but still fast. There's also fast wireless charging, as well as reverse power share that lets you charge other Qi-enabled devices. Meanwhile, the Galaxy S22 Ultra boasts up to 45W wired charging that requires a specific cable and charger.
Samsung Galaxy S22 Ultra vs Google Pixel 6 Pro: Conclusion
Google's
top phone
of 2021 is definitely a landmark moment for Google, which aims to reclaim its somewhat lost positions after the Pixel 5 mid-ranger era. With a proper flagship, Google can now compete with the
top

Android phones
, chief among which is the Galaxy S22 Ultra. As a matter of fact, the latter is easily one of the most decked-out devices out there, with a super-large display, built-in S Pen, and much more to boot.
As usual, Samsung and Google's latest flagships should be mentioned there as usual, and in the context of 2022, the Galaxy S22 Ultra and the
Pixel 6
Pro are the two phones that vie for the top spot of the Android world.
Overall, and given the
Pixel 6
Pro's quality issues that have marred multiple owners, the Galaxy S22 Ultra certainly feels as the superior product. With a much more feature-rich specs sheet and a more intriguing interface that builds up on stock Android with a trove of additional functionalities, Samsung wins this round. Your move, Google!
Recommended Stories