Samsung Galaxy S23 Ultra vs Google Pixel 7 Pro: the battle of Androids
14
We may earn a commission if you make a purchase from the links on this page.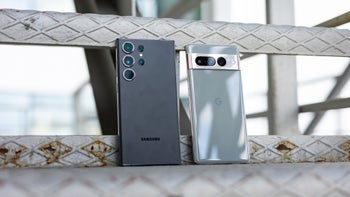 Intro
The Samsung Galaxy S23 Ultra brings a fresh coat of pain to the most versatile Android phone series with a faster processor and improved camera system. This means that it has all the ingredients to become the
best Android phone of 2023
, but it first has to clear one hurdle before it gets that title and that hurdle is the Google Pixel 7 Pro.
After years of trying with the Pixel series, Google finally got it right with the seventh generation Pixel, which so has a mostly worry-free experience and undercuts the Galaxy in price by a significant margin. The Pixel also comes with the camera quality needed in this flagship camera battle and it has the unique advantage of being a Google phone and getting Android updates faster than any other Android phone.
Galaxy S23 pre-orders are now open!
Let's dive deeper in the Galaxy S23 Ultra vs Pixel 7 Pro differences, and find out which one would be a better fit for your needs. Read on!
Samsung Galaxy S23 Ultra vs Google Pixel 7 Pro in a nutshell:

Galaxy uses newer and more advanced screen tech
Galaxy comes with an S Pen
Faster Snapdragon 8 Gen 2 in Galaxy
Faster storage (UFS 4.0)
Higher res main camera (200MP on Galaxy vs 50MP on Pixel)
Galaxy has two zoom cameras, while Pixel has one
Both have 5,000mAh battery sizes, but Galaxy supports faster charging (45W)
Design and Display Quality
S23 Ultra comes with the newest in OLED screen tech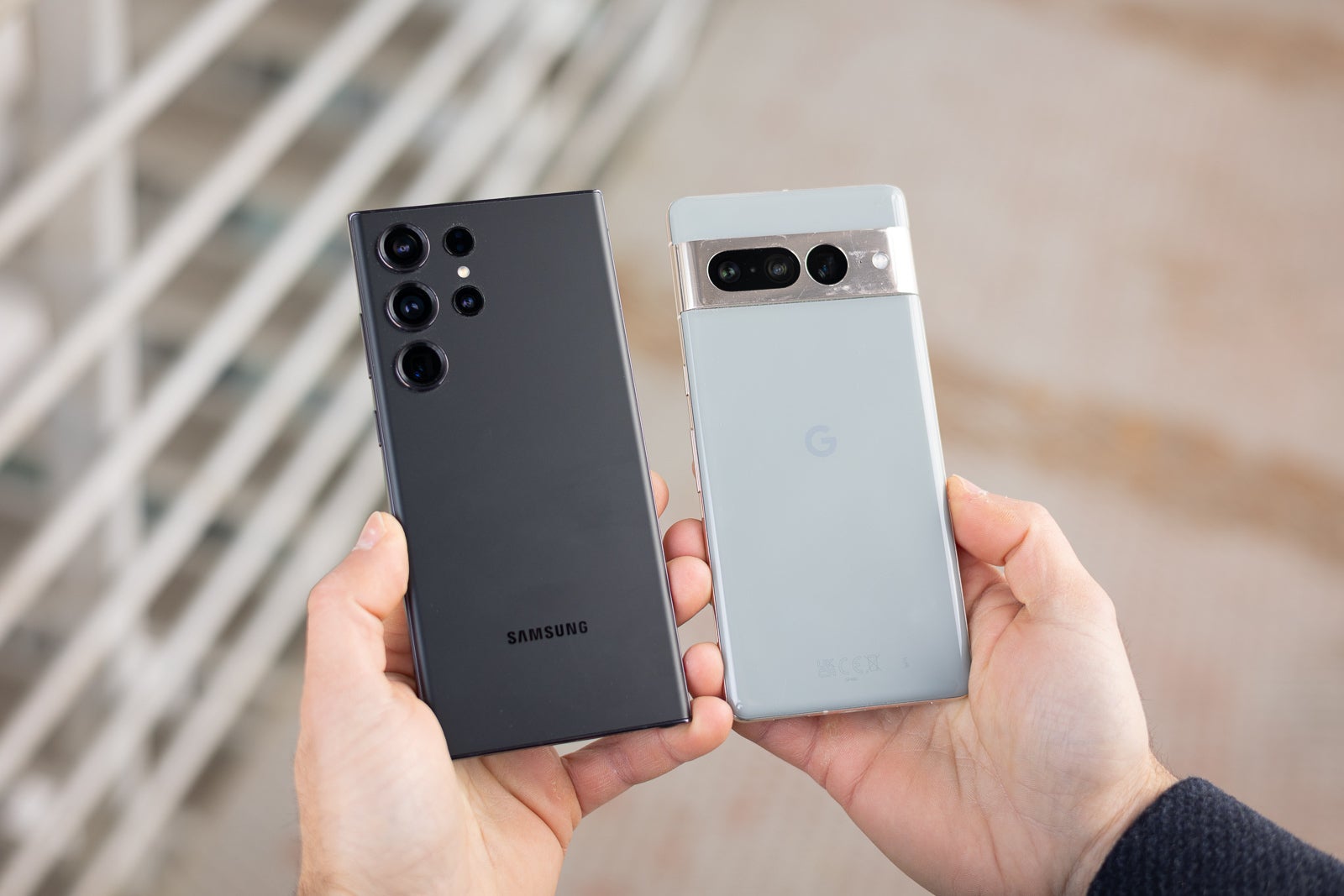 (Image Credit - PhoneArena)
It's easy to tell these two apart as both the Galaxy and the Pixel have a distinct visual style. The Galaxy has this unmistakable look with its sharp edges, while the Pixel has a more traditional styling with rounded edges.
The Galaxy is also noticeably wider and harder to grasp with one hand, and it is the heavier phone too.
And while the overall design of the Galaxy mostly matches the previous S22 Ultra, one little change are the flatter sides of the phone. This makes it a bit easier to pick the phone up from a table for example.
The Galaxy also comes with the S Pen inside. For some people, this is the reason to buy a Galaxy over any other phone, and those people probably don't need any more advertisements for the S23 Ultra.
Casual users can still appreciate having the S Pen always there for a quick note or to sketch something on the go. But there is also a group of people who would never or very rarely use the S Pen, and for that group, it just seems like a waste of space, so the S Pen might actually be a disadvantage for those consumers.
Both the Galaxy and the Pixel feature IP68 water and dust protection certification, the same as most high-end phones these days. Both also lack a 3.5mm headphone jack.
Another thing both the Galaxy and the Pixel share is a slim box where you will
NOT
find a charger. That's become the norm in the flagship space recently, so it's not a surprise. You will find a type C USB cable in the boxes, but again no charger, no case, and no headphones on either one.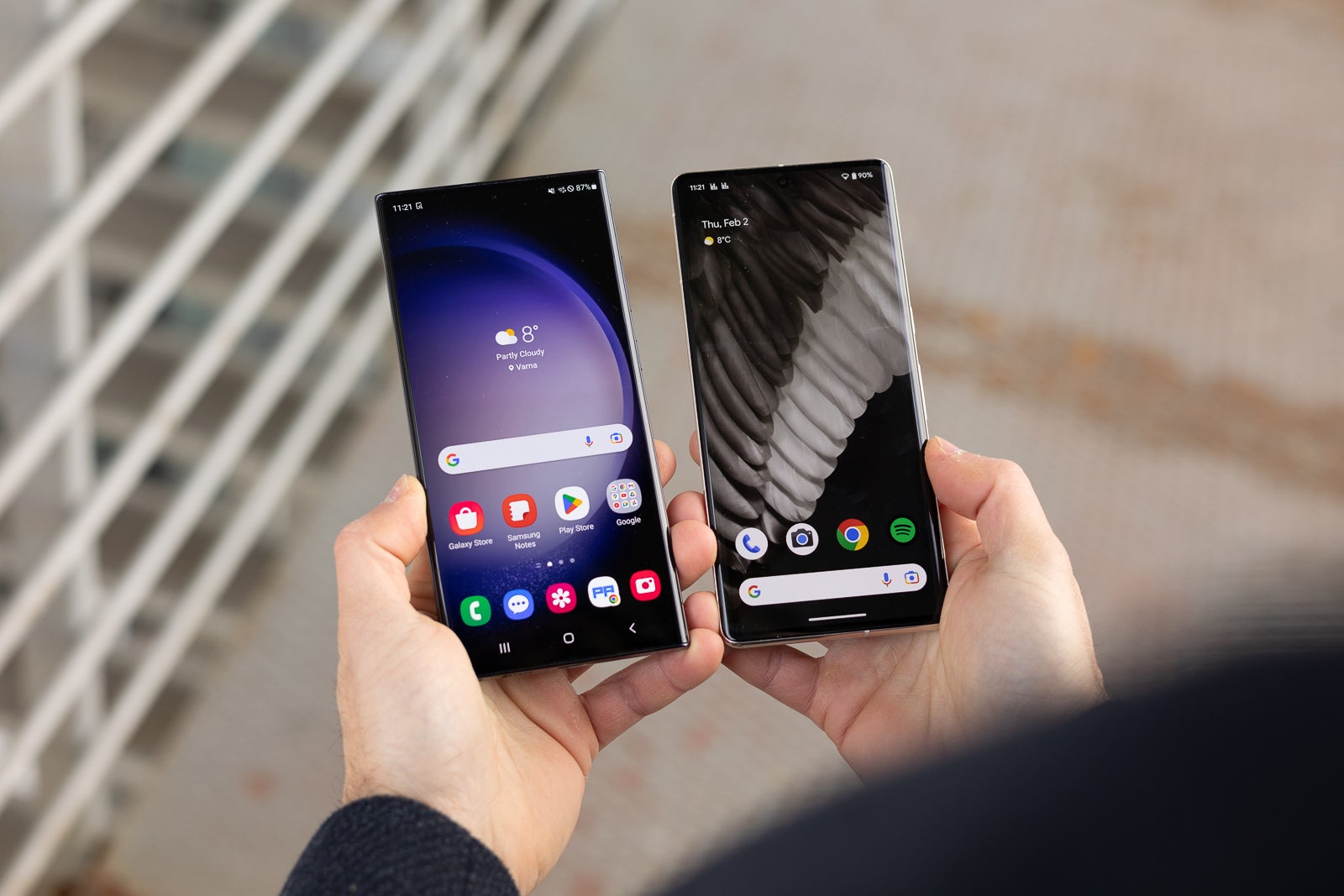 (Image Credit - PhoneArena)
The two phones feature with slightly curved screens, but the one on the Galaxy is larger and has a slightly wider aspect ratio.
Display Measurements:
In terms of refresh rate, the two use LTPO technology and support dynamic refresh rate that can go up to 120 Hertz.
For biometrics, the Galaxy uses an ultrasonic fingerprint scanner built in the screen, while the Pixel relies on an optical type sensor, also integrated in the display. A sluggish fingerprint scanner was the biggest concern on the previous Pixel 6 Pro, so we are happy to see that this new one is now faster and more reliable. Both phones also support face recognition using an image. This has its limitations: it works poorly in dim light and is not very secure, but it's nice to have the option nonetheless.
Performance and Software
Snapdragon 8 Gen 2 goes RAWR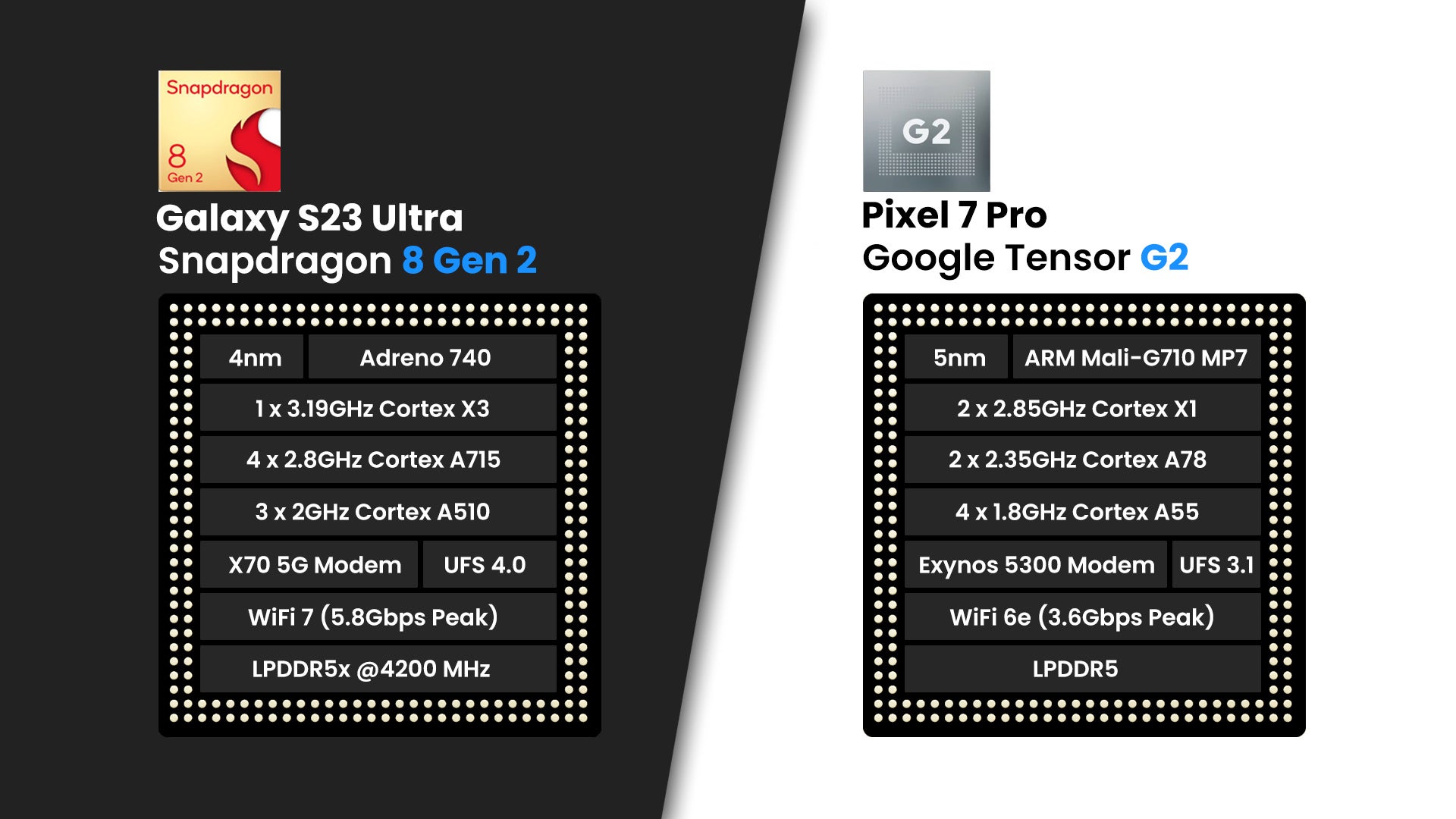 Under the hood, the Galaxy S23 Ultra being the newer phone also ships with a faster processor, the Qualcomm Snapdragon 8 Gen 2. But the really good news is that Samsung no longer splits the series in two versions (it used to have one model with a Snapdragon chip, and another one with an inferior Exynos chip), and will instead ship a Snapdragon version to all markets.
The Pixel, on the other hand, uses the Google-made Tensor G2 chip. As you will see below, the Tensor G2 is definitely not as fast as the Snapdragon 8 Gen 2. Google, however, is saying that benchmarks are not what you should be looking at, but instead this chip is focused on having fast machine learning processing, powering unique Pixel features like an incredible accurate and fast voice to text transcription.
Performance Benchmarks:
As the benchmarks above demonstrate, the S23 Ultra is a huge leap in performance! It has nearly 50% faster single-core and multi-core CPU speeds and even bigger improvements for gaming.
The Snapdragon 8 Gen 2 also comes with the new X70 modem, which promises better signal reception and faster speeds on 5G. The Pixel 7 Pro uses an Exynos 5300 modem, which might not be as new, but also does a very decent job, and many people report that this new modem gets them way better signal reception and far fewer dropped calls than the Samsung modem which was used on the Pixel 6 Pro.
In terms of software, we have Samsung's latest One UI 5.1 running on top of Android 13 on the Galaxy S23 Ultra, while the Pixel runs on a clean version of Android 13 with the Material You interface by Google.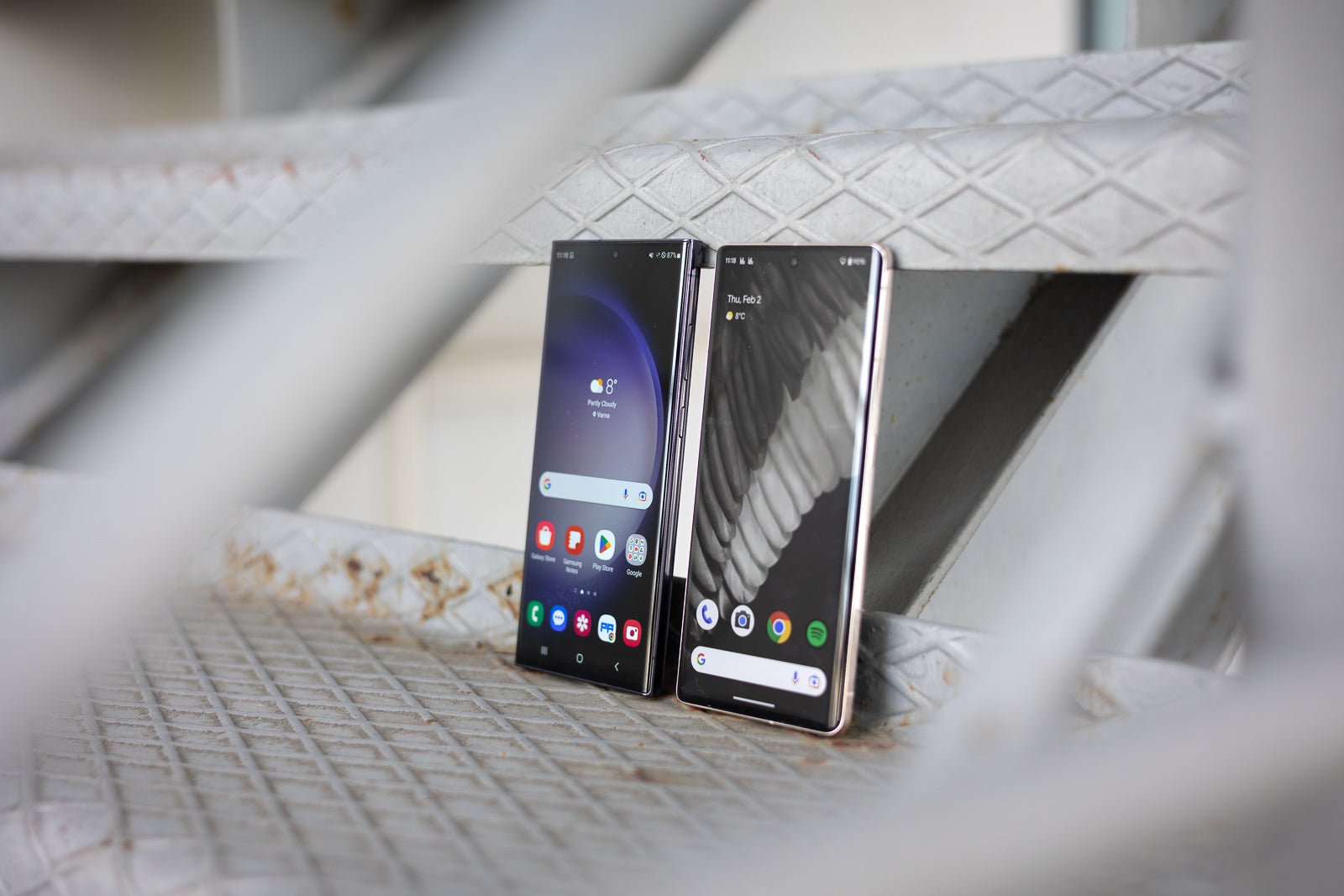 (Image Credit - PhoneArena)
With bolder font sizes and overall visuals, the Pixel looks more modern, but we know many people who are actually turned off by that excessive styling and prefer the more traditional look of the Samsung One user interface. We will leave that to personal preference.
But what about software support? Samsungs has taken on a huge new commitment and the Galaxy S23 Ultra comes with
four years
of major software updates and five years of security fixes, which is even longer than the three years of major updates and four years of security fixes that Google promises.
Samsung is definitely the company that delivers the longest Android support for its phones and that is appreciated, but you have to remember that it still takes Samsung at least a few months to bring those updates, while with the Pixel you just get them on day one, it's a much faster process.
Camera
New 200MP main camera on S23 Ultra steals the show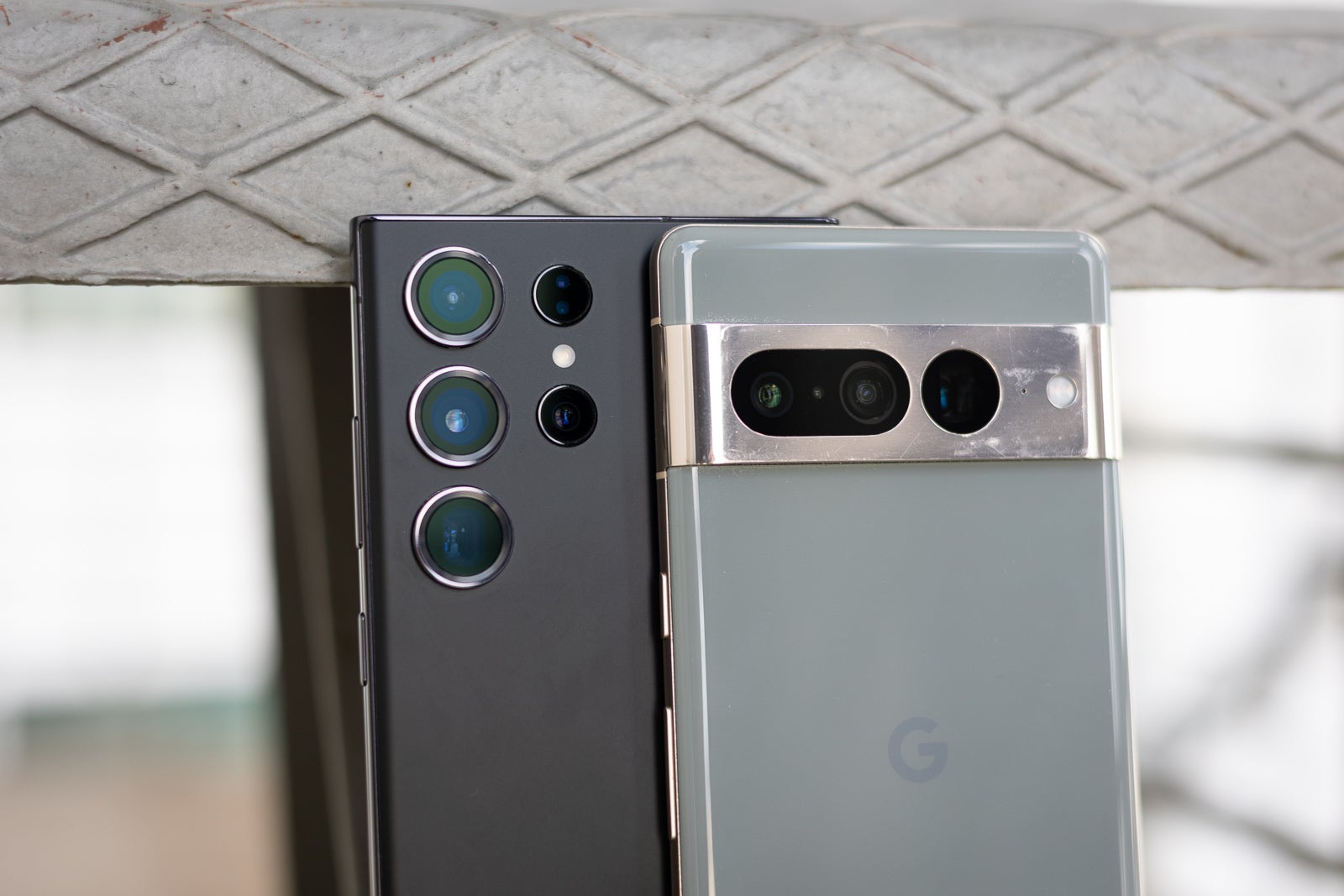 (Image Credit - PhoneArena)
With a quad camera system on the back, the Galaxy S23 Ultra remains a dominant force in the flagship space and one of very few phones to have two zoom cameras. The Pixel 7 Pro, on the other hand, has a triple rear camera.
The big highlight this year is the brand new 200MP main camera sensor on the S23 Ultra. You still get 12MP shots by default as the phone combines sixteen of those pixels from the sensor into one super-pixel, but those shots perform better in low light and produce cleaner detail all around.
Let's take a look at a detailed camera specs comparison below:
Camera Specs
Galaxy S23 Ultra
Pixel 7 Pro
Main Camera
200MP, 23mm, f/1.7
1/1.3" sensor size
50MP, 25mm, f/1.9
1/1.31" sensor size
Ultra-wide
12MP, 13mm, f/2.2
1/2.55" sensor size
12MP, 14mm, f/2.2
1/2.9" sensor size
Telephoto #1
10MP, 3X zoom, f/2.4
1/3.52" sensor size
-
Telephoto #2
10MP, 10X zoom, f/4.9
1/3.52" sensor size
48MP, 5X zoom, f/3.5
1/2.55" sensor size
Front Cam
40MP, AF, 4K
10.8MP, AF, 4K video
Below, you can find a comparison of the two cameras:
Main Camera - Good Light
Both phones do an excellent job in good lighting, but the Galaxy stands out with its brighter exposure and more cheerful colors.
Main Camera - Dusk
In these photos just before sunset, the Pixel captures a more natural looking image, while the Galaxy looks a bit overprocessed in the first picture. In the second shot, you can notice the excessive sharpening on the Galaxy which results in this halo around the wires that you don't have on the Pixel.
Main Camera - Low Light / Night

At night, these two capture amazing shots, but the Galaxy has the edge: notice the colorful lights illuminating the building are burned out on the Pixel and the Galaxy also has the cleaner detail.


Ultra-wide



The Pixel captured these quite dark shots during the day, and while it was not a sunny day out, these are definitely underselling it and make it all look just a bit too gloomy. The Galaxy might go a bit overboard with saturation, but it has captured much better looking shots.



In lower light, the ultra-wide camera on the Galaxy again captures more impressive shots, even with this noticeably overprocessed look in the bar, while the ultra-wide camera on the Pixel just lacks a bit in detail.


Portrait Mode



Samsung has continued improving the already excellent portrait mode on the Galaxy and these shots look incredible. The Pixel has a horrific looking portrait mode, which lacks detail and... well, just looks bad.


You can notice the difference in quality even better in these night time portrait shots where the Galaxy S23 Ultra really impressed us.



Selfies



The slightly wider selfie camera on the Pixel allows you to capture a larger group of people easily, which is a nice feature. However, the Pixel insists on capturing noticeably underexposed photos, while the Galaxy has a more pleasing look with more lively colors and a nice exposure.

We will be updating this section with additional photos and videos over the next couple of days, so make sure the check back in a while.



Audio Quality and Haptics
The Galaxy and the Pixel feature a very similar audio setup with no dedicated 3.5mm headphone jack and with two loudspeakers, one in the bottom of the phone and a helper speaker in the earpiece of the phone at the top.
However, the sound quality from those loudspeakers is slightly different. The S23 Ultra comes with a big improvement in loudspeaker quality compared to earlier Samsung phones. Compared to the Pixel 7 Pro, the difference is not as huge, but the Galaxy is just a bit more impressive. Voices on the new S23 Ultra come out just a bit cleaner and you have a bit more bass than the Pixel. The overall sound profile is richer and you do notice.
We feel that haptics have been another area, which Samsung could improve in the future with tighter vibration feedback.
Battery Life and Charging
5,000mAh batteries on both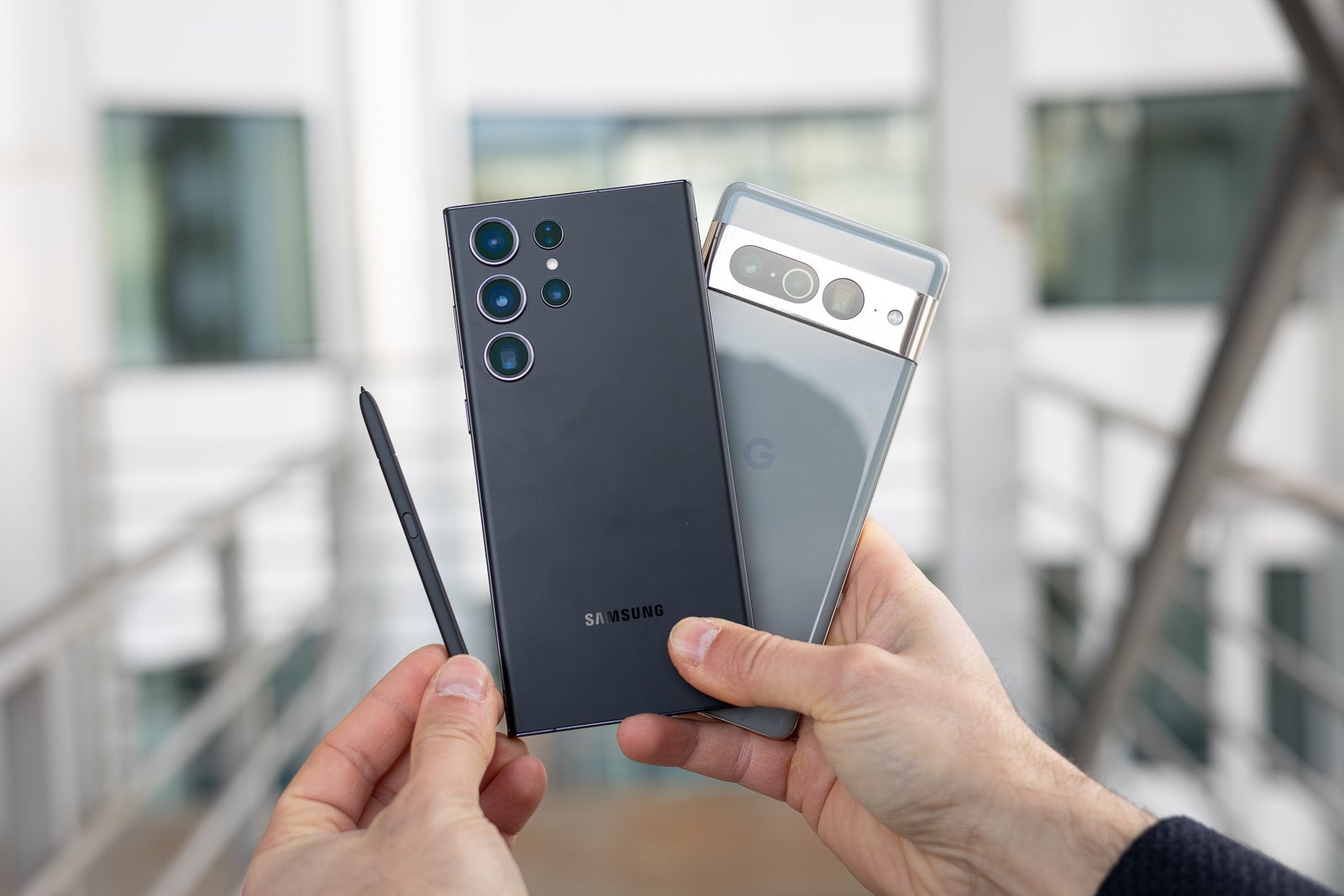 Most Android flagship phones have settled on a 5,000mAh battery and it's kind of become the norm in the space, and that is what both the S23 Ultra and the Pixel 7 Pro have as well.
That's good news: 5,000mAh is a solid size and unless there is a problem with the processor sipping too much energy, this battery should last you well over a day on average.
We haven't heard exact battery life estimations for the Galaxy S23 Ultra, but below are our three independent battery tests which give you the exact numbers of how it compares to the Pixel 7 Pro.
In terms of charging, there is no charger included in the box with either phone. The Galaxy supports charging speeds of up to 45W, but that requires a more expensive and quite big 45W charger as well as a thicker than usual 5A cable. Most users would probably find the default 25W Samsung charger be just enough and top up that battery in slightly more than an hour, same as the previous generation.
The Pixel 7 Pro, on the other hand, supports 23W charging speeds, so it is definitely slower and a full charge on it takes around 1 hour and 40 minutes.
Both phones also support wireless charging, and have the neat reverse wireless charge feature, which allows you to use the phone itself as a power bank and place a pair of wireless buds or a smartwatch on the back of the phone to juice them up.
Specs Comparison
Here is a quick overview of the specs on the S23 Ultra and what's different compared to the Pixel:
Specs
Galaxy S23 Ultra
Pixel 7 Pro
Dimensions
163.4 x 78.1 x 8.9mm
162.9 x 76.6 x 8.9mm

Weight
233 g
212 g
Screen
6.8" OLED, M12 panel*
1440 x 3088 pixels, 19.3:9 aspect ratio
120Hz dynamic refresh rate (LTPO)
2,150 nits max brightness*
6.7" OLED, E4 panel*
1440 x 3120 pixels, 19.5:9 aspect ratio
120Hz dynamic refresh rate (LTPO)
1,500 nits max brightness
Processor
Snapdragon 8 Gen 2
Google Tensor G2
RAM and Storage
8GB LPDDR5 RAM + 256GB storage
12GB RAM + 512GB storage
12GB RAM + 1TB storage
12GB LPDDDR5 RAM + 128GB UFS 3.1 storage
12GB RAM + 256GB storage
12GB RAM + 512GB storage
Cameras
200MP main camera
12MP ultra-wide
3X zoom telephoto
10X zoom telephoto

12MP front camera
50MP main camera
12MP ultra-wide
48MP 5X zoom telephoto

10.8MP front camera
Battery Size
5,000 mAh
5,000 mAh
Charging Speeds
45W wired
10W wireless
reverse wireless charging
23W wired
23W wireless
reverse wireless charging
Price
from $1,200
from $900
*Samsung and Google do not officially disclose the display panel technology they use. This data is based on web research and third-party sources and is NOT official.
Summary and Final Verdict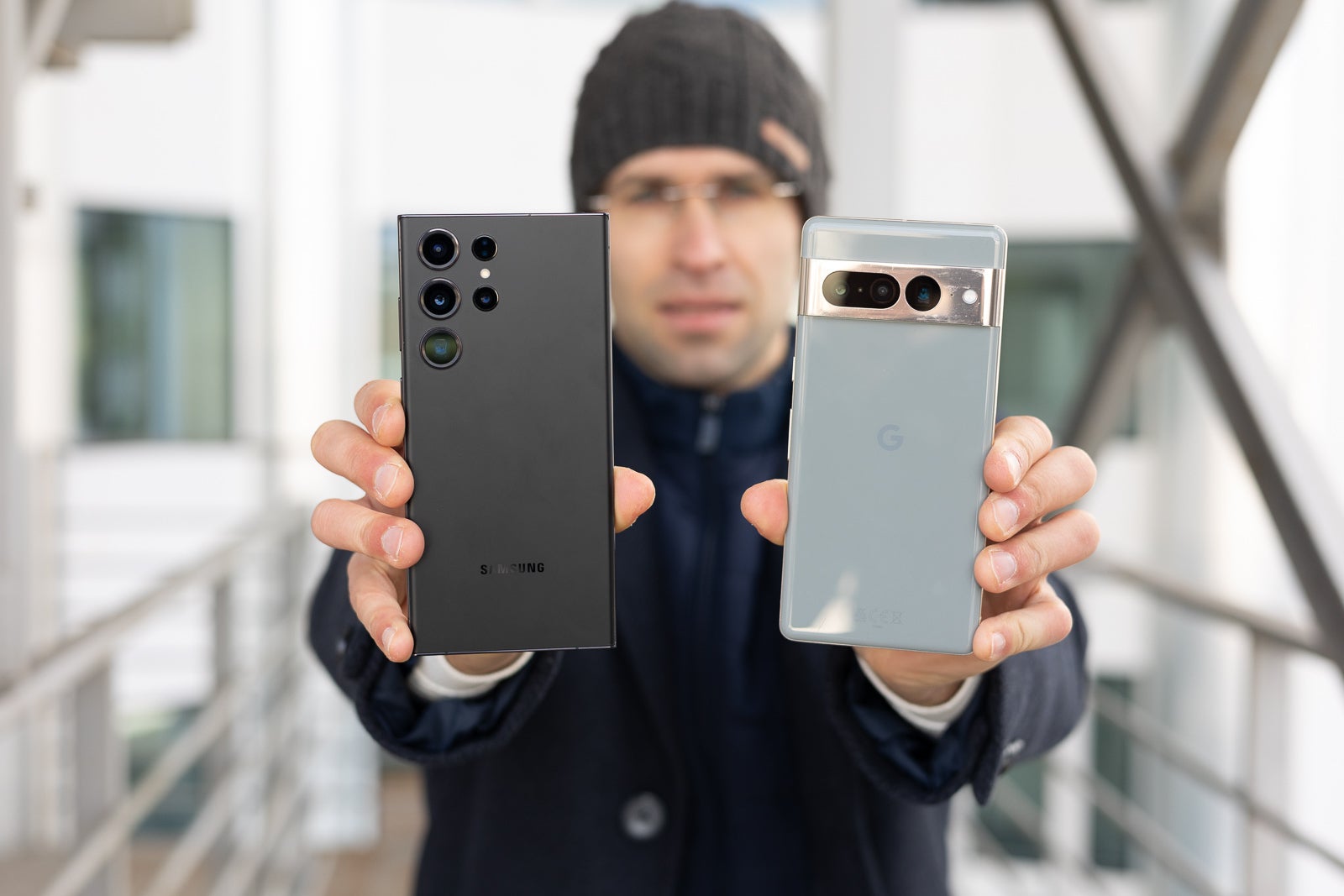 (Image Credit - PhoneArena)
At the end of the day, the Galaxy S23 Ultra offers a number of technological improvements over the Pixel 7 Pro.
First and most importantly, the Galaxy ships with a Snapdragon 8 Gen 2 chip everywhere, which puts an end to the Exynos agony for those living outside the US. And that Snapdragon 8 Gen 2 chip beats the Tensor G2 in most tasks easily. Secondly, the Galaxy debuts a new 200MP camera technology, which matches and in some cases beats the Pixel. You also have more capable zoom, 8K video capture, the S Pen and a few other advantages like a newer generation OLED screen.
But most importantly, it is this combination of technology with the software that will define the right choice for you. The Samsung One UI experience is full with customization possibilities, while the clean Google experience on the Pixel favors a more design-centric approach and has the advantage of super fast updates in the future.
Last but not least, it's the price difference. You are getting more with the Galaxy, but also at a higher price, while the Pixel 7 Pro is downright affordable, especially if you stumble upon one of those deals that bring its price down way lower than the $900 MSRP.
So... which one would you go for? And which phone do you think wins the title of
"the best Android flagship of 2023"
?