OnePlus Nord CE 2 Lite 5G review
1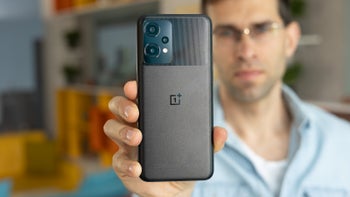 Intro
You know one company has a bit too many budget phones when its newest device is called the OnePlus Nord CE 2 Lite 5G. The name is as close to a tongue-twister as it gets in the smartphone world and you just cannot expect a regular person to remember that name.
Even explaining the whole concept takes a few paragraphs, but let me give it a try: so, OnePlus launched the original Nord a couple of years ago in an attempt to revolutionize budget phones, but at around $400, the Nord was still not super cheap. So not long after the original Nord, we got the Nord CE, which stands for "Core Edition" and is a kind of a stripped down version of the Nord that in order to sell cheaper loses the signature alert slider and a few nice features along the way. This year, OnePlus launched the second generation of that Nord CE aka Core Edition device, and it had 5G, hence Nord CE 2 5G. But then, the company obviously realized that it needed to sell an even cheaper phone so it further modified that into the Nord CE 2 Lite 5G.
Feeling dizzy? I know I am, but that's the phone we have up for review and put simply this is the cheapest new OnePlus phone in 2022.
So... what's the price you may wonder? The Nord CE 2 Lite 5G (gosh...) costs £280 in the UK, while the non-Lite version costs... £300. That's it! 20 quid! Was it even worth making this phone? We will keep on wondering, but if you want to find out all about that story, just keep on reading.
Design and Display Quality
Plastic build, LCD screen
The Nord CE 2 Lite 5G is definitely on the bigger side with a 6.6-inch screen and not the slimmest body, but since it's made of plastic, it's not too heavy and it looks kinda of nice with a symmetrical camera system and a nice striped pattern on the back.
It feels solidly constructed, which is not the case for many phones in this price range, nothing wobbles and the flat frame around the sides makes for a good grip. No IP68 certification or any special water and dust protection, but we didn't really expect all that much.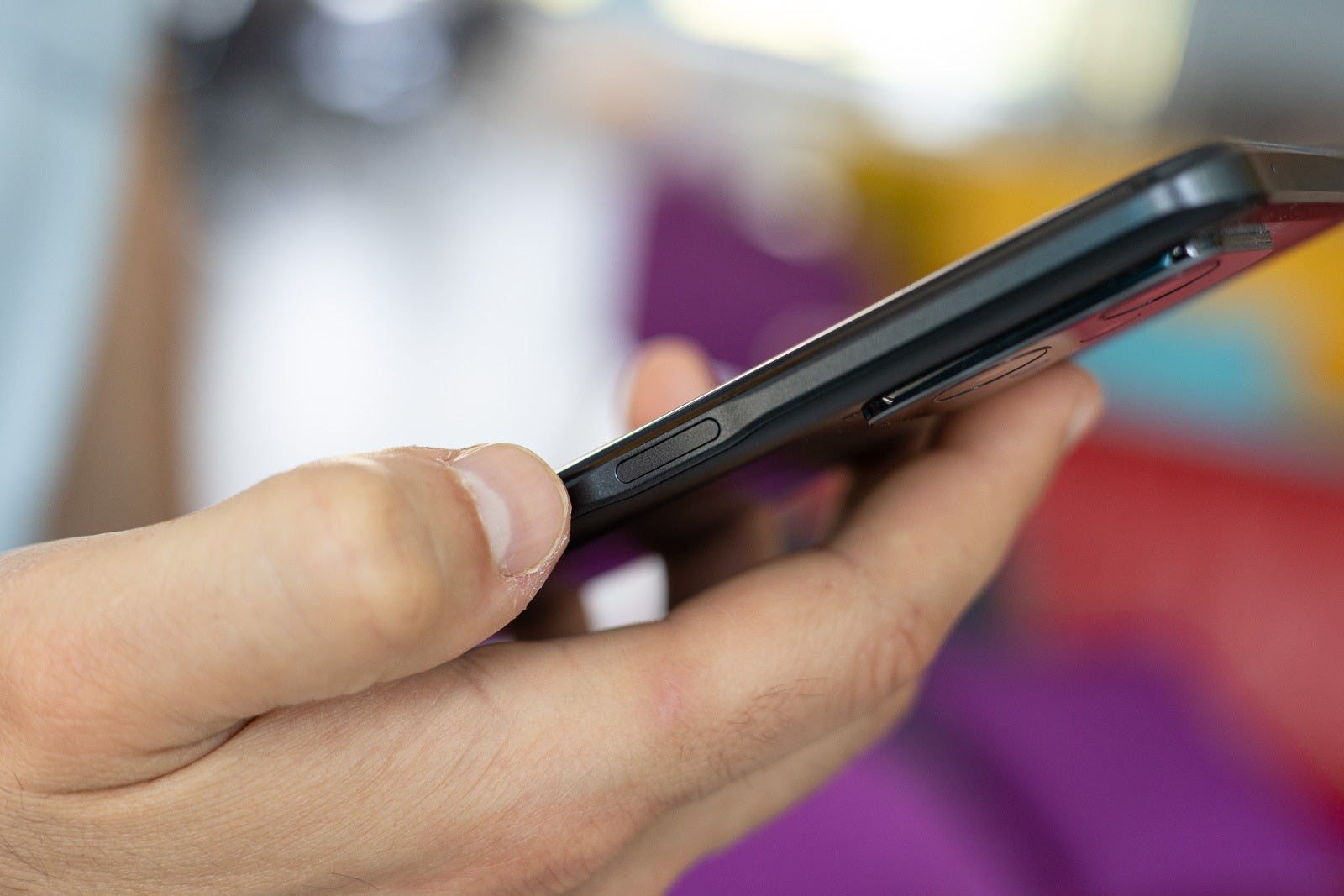 The power button is on the right and it doubles as a fingerprint scanner. It's in a comfortable position and is very zippy and accurate, so no issues whatsoever. You can also register your face as an alternative and less secure but very convenient unlock method.
You also have two separate volume keys on the left, and above them is a hybrid card slot, which can take either two SIM cards or one SIM card with a microSD card (hooray for expandable storage). On the bottom of the phone is a USB-C port, a loudspeaker and yes, a 3.5mm headphone jack, which is always nice to have.
If we had to single out the biggest compromise OnePlus made with this phone, that would have to be the display. The 6.6-inch 1080p screen is of the older LCD kind rather than OLED, and this comes with all sorts of consequences: max brightness is quite low and the screen is hard to see outdoors, viewing angles are poor, you have a ghosting effect when swiping around, and colors just don't look nearly as vibrant as your typical OLED screen.
Display Measurements:
You can see our measurements above that once again confirm the insufficient peak brightness, as well as a colder than desired color temperature for the screen.
The good news is that this screen supports 120Hz fast refresh rate which helps scrolling look smoother than your typical budget phone.
Performance and Software
Mid-range chip with solid performance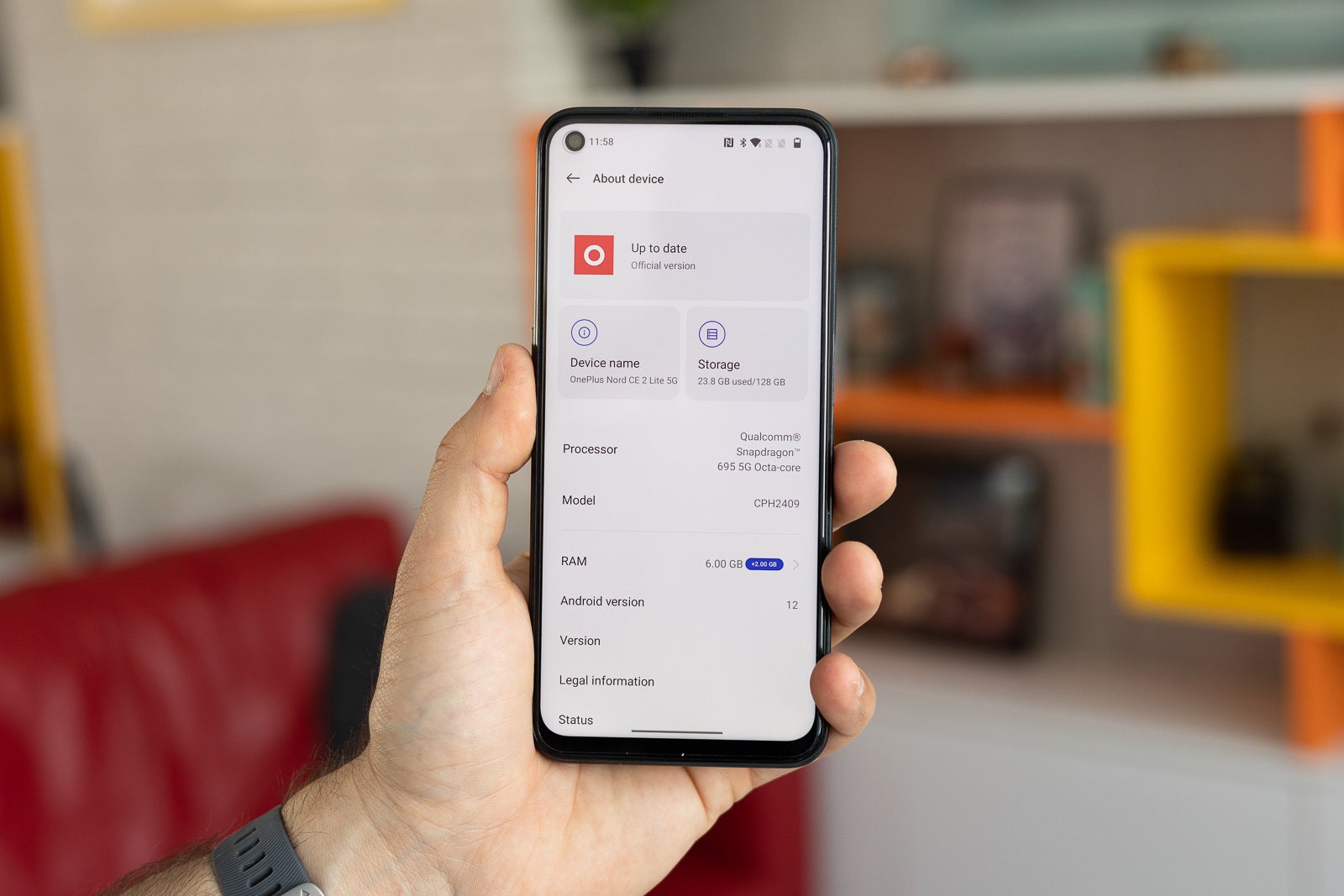 Under the hood, the Nord CE 2 Lite 5G runs on the Snapdragon 695 processor. This is a mid-range chip with performance comparable to that of the more expensive Galaxy A53 5G, but it's still clearly a mid-range chip that lacks the firepower of a flagship.
The version of the phone in most markets has 6GB of RAM and 128GB of built-in storage, but some countries will also have a 8/128GB model. As we mentioned earlier, you have a microSD card support for expandable storage, so no need to worry about running out of storage.
Performance Benchmarks:
While CPU performance is comparable to the Galaxy A33/A53, we can see that the Nord is nowhere nearly as capable when it comes to GPU and graphics. In the 3D Mark stress test, we measured a performance that is half that of those, admittedly more expensive, Galaxy phones. At the end of the day, the Nord might handle most games but it will stick to lower quality and it is definitely not a great phone for serious gamers.
The OnePlus software has quickly evolved to look a lot like an Oppo phone, meaning that it lost quite a bit of its unique appeal. At least, our here Nord comes with the latest OxygenOS 12.1 version on top of an up-to-date Android 12 platform.
An area where OnePlus is definitely falling short, however, is software updates: the company only promises 2 years of major software updates and 3 years of security updates, a far cry from the 4 years of software updates Samsung has promised.
Camera Quality
It's bad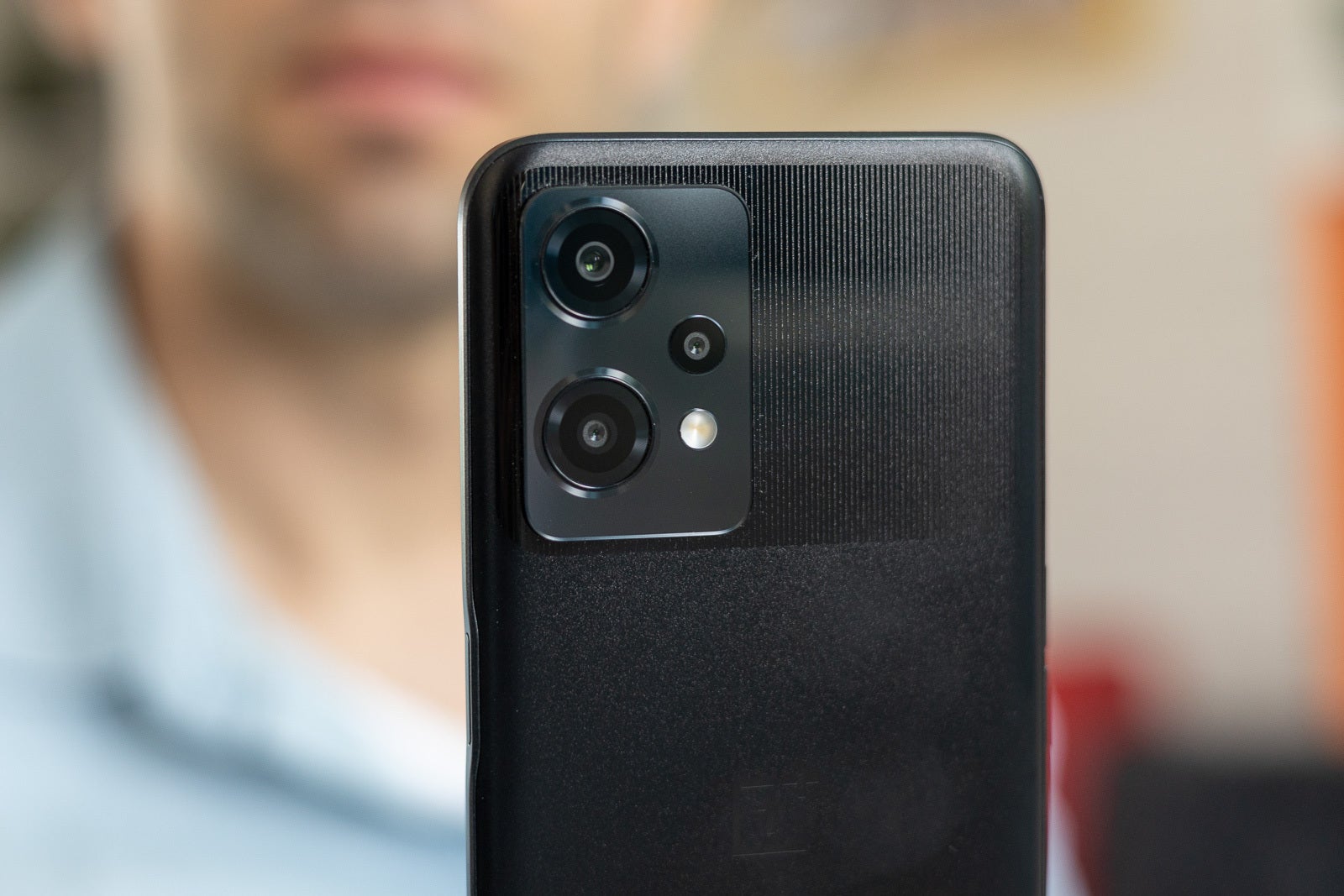 Look at the back of the Nord CE 2 Lite and the big camera lenses create an illusion that this will be a powerful camera phone. Unfortunately, this is merely an illusion.
First of all, the two big camera rings suggest you have a main and ultra-wide camera, but that is not the case. You only have a main (wide) camera, but there is no ultra-wide shooter, nor a telephoto lens. The other two lenses are in our opinion completely useless: a 2MP macro shooter and a 2MP depth lens that should help getter portraits.
64MP main, 26mm, f/1.7, 1080p video
2MP macro + 2MP depth
16MP front
And here is what kind of photos you can expect from these cameras:
Day photos
OnePlus seems to have just dialed up the saturation to the maximum, but if you can live with these extreme colors, the pictures are mostly fine, even if this is clearly not the best camera on a budget phone.
Night photos
It all fall aparts in low light, however, where photos often come out blurred and completely unusable. Highlights are blown out of proportion, detail is smudgy, and often times it just looks like these photos were taken with a phone from a decade ago.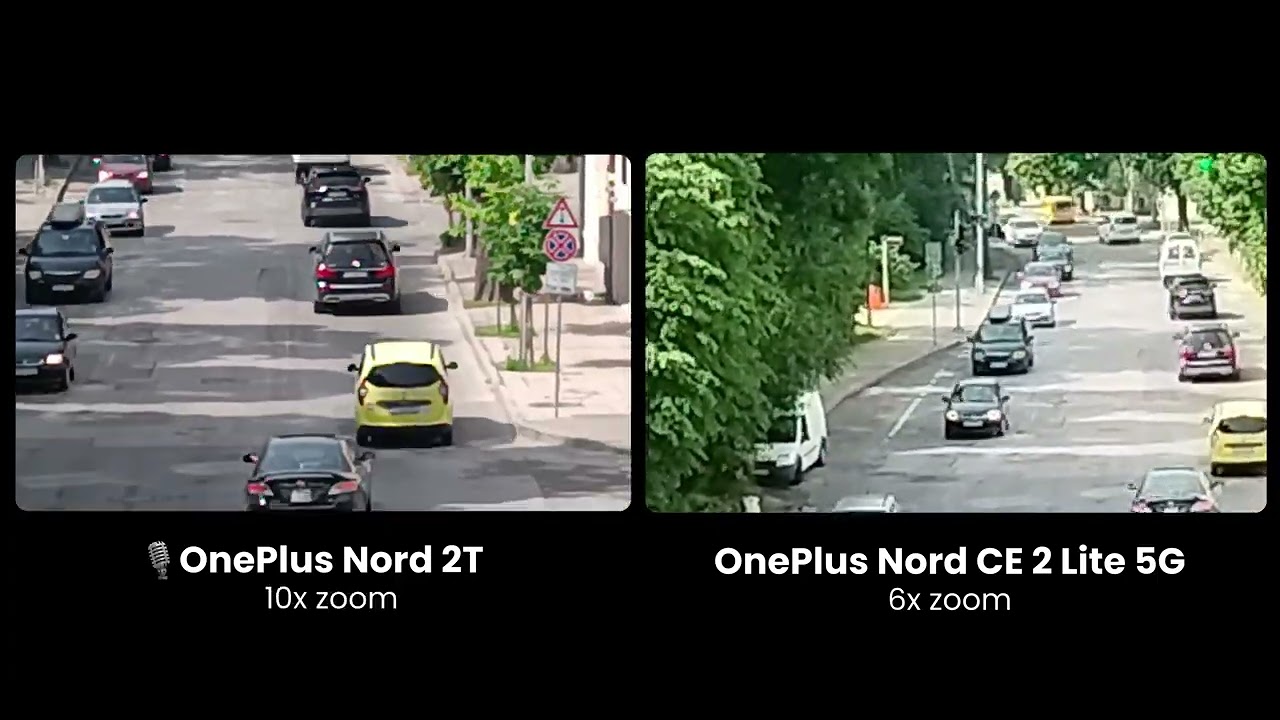 The main camera maxes out at just 1080p resolution, which is a bit disappointing but at least video stabilization is there and during the day, you can capture some decent footage with it. Forget about using it in low light, though, it loses focus, lacks detail and just doesn't look good.
Audio Quality and Haptics
Poor haptics are particularly annoying
The Nord CE 2 Lite 5G comes with a single bottom firing speaker and it provides okay-ish sound for the price. Having just one speaker means you can easily cover it with your palm as you're holding the phone, but the bigger problem is that the speaker distorts quite a lot at the higher volume levels. It gets pretty loud, but we would recommend actually using 2 or 3 clicks down from its maximum so it doesn't distort as much.
And yes, you do have a headphone jack on board, great if you happen to have a pair of good old wired headphones that you can just plug in and use without worrying about charging.
One thing that really gives away a budget phone is poor haptics, and unfortunately this is exactly what we have on this phone. The vibration motor buzzes like a can of bees and it's definitely not a pleasing sensation.
Battery Life and Charging
The big advantage of this phone is looong battery life
Having a massive 5,000mAh battery inside the Nord CE 2 Lite 5G is probably the biggest advantage this phone has. With such a big battery you only expect it to last, and it lives up to the expectations.
In our daily routine, we got about a day and a half out of this battery with typical use, and if you don't use your phone much you can probably stretch that to 2 days. That's a great result!
PhoneArena Battery Test Results:
While it doesn't have the insane 30-minute full top-up speeds of the
Nord 2T
, you still get a solid 33W SuperVOOC charger in the box, which helps top up this big battery quite fast.
No wireless charging support unfortunately, but that is to be expected on such an affordable device.
Competitors
So what is the competition?
It's quite fierce actually. Last year's Galaxy A52S can be found at about the same price now (or even cheaper), and it seems to beat the OnePlus in every single aspect: it's got a much better screen, faster chip, vastly better camera performance, and similarly solid battery life.
Then you have a bunch of Xiaomi phones that offer great value for the money with excellent screen quality and superior camera performance.
Summary and Final Verdict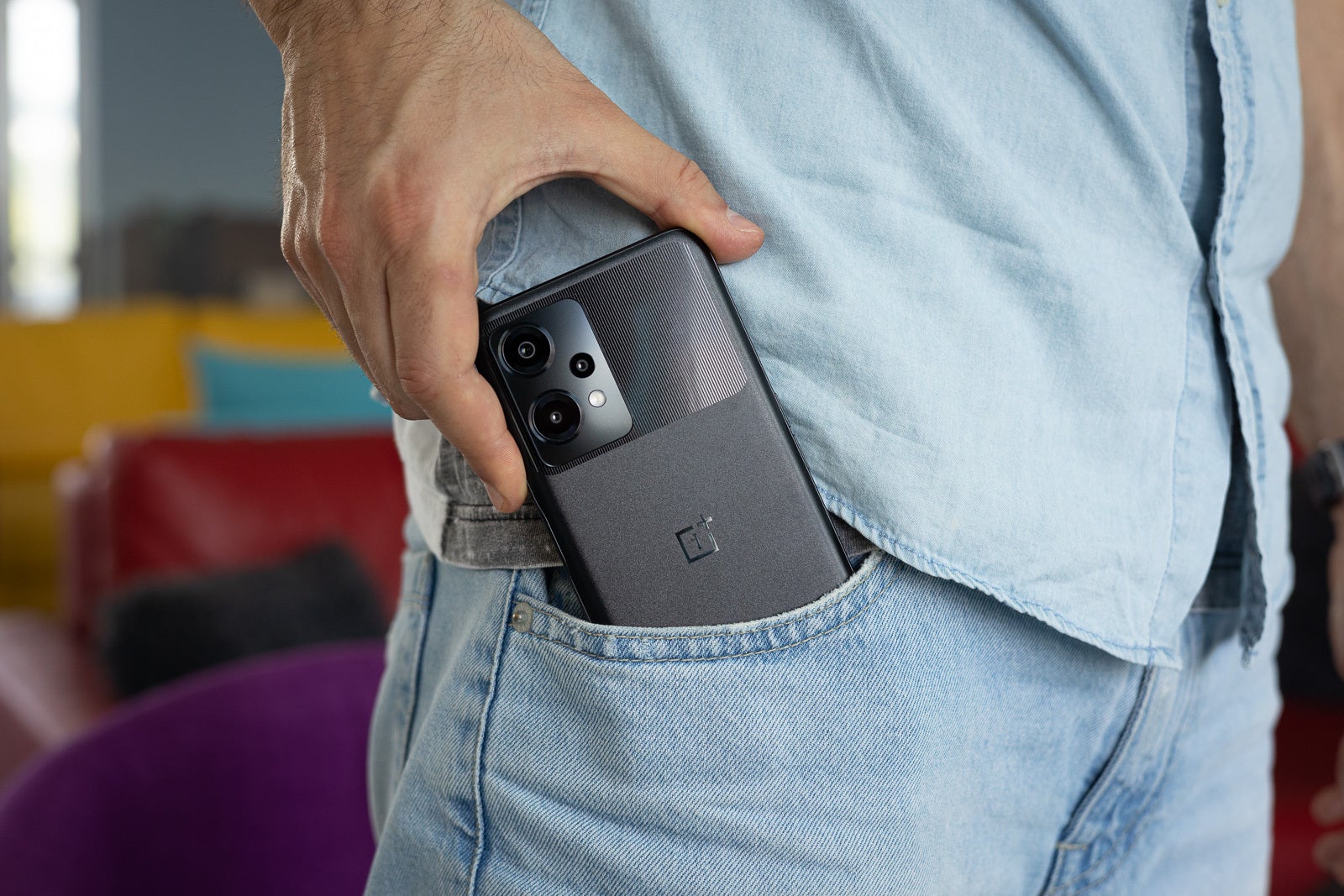 At the end of the day, the Nord CE 2 Lite 5G is not only hard to remember as a name, it's hard to understand its purpose in an already crowded market! The phone is merely £20 cheaper than the non-Lite version, should we really have
that much
segmentation in budget phones, OnePlus?
But worst of all, it is the overall package that doesn't add up: the CE 2 Lite 5G compromises with screen quality, camera quality, haptics... That would have been a compromise worth accepting if it was a good deal, but unfortunately the phone is still quite pricey.
We can see those who value long battery life, 5G connectivity and the clean OnePlus approach to interface consider this phone, but with so many shortcomings, it would be a tough sell even for them.
Recommended Stories