OnePlus Nord 2T review
2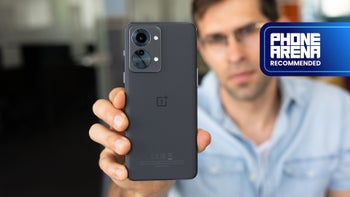 Intro
The Nord series for OnePlus launched as a way for the company to return to its roots of making great affordable phones that punch way above their weight class, and it has mostly been a success.
With the third generation of the Nord "budget flagship", OnePlus aims to step it up in the camera and performance department, while keeping the price low and keeping that signature super fast charging that you just don't get on an iPhone or a Galaxy.
But it all starts with a confusing name: the phone is called OnePlus Nord 2T, but it is essentially a Nord 3 in essence. This confusing naming really doesn't do it justice, but if we push that aside, let's look at how good of a "budget flagship killer" this new Nord 2T really is.
And can it compete against popular budget phones like the Samsung Galaxy A53 or the iPhone SE 3rd gen? Let's find out.
Design and Display Quality
Ugliest camera layout ever?
At 6.4 inches, the Nord 2T is a bit larger than your average phone these days, it's definitely not too big, but definitely not tiny either.
It feels solidly constructed with a beautiful satin finish on the glass back, buttons are clicky, and it would all be great if it wasn't for the camera layout on the back. This has got to be the ugliest camera layout we have seen in years as the completely useless monochrome camera is off center and just ruins the looks of the phone. Why, OnePlus?! Wasn't there at least a slightly more symmetrical way to position the cameras?
You also don't have an official water protection rating here, something common on budget phones, plus there is no headphone jack either. Considering OnePlus' excellent new $50 truly wireless buds, though, it's hard to complain about that.
On the plus side, you have the familiar 3-way "alert slider" aka a mute switch, one super convenient feature that we think every phone should have.
Phone
Transparent glossy silicone case
Pre-applied plastic screen protector
SIM tool
User manuals
On the front, the screen goes edge to edge with slim bezels and a tiny punch hole front camera on the top left. It's a 6.4" OLED screen with beautiful colors, the 1080p resolution is perfectly sufficient, and we love having 90Hz fast refresh rate for smooth scrolling.
If we had to compare the screen to rival Galaxy A53, the only thing we would wish for that it could get brighter as currently it's a bit too dim and hard to see outdoors. The screen also supports HDR10+, which allows you to watch HDR content on services like YouTube or Hulu, for example.
Display Measurements:
Embedded in the screen is an optical type fingerprint scanner that was very fast and reliable. We had no issues with it. OnePlus also traditionally supports 2D image-based face recognition, which is also impressively quick.
Performance and Software
Zippy in daily tasks, but might heat up in intense gaming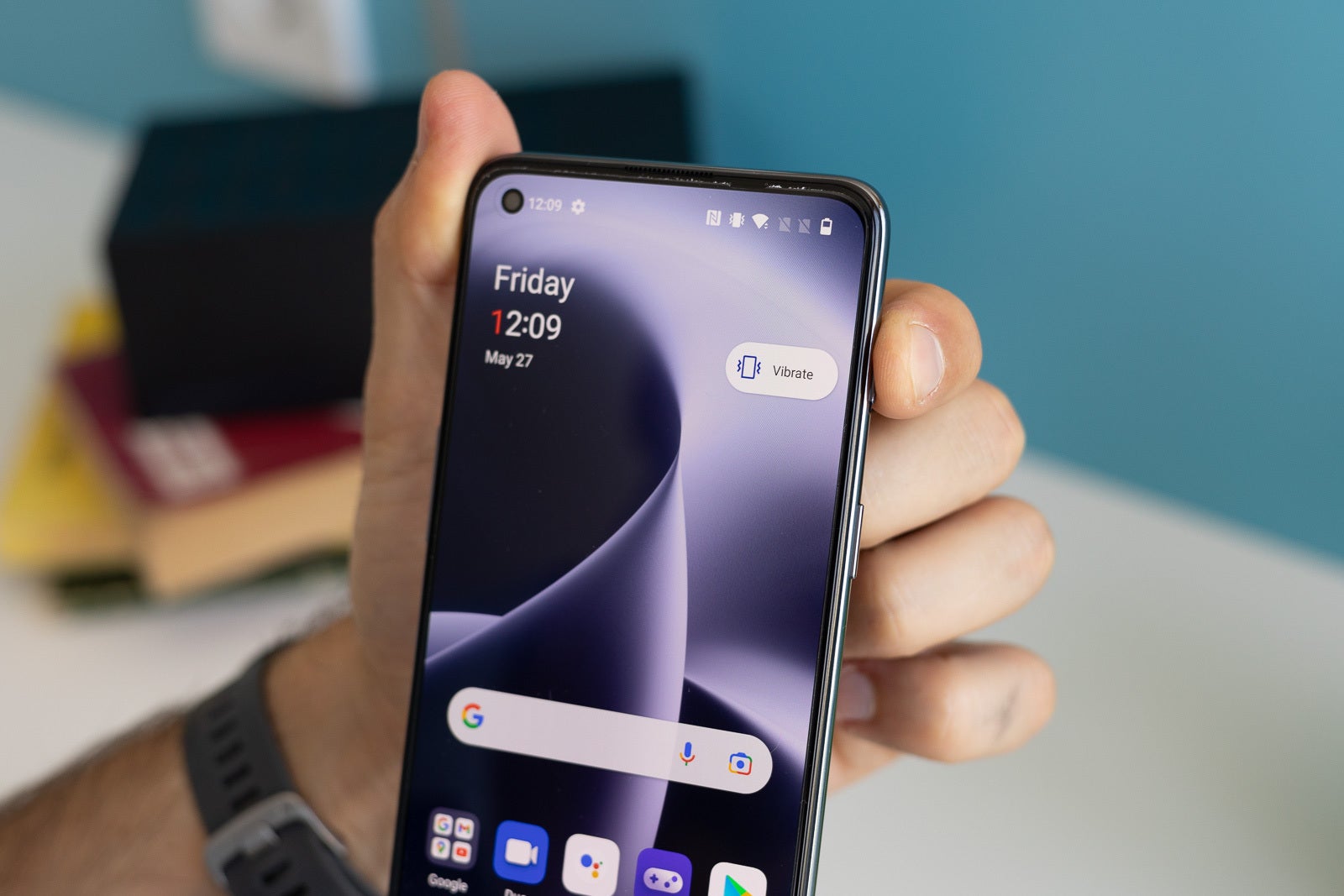 Under the hood, the Nord 2T runs on the MediaTek Dimensity 1300 chip, an upgrade over the Dimensity 1200 processor used on the previous Nord 2.
This new chip is made using 6nm technology and allegedly uses 15% less power in gaming. It is also paired with 8GB of RAM and 128GB of storage in the base model, which is a solid amount, plus you also have a souped up version with 12GB of RAM and 256GB of storage for a slight premium. This kind of RAM and storage definitely gives you peace of mind and will help with a better multitasking experience.
In our testing, the chip did perfectly well in daily tasks, but when pushed with gaming, we noticed it did heat up quite a bit and while the initial burst of performance is impressive, it quickly throttles to lower levels.
Performance Benchmarks:
*All benchmarks run at default setting. You can get slightly better performance if you go into Battery > Advanced Settings > enable High performance mode.
Single-core performance of this processor was also surprisingly lackluster, but we didn't really see this affect real-life performance as the phone felt zippy in real-life.
In terms of software, the Nord 2T ships with the latest Android 12 version with Oxygen OS 12.1 on top of it.
Since OnePlus was officially transferred to parent company Oppo, we have seen the software change and we are not sure that it's for the better. This new version of Oxygen OS feels a bit rougher around the edges, even if it tries to keep some familiar elements like the OnePlus shelf, Work Life Balance features, and an automatic Dark Mode.
The bigger disappointment, however, is the short software support. OnePlus promises only 2 major updates and 3 years of security updates. This is half the software support you get with, say, the Galaxy A53 where Samsung now offers 4 years of major software updates, so quick aging is definitely a concern for this OnePlus phone.
Camera
Mostly fine, but not quite great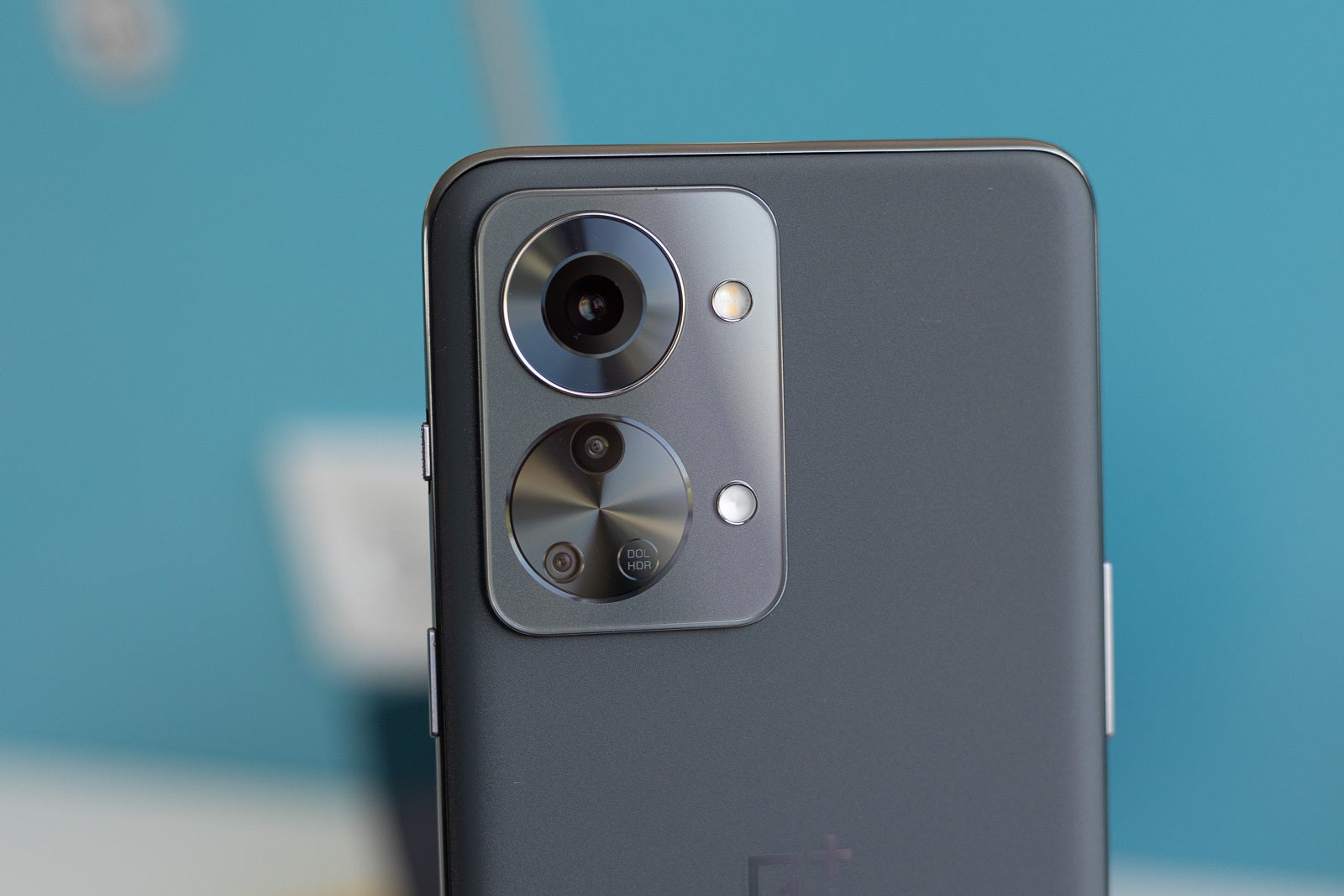 You have three cameras on the back of the OnePlus, but we honestly have no good explanation why OnePlus includes that third lens which is a 2MP monochrome shooter, a camera you probably won't ever use. And yes, this is the off center camera that we talked about earlier that is absolutely driving us nuts and ruins the looks of the phone.
50MP 1X camera, IMX766 sensor, 24mm, OIS
12MP 0.6X ultra-wide camera
2MP monochrome
32MP front camera with EIS and AI deblurring
But if we distance ourselves from just the looks, you have a very powerful 50MP Sony IMX766 sensor with optical image stabilization as the main camera, and a 12MP ultra-wide shooter. No telephoto lens here, but that's kind of expected on a budget phone. The thing that bugs us is the camera app which is just this blatant iOS rip-off. It works well, but such kind of copying is definitely not something we support.
Also, why are there two LED flashes on this phone?! Only one is used for photos and as a torch light, so that remains a bit of a mystery to us.
So how do photos turn out?
Main Camera



You get plentiful detail, but one thing that is obvious from this comparison with rival Galaxy A53 is that the OnePlus Nord 2T kind of goes in one extreme when it comes to the colors in pictures. They are just too bleak and cold. You could argue that the Galaxy goes in the other extreme with warm and overly saturated colors, so an ideal picture would be somewhere in the middle.

You also have a 50MP full-res mode which results in larger files but with much more detail. We would recommend using that option for landscapes and select photos rather than for all of your pictures. OnePlus also has an "Extra HD mode", which allows you to snap 108MP photos, but this is done using software since the phone only has a 50MP sensor.
You can also zoom in up to 10X in both photos and videos, but it's digital zoom all the way so the quality is not exceptional in any way.
Also, if you go into Pro mode, you can select RAW format to shoot DNG photos (only using the main camera), and these RAW photos come out at around 20MB or more.
Ultra-wide
With the ultra-wide camera quality drops significantly, and it's not as "ultra" wide as others. The A53, for example, captures a much wider field of view with its ultra lens, if that's something you care about.
Night Photos
At night, the OnePlus holds its own rather well. You have a dedicated Night mode, but you don't really need to use it as the phone will automatically know when to fire a longer exposure and gather a bit extra light. We recommend going into the dedicated Night mode only for pitch black scenes where your eye barely sees a thing, that's when it will make a difference, but most of the time, you'd be just fine with the regular Photo mode.
The Nord also has a few fancy options like a Tripod mode that gives you up to a 30-second exposure, great for astrophotography (if you carry a tripod, of course).
Selfies

The selfie camera on the OnePlus does a decent job, but rival Galaxy A53 is a bit more versatile as it gives you the choice between a wide and narrow field of view that you don't have on the OnePlus. We also noticed that the OnePlus has a bit more trouble with highlights as the Galaxy maintains a better dynamic range in selfies.
Video Quality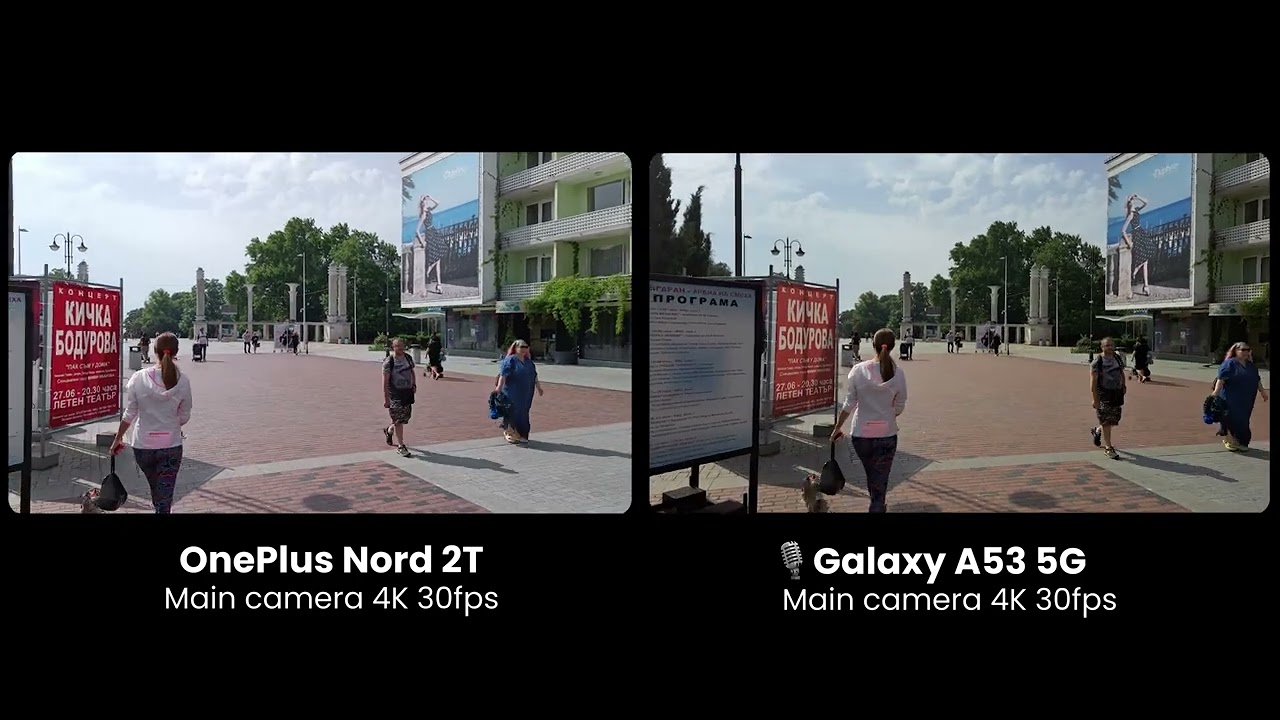 As you can see in the video above, the OnePlus can capture 4K30 video with a good amount of detail and some stabilization. Notice that it does crop in about 1.4X in 4K video (with a 24mm main lens, it means you get around 33mm field of view). And if you enable the Super Steady mode, it crops even further to about 2X.
Despite using OIS and EIS, 4K video stabilization is still not great and this is probably our number one complaint. You can definitely see the Galaxy A53 has better stabilization.
Another huge limitation is that you cannot switch between the main 1X and ultra-wide 0.6X cameras once you have started recording video.
OnePlus promotes the new HDR video recording option and you even have the name DOL-HDR on the camera system, but it only works in 1080p resolution which kind of defeats the purpose.
We do, however, love having a 960fps slow motion as an option, if you want to create truly breath-taking slo-mo videos.
Audio Quality and Haptics
We came away impressed with the audio quality coming out of the Nord 2T loudspeakers. You get a dual speaker system with one bottom firing speaker and another one embedded at the top of the phone, and they produce big sound for a phone of this price with some depth to it. These could just be the best sounding loudspeakers on a budget phone!
You get no 3.5mm headphone jack, as we mentioned earlier, so keep that in mind.
Finally, we are also extremely impressed with the haptics on this phone. They feel nice and tight, providing just enough vibration feedback, and this is another area where this phone is above the competition.
Battery Life and Charging
Battery life is fine, but the big story is all about the insane charging speeds
Equipped with a 4,500mAh battery, the Nord 2T is good enough to last you a day and a bit more with average use.
If you do push your phone a bit harder and use it more than average, you would need to go to the charger in the late evening, but we consider this to be a comfortable battery situation.
PhoneArena Battery Test Results:
In our YouTube video streaming test, the Nord 2T actually outperformed rivals, so that's a good sign.
But best of all, this phones has insane fast charging at... 80W! Yes, that's faster than most laptops! And the charger comes in the box with the familiar SuperVOOC branding, and yes, this provides the same speeds as the flagship OnePlus 10 Pro.
That's possible to the same trick OnePlus has been using in the past couple of years, where the battery is split in two parts and both are receiving up to 40W charge simultaneously for a faster actual charging speeds.
We measured the following charging times:
0 to 63% charge in 15 mins
75% charge in 20 mins
Full charge takes 30 minutes
And no, the phone does not support wireless charging but with such insane speeds do you even need wireless charging?
Price and Competitors
Of course, there are two big names, the Samsung Galaxy A53 5G and the Apple iPhone SE (2022), as well as countless less known rivals.
But first, let's talk price. The Nord 2T start runs at the following prices:
UK: £370 for 8GB/128, £470 for 12GB/256
EU: €430 for 8GB/128, €510 for 12GB/256
This puts it on the same footing as the £380 Galaxy A53 5G model with 128GB of storage. And both those phones are quite a bit cheaper than the £470 iPhone SE 128GB.
The
Galaxy A53
seems like the alternative most people will agonize over. We think the Galaxy generally offers a bit more in the camera department, but we felt its performance was significantly slower and charging speeds on the OnePlus remain a convincing argument for those who often run out of battery.
The
iPhone SE (2022)
is all about the ecosystem and longevity as it has a top-notch processor and probably 5 years of software updates ahead of it, but its 4.7" screen feels tiny and outdated, and that is a big deterrent.
Summary and Final Verdict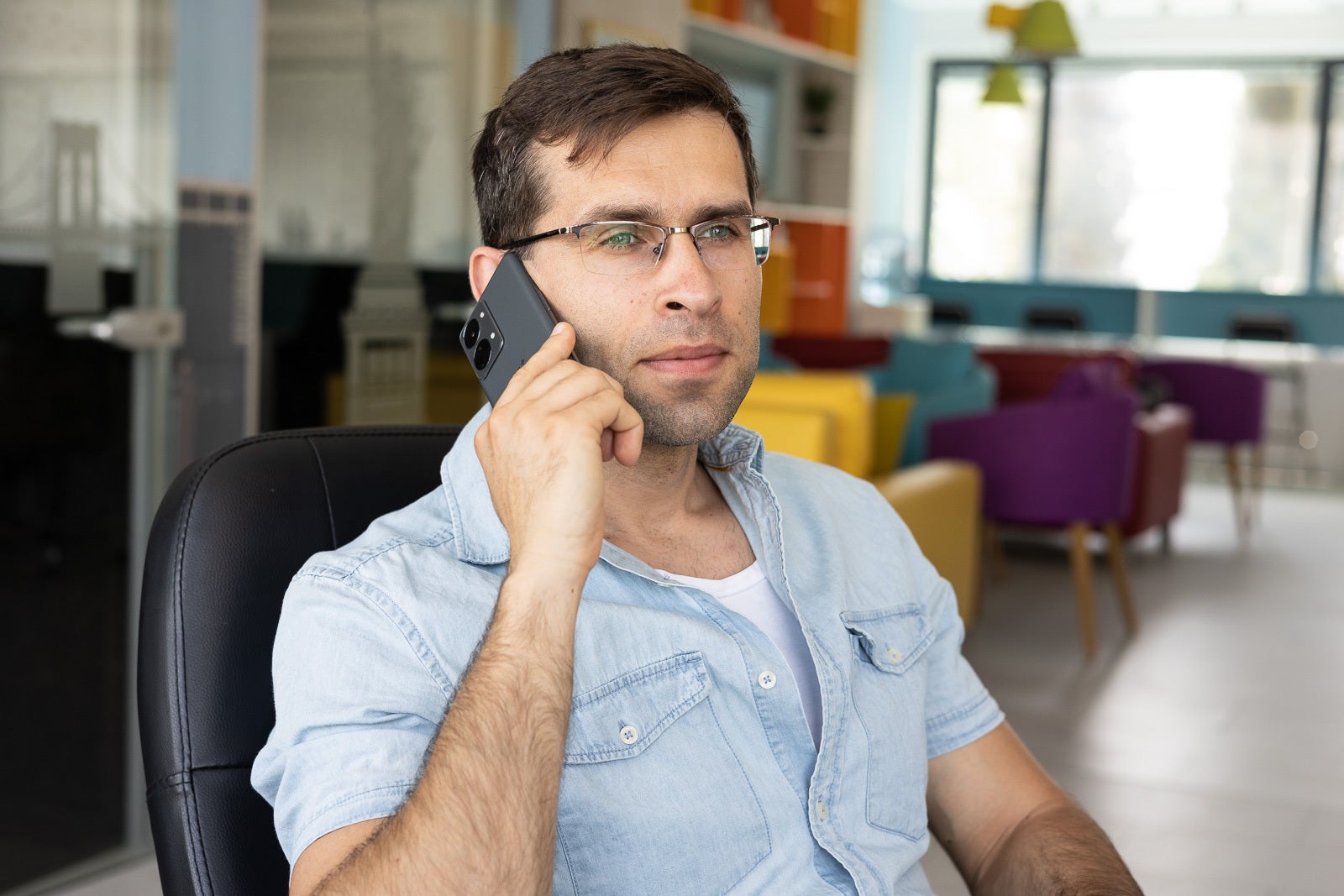 At the end of the day, with the Nord 2, OnePlus stick with its own brand of a phone, one that is fast and offers a few unique features like a super fast charging, mute switch, optimized performance and other conveniences.
We feel that the name 2T is a bit misleading, this is every bit a "Nord 3" as it could be, and many people would be misled by the name.
We also feel that OnePlus could have done a better job with photos that often feel flat and bleak, but if that's not your number one priority, we think you will love the speed, the ample screen and the insane charging speeds of the Nord 2T, and it's definitely a top contender in the budget space in 2022.
Recommended Stories