Motorola One Vision Review
8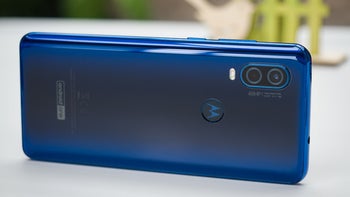 2019 shapes up to be a great year for those looking for an affordable phone with no compromises. After the revolutionary Google Pixel 3a, now Motorola has come up with a budget model of its own that exceeds expectations: welcome the new Motorola One Vision.
A tall and narrow phone that looks weird at first, the new form factor quickly grows on you. The One Vision promises a better viewing experience for Netflix addicts, a clean and speedy interface, and a camera that can see in the dark.
Does it live up to those promises? In the past week, I have been using the new Motorola One Vision trying to find out, and... mostly it does, but it also has one flaw that you need to know about. Read on to find out all about it.
In the box:
Phone
18-watt fast charger
USB-C to standard USB cable
Wired (3.5mm) headphones
Silicone case
SIM tool
User manuals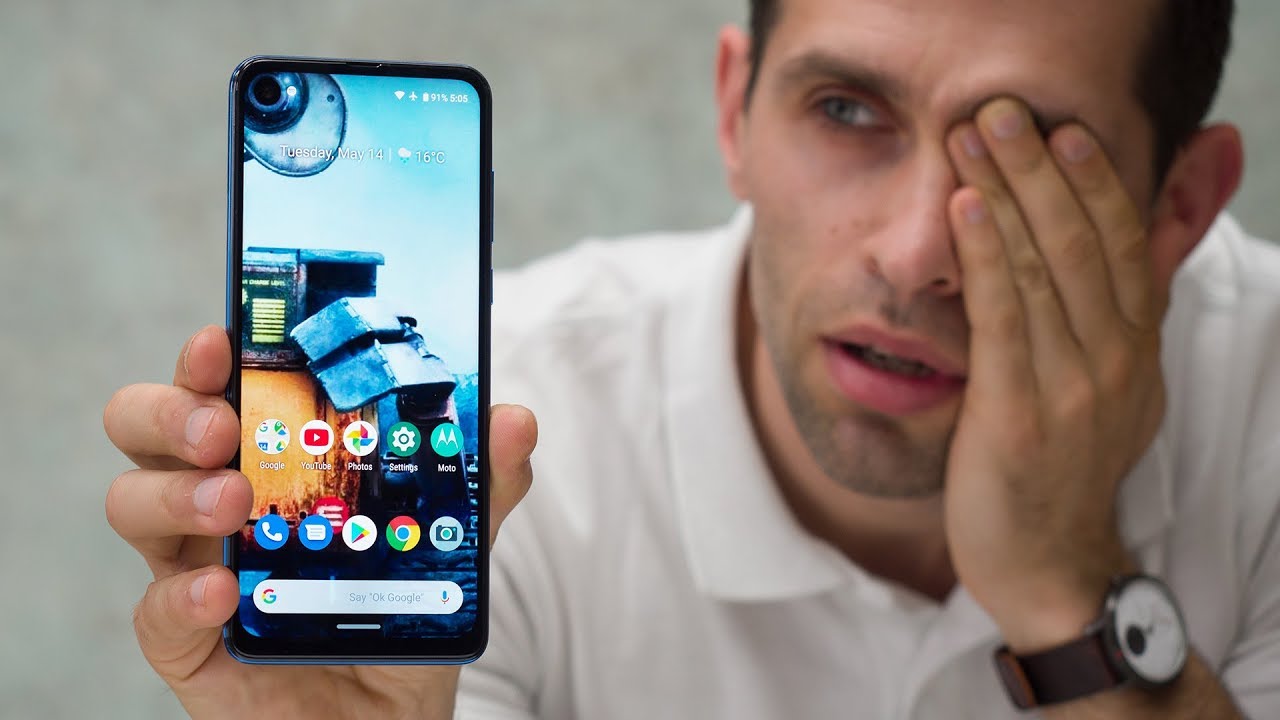 Design and Colors
Strange at first, comfortable when you get used to it
The thing that stands out the most with the Motorola One Vision is the new format: the phone has a tall and narrow body, thanks to the 21 by 9 CinemaVision screen, different from most other phones that use wider screens. So… why the 21 by 9 format, you wonder? Actually, it turns out that these are the exact proportions that filmmakers use to achieve that all-engulfing cinematic effect, so watching Netflix on this phone is an absolute joy. While such a narrow phone definitely looks weird at first, I quickly got used to it and I actually was surprised with how much more convenient such a design is for one-handed use. For browsing and reading, however, this screen is not ideal, as you can see less text and you have to scroll more vigorously.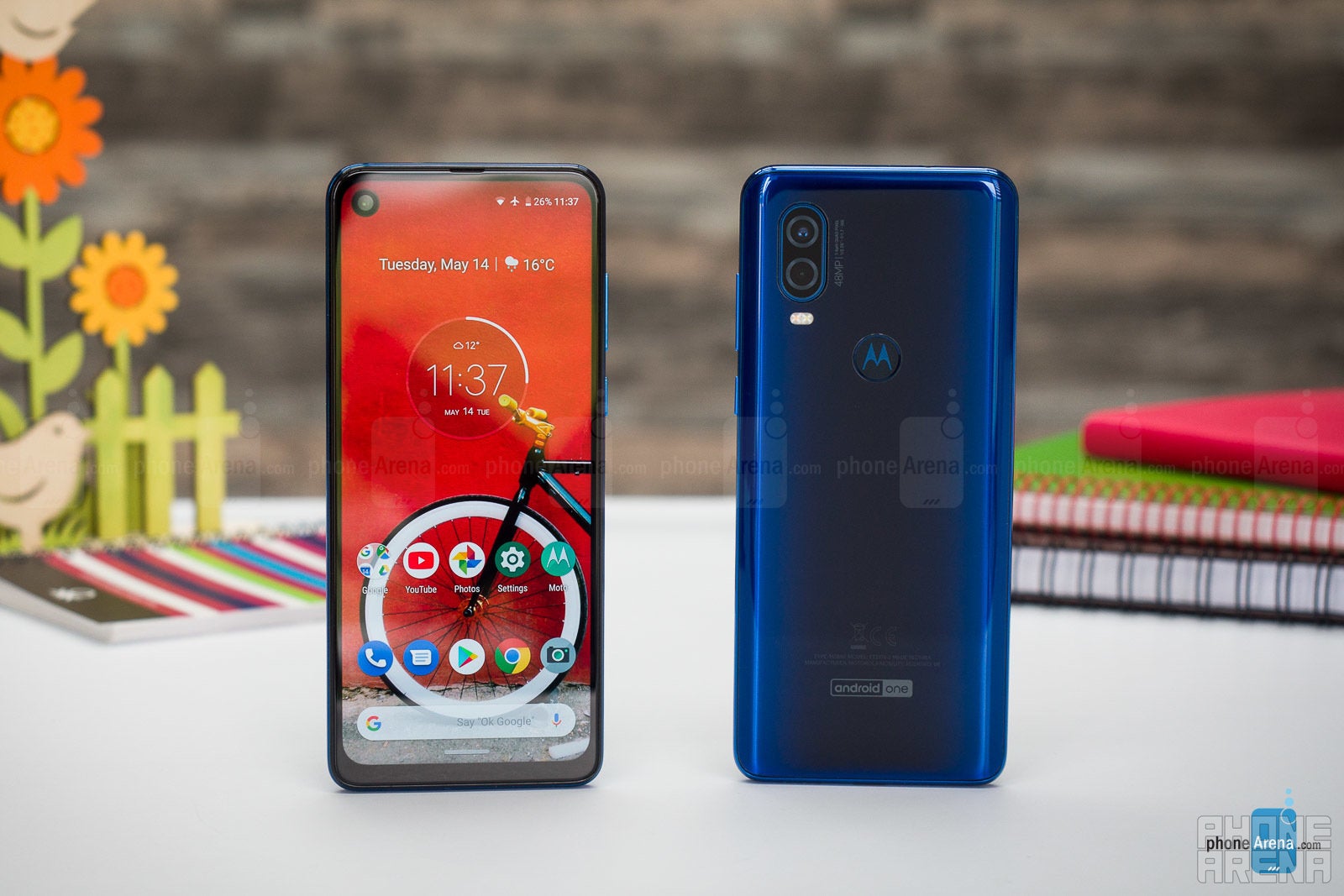 The phone also feels solidly put together and it features a glass back, which feels more luxurious than plastic, but the frame is not made of metal and it's still glossy plastic. The back is slightly tapered at the edges for a more comfortable grip, which we appreciate.
The One Vision comes in two different color versions: both are unusual vertical gradients with the darker color in the middle. The one we have up for review is called Dark Sapphire and it's a mix of a deep black center and blue sides, and there is a Bronze brown version available as well.
Display
An LCD screen with color issues and a big and noticeable camera cutout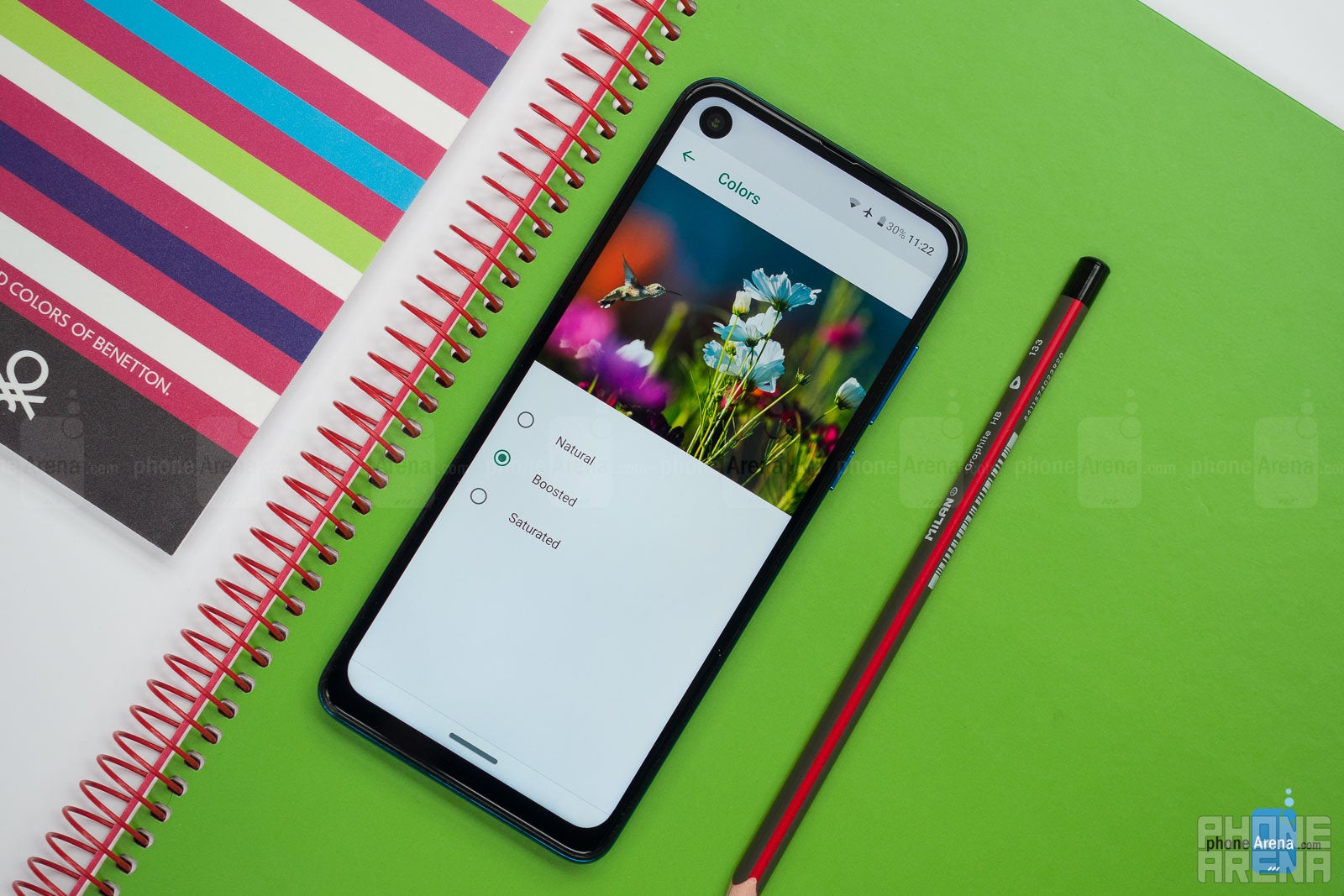 You get a 6.3-inch Full HD LCD display on the Moto One Vision. There are two things to know about it: first, it's obviously not an AMOLED screen, so you don't get the rich colors and deep blacks of that newer technology, and other budget phones are already offering that. Furthermore, overall colors on this screen appear cold and whites have a noticeable blue tonality. This makes photos and videos appear less appealing than on a well-balanced display. Unfortunately, there is no way to tweak the white balance in the settings, which could have remedied the situation. And this is probably the biggest compromise made with the Motorola One Vision. The screen of a phone is one of its most important components and, sadly, this one leaves room for improvement.
The screen also comes with one interruption in the form of a big and very noticeable cutout for the front camera. We have seen this punch hole design in various phones including the Galaxy S10 series, but here the hole for the camera is way bigger and way more noticeable. Motorola says it could make it smaller, but that would have compromised the durability of the phone and the larger cutout ensures a thicker bezel that provides more protection for the front camera in case of a drop. And that's a good reason, but we still wished that cutout was not as huge.
Display measurements and quality
Fingerprint Scanner
We forget how amazingly good traditional fingerprint scanners are
The One Vision does not have any fancy 3D face recognition tech or in-screen fingerprint scanners. Nope. And it does not need them. Instead, it has a good old capacitive fingerprint scanner cleverly embedded in the Moto logo on the back of the phone. Placed in a slightly recessed area at the center of the back panel makes it extremely easy to find this spot with just tactile feel and... we forget just how amazingly good traditional fingerprint readers were!
Unlike most in-screen fingerprint solutions where you have to often try again and again just to get a proper finger scan, here everything happens momentarily. Tap and the phone unlocks. No failed attempts, easy as pie.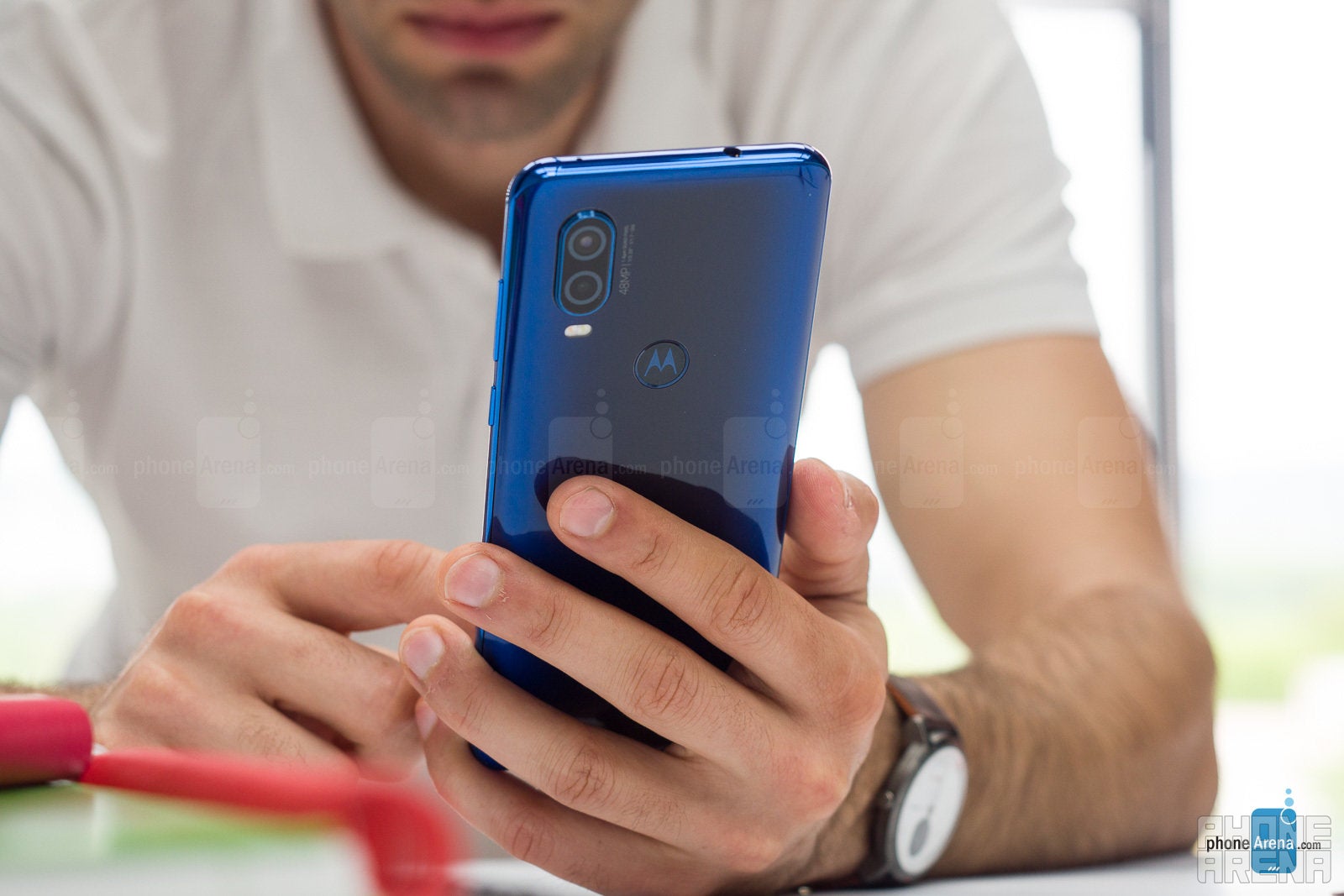 Interface
Moto's approach to Android: if it ain't broke, don't fix it
The interface is Android One, which is a clean and bloatware-free version of Android. And this is a great thing. Motorola is also promising two major updates, so as this phone currently runs on Android 9 Pie, you will get the Android 10 Q update this year and the Android 11 R next year.
And in terms of extra features, there are just a few. Motorola's approach to Android is: if it ain't broke, don't fix it, and we wish more phone makers would adopt this philosophy. What you do get are Moto Actions, a few useful tricks that Moto phones have had in the last couple of years: twist the phone to quickly start the camera, double chop to turn on the flashlight and touch the screen with three fingers to capture a screenshot. All of these are neat time-savers.
Performance and Storage
An Exynos chip inside is enough for a smooth and speedy daily operation
Under the hood, the One Vision is powered by the Samsung-made octa-core Exynos 9609 chip with 4GB of RAM on board. This processor is similar in performance to the Snapdragon 660 series, meaning that is nowhere nearly as good as a flagship phone. But this does not mean that the phone is slow: quite the opposite! In the daily grind, it felt zippy, apps load fast, there is no stutter, it's actually a very smooth experience. Gamers, however, would miss the extra performance power of a flagship.
We were also pleasantly surprised by the generous 128GB of storage that you get on board here, that is twice as much as most phones in the price range, and it's also twice as much as you get on the more expensive Pixel 3a. The One Vision also has a hybrid card slot, so you can either use it as a dual SIM device or use it as a single SIM phone with a microSD card.
Camera
Moto's new Night Vision mode gets surprisingly good results at night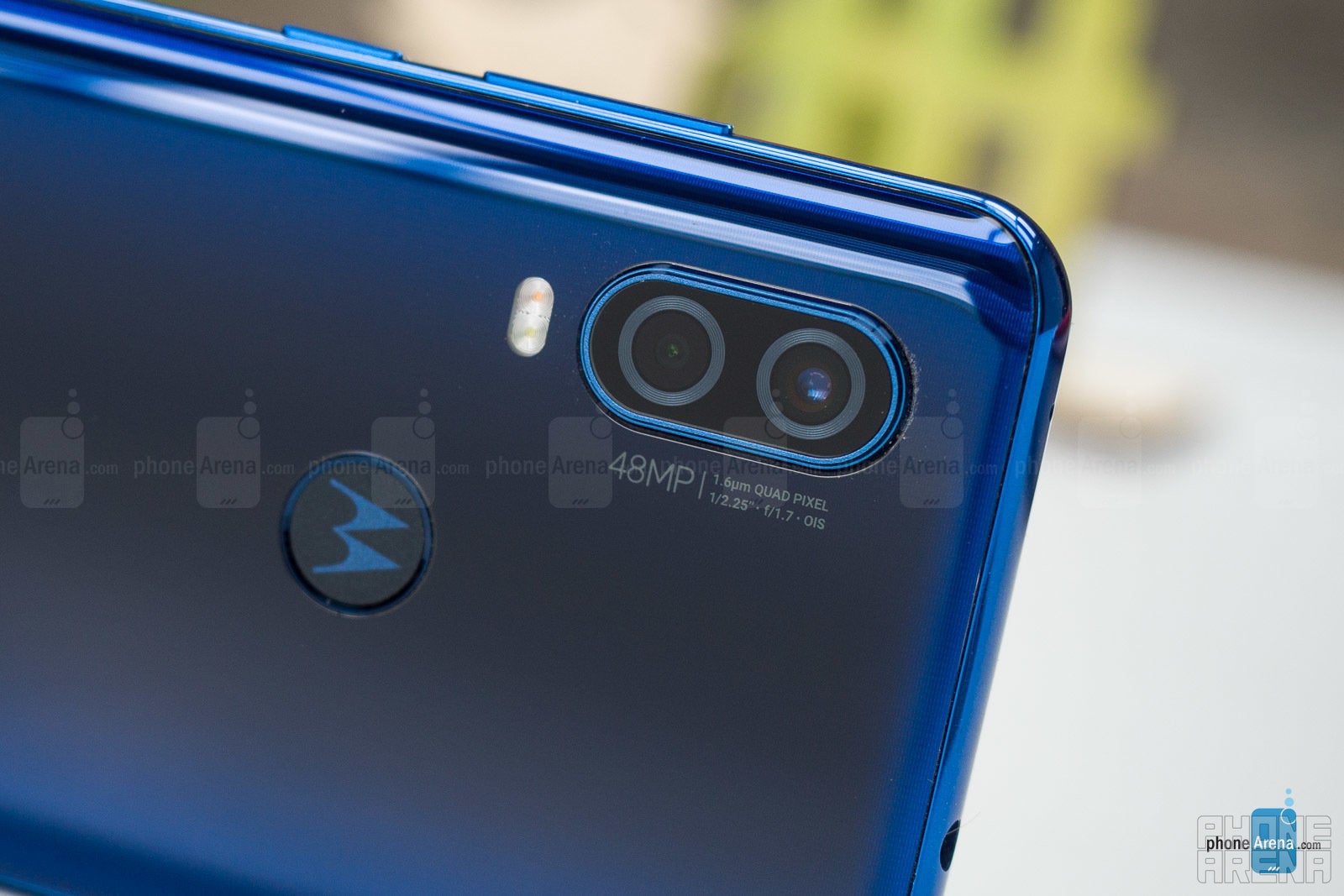 Turning to the camera, you get a 48-megapixel main shooter and a 5-megapixel secondary camera that captures depth, while up front you have a 25-megapixel selfie camera. Motorola uses all these resources to combine four pixels into one to achieve better image quality, and it calls this Quad Pixel, so the actual photos that you get are 12 megapixels from the main camera and 6 megapixels from the front one.
Numbers, however, never tell the whole story about the quality of a phone camera. What matters is how photos and videos actually look. And the Motorola One Vision camera is good. Just good, not extraordinary in any way, especially when you compare it against new heavyweights like the Pixel 3a.
During the day photos are well-exposed and the colors are pleasingly realistic, not too strong or too bleak. The camera is also quick to capture photos and works reliably well, all great points. What we don't like is that the whenever you have something brighter in the photo like the skies for example, those brighter areas are basically always burned and you just don't have enough dynamic range.
Portrait Mode works quite well too and you can capture portraits with a blurred background with the front camera as well.
We also love the cinemagraph option in the camera interface. Cinemagraphs are basically a photograph part of which is moving and this format just invites you to get creative.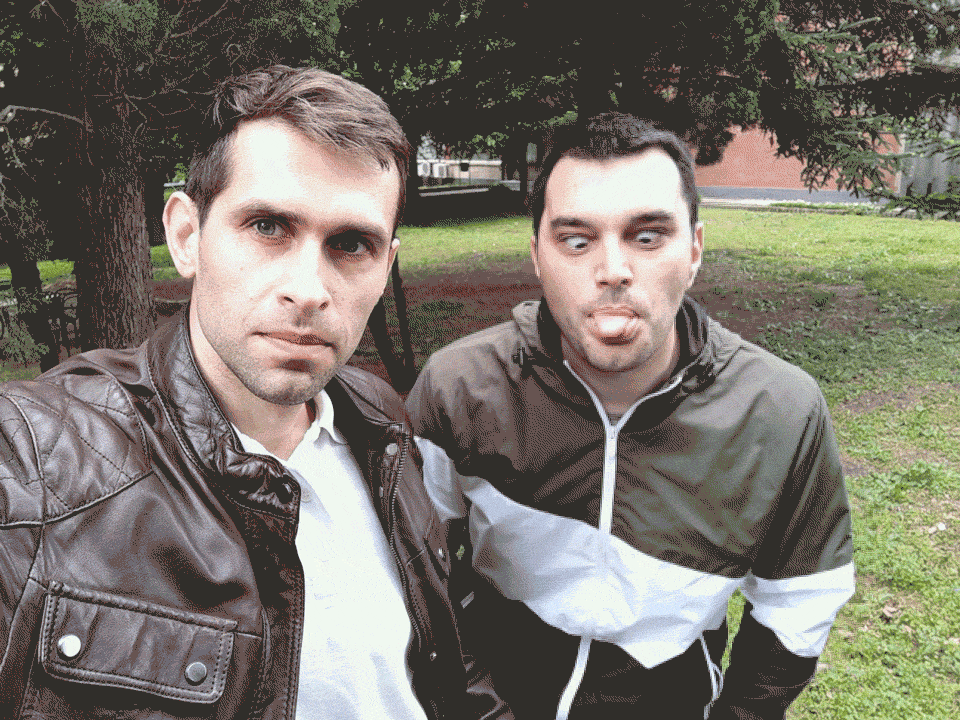 At night, you have two options. The first one is to just shoot and the photos that you get are quite dark, blurry and just… not very good. However, you can do something else too: you can switch to the Night Vision mode and wow, what a huge difference it makes! First, the Night Vision mode is surprisingly quick! It takes less than a second to capture a photo, so you don't need to wait for a long time like with say Huawei phones, but the results are also truly impressive. Nope, this is not the next Google Pixel 3a, but it really is not too far behind! Colors, dynamic range, all of that looks great with this mode, and only when you blow up the phones on a big screen you see the typical issues with such shots like oversharpening and the lesser detail.
For video, you can record at up to 4K and 30 frames per second. Many other phones in this price range don't have 4K video, so we appreciate having the option, but the quality is just not great, video turns out a bit shaky, colors appear a bit washed out and the focus hunts around a bit.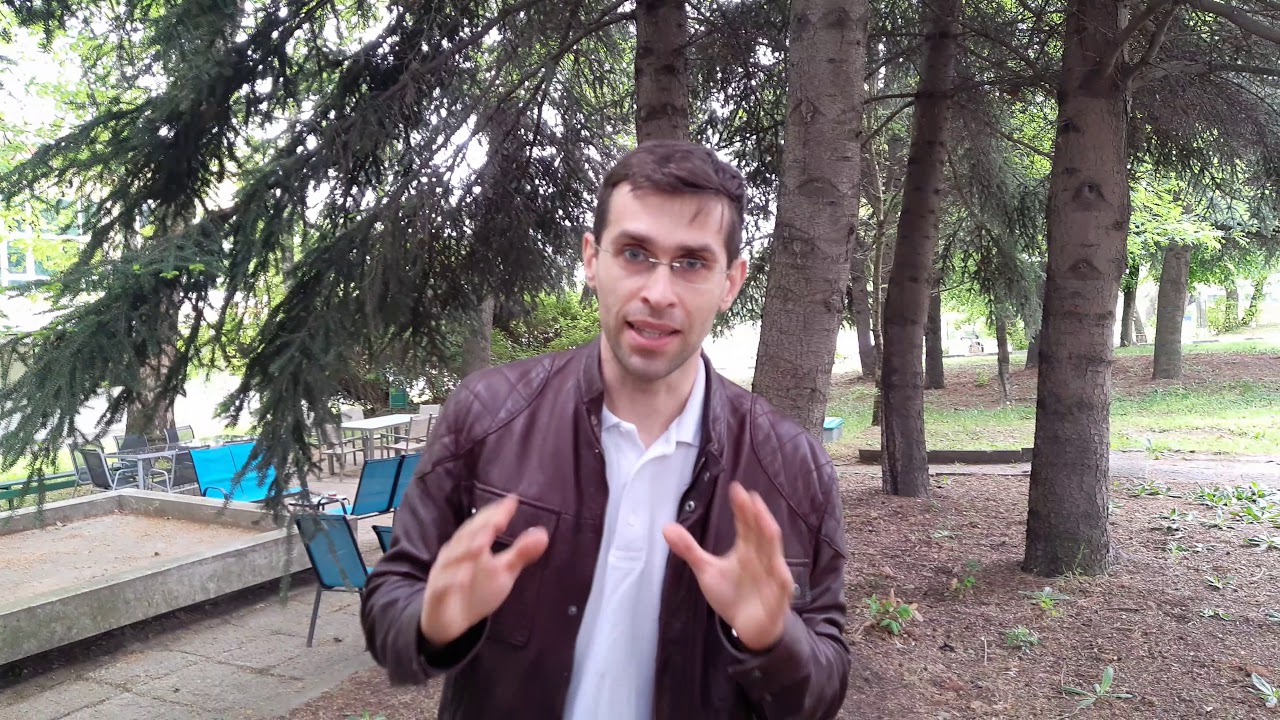 Sound Quality
A surprisingly powerful loudspeaker!
There is one more thing that we love about this phone: the loudspeaker! It's surprisingly good! Sound is powerful, punchy, and has depth to it, especially surprising considering that the phone uses just one bottom-firing speaker. Good job, Motorola!
Speaking of sound, we should also say that you get a headphone jack at the top of the phone, but not just this, you also get a pair of quite decent headphones for free in the box.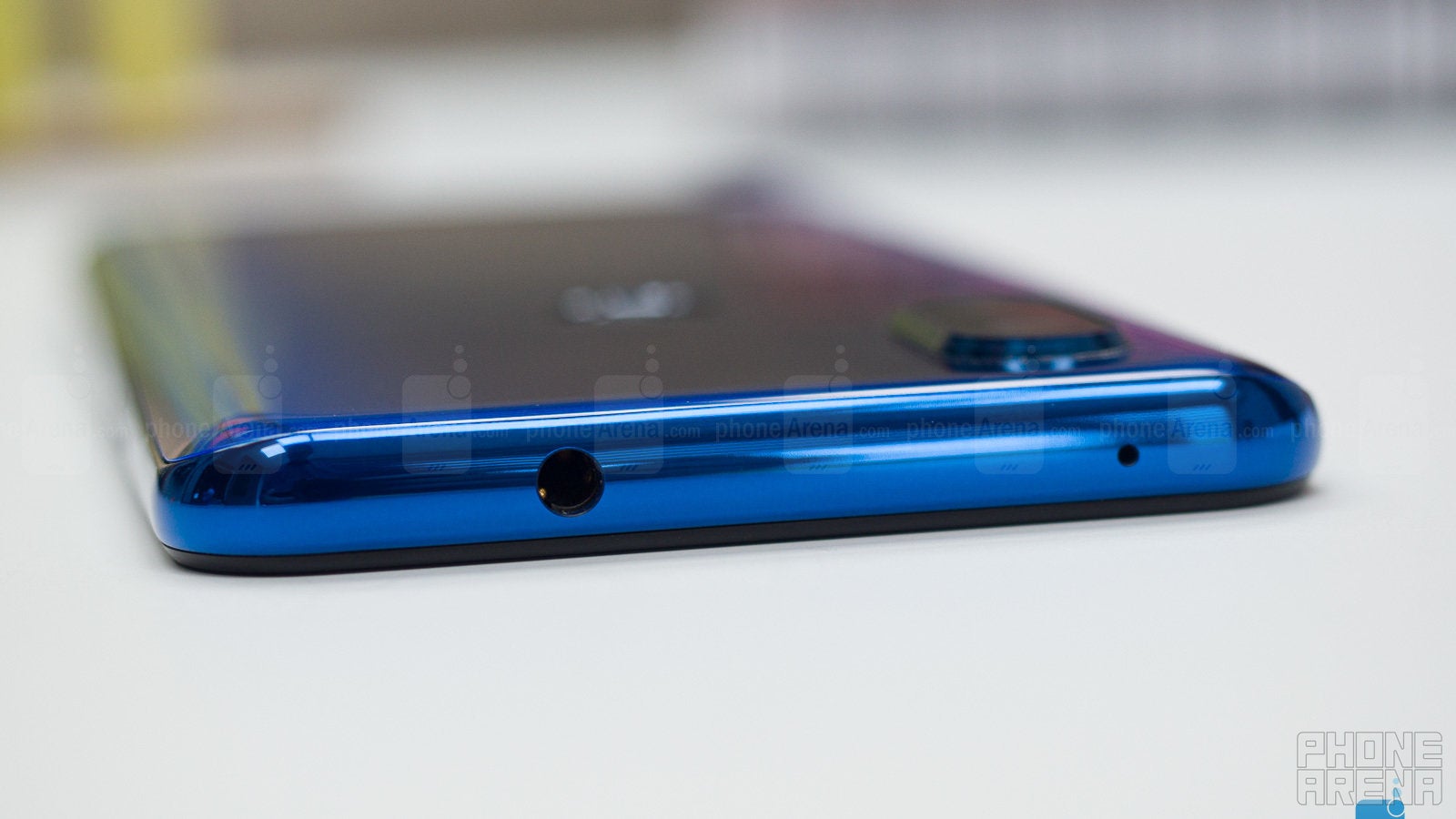 Call Quality
We've had no issues with call quality on the Moto One Vision. Calls sound loud and clear enough on both ends of the line and our callers also report hearing us well, without any significant problems..
Battery Life
Solid one-day performer
The Moto One Vision is equipped with a 3500mAh battery and on our proprietary battery life test, it scored just slightly above the average at 9 hours and 13 minutes of screen time.
This beats the results of the other 21:9 phones out there, the Sony Xperia 10 and 10 Plus, puts it on par with the Moto G7 Plus, another popular Motorola phone, but also ranks it slightly behind rivals like the new Samsung Galaxy A50 and A30 series. Take a look at the results for these and other phones in the chart below:
In real life, we've had absolutely no issues going a full long day without the need to top up, but this is not a phone that would last much longer than that.
Thankfully, you also have an 18-watt quick charger in the box, so the battery goes from 0 to 100% in less than 2 hours. And despite the glass back, the phone does not support wireless charging, in case you were wondering.
Price and Rivals
For a price of around $300, Motorola says the One Vision is priced aggressively and we agree. This phone indeed offers excellent value for the money.
But it's not the only one to do that in this hugely competitive space. Worthy rivals in this price range include:
Google Pixel 3a ($100 more expensive, but much better camera and screen)
Galaxy A50 ($50 more expensive, but gorgeous screen)
Pocophone F1 (about the same price, more performance power)
Moto G7 Plus (even cheaper, better-looking screen)
You can find out more about each of these phones by clicking on the links above that will lead you to the full review of the devices.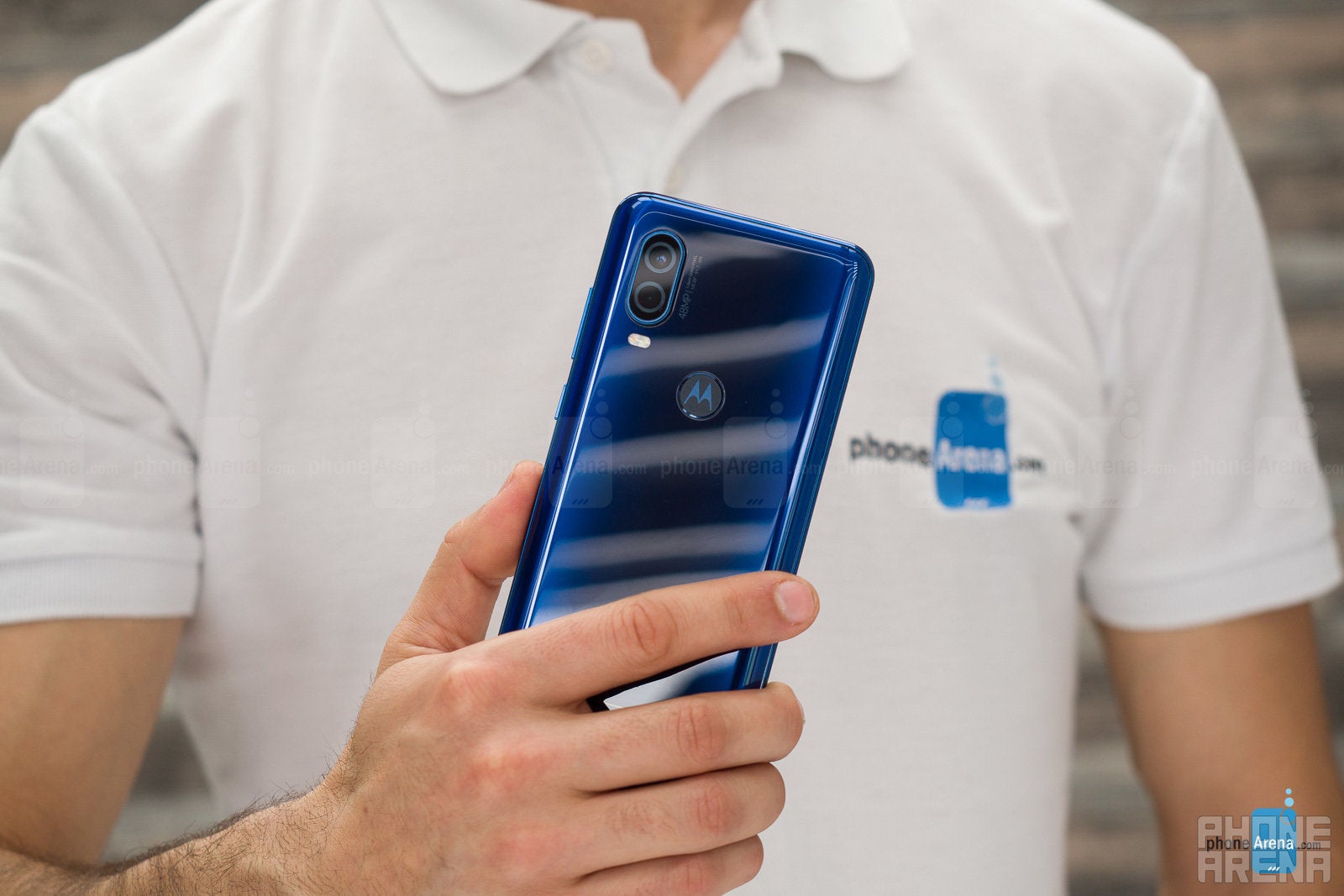 Conclusion
All things considered, is the new Motorola One Vision the budget phone that you should buy in 2019?
First, let's mention the one flaw: Motorola has let us down with the screen here. We don't mind the LCD technology, but we don't like that colors just look too cold. A simple option to adjust the white balance would have been hugely helpful, but it's not here. Hopefully, Motorola brings this via a future update, but as it is, the screen of the Moto One Vision is definitely not ideal and is its biggest compromise. And yes, that punch hole camera is bigger than on other rivals, but those rivals also cost much more.
All things considered, for a price of around $300, this phone still offers excellent value for the money. It is fast, has tons of storage, the new tall and narrow format is easy to get used to, it's comfortable for one-handed use, and its Night Vision photos turn out surprisingly great. And if those are your priorities, the Moto One Vision delivers.


Recommended Stories