Motorola Moto G7, G7 Plus, G7 Power and G7 Play Review
14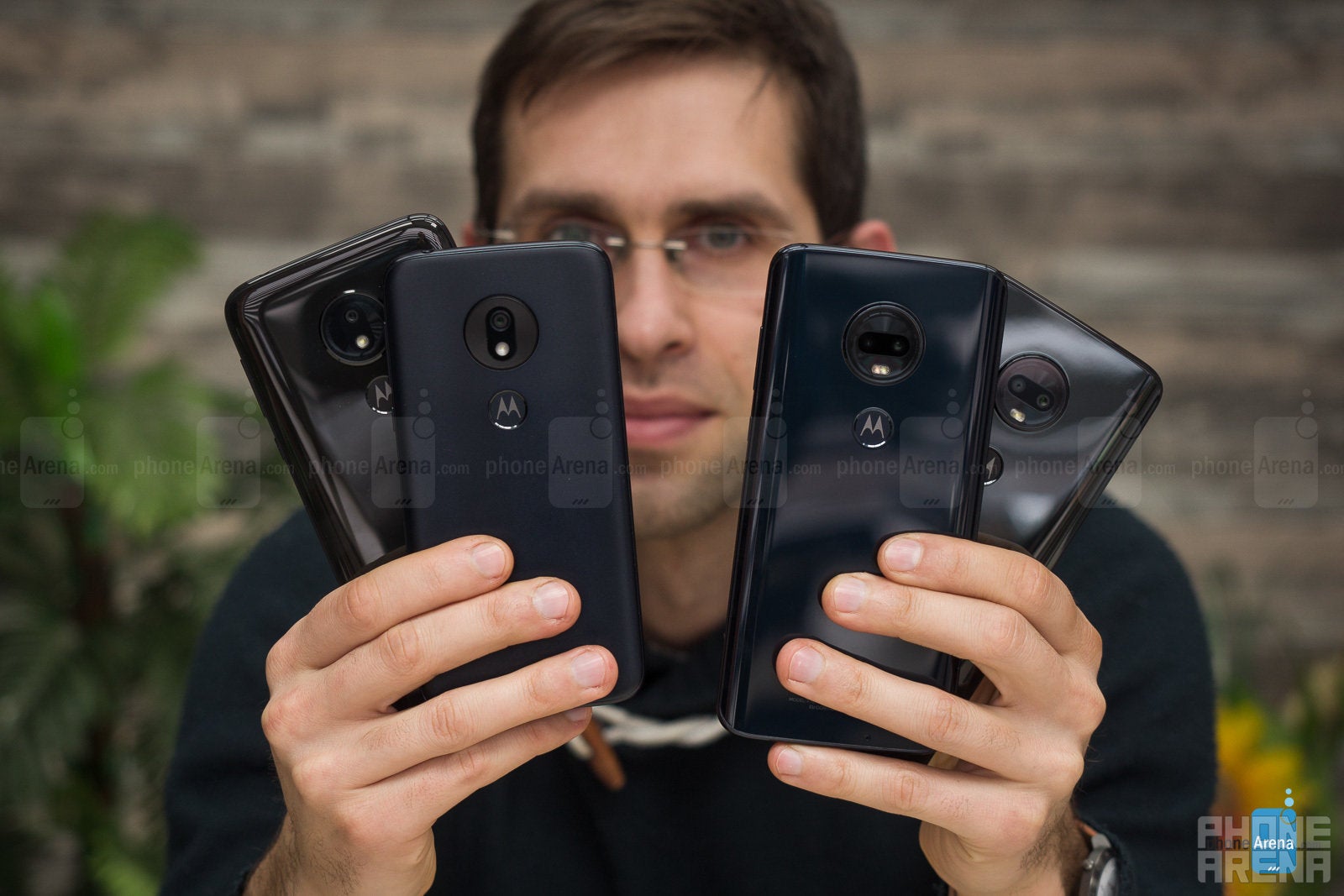 Update

: You can now read out Moto G8 Plus review!
Motorola is not a name you associate with the very best phones out there, but in the last few years, it has been the name behind some of the most successful and loved affordable phones on the market: the Moto G series.
Now, in 2019, the Moto G series return with the brand new Moto G7 family of phones. Here are all four of these new siblings: the entry-level, dirt-cheap Moto G7 Play; the slightly more expensive and battery-centric Moto G7 Power; then comes the main star of the show, the G7, which has the best price-to-performance ratio of the bunch; and finally, the G7 Plus, a phone that goes a step further than the G7, but unfortunately is the only one that will not be sold in the United States.
What is special about each one of them and how do they differ? Let's take a deeper look, but first, here is a short summary for those who are too lazy to read our full review (but you really should):
TL;DR:
The Moto G7 series of phones is comprised of four different models:
-
Moto G7 Play
: $200, entry-level G7 with basic specs
-
Moto G7 Power
: $250, with a focus on a massive, 5,000mAh battery
-
Moto G7
: $300, best price-to-performance ratio in the series, sharper screen, fast charging, elegant design and teardrop notch
-
Moto G7 Plus
: $300+, slightly faster than the G7, better camera, super fast charging, but not sold in the US
Compared to last year's Moto G6, the phones in the new series all bring improvements in design with thinner bezels.They also come with faster processors on the inside and with better cameras. The Moto G7 Play, in a nutshell, is a basic model with too many compromises, and most people would be better off skipping it. The Moto G7 Power has a 3-day battery life and is the phone with the best battery life we have EVER tested, but it's a bit bulky in order to accommodate that massive, 5,000mAh battery. The Moto G7 hits the best balance between price, comfort and performance, while the G7 Plus ups the ante with a better camera and faster chip, but limited availability (it will not be sold in the US).
Some particular details are common for all four of these phones: they all come equipped with the latest Android 9 Pie on board with the clean Moto skin, all of them will support microSD cards for expandable storage, they have a USB-C port for charging and all of them have the good old headphone jack on board.
Compared to more expensive phones like the $550 OnePlus 6T, the Motorolas feel like a significant compromise with screen quality, as well as with camera and processing performance. Among their price peers, though, they remain a reliable, safe choice and will likely remain our recommended affordable phone choice for 2019.
Okay, it's time to dive deeper now and let's kick things off with a quick specs comparison that shows the main differences between the four Moto G7 models:


Moto G7 Play
Moto G7 Power
Moto G7
Moto G7 Plus
Size & Weight
148.71 x 71.5 x 8.09 mm
168 g
160.83 x 76 x 9.4 mm
198 g
157 x 75.3 x 8 mm
172 g
157 x 75.3 x 8.27 mm
172 g
Screen
5.7"
720 x 1512 px
6.2"
720 x 1520 px
6.2"
1080 x 2270 px
6.24"
1080 x 2270 px
Processor
Snapdragon 632
Snapdragon 632
Snapdragon 632
Snapdragon 636
RAM
2GB
3GB
4GB
4GB
Storage
32GB + microSD
32GB + microSD
64GB + microSD
64GB + microSD
Cameras
13MP rear cam
8MP front cam
12MP rear cam
8MP front cam
12MP + 5MP dual cams
8MP front cam
16MP + 5MP dual cams
12MP front cam
Battery
3,000 mAh
5,000 mAh
3,000 mAh
3,000 mAh
Price
from $200
from $250
from $300
300 euro, not sold in US
Design
From the quite ugly G7 Play to the bulky G7 Power and the quite elegant G7 and G7 Plus, you can't complain about a lack of choice
In terms of design, these Motorolas share a similar overall styling, but differ when you take a closer look.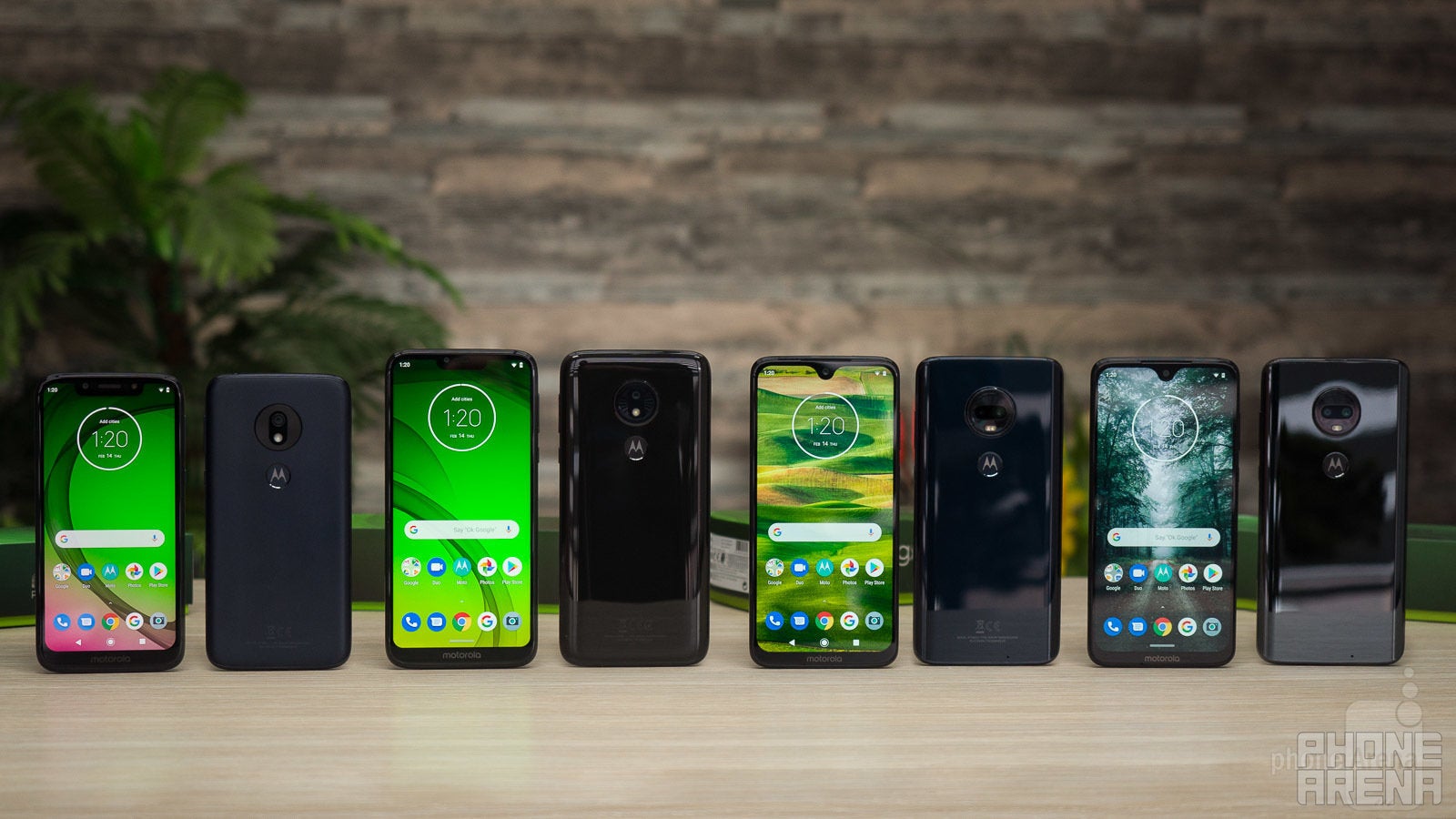 G7 Play, G7 Power, G7 and G7 Plus
The base Moto G7 Play model, in particular, stands out with its textured plastic body that does not feel as smooth and premium as the other phones in the lineup, so you can easily tell it apart. It is the smallest one as well, with a 5.7" display versus a 6.2" screen on the others, and that's a plus for those who value a compact device. What's not so great is the strikingly big bezel all around the sides of the display. One smaller thing we also noticed on the G7 Play is that its vibration motor feels wimpier than on other G7 phones; vibration feedback feels different, and not in a good way.
The Moto G7 Power switches the plastic for glass, which gives it a more premium, solid feel. This model is also clearly the biggest, bulkiest of them all. It is slightly taller and wider, but the bulk is most noticeable in the girth: the G7 Power measures 0.37 inches thick, while the other three measure around 0.31 inches. So yes, while the G7 Power brings a massive battery, this also makes the phone physically significantly larger.
The G7 and the G7 Plus basically look identical. These two are considered the more premium models in the family, and unlike the previous two, here you don't have a regular notch, but instead you get a tinier, less intrusive teardrop notch. Both the G7 and the Plus have a glass body and the camera circle on the back has the two cameras arranged horizontally. One interesting detail that we spotted was that the cameras are not perfectly centered, a little design giveaway that shows the affordable, slightly compromised nature of these phones.
As we've already mentioned in the beginning, all four phones feature a USB-C port for charging, a 3.5mm headphone jack, and a microSD card for expandable storage, all neat little conveniences.
Fingerprint

Scanners
Fast and cleverly embedded in the Moto logo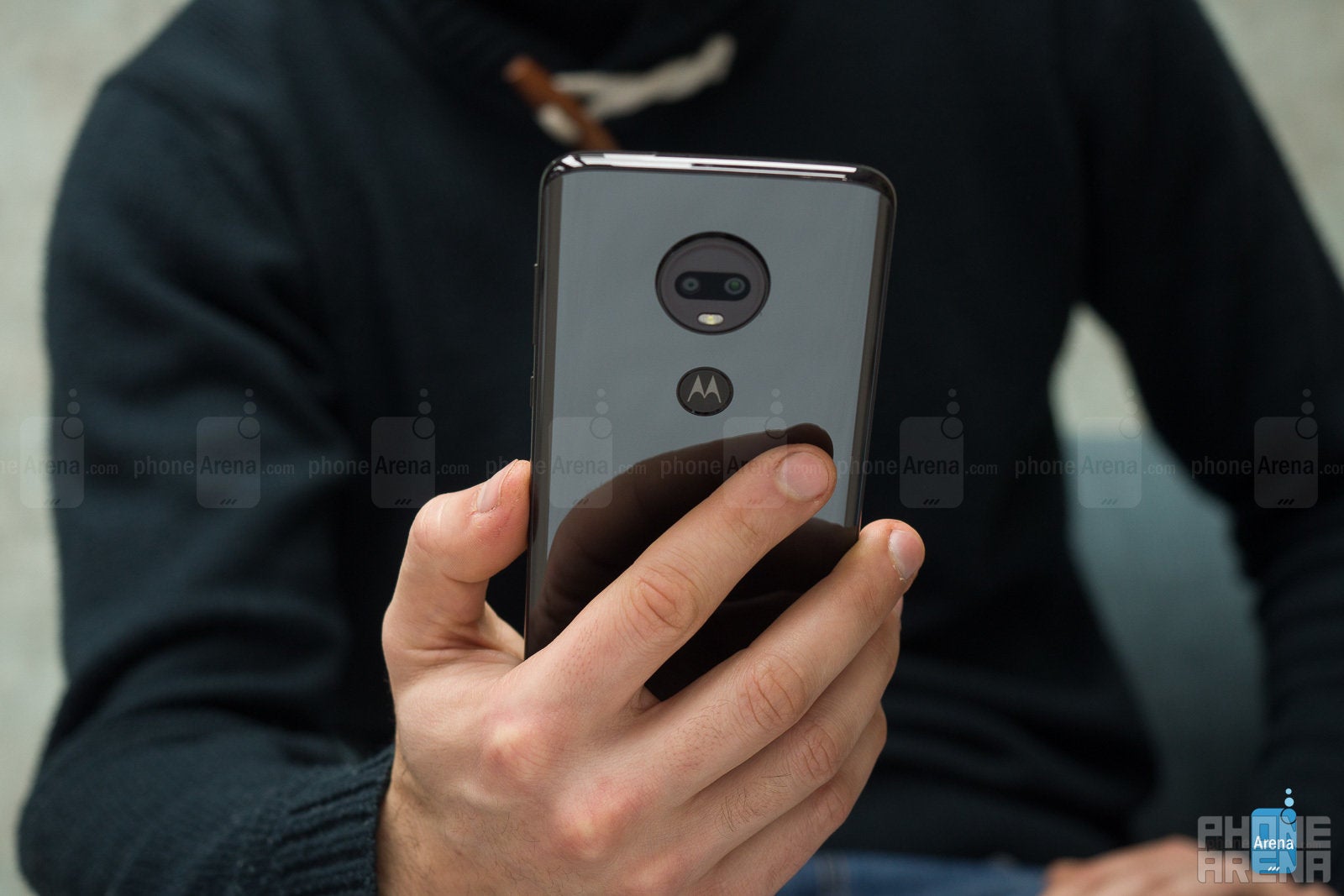 The fingerprint scanner on all four new Motorolas is placed on the back, with the "M" logo printed right on the sensor. It's a clever way to put some extra branding that is not at all intrusive, and we don't understand why Motorola had to also print the full Motorola brand name on the front of the phone as well.
But when it comes to the fingerprint scanner, registering your finger with it is a fast and easy process, just as it is to actually use the scanner in real life. We had zero issues, and the fingerprint scanner unlocks the phones almost instantly. Good job, Moto!
Display
All come with LCD screens, but the G7 and G7 Plus have a teardrop notch and a higher resolution
All four Moto G7 phones come with LCD screens, and that's expected considering how much cheaper LCD displays are compared to OLED screens. While LCD screens differ a great deal between each other, generally speaking, they lose out to OLEDs in terms of contrast, color saturation, viewing angles and response rate.
Still, the Moto G7 series screens are decent considering the affordable price of the phones. The easiest way to tell the slightly more expensive G7 and G7 Plus from the other two is by looking at the type of notch: you have a teardrop notch on the G7 and the Plus, and a bigger, "traditional" notch style on the G7 Power and the G7 Play.
The other important difference is in the resolution: the G7 and the Plus feature 1080p Full HD screens, while the Play and the Power have lower-resolution 720p displays, something that is particularly noticeable when reading text.
We noticed that the G7 Plus gets significantly brighter than all other G7 phones and its display is much easier to see outdoors. It's clearly the best one in the series. On the flipside of things, the G7 Play is clearly the worst: not only does it come with a huge bezel all around, but its colors look washed out and just bad.
The G7 and the G7 Power stand somewhere in the middle: their screens are decent, but not quite as bright as the Plus model. Take a look at our detailed screen measurements right below:
Display measurements and quality
Interface
All four new Motorolas ship with the latest Android 9 Pie on board and while there is a very light skin on top, it mostly adds a few useful gestures and a few cool widgets, without ruining the clean Android styling. And that's a great thing because these new Motos feel very zippy and nimble.
Front and center, both on the lockscreen and the homescreen, is the round 4-in-1 battery-time-date-weather widget, which is very useful and easily one of our favorite features in a launcher and it even has some neat weather animations.
You also have typical Moto additions like the double chop gesture to quickly open the camera, the wave to see lockscreen notifications and more.
Processor

, Performance and Memory

One of the biggest upgrades with the Moto G7 series is in the processor. Last year's models shipped with a Snapdragon 4xx series, which did not inspire much confidence. Thankfully, this year, all Moto G7 phones ship with a higher-end Snapdragon 63x chip (it's a 636 in the Plus and a 632 on all the rest).

The amount of RAM varies. You get just 2GB RAM on the Play model, which is a bit too low for proper multitasking, and that's one more reason we cannot recommend that phone to most people. The Power has 3GB of RAM, while the G7 and G7 Plus feature 4 gigs.

Another welcome addition to the G7 and the G7 Plus is that the base models of these phones now come with 64GB of storage, which is a very reasonable amount. The G7 Play and the G7 Power have 32GB on board, and that might be insufficient to many people. All four phones also support expandable storage via microSD cards.



Internet

and Connectivity

LTE connectivity is what you expect in even the cheapest phones these days and LTE is what you get on all four Moto G7 phones. What's more is that even the most affordable G7 Play features a ton of LTE bands and is not likely to disappoint the global traveller.

All four phones also have dual-band Wi-Fi, which is particularly useful in heavily congested urban areas. The Plus model also supports Bluetooth 5.0, while the other three have Bluetooth 4.2 connectivity.

Another curious detail is that only the Plus supports NFC, while the other three models do not have NFC connectivity, making them incompatible with services like Google Pay.



Camera

Quality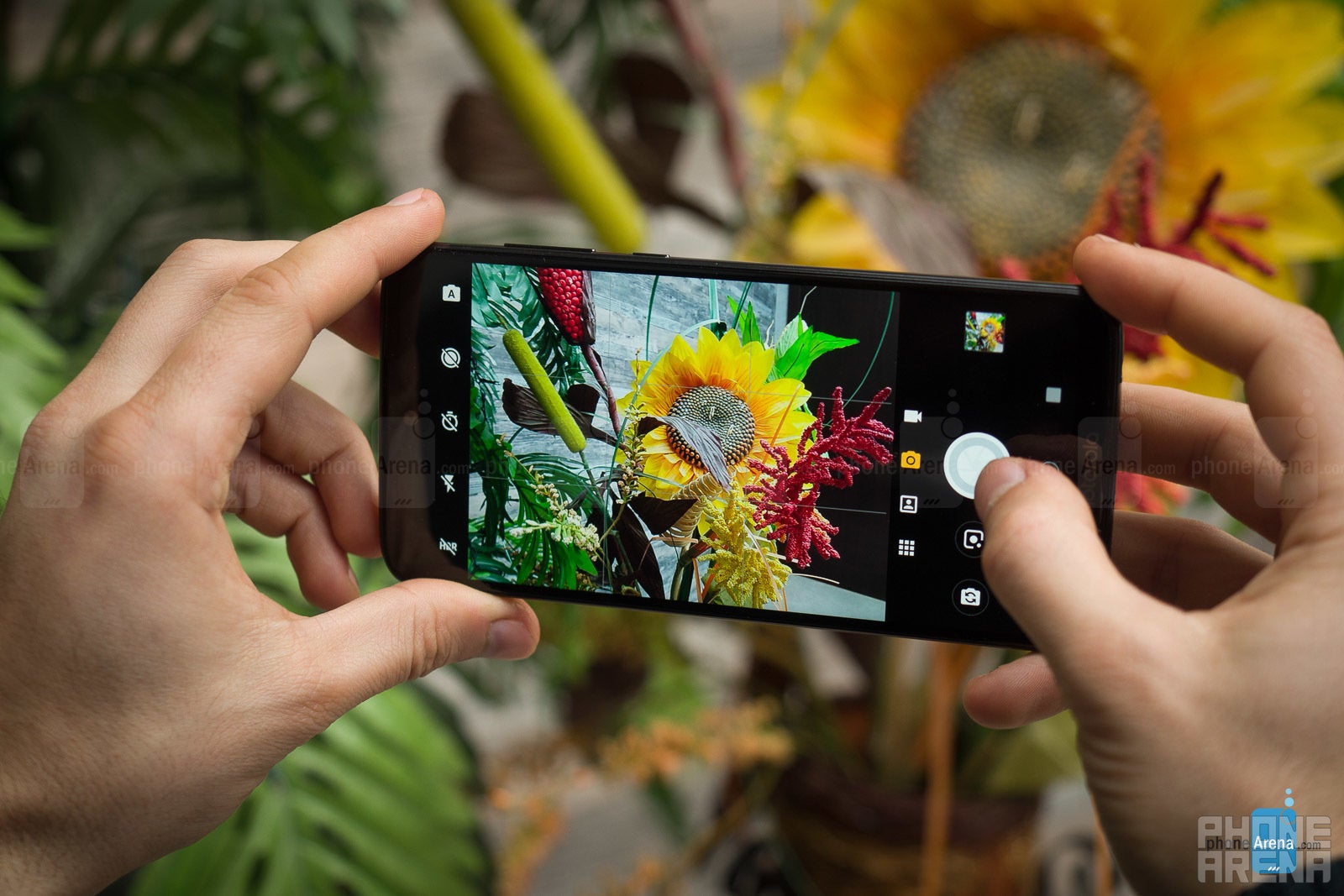 Ah, affordable phones and cameras! Always a difficult relationship, as a good camera is usually the hallmark feature of expensive phones.
So… is this the case with the affordable Moto G7 series as well?
Yes, to a certain extent, but first, let us give you a quick overview of the camera hardware that we have here and the differences between the four phones:
Moto G7 Play: 13MP single rear cam, single LED flash, 4K30 video, 8MP front cam
Moto G7 Power: 12MP single rear cam, single LED flash, 4K30 video, 8MP front cam
Moto G7: 12MP + 5MP depth cam, single LED flash, 4K30 video, 8MP front cam
Moto G7 Plus: 16MP + 5MP depth cam, dual LED flash, 4K30 video, 12MP front cam
These are just the numbers, though, and what matters is the actual image quality, so let's take a closer look.
In this first slideshow we are showing a single picture and then two cropped areas of that photo to illustrate a point. What's clearly visible in the crops is that the Moto G7 Plus has much higher amount of detail (with noticeable oversharpening artifacts, but still) all across the frame. The G7 and G7 Power take comparable photographs, while the G7 Play photo is way below the average with a lot of noise and blurry detail.
In the second slideshow, you can see a bunch of photos shot during the day and at night, a few portraits and a few selfie images. You can see that the trends continue here again and the G7 Plus pulls ahead, the G7 and G7 Power also capture very decent photos, while the G7 Play takes rather disappointing pictures.
We should also note that the much brighter screen on the G7 Plus makes it much easier to look at the viewfinder and compose your image than on the rest. We also found it to focus faster, while the others were a bit on the slow side with focusing.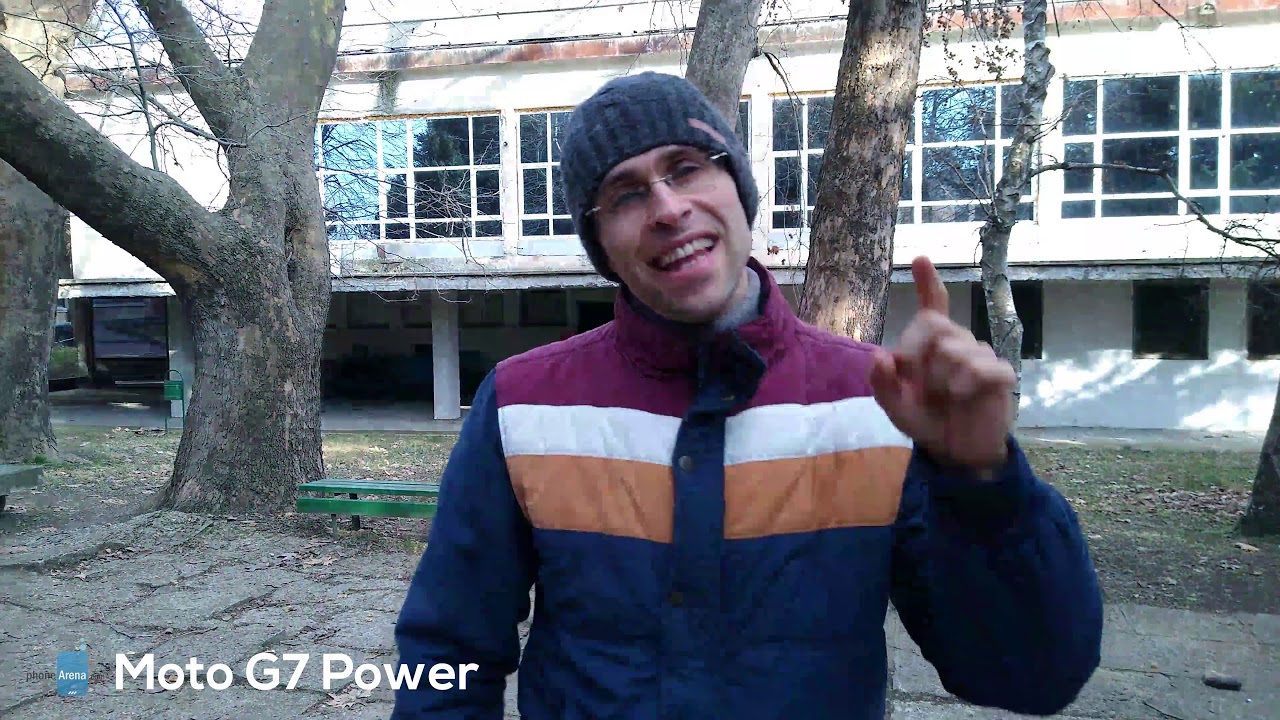 Sound

and Call Quality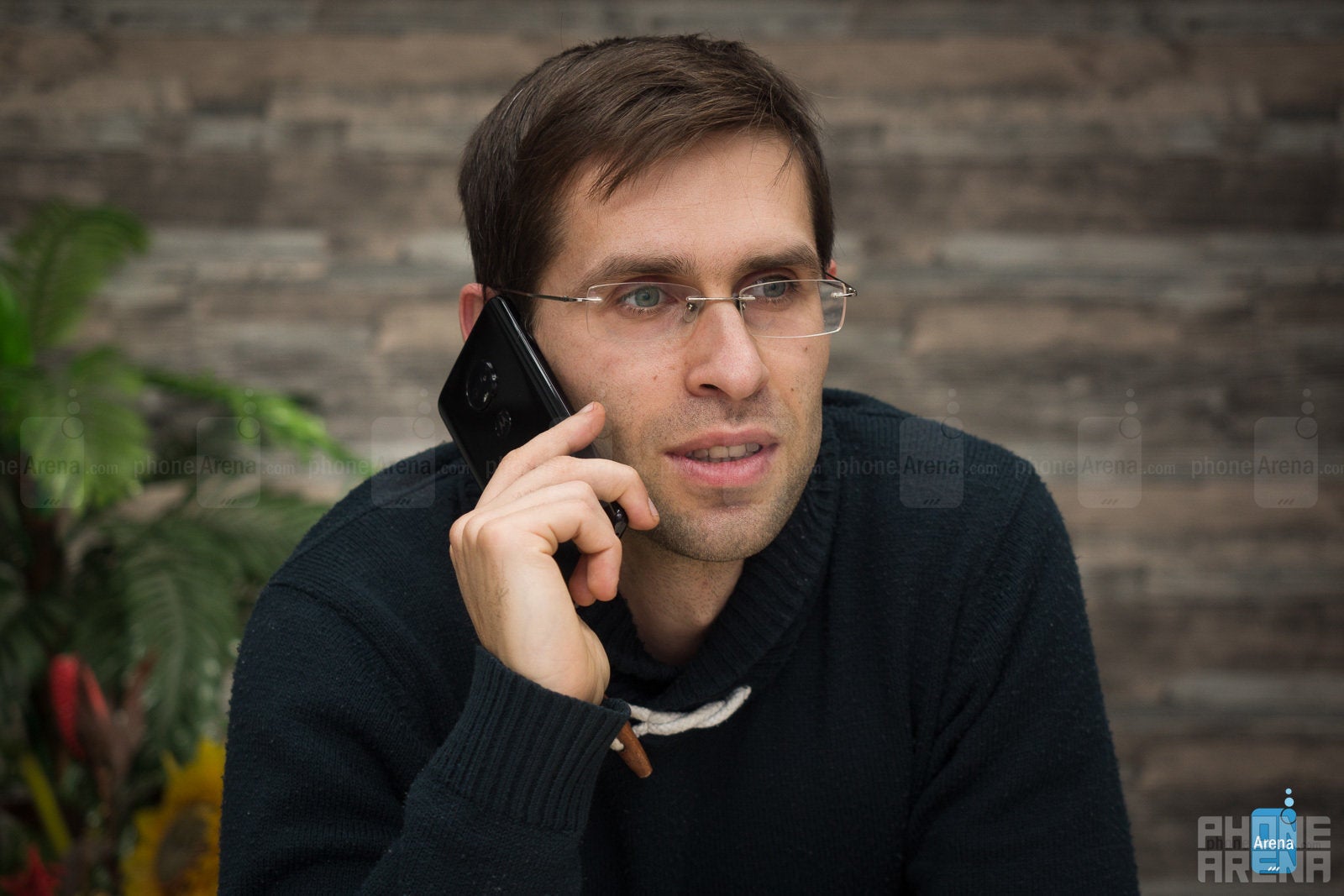 We're happy to report that Moto got the fundamentals right on the G7 series and call quality on all these phones has no major issues: we actually switched from a VoLTE phone to these ones that do not support VoLTE on our carrier, so you can notice that difference, but if you are not spoiled with VoLTE, those are perfectly great options. Make sure to check whether your carrier supports VoLTE with these phones.
Sound quality comes pretty loud on the G7, G7 Plus and G7 Power, and while it is not quite as clear and rich as on pricier phones, it's definitely good enough for most people. The G7 Play is not quite as loud, but still decent.
Battery

Life
The G7 Power has the best battery life we've ever seen on a phone, while the G7 Plus is fastest to charge up from 0 to 100%
Among these four new Motorolas, there is one that is focused on bringing the absolute best battery life and that model is the Moto G7 Power.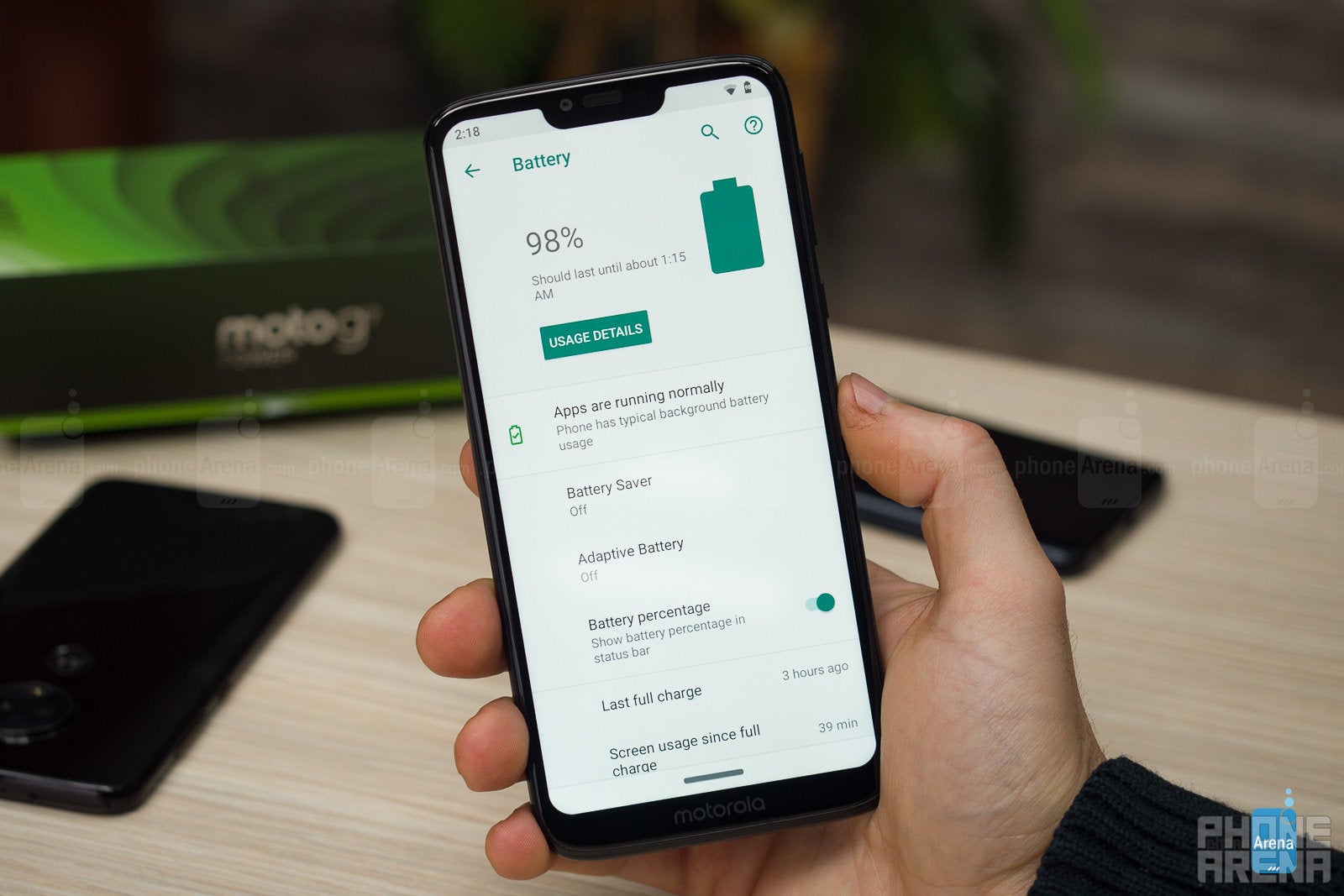 The Power comes packed with a 5,000mAh battery, much larger than the 3,000 mAh cells installed on all other G7 models.
Combine the large battery of the Power with its efficient processor and 720p HD display that is not very taxing, and it's not a surprise then that the G7 Power lasts longer than the other phones in the series. What was a shock to us, however, was not just that this phone was the longest lasting among these four, it was also the longest-lasting phone we have ever tested, and that's quite the achievement! Motorola says that you can expect a full 3 days on a single charge, and we feel that those expectations are actually justified on the Power, it's battery life is that solid.
The affordable Moto G7 Play also scores an excellent nearly 11 hours and a half on our test, more than most other phones that we have tested, and with moderate use you can get two days off the charger on the Play.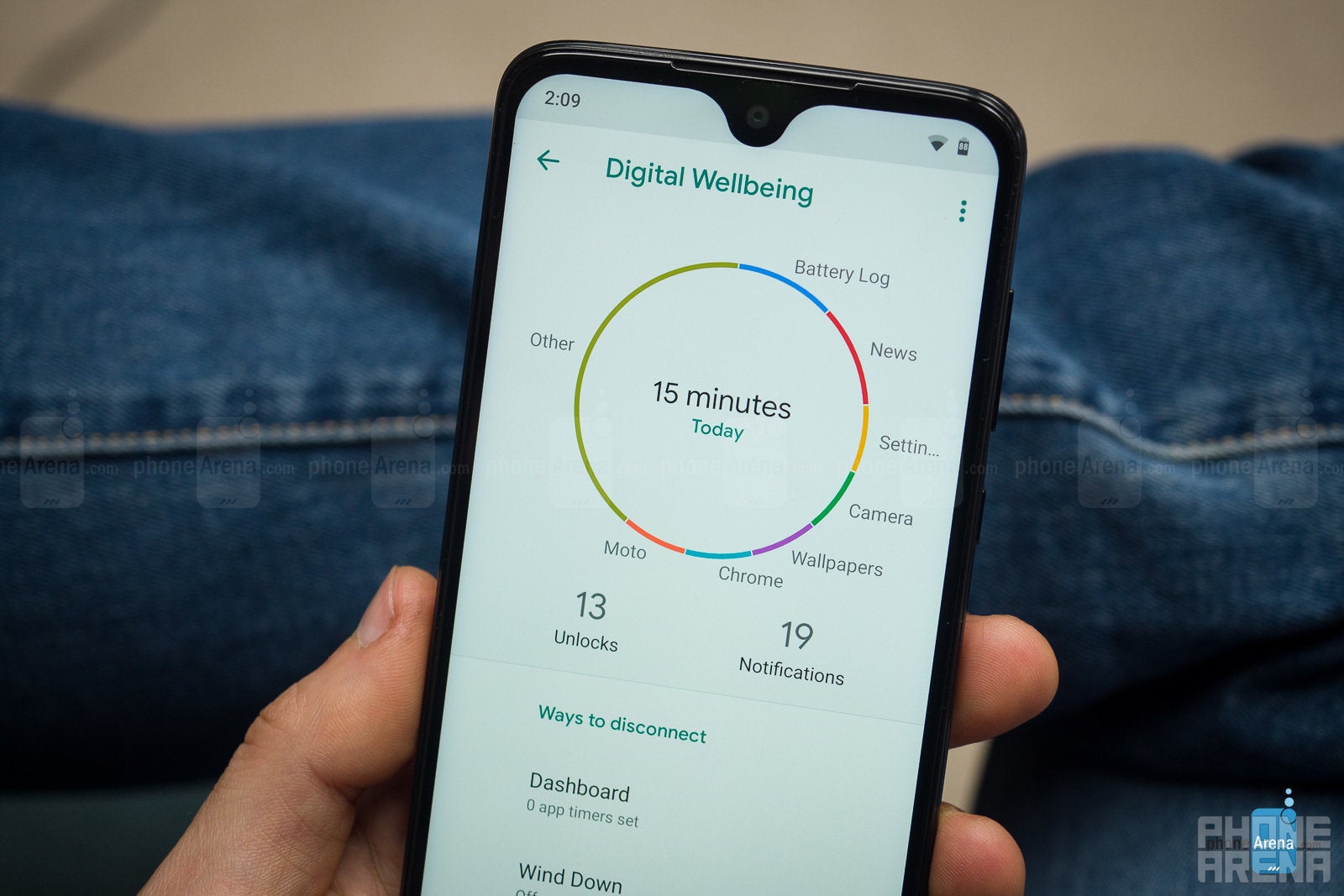 The two higher-end models in this series, the G7 and the G7 Plus actually score lower than their cheaper siblings: the reason for that might be in the more taxing Full HD displays on both of them, or something else. Battery life on both the G7 and the Plus average around 9 hours and 20 minutes, a respectable score that grants you about a day, or a day and a half off the charger.
Battery life is not the only part of the battery equation: how fast you can recharge your phone also counts a great deal, especially when you forget to plug in your phone overnight. Good news is that in this regard the new Moto series provides another pleasant surprise: the Moto G7 Plus here again shocked us by being the fastest phone to go from 0 to a full, 100% charge in just 48 minutes.
This is achieved thanks to the 27-watt Motorola TurboPower charger included in the box with the phone, but also because its battery is not all that huge at 3,000mAh. Nonetheless, from a user point of view, what matters is how fast you charge your phone, and this one does it wickedly fast:
Moto G7 Plus Charging Times:
10 minutes - 25%
15 minutes - 43%
30 minutes - 80%
48 minutes - 100%
Even if you forget to charge the Moto G7 Plus overnight, you only need to charge it for half an hour to reach an 80% charge level.
The Moto G7 also charges up quickly, taking just an hour and a half for a full charge, but it's nowhere nearly as fast as the G7 Plus.
The Moto G7 Power might have absolutely amazing battery life, but it does not have the fastest charging technology available and it takes a longer while to charge. It takes nearly two hours and a half to fully charge up the Power.
Finally, the basic Moto G7 Play with its puny 5-watt charger takes a full 3 hours and 5 minutes for a full charge.
Prices

and Alternatives

Okay, these phones are all about prices, so here is how they break down:
Moto G7 Play: $250
Moto G7 Power: $250
Moto G7: $300
Moto G7 Plus: $300+, not available in the US
Looking at other $300 phones, we see that the Huawei Mate Lite series stand tall, but we prefer the clean interface on the Moto G series. Besides, the Motorolas do feel a bit zippier.
Other options here are Samsung's J series, which are reliable devices, but they compromise with their designs and screen resolution, so you have to pick the best balance for you.
And then come the aggressively priced phones out of China, like Xiaomi's Redmi Note 7, which offers a bit more exciting looks, but also a good camera and very good battery life (but at the expense of the MIUI interface which fails at basic things like delivering notifications to your lockscreen).
Conclusion
These are four different phones and here is how we feel about each one of them: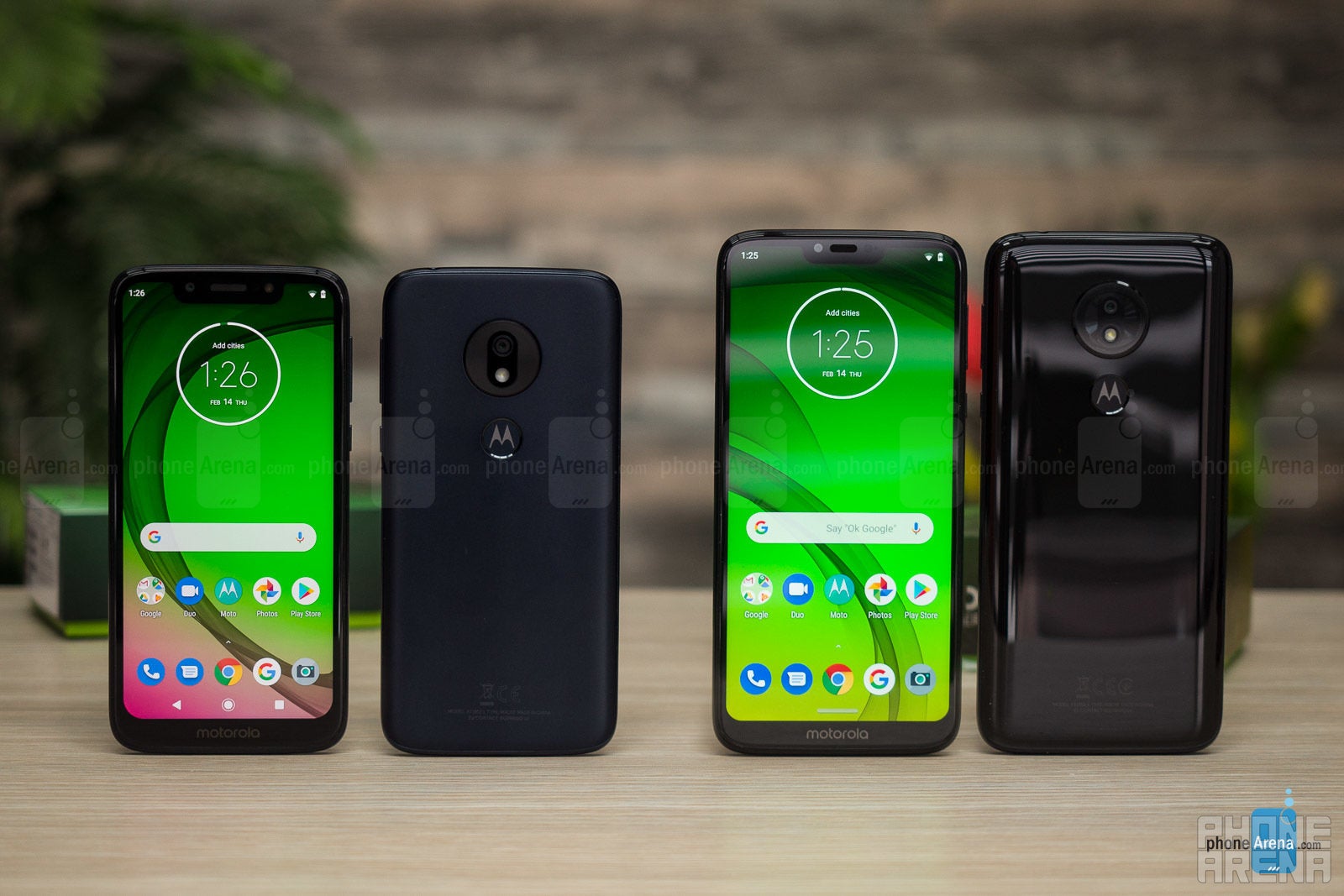 G7 Play and G7 Power
Moto G7 Play
: a sub-$200 phone that unfortunately makes too many compromises to be a good daily driver. The plastic build, big bezels, low-quality display and low-quality camera are the dealbreakers here. If you chase a budget, though, and want a compact phone with great battery life and decent performance, it could just work for you.
The
Moto G7 Power
is a big and bulky phone with a low-res display, but also the best battery life we've ever seen on a phone and that alone is a remarkable achievement. Its performance is zippy, the camera is decent (but not great) and the price is good. If you like big phones and are looking for an affordable one, the G7 Power is a far less compromised device than the G7 Play.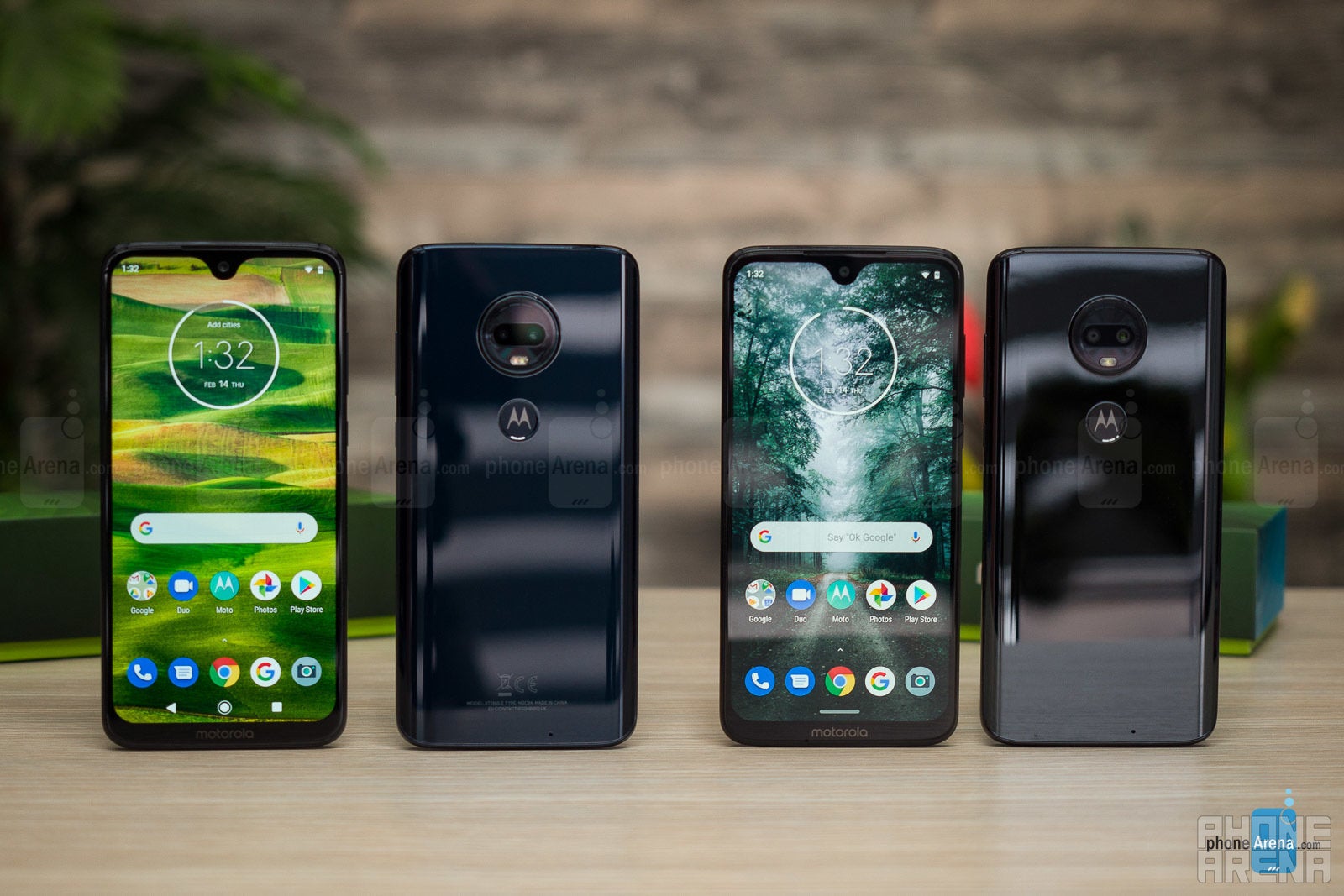 G7 and G7 Plus
The
Moto G7
at its $300 price is good value for the money and while it does not push the envelope with some unthinkable specs like, say, the Pocophone F1, it is a safe and reliable choice. Performance is zippy, the software is clean, the display is decent and the camera can take some good shots during the day. This is a budget workhorse that we can easily recommend.
The
G7 Plus
will not be available in the US and that's a bit of a shame because it's slightly better than the G7. We are particularly appreciative of the brighter screen that makes using the phone outdoors, and it's also got a noticeably sharper and better-performing camera than the rest of the bunch, so overall it provides a lot of improvements. It's slightly faster than the others as well. Altogether, this is another easy recommendation for those on a budget.
Overall, Moto is not doing anything extraordinary, but it does not need to: the new Moto phones are an evolution in terms of design with thinner bezels and more stylish looks, they are faster with the Snapdragon 6xx series of chips, and they work reliably, with a clean and likeable interface.
PhoneArena Rating:
Moto G7 Play: 5.5 | Moto G7 Power: 8.0
Moto G7: 8.0 | Moto G7 Plus: 8.8
Update

: You can now read out Moto G8 Plus review!
Recommended Stories