Motorola Moto G62 5G review: is 5G worth so many sacrifices?
3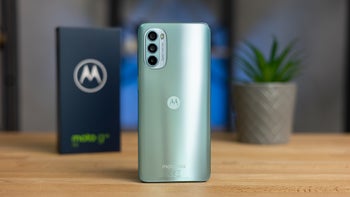 Moto G62 5G
Intro
The Moto G62 5G is, as you can tell by the name, one of the many phone models from Motorola's affordable "G" lineup. What makes this one special, or at least stand out from the rest of its kin, is that it offers 5G connectivity for the very affordable price tag of just over £200.
There is one question that almost immediately pops up when you see a 5G phone with such an appealing price tag, though — what did the manufacturer have to strip away to achieve that? Well, in the case of the Moto G62, it turns out
Motorola
apparently had to cut quite a bit.
Nevertheless, the Moto G62 5G has some redeeming qualities that help it stay afloat. But enough beating around the bush, let's see what this modest 5G phone is made of.
What's new about the device
Qualcomm Snapdragon 480+
50 MP main camera
16 MP ultra-wide camera
120Hz refresh rate
Moto G62 5G
Unboxing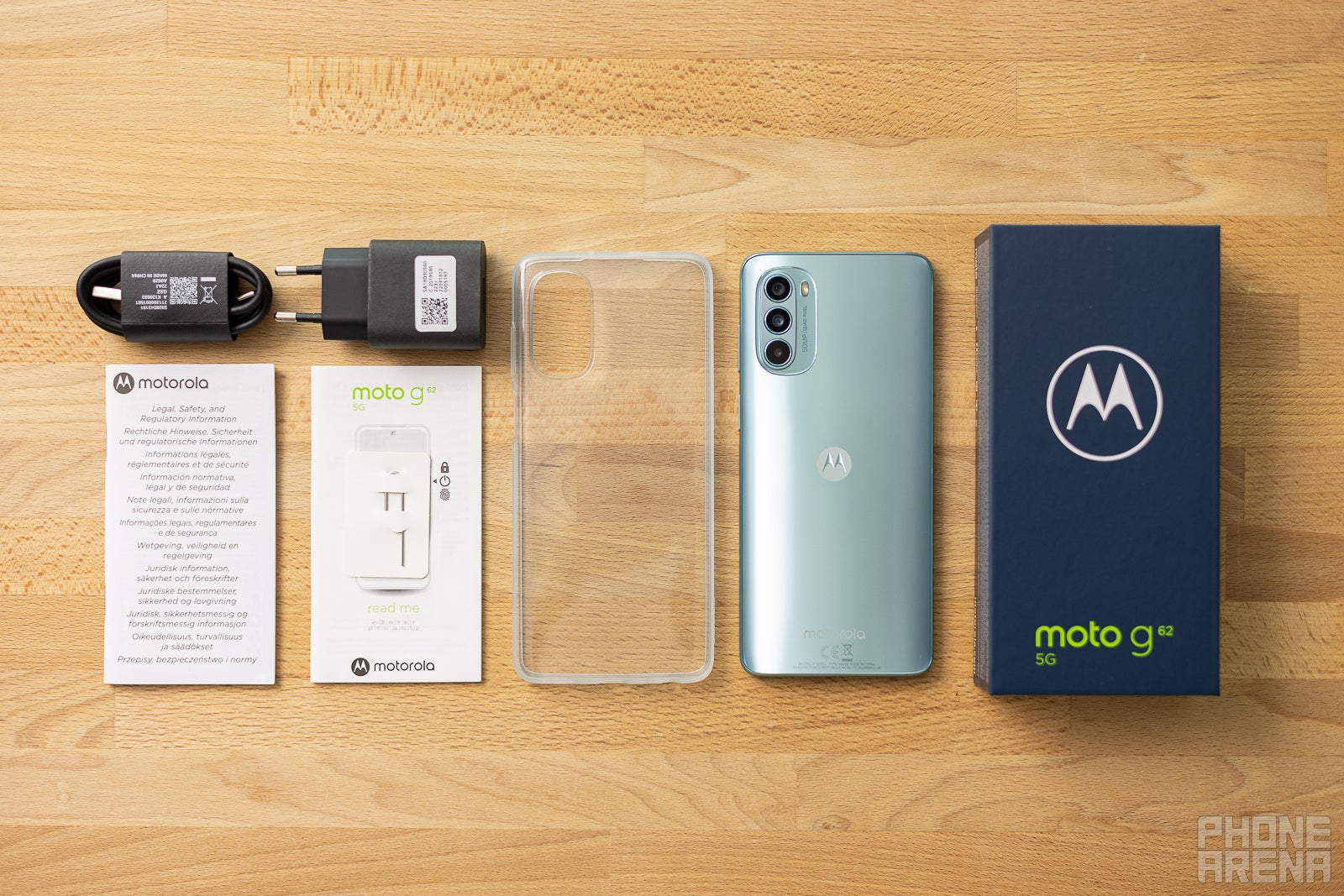 (Image credit - PhoneArena) Everything you will find inside the Motorola Moto G62 5G
When you open up the Moto G62 5G box you are presented with the phone itself, your run-of-the-mill documentation, a charging brick (only 10W), a USB C cable, as well as a cheap transparent case. You don't, however, get any kind of screen protector inside.
Moto G62 5G
Specs
The strongest parts of the Moto G62 5G's spec sheets are without a doubt the battery capacity, display, and speakers. These are the main aspects that make this Motorola budget phone worth considering. We will get into more detail regarding those in the respective sections down below.
Specs
Motorola Moto G62 5G
Size and Weight
161.8 x 74 x 8.6mm, 184g
Display
6.5" IPS, 120Hz
Processor
Qualcomm Snapdragon 480+ 5G SM4350-AC
RAM
4GB / 6GB
Storage
64GB / 128GB, no expandable storage
Software
Android 12
Cameras
50MP wide camera, f/1.8 aperture
8MP ultra-wide camera
2MP Depth information
Battery Size
5000 mAh
Charging Speeds
15W wired charging
Price
starting from $349
Moto G62 5G
Design & Colors
The Moto G62 5G has the all-too-familiar design of other G series phone models from Motorola. You have your rather sizable flat screen with a big punch hole for the front-facing camera in the center top of the phone. That same screen is snuggled between a thick top bezel and a bottom one that is twice the thickness.
Now, while the screen is flat, thankfully the edges of the phone are rounded, which makes the phone easier to hold. It also helps that the Moto G62 is neither heavy nor super light (184g/6.49oz), which further adds to a secure feel in the hand.
On the right side of the phone, you will find a decently quick fingerprint sensor that is embedded in the power button. The volume rocker is right above, and both feel tactile and sturdy.
The rest of the G62's body consists of plastic sides and back panel, with the latter being a massive fingerprint magnet, at least on the Frosted Blue version we have here at PhoneArena. Thankfully, Motorola has at least decided to go for a cleaner look with the design, leaving only the logo and the company's name on the back.
The plastic that was used, however, feels more on the cheap side of the quality spectrum, but it is decent enough for the price. It is probably worth adding here that there is no Gorilla Glass mentioned when it comes to the screen, so it is probably best to equip the G62 with a good screen protector as soon as possible if you decide to buy it.
In terms of water protection, the phone is marketed to feature only water-repellent properties, which can be understood as "it will be alright in rain, but don't submerge it in any type of water, and keep it away from strong downpours."
As for the color options, besides the Frosted Blue, the Moto G62 comes in Midnight Gray as well.
Moto G62 5G
Display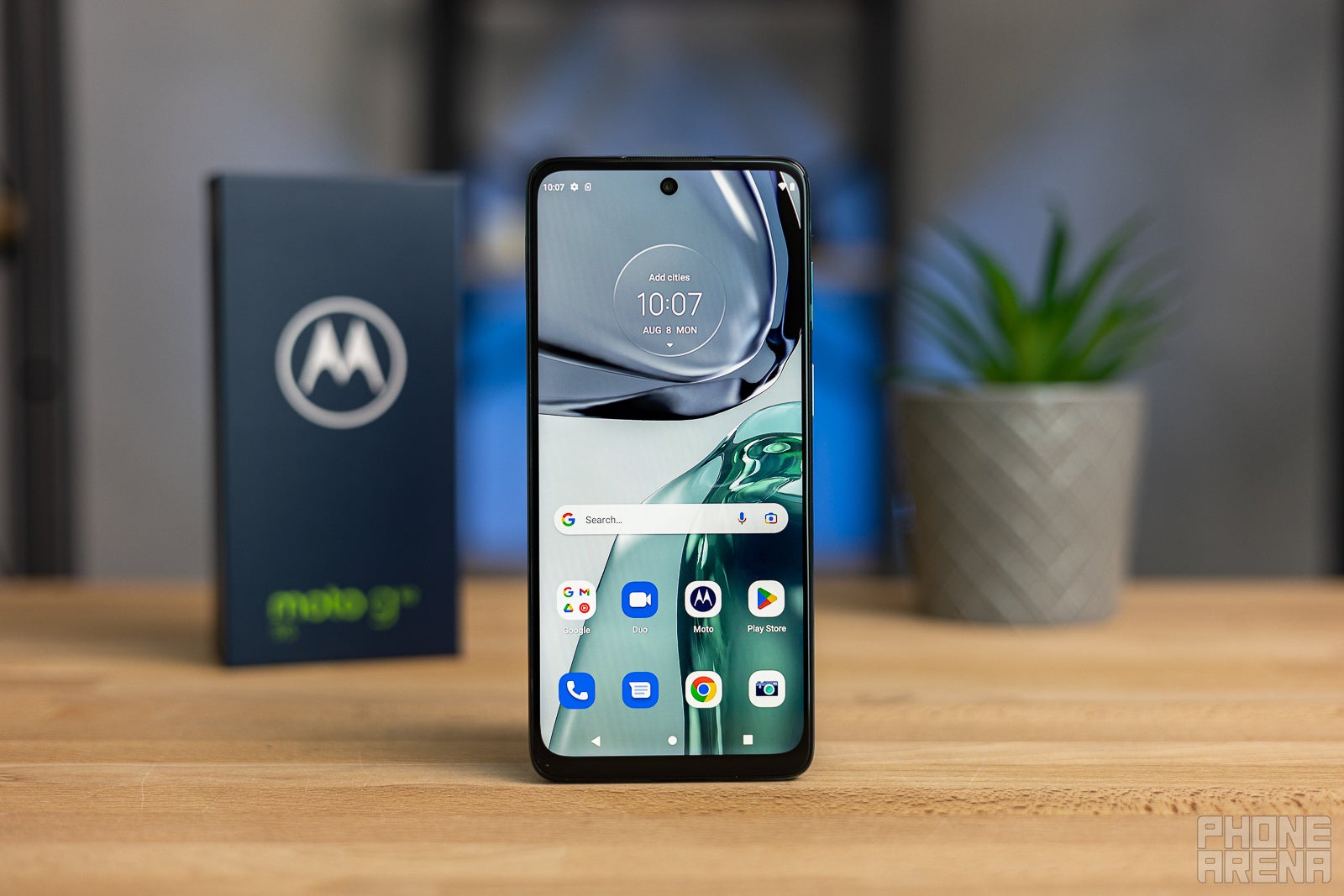 (Image credit - PhoneArena) Moto G62 5G display
The Moto G62 comes with an admirably good display for its price point. The best part about it is the 120Hz max refresh rate, which helps make animations and overall navigation of the phone's UI a pleasure to experience. If you want to extend the battery life, you can change the refresh rate to 60Hz from the display settings, or opt for the auto option, letting the phone decide instead.
Unfortunately, it is quite a rarity to get an OLED display at this price point, alongside the amazing contrast it brings. Here you have a 6.5-inch IPS display with a resolution of 1080 x 2400 pixels.
Display color accuracy and maximum brightness are not really one of the G62's strong suits, so this might not be the best phone choice for you if you watch a lot of media, and even more so if you do that outside.
Display Measurements:
Moto G62 5G
Camera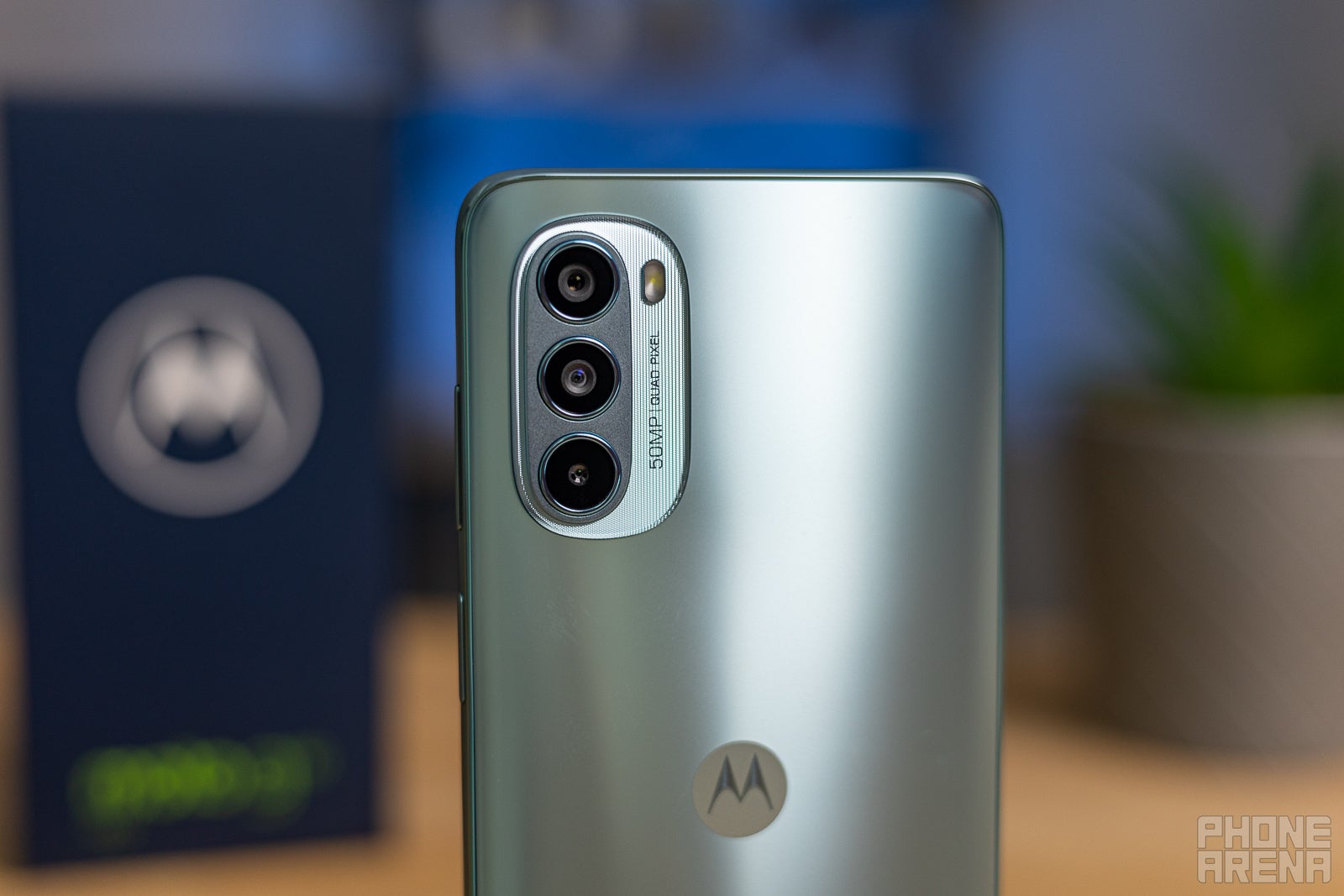 (Image credit - PhoneArena) Moto G62 5G camera system
Motorola has equipped the Moto G62 with its classic trio: a 50MP main camera, 8MP ultra-wide, and a 2MP macro shooter. We also have a 16MP selfie snapper at the front of the phone that as we already pointed out, is noticeably big.
In all honesty, the only two cameras that are worth any attention are the 50MP main and the selfie shooter. That's good news, as they are the ones we tend to use the most on our phones.
The main camera produces shots and video with an appropriate level of quality for the phone's price range. Detail looks sufficient and HDR performance is okay, however, colors seem slightly off compared to how the subject looks in real life. You might also notice that the G62 tends to bump up the contrast quite a bit.

Moto G62 5G main camera video sample: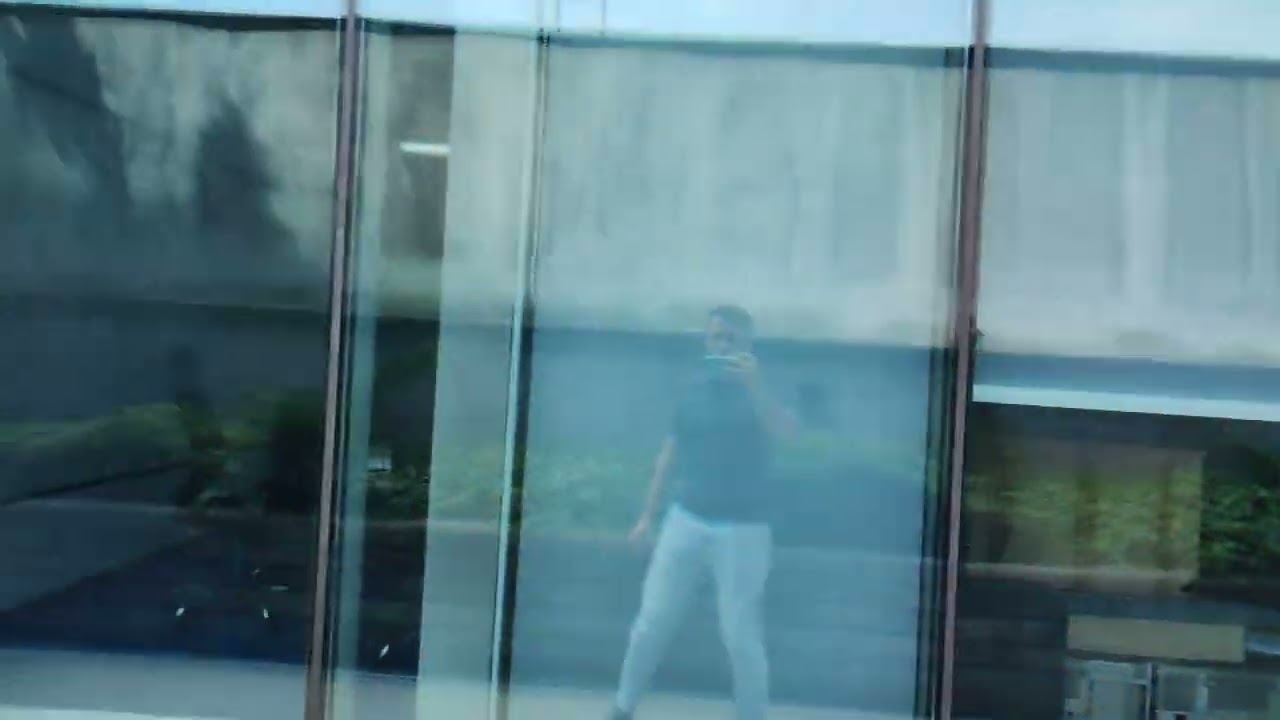 Moto G62 5G ultra-wide camera video sample: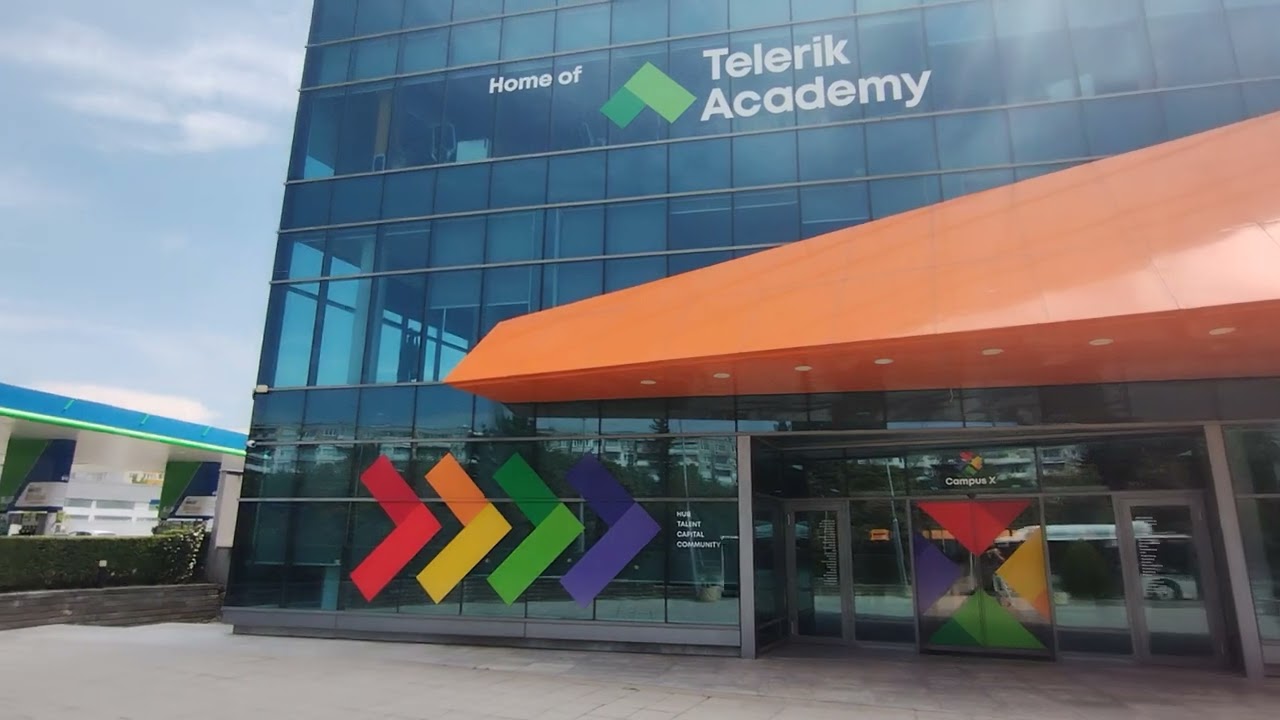 Video recording with the main camera is also not too shabby. All pros and cons of shooting still images get directly transferred here, with the added pleasant surprise of great electronic stabilization. You can shoot both in 1080p 30fps and 60fps, but the crop changes depending on which one you choose — the former being more cropped in and vice versa.
The selfie camera, while not exactly perfect when met with difficult scenarios, does a good job provided you give it enough light. Skin tones are generally represented quite accurately with this camera — it looks like Motorola paid special attention to the selfie lovers out there.
The ultra-wide, on the other hand, noticeably lacks detail when compared to the main camera. It is still usable and you can get a somewhat decent-looking shot with it, but that's about it. What's more, you can only shoot video via the ultra-wide in 1080p 30fps.
Last but not least we have the 2MP macro, which… is just there. The footage you get from this one is so blurry that you might as well forget it is even there.
Moto G62 5G
Performance & Benchmarks


Motorola has slapped the Snapdragon 480+ 5G 8nm processor inside the Moto G62, which for all intents and purposes, is a mediocre chipset from Qualcomm. Consequently, that means this Moto is not exactly fit for high, or even mid-performance when it comes to intensive tasks or gaming.

Nevertheless, you can still play some lighter titles, albeit not for too long as the back can get quite hot during extended gameplay sessions. The chipset is also perfectly capable of handling normal use of the phone, with no apparent hiccups while web browsing, messaging, watching videos, and using apps that don't require too much processing.

In terms of memory and storage, there is only one option and that is a combo of 4/128GB. Yes, just 4GB of RAM, meaning that you can't rely too much on the G62 for multitasking. One silver lining is that you can expand the 128GB of storage via the SD-card slot that also doubles as a second SIM card one.
Performance Benchmarks:
Moto G62 5G
OS / Android version
As per usual with Motorola phones, the Moto G62 comes with a very stock version of Android 12. Of course, you also have the company's admittedly neat extra features like special hand gestures, menu customization options, and other features like attentive display.
In terms of software updates and longevity, Motorola is not exactly known for having prolonged support, especially with cheaper models such as the G62. It is safe to say that in this case there will be only one major update to Android 13, with a much slighter chance of an Android 14 update later down the line. The same also goes for security updates, which are sometimes a bit late compared to the competition.
Now we reach the strongest aspect of all the Moto G62's specs, which is its large battery and amazing battery life! In this case, we have a maximum capacity of 5,000mAh that works splendidly with the power efficiency of the Snapdragon 480+ 5G chip, resulting in a good two days of battery with regular use.
PhoneArena Battery Test Results:
Moto G62 5G Charging Speeds
What the G62 offers in overall battery life, though, it lacks in its ability to charge that humongous 5,000mAh cell. That's because the maximum supported charge here is 15W, which you can't even make full use of if you solely rely on the 10W charger that comes in the box.
Moto G62 5G
Audio Quality and Haptics
Now, the Moto G62 5G comes with stereo speakers that are truly a joy to listen to. They can get quite loud if need be, and without getting too tinny-sounding at that. This is probably one of the strongest selling points for this Motorola, second only to the amazing battery life! Oh yeah, and there's a 3.5mm headphone jack.

Haptics, on the other hand, leave much to be desired. But then again, we didn't really expect anything less from a Motorola with a £200 price tag. Our advice is to turn the vibration as soon as you get your hands on the Moto G62, and leave it only for calls and notifications — basically a standard move with the Moto G series.
Moto G62 5G
Competitors
If you can stretch your budget even just a tiny bit, you can get yourself the
Galaxy A33 5G
instead, which comes with a better display, chip performance, faster charging, software support, and last but not least better camera quality.
We can also recommend the
Xiaomi Redmi Note 11 Pro 5G
, for many of the same reasons as the Galaxy A33, minus the software support part.
Moto G62 5G
Summary and final verdict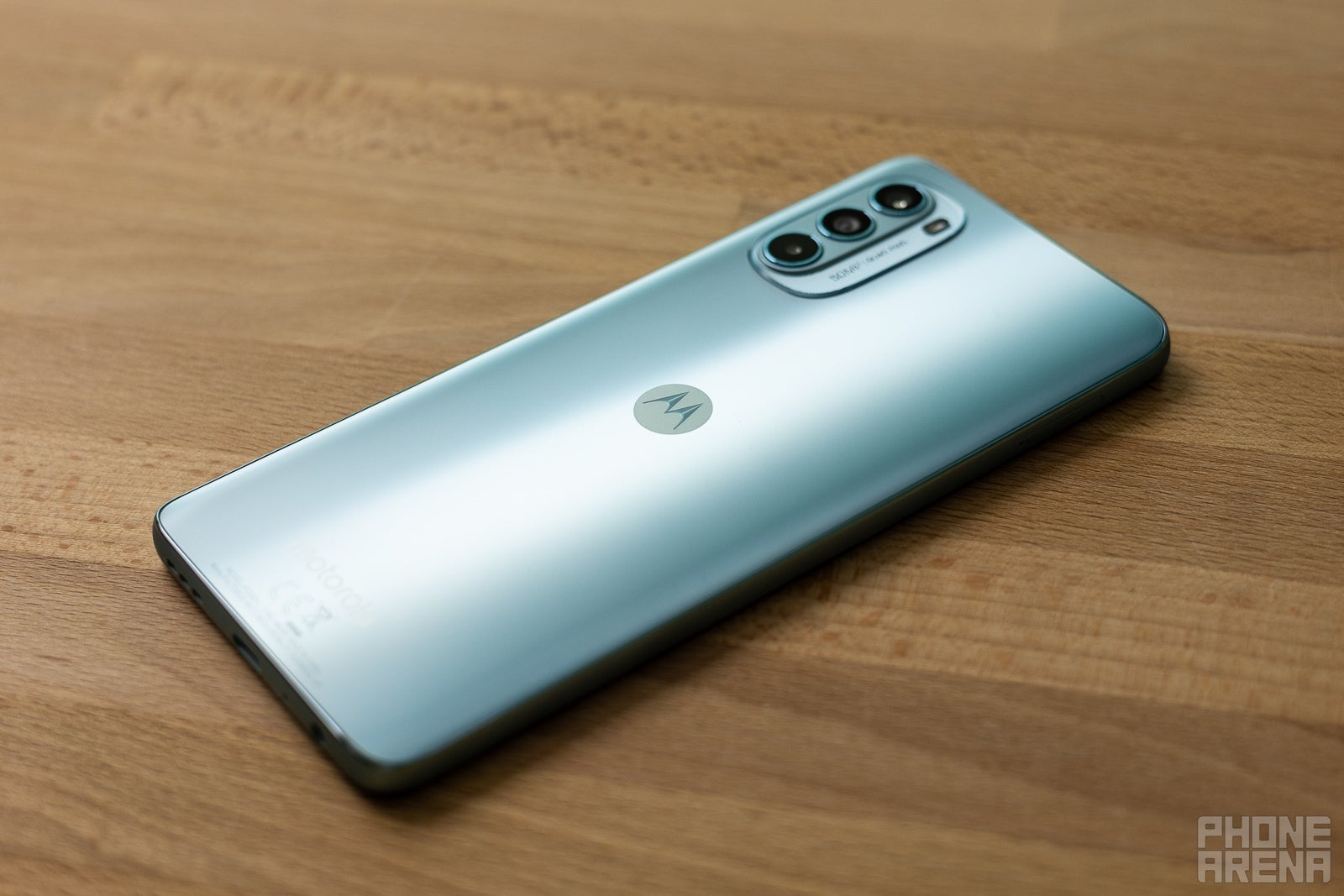 (Image credit - PhoneArena) Could be better for the price, but it will do.
Yes, the Moto G62 5G from Motorola is one of the most affordable phones on the market to offer 5G connectivity. However, it sacrifices a bit too much from the other aspects that make or break a phone for our liking.
The display would have been a great one for this price point, despite the inaccurate colors and mediocre contrast levels, if only its maximum brightness was more satisfactory. Another great example is the great battery life that can easily be overshadowed by the poor charging speeds and the even less capable charging brick, which almost feels like a joke just to spite the user.
When you factor in the rest of the cons such as average camera quality, unreliable software support, cheap build, and low level of protection, things like the phone's great audio quality and impressive stereo speakers tend to disappear into the void.
If you can spare just a little more cash, we would recommend looking elsewhere, and pick one of the alternative options that are not as stripped down and still have that 5G connectivity.
Recommended Stories